AANI&DANI the first company in the MENA to introduce RUBY Chocolate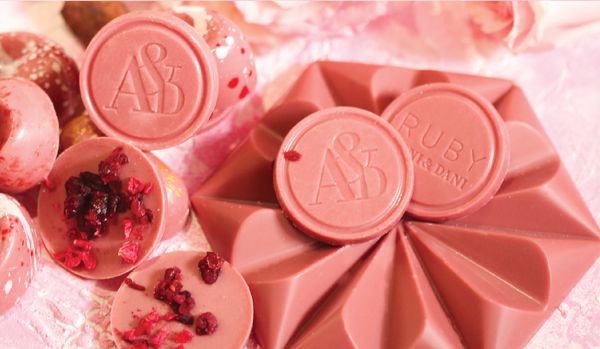 Last year, the discovery of a new chocolate product was described as the fourth type of chocolate called Ruby Chocolate
Made from Ruby cocoa beans.
Ruby chocolate has a taste of berries and a distinctive pink color without adding any flavor or coloring
But these flavor and color are found in cocoa beans naturally.
Cocoa beans are obtained from different regions of the world.
The ruby ​​beans contain a specific set of features that enable the best chocolate factories in Belgium (Barry Callebaut) to be extracted through an innovative process of several years of research and development.
The fourth type of chocolate offers a completely new taste experience, which is not bitter taste like dark chocolat or the milky taste as milk chocolate or sweet as white chocolate.
But it provides a new taste between the red berries flavor and the smoothness, for the manufacturing of Ruby chocolate is not added any of the berries or berries flavor or pink color Ruby Chocolate was unveiled at an exclusive launch on September 5, 2017.
AANI&DANI are proud to be the first company in the Middle East to introduce the new product (Ruby Chocolate to local markets) calibrating the 20th anniversary as regional leading chocolate producer
With 20 years of experience in the fine chocolate industry and a production of 600 tons of fine chocolate annually AANI&DANI are keen to introduce all the new in chocolate market to the local consumer in order to provide the best quality of European chocolates
With flavors and packaging Suit the taste and requirement of the local consumer in the Middle East
---
Archived Comments