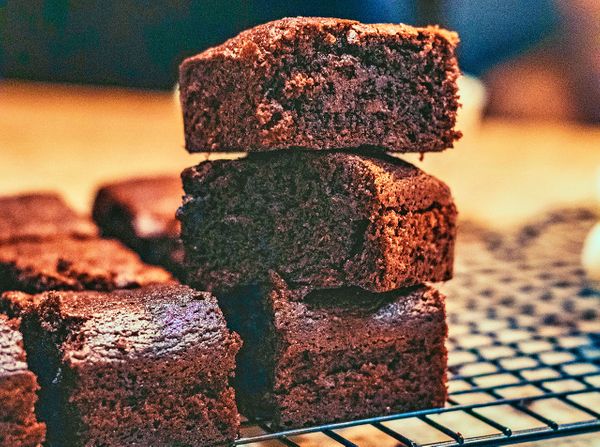 Chocolate-Pumpkin Brownie Video Roundup
I spent hours reviewing pumpkin brownie recipe videos on YouTube looking for quality recipes from hosts with a point of view or attitude – and that exhibited acceptable production values.
I rejected hundreds (!!!) of videos that were either badly produced (lots of interesting ones that were literally made my brain hurt to watch) or did not add anything new to other videos I had selected. For the most part, I also rejected recipes that incorporate commercial chocolate syrup, mix, or Nutella as a part of the recipe.
Of course, rules are made to be broken so I will do or have done when it suits me.
Notes:
I have not tested any of these recipes. YMMV.
They are presented here in no particular order.
The number of views/likes did not factor into my decisions.
The name in parentheses following the recipe name is the YT channel name.
In the description of many videos is a link to the full recipe and method. I did not follow the links so I cannot guarantee they all still work.
1: Ultimate Fall Dessert: Pumpkin Brownies (Better Homes & Gardens)
This is the most mainstream recipe of the bunch. I wanted to start out with an accessible recipe and end up with the exact opposite for this roundup.
2: The Best Pumpkin Brownies (Annemarie Rossi)
Another simple and straightforward recipe. Is it the best? As I noted earlier, YMMV. However, I have noticed that no one titles their recipe videos with "The Worst …" or anything less than a superlative. There is no The Worst Pumpkin Brownies recipe video. Irony is lost.
3: EASY PUMPKIN BROWNIES | Vegan + Gluten-Free (Fablunch)
There were a ton of vegan and gluten-free recipe videos. Here is the first of two I selected for those who serve seitan "turkey."
4: Pumpkin Pie Brownies = Pumpkin Pie + Brownie (Vegan Richa)
Another vegan recipe I liked how Vegan Richa did not think people would figure out on their own that "Pumpkin Pie Brownies" = "Pumpkin Pie + Brownie." Maybe vegans are capable of understanding irony?
5: Pumpkin Cheesecake Brownie Recipe (Cupcake Jemma)
I have a feeling Cupcake Jemma is going to be showing up in a bunch of these roundups. She's everywhere in the search results – not just cupcakes – and she has an engaging manner coupled with accessible recipes.
6: Pumpkin Swirl Brownies (Self Proclaimed Foodie)
There was a pantry-load of swirled pumpkin brownie recipes. This might have been the first I came across … and few of the others I reviewed rivalled it. (Cupcake Jemma's being one of those. And, because, aren't all of us self-proclaimed?
7: Pumpkin, Pecan, and Chocolate Brownies (Caroline Artiss)
Another fave Thanksgiving dessert of mine is pecan pie. While there is no caramel in this recipe (as there is in a pecan pie) the presence of pecans is what drew my eye – and my tastebuds. I can pos-def see serving this with a salted caramel ice cream or in a puddle of milk chocolate salted caramel sauce.
8: Pumpkin Spice Potato Brownies: Day 6 Trailer Park Christmas (Jolene Sugarbaker)
Attitudinally, this was my favorite video to watch. It was so much fun I had to include it, even if there's no chocolate in it. I can see a bunch of ways to do that, with the swirl and layer approach the two most obvious. Jolene is a hoot as a host and I do love the decoration of her kitchen – though I would be horrified to cook in it myself. (Way too much clashing visual clutter.) Note: After three years the recipes are still not posted.
9: Pumpkin and Yogurt Brownies (BuonaPappa)
There are a lot of recipes that use ingredients like bananas, applesauce, and sour cream as a way to boost the moistness level of the finished product. While the recipe calls for unflavored Greek yogurt, I can totally see using skyr (the Icelandic version) or a complementary flavored yogurt. For the full effect, make sure to use a whole-milk yogurt, not a nonfat or 2%.
10: PASCHA Pumpkin Chocolate Brownies (Pascha Chocolate)
I chose this recipe because it is the only allergen-free recipe I saw. Not just gluten-free or vegan, allergen-free. Disclaimer: I met the founder of this company on a trip to Perú in 2015 and we have remained in regular contact since.
11: Easy, kid-friendly, Pumpkin Chocolate Chip Brownies (Mrs. Davis)
I chose this one because I want to include at least one kid-friendly recipe in each roundup.
12: Brownies de abóbora e cacau (Made by Choices)
I chose this one because it's in Portuguese and I wanted to include at least one recipe from a non-English-speaking country in each roundup.
13: Pumpkin Cheesecake Dip w/ Brownie Bites (Dishin with Di)
I chose this one because of its non-traditional approach. Rather than adding pumpkin to the brownie itself, the pumpkin puree is used to make a creamy dip that small brownie bites get, well, dipped into. This enables desserters to experiment with the precise brownie-to-pumpkin ratio.
14: Something's Burning Episode 2: Pumpkin Brownies (Something's Burning) 21+
With just over 40 views in over four-and-a-half years, to say that this is not a popular video is something of an understatement. (For the record for all you H2G2 fans in the audience, I was view #42.) However, it's the only stoner recipe I could find and it's pretty hilarious, but I am not entirely sure if that's intentional. A perfect (?) for a cannabis-themed Thanksgiving dinner? Note that some of the ingredients are covered in SB ep2 – if you have the patience.
My pick for the one I would make for my Thanksgiving (if I weren't going to be in Mexico in a hotel room on the 28th): probably the Pumpkin, Pecan, and Chocolate recipe, garnished with pumpkin ice cream, milk chocolate salted caramel sauce, and a whole spiced candied pecan.

What are your thoughts? What is your favorite recipe among these? Got another favorite? Post a link to it. Did you make any of these – let us know how it came out.
Filed under: #delicious #brownie #brownies # pumpkin #thanksgiving
---
Archived Comments