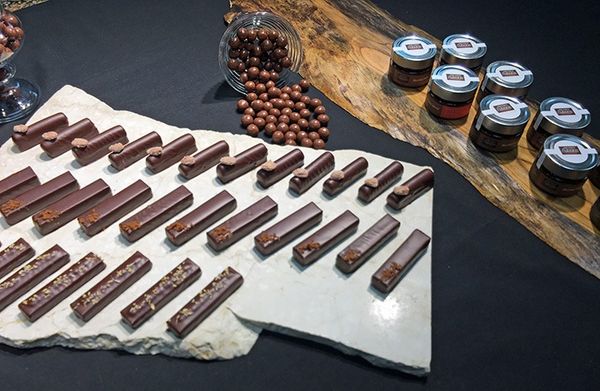 Class Notes - Beyond Bean To Bar
I was in Las Vegas this past week co-leading a class – titled: Beyond Bean to Bar – Things to Make From Chocolate That Aren't Bars – at the Jean-Marie Auboine school sponsored by FBM.
I first sat through a sugar pulling class by Jean-Marie back in 2002 and I've been fortunate enough to co-lead six classes with him for FBM at his school in Las Vegas and I am constantly learning new tricks to increase productivity and produce better products.
The prior classes I've organized at the JMA school have all been about making chocolate from beans. For this class we wanted to expand the scope and reach and make pretty much anything but a standard chocolate bar. The range was enrobed marshmallows to shell-molded bonbons to panned malted milk balls to chocolate nougat to enrobed candy bars. For good measure a chocolate hazelnut spread – in the jars in the photo below – was also made.
As you may be able to tell from the shot below, the bars in the center were all complex, multi-layer affairs involving many elements from sable cookie dough to ganaches, fruit jellies, to caramels. The Barre Exotique had four elements; 1) Coconut Hazelnut Praliné; 2) Passionfruit Gelée; 3) Passionfruit Ganache; and 4) Caramelized Shredded Coconut garnish, and was enrobed in milk chocolate.
​The class consisted of eight students, five of whom were students in prior bean-to-bar classes.
Over the course of three days about a dozen recipes were completed. One of the class favorites was a white chocolate key-lime bonbon which incorporated the vanilla marshmallow also used in the enrobed bears as one of two layers, the other a white chocolate lime ganache.
Highlights for the class for most students were 1) in-depth discussion and demonstrations of tips, tricks, and best practices. for spraying molds with colored cocoa butters; and 2) Panning. The class format was highly interactive with an emphasis on understanding the underlying theory – why something was done – not just following the recipe. A popular line of questioning was how to extend shelf life using ingredients and temperature.
At JMA they routinely produce over 200 finished spray painted molds (~5-6000 pieces) in a single working day not counting hundreds of pounds of panned items and thousands of pieces of enrobed slabbed ganaches. While machines are used extensively at JMA to support this level of production, everything is touched by human hands throughout the process.
We plan to do another Bean-to-Bar class in April or May and another Beyond Bean-to-Bar class next October. Contact me if you want to be on the notification email list.
---
Archived Comments