Consistency Wins Consistently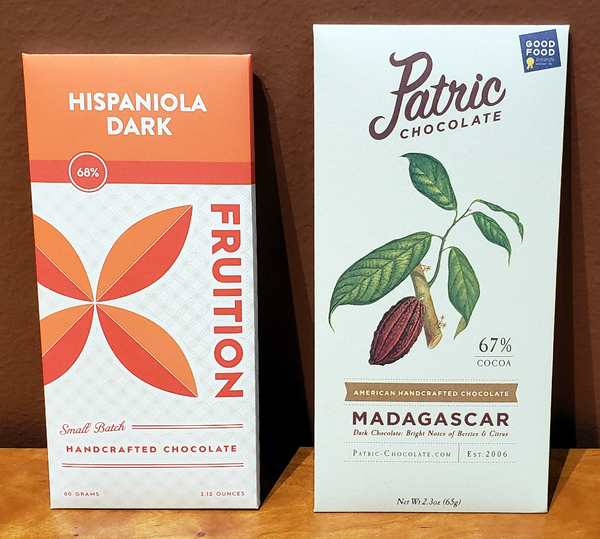 This Fall we hosted the fourth annual Chocolopolis Chocolate Sweet Sixteen. Each year we choose sixteen chocolate bars to compete in a bracketed tournament that looks a lot like the NCAA tournament minus the basketballs.
During our twice-weekly chocolate happy hour, we put out samples of the four contending chocolates for customers to taste. We keep the tasting blind so customers don't know which sample corresponds to which bar. Customers vote for their two favorite bars each week, and the two bars with the most votes move on to the next bracket. The competition ends after two chocolates make it through the brackets to compete in the finals, when customers can only vote for one of the two. The chocolate with the most votes is crowned the winner.
The winner this year was Fruition Hispaniola 68%. Its competitor in the finals this year was also its competitor in the finals last year, Patric Madagascar 67%. Patric Madagascar won last year.
Here's what I consider remarkable about the results. The voting is pretty random – each week customers with varying palates show up to taste and vote for their favorite chocolates. They may be the same customers or different customers each week, depending on who makes it to happy hour. Despite the randomness of the voters, Fruition Hispaniola has managed to be either a finalist or a winner in all four competitions. Since there is a limited supply of Patric Chocolate, last year was the first year we were able to include it in the competition. It hasn't been in the competition as many times as Fruition Hispaniola, but it has made it to the finals both times, and it won last year.
The results prove my long-held belief that consistent quality pays off in chocolate making. A well-made chocolate is one that customers of all palates will love, and they'll choose it over other chocolates that may not offer a consistent experience.
If you know me, you probably know that I have a lot of opinions about the lack of consistency in craft chocolate. A great chocolate maker once said to me, "I'm not going for consistency." I agree with his statement in the sense that every harvest is different, and every batch may have a different flavor profile. Where I diverge is my desire to use the word "consistent" to describe the quality of the chocolate.
A good chocolate maker should be able to consistently produce a bar of chocolate that has smooth, creamy texture and pleasant flavors that offer a complex tasting experience (I make a texture exception for unrefined, Mexican-style chocolate). In my experience as a retailer of bean-to-bar chocolate, very few chocolate makers are able to achieve this level of consistency. Sometimes we'll receive a fantastic batch of chocolate from a chocolate maker followed by a batch that isn't very good. This creates a number of problems.
First, the reputation of the craft chocolate industry. We're asking consumers to pay a lot for a bar of chocolate. While the amount we're asking them to pay does not reflect the true cost of growing cacao and making chocolate, it's still a lot more than they've been trained to pay for mass market chocolate. If a consumer decides to invest $10 in a bar of chocolate and their first experience with craft chocolate is a bad one, they're not going to purchase again. That's not good for us as an industry.
Second, the problem of inventory management for me as a retailer. I put a lot of money into a collection of chocolate bars that I need to sell at a certain velocity in order to stay in business. I place orders based on how well a bar is selling. If a chocolate maker gives me a great batch of chocolate and we sell through it quickly, I'll order a lot more. If the next batch I receive is of a lesser quality, I'm now stuck with a lot of inventory that my customers won't purchase as quickly because they don't like the bar as much as the previous bar. This makes it incredibly difficult to run a business profitably. Chocolopolis and other retailers like us play a role in educating consumers about craft chocolate and helping them become comfortable with its elevated price. Having us around is important to the industry.
Chocolate making is a manufacturing process that needs to have consistent metrics and quality control. If a chocolate maker is treating the chocolate-making process as an art and not a science, it's going to be difficult to consistently create a quality bar of chocolate. The chocolates that have consistently been in the finals of the Chocolopolis Chocolate Sweet Sixteen are made by makers who bring their personalities to the table to make chocolate as an art, but who also use good manufacturing processes to create consistent quality.
The customers have voted, and based on the results, I'd say they agree.
2018 Chocolopolis Chocolate Sweet Sixteen Competitors
Amano Dos Rios 70% (Dominican Republic)
Askinosie Mababu, Tanzania 70%
Cacao Hunters Arauca, Colombia 70%
Domori Chuao 70% (Venezuela)
Escazu Patanemo, Venezuela 80%
Francois Pralus Ghana 75%
Fresco Guatemala 70% Medium Roast
Fruition Hispaniola 68% (Dominican Republic)
Marou Tien Giang, Vietnam 70%
Michel Cluizel Mokaya, Mexico 66%
Mission Chocolate Brazil 80%
Momotombo, Nuevo Segovia, Nicaragua 70%
Patric Madagascar 67%
Smooth Chocolator Tanzania 75%
Soma Bejofo, Madagascar 70%
Valrhona Araguani 72% (Venezuela)
​
---
Archived Comments
---
One of the aspects of small-batch chocolate making many small makers tout is that every batch can be a different creative expression of the beans. IMO, this can lead to customer confusion if they buy a bar one time and like it and the next bar tastes quite different. I don't think it's necessary to shoot for industrial levels of consistency, but there is value in making product that is recognizably the same from batch to batch and harvest to harvest. And it's actually not all that hard to do.