Ended: Beyond Bean to Bar Class - Oct 25-27 Las Vegas, NV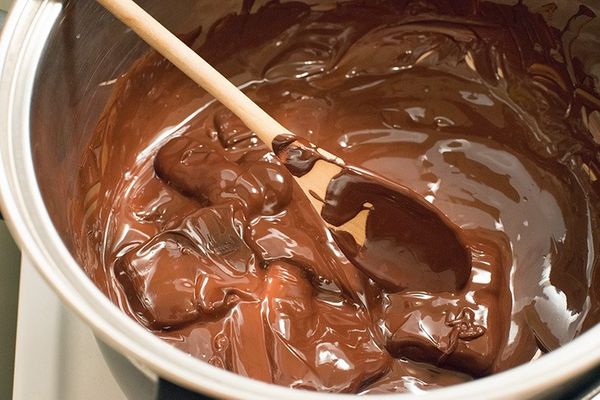 There are many things that can be made with artisan/craft chocolate besides bars.
However, many who identify as bean-to-bar chocolate makers make only bars. Craft chocolate bars – especially ~70% two-ingredient single-varietal/origin chocolate made in a melangeur – is without a doubt the most competitive segment of the marketplace, with one influential retailer saying they accept less than 5% of new submissions.
In this class, participants will learn basic techniques for turning small batch craft chocolate – made on the premises by Jean-Marie Auboine and staff – into a variety of delectable items.
The class is aimed at chocolate makers as well as pastry chefs, bakers, and others who are either making chocolate, want to make craft chocolate, or just want to know more about using craft chocolate. One goal for the class is to start from, "I am a craft chocolate maker, what can I make with craft chocolate?" All of this is in support of creating a sustainable business. Again, students might not be interested in making chocolate on their own, but they may know someone who does make chocolate and they want to use that.
> In order to be truly innovative, it's not enough to think outside the box, you need to forget what boxes are.
> — Clay Gordon
There are three primary tracks the class will follow:
Business. Everything has to make business sense from a profit and loss perspective. Complementing this discussion, will be a discussion of marketing and packaging and this will be accompanied with Excel workbooks that can be used to help in costing and other areas.
Production Techniques and Tips. Many bean-to-bar chocolate makers know nothing about making ganaches, slabbing or hand-rolling, enrobing, making and filling shells, panning, and other techniques so we are going to cover a variety of manufacturing techniques that don't require a lot of investment to start and that lend themselves to working with craft chocolate as well (as commercial couvertures).
Creative solutions. There are other things besides ganaches and panning that can be made and these will be discussed in depth according to the interests of the students. 
The entire format is highly interactive and so while there is a lot of instruction there is also a lot of time for questions and answers covering the specific topics you are interested in. If you decide to attend (and I hope you do!), you will be asked to submit questions to be incorporated into the way we approached the class. In addition to the workbooks participants will receive a resource list in addition to whatever resources are provided for the class itself.
Participants are encouraged to bring products they are currently making, including bars, for tasting and review by primary instructor Jean-Marie Auboine, co-leader Clay Gordon, and by the rest of the class participants. Basic chocolate making techniques will not be covered during class hours.
Tuition
Current FBM customers and students from prior FBM/JMA classes, $350/pp
Active FBM prospective customers: $500/pp
All others: $750/pp
Tuition for three-day JMA classes is normally $1050/pp
Discounts are available when booking 2 or more students from the same company.
About the Organizers
Jean-Marie Auboine Chocolatier
4780 W Harmon Ave, Ste 1
Las Vegas, Nevada 89103
JMA Chocolatier is a premium handmade chocolate company, crafting decadent chocolate and confections daily. Classically trained and highly awarded Master Chocolatier Jean-Marie Auboine, has more than 25 years of expertise and passion, to create fresh gifts pleasing to both the eye and the taste buds.
FBM Srl
Legnano (Milan), Italy
FBM introduced continuous tempering technology into the artisan confectionery workshop in Italy in 1977 and ushered in the digital revolution to their customers in 1990. Today FBM offers continuous tempering machines with working bowl capacities of 4-100kg, melting tanks, batch temperers, and machines for making chocolate from cocoa beans, panning machines, and dough depositors, as well as melted chocolate dispensers for retail gelaterias.
Clay Gordon
TheChocolateLife.com
Clay has been working professionally in chocolate since 1998, when he started selling high-end chocolate products from Cluizel and Domori to top restaurant and hotel kitchens in NYC. In 2001 he started publishing chocophile.com, one of the first professional chocolate rating/review blogs. His first book on chocolate, Discover Chocolate, was published in 2007. In early 2008 Clay shuttered chocophile.com to focus attention on growing online community in chocolate – TheChocolateLife.com.
---
Archived Comments