Hello! Ruby's Two-day
Introduction
Ruby – the 4th type of chocolate after dark, milk, and white – was introduced to the world on September 3rd 2017 in Shanghai. I was one of a small group of journalists and chefs who attended that launch event. You can read my previous articles, And Ruby Makes Four and Peering Through a Ruby-Colored Fog to learn what I thought back then.
Disclaimer: I was a guest of Barry Callebaut ("B-C") for the launch of Ruby in Shanghai in 2017. Most travel and accommodation expenses were paid for by B-C. I received no other form of compensation and at no point did I experience any attempt to influence the direction of my writing.

Circumstances were the same for this trip – flight and hotel expenses were covered but I received no fees, and no influence was exerted over what I chose to write about or how.

In other words, my opinions are my own.
Some More Background
During much of the 2000s I had the opportunity to work on the World Pastry Team Championships – yep, competitive pastry, and it was a lot of fun in addition to being very educational. A European (French) or American team always came out on top. Teams from Japan and South Korea consistently displayed some mind-boggling technical mastery but had a hard time translating and presenting traditional flavors in ways that appealed to the palates of western judges.
All that began to change when Sadaharu Aoki set up shop in Paris and Susumu Koyama started making a name at international competitions. They've been able to combine obsessive attention to detail and the philosophy of continuous improvement (referred to as kaizen) with an understanding of how to take traditional Japanese flavors and make them accessible to western palates, not just Japanese palates.
This fusion of cultures and cuisines has changed the way the world sees Japanese pastry and confectionery. From a taste perspective it's been something I've been following for well over a decade. But I have never attended the Salon du Chocolat in Tokyo and have never thought about how this evolution has played out at retail in Japan.
With all that in mind, I boarded JAL flight 4 at NY JFK's Terminal 1 just after noon on Monday, January 6, arriving at Tokyo Haneda early Tuesday evening after nearly fourteen hours in the air (twenty-eight hours on the clock) in anticipation of a three-day deep dive into retail confectionery and pastry in Tokyo in the run up to the Valentine's Day season.
The centerpiece of the trip was to be a press event on Thursday hosted by Barry Callebaut that featured some key customers and the Ruby-based products they were introducing for Valentine's Day.
Day 1: Akasaka, Ginza, Shibuya
Wednesday was spent visiting shops in Ginza, including the food halls of Ginza 6, Isetan, and Shibuya Scramble department stores, the Le Chocolat de H boutique, and the KitKat Chocolatory.
Ginza 6
Ginza 6 is an 8-story department store and the food hall is located on floor B2, (underground), which includes Philippe Conticini – who has a small production kitchen in his boutique.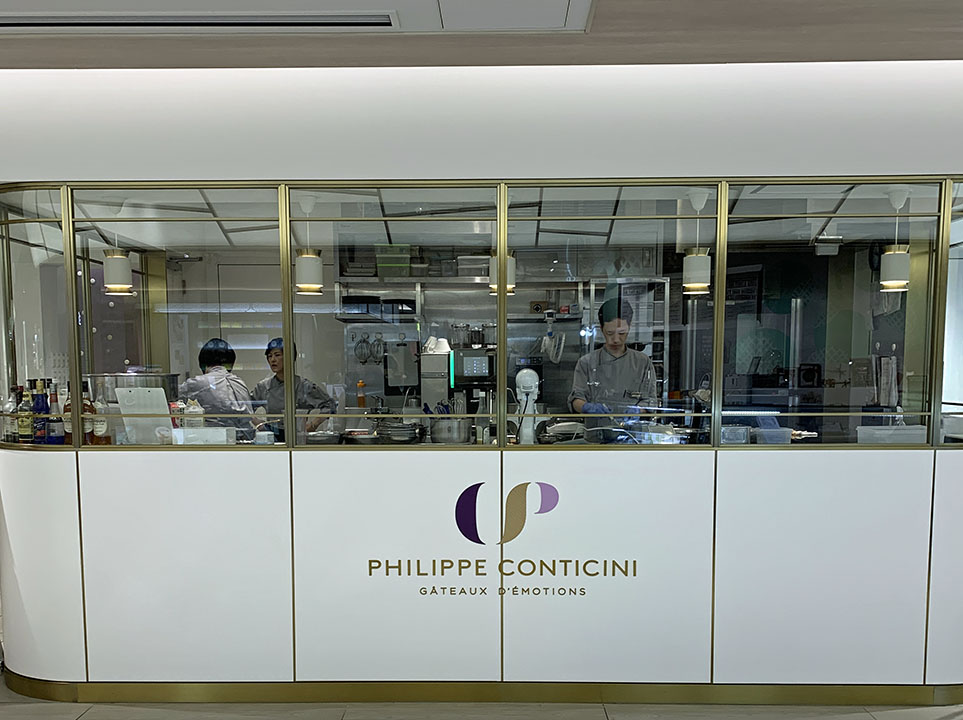 What first struck me at Ginza 6 was how many sandwich-style products were on offer. Two layers of biscuit – often a sablé/shortbread – with something in between. At one boutique the centers were made of meringue and the variations were in the flavoring in the biscuits and the flavor and texture of the meringue.
At the boutique of Hokkaido-based Ishiya we were treated to an extensive display of what they call langue de chat. (Why they are called that I have no idea because they are square and not shaped at all like what I have always seen langue de chat look like.) These are sandwiches where the center is flavored chocolate complemented by the biscuit. The word saqu means crispy and refers to the texture of the biscuit. (Saqu saqu translates to extra crispy.)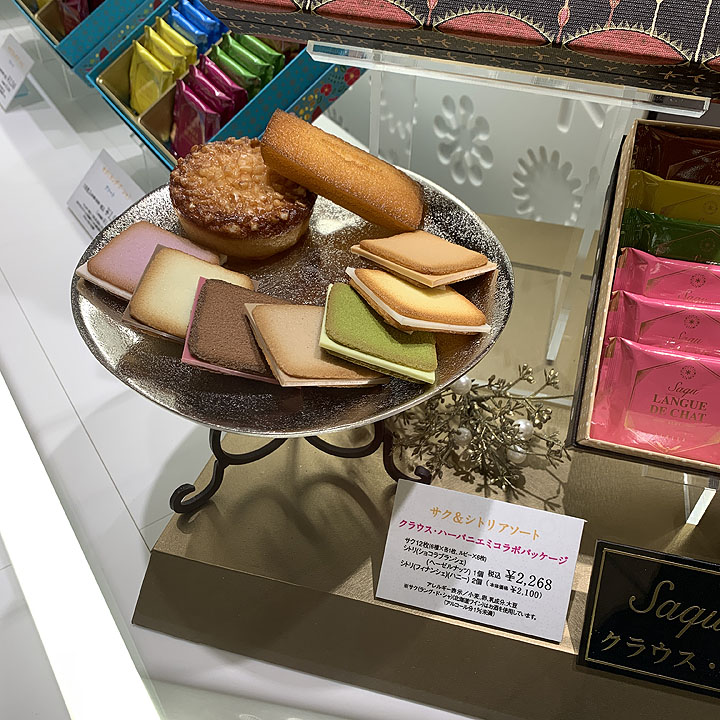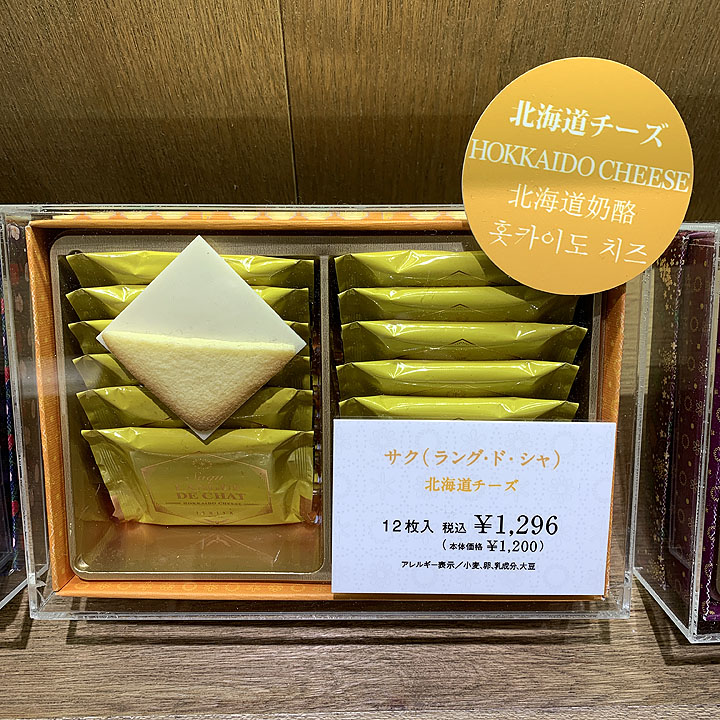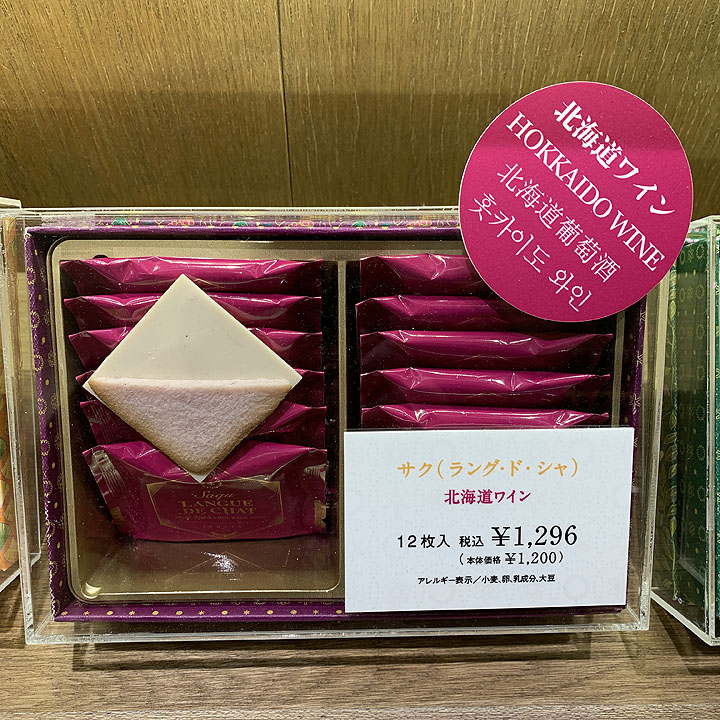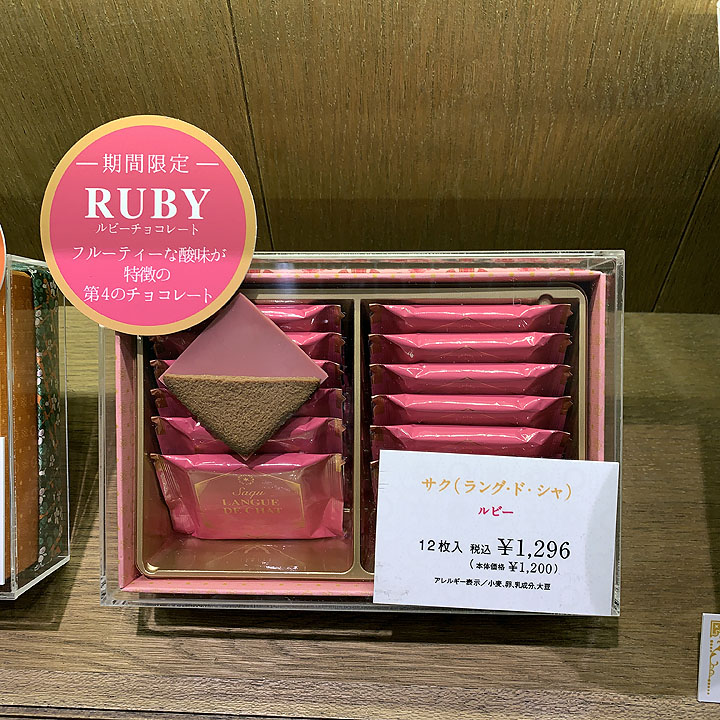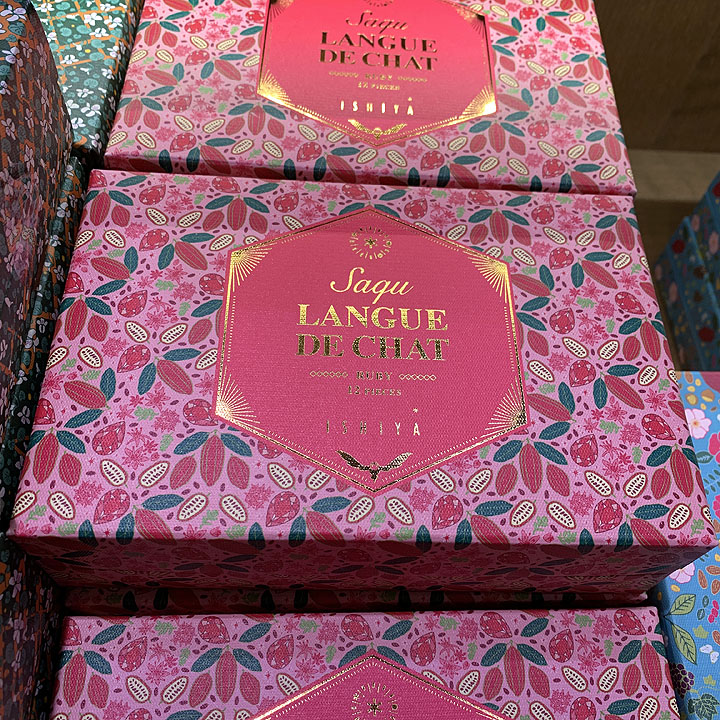 One thing that is interesting to note is that butter is not a common flavor elsewhere in Japanese cuisine – but it's very common in pastry and confectionery. It also becomes immediately apparent that texture is an underappreciated element of Japanese confectionery and pastry – actually, in all forms of Japanese cuisine. Ishiya makes over 200 different flavors of langue de chat, demonstrating that even in what seems a simple product format, a very wide range of possibilities is … possible.
I like Ishiya's saqu – a lot: In a word; very yum – even if they don't look like what they are named. I brought a box back with me and I am limiting myself to no more than one per day (largely because my doctor has put me on a 100gr of carbs/day diet). I get the attraction of the texture – crispy and crumbly biscuit with the smooth melt texture of chocolate in between and the complementing flavors. For me, texture has always been as important as flavor when evaluating food, beverage, and chocolate.
The KitKat Phenomenon
The next stop after Ginza 6 was the KitKat Chocolatory. (Chocolatory is pronounced as the French chocolaterie but without the accent – more like choc-uh-lottery.)
There have been, according to Wikipedia, over 300 seasonal KitKat flavors. Some of these are available only at branded KitKat Chocolatory boutiques.
KitKats are made by Nestlé everywhere in the world but in the US where they are made under license by Hershey.

WHEN I AM IN JAPAN, I yearn for Nestlé to revoke the license with Hershey so they can start introducing a whole raft of interesting flavors here in the US. I am not a huge candy bar fan, but I do like indulging in a new, interesting, KitKat when I am in Japan. Bourbon Pecan KitKats? Georgia Peach? Michigan Sour Cherry? Molé Poblano? Heck, yeah! (I would personally draw the line at Avocado Toast or Sriracha KitKats – but I bet they'd be huge sellers based on curiosity alone.)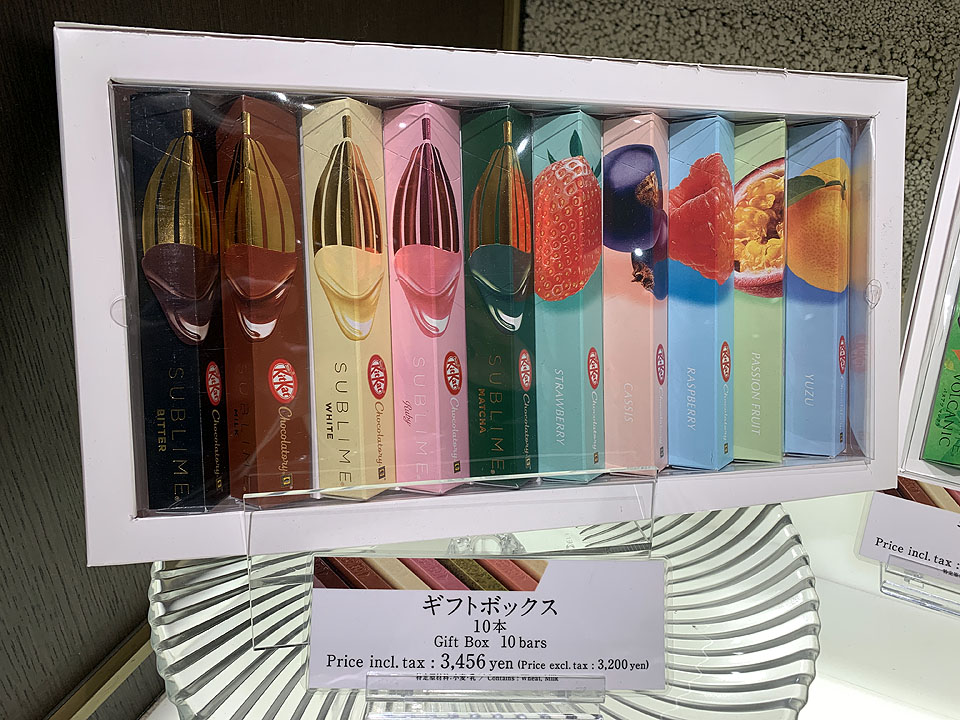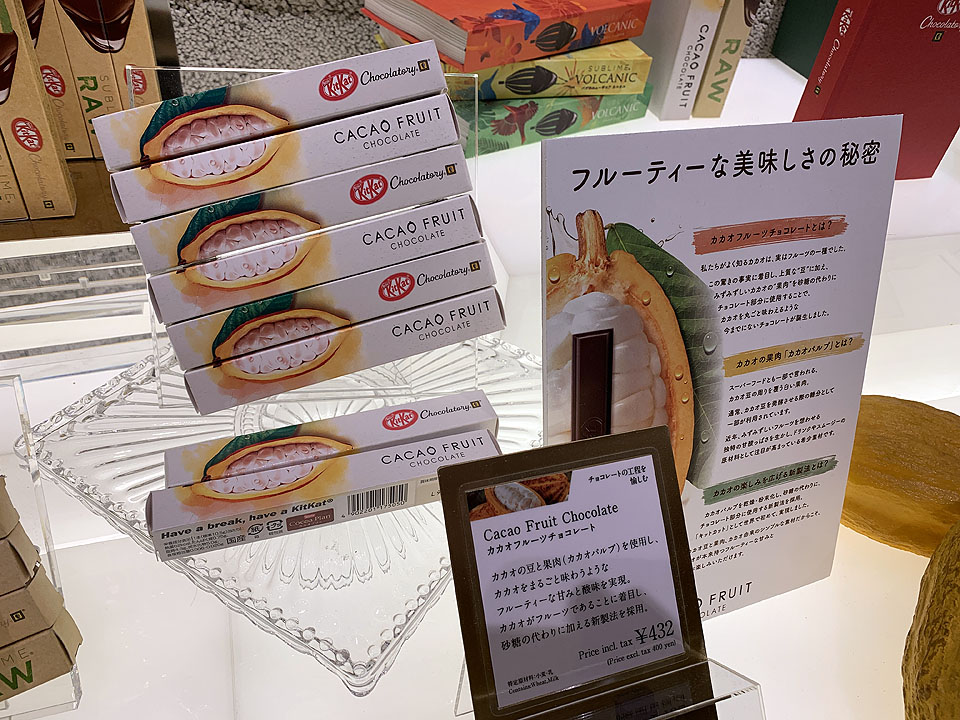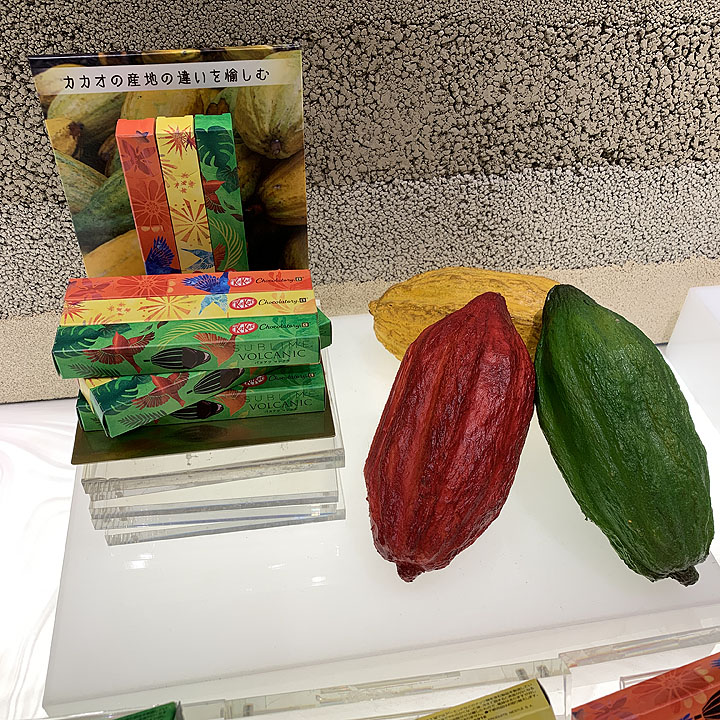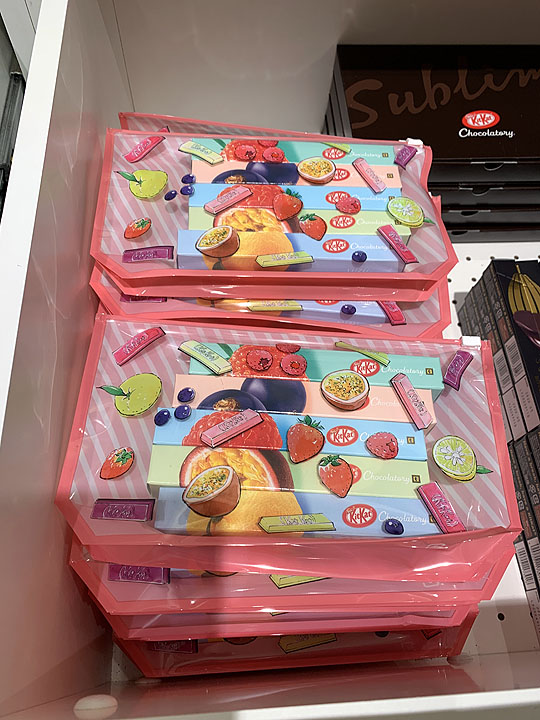 While KitKats are popular in the US, that popularity is positively dwarfed by their popularity in Japan. One reason for this is the accidental likeness of KitKat to the Japanese phrase kitto katsu, which means good luck. Another reason is depth and breadth of Japanese gifting culture. These two reasons are tightly intertwingled* in Japanese culture, and are factors that do not exist in the US, Europe, and many other cultures. KitKats are very often gifted as tokens of good luck
*Intertwingled is a portmanteau I believe I coined. It is a mashup of intertwined and intermingled.
There is a constant exchange of gifts for both personal and professional occasions. While many of these gifts are inexpensive, price seems to be of a much lesser concern in many contexts, and while you can get bags of a dozen individually-wrapped KitKat minis at Don Quijote discount stores for less than the equivalent of US$5 (boxed regional specialties can cost more than $8), a single KitKat finger at a Chocolatory boutique will cost at least $3 and can cost more than $4. Strawberries at $100/dozen and square melons at $200 each are probably gifted more often than they are purchased for personal consumption.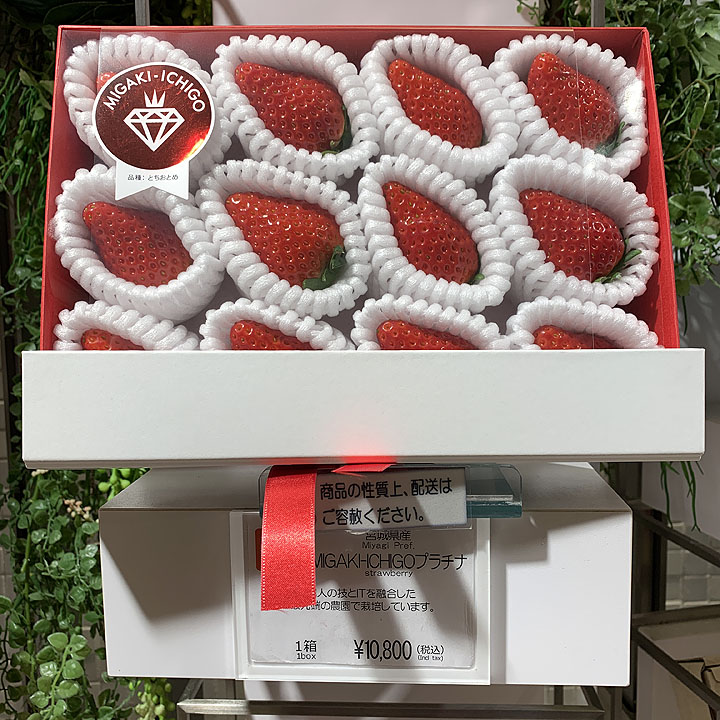 Lunch break
Lunch saw us back at the ANA Intercontinental Hotel, where Pascale Meulemeester (my host and President and Representative Director of B-C Japan), and I were met by Bas Smit (Global VP Marketing) who flew in from Zurich for the occasion. B-C Japan collaborated with the management of the ANA Intercontinental on a three-month long chocolate program called Chocolate Sensations. This included an all-you-can-eat chocolate and champagne buffet on the mezzanine, a chocolate high-tea in the atrium lounge (costing $45/pp), and special items made with Ruby, in the Pierre Gagnaire (two Michelin-starred chef) restaurant and boutique.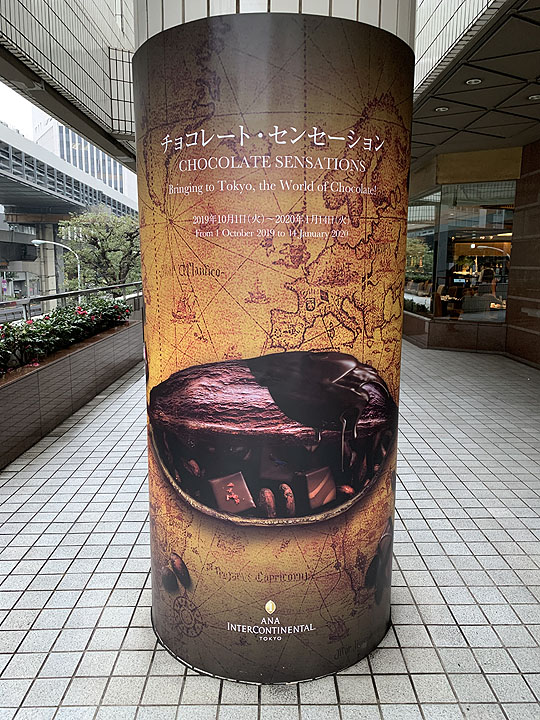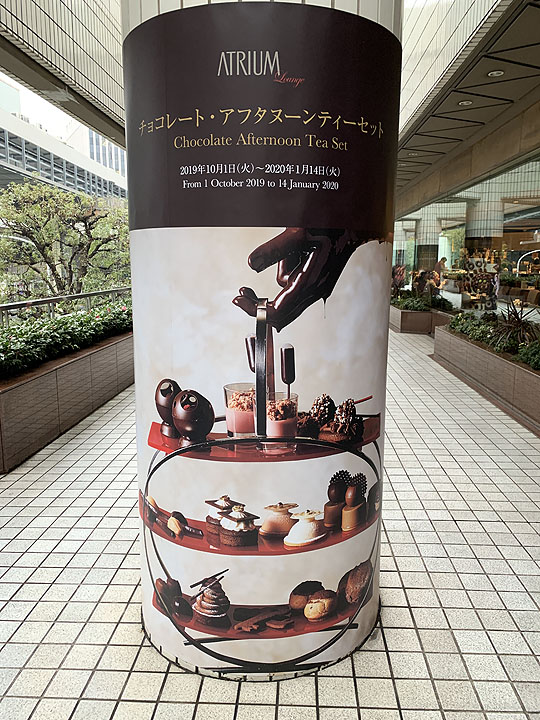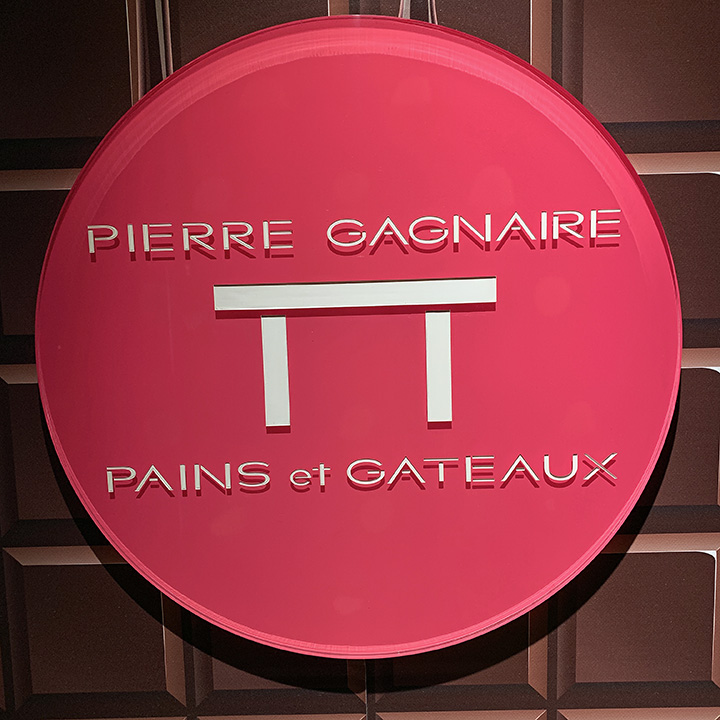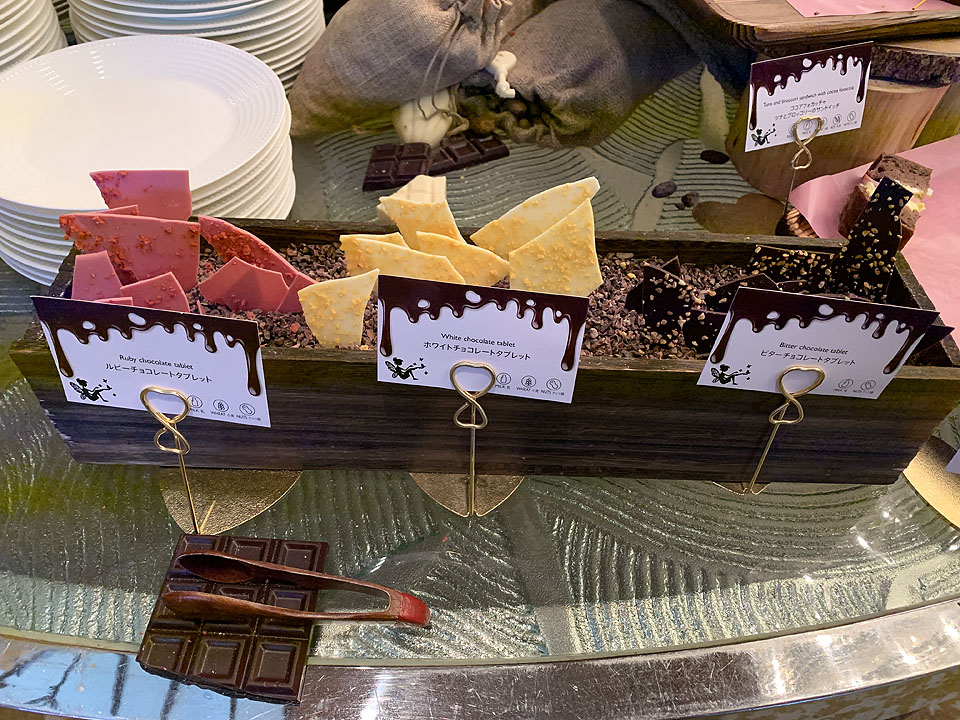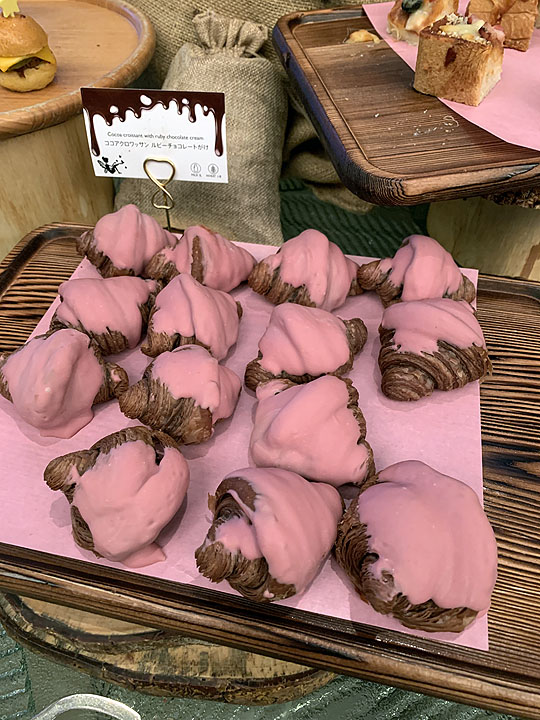 Isetan
I think of Isetan as the grandpappy of Tokyo department stores, in no small part because they are the organizing partner of the Salon du Chocolat in Japan and until my first trip to Tokyo in 2015 I did not know the names of any others.
There are a lot of confectionery boutiques from famous Europeans in the Isetan food hall. From the perspective of 'number of different chocolate brands per square meter', this is the highest density of chocolate boutiques I have ever encountered outside of a food trade fair/chocolate festival setting. However, these are boutiques in a department store and not standalone shops so it's not the same experience as visiting the shops in say, Paris. But it's still a pretty amazing shopping experience.
Ground zero for chocolate in Paris is, IMO, the area immediately surrounding the Church of Saint-Sulpice on the Left Bank. In Brussels I would have to say it's the Place du Grand Sablon.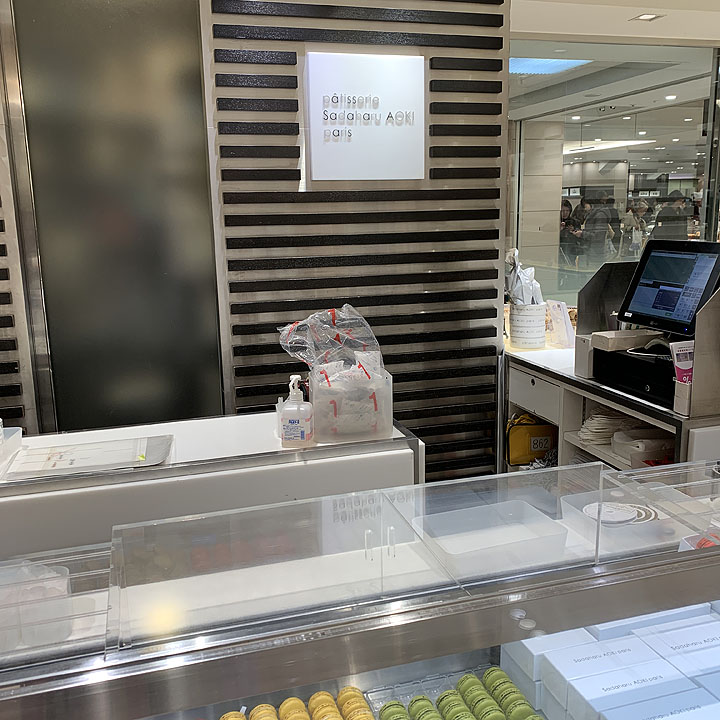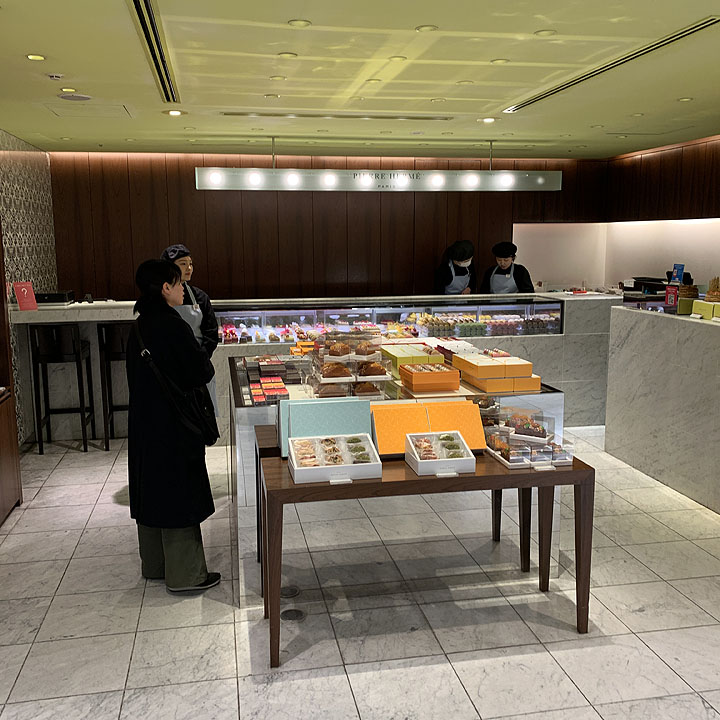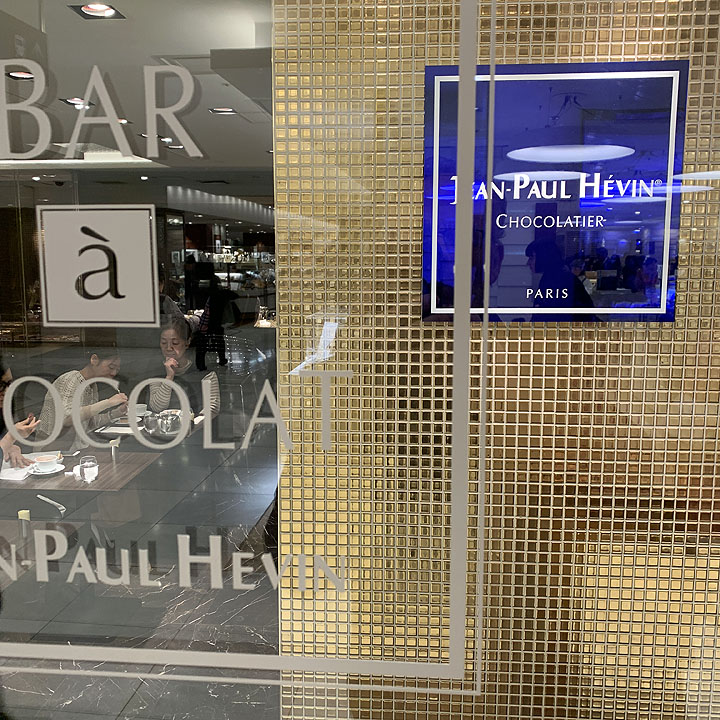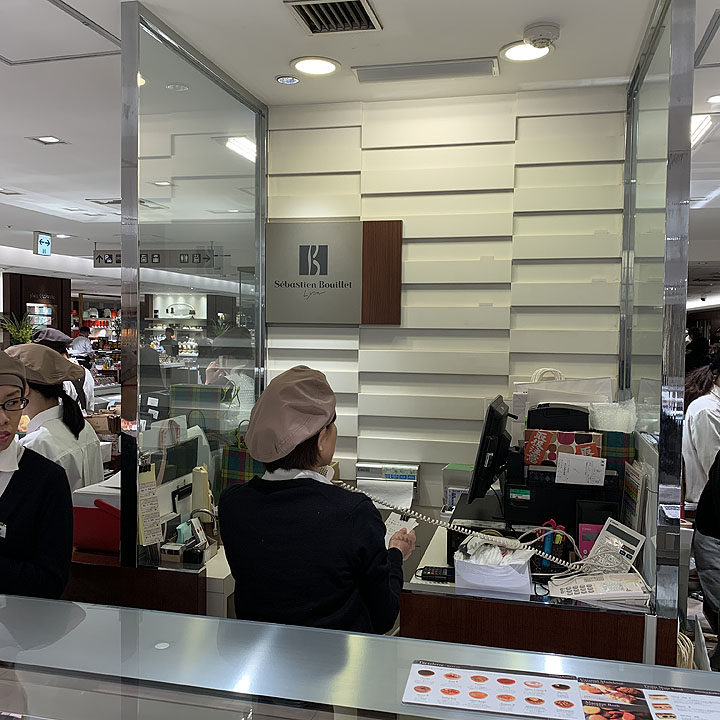 But wait!, There are more!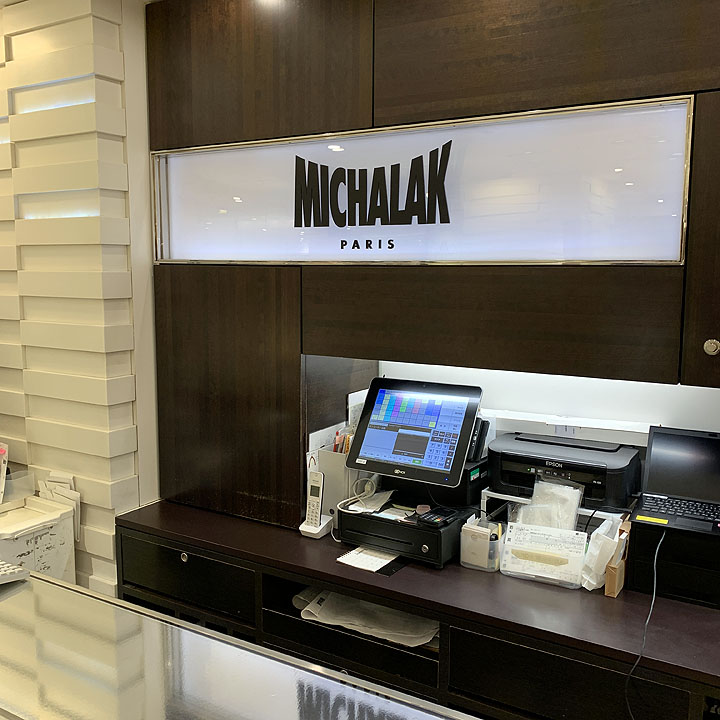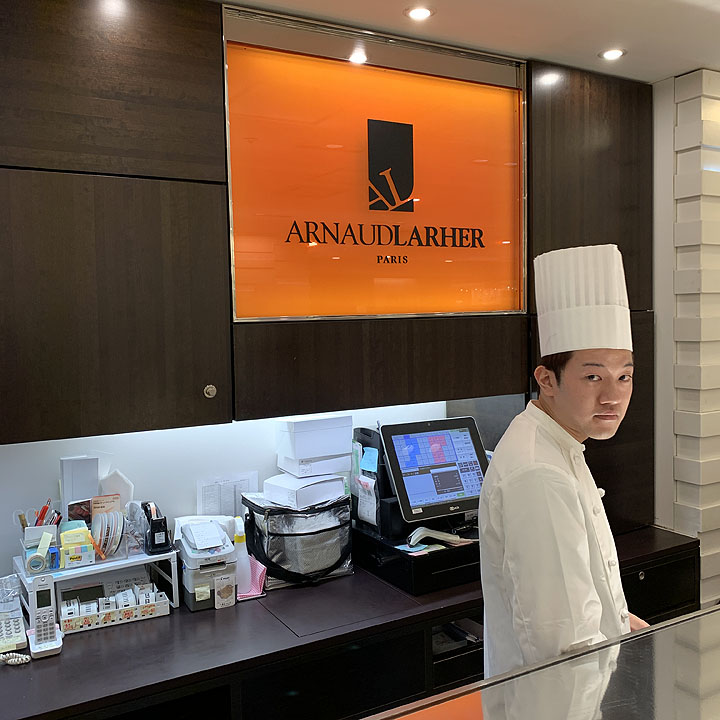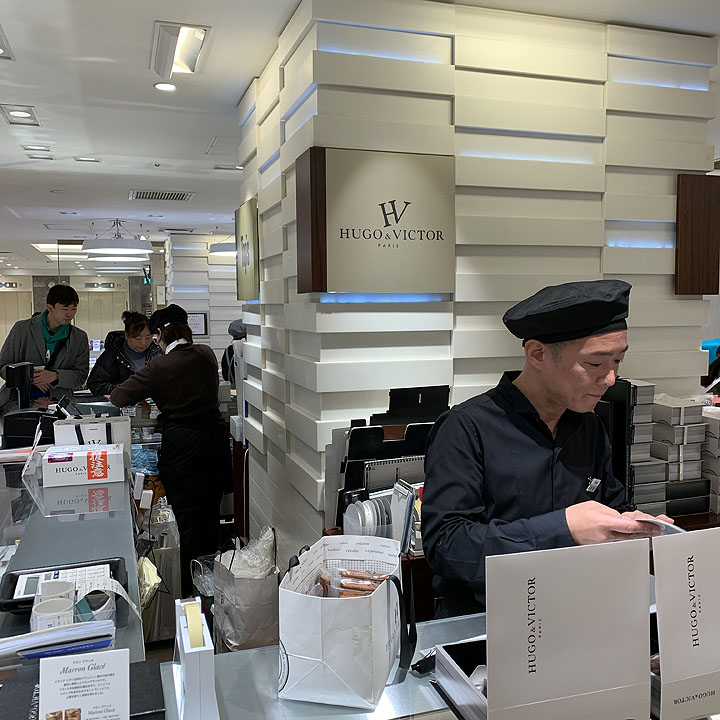 Shibuya
Although there have been high-profile flops in the bean-to-bar chocolate marketplace in Japan (Meiji's THE brand stands out here), bean-to-bar is poised to grow market share in Japan just as it has in the Americas, Europe, and elsewhere in Japan. While foreign chocolate makers have a local manufacturing presence (Dandelion is probably the best known craft brand), the future belongs, in my opinion, to homegrown bean-to-bar brands.
From Isetan, Pascale, Bas, and I went to visit the Minimal shop before walking to Shibuya to visit the food court at the new Shibuya Scramble department store. Along the way we stopped at a number of convenience (7-11, Lawson's), gourmet (Seijo Ishii), and specialty chocolate (Cacao Store, Musée Theobroma) stores.
Minimal Chocolate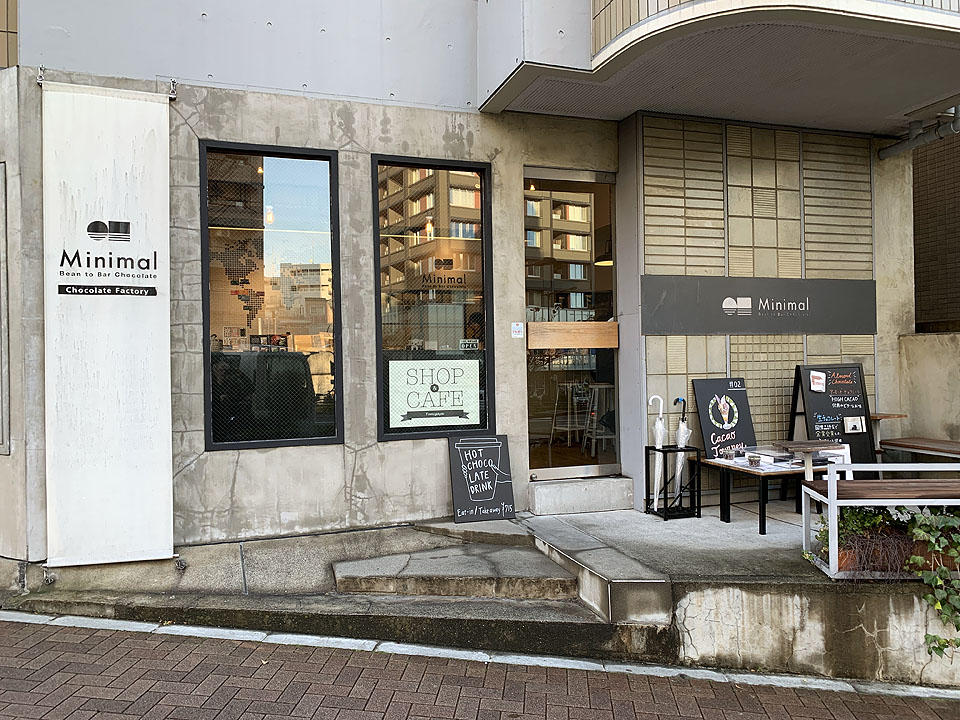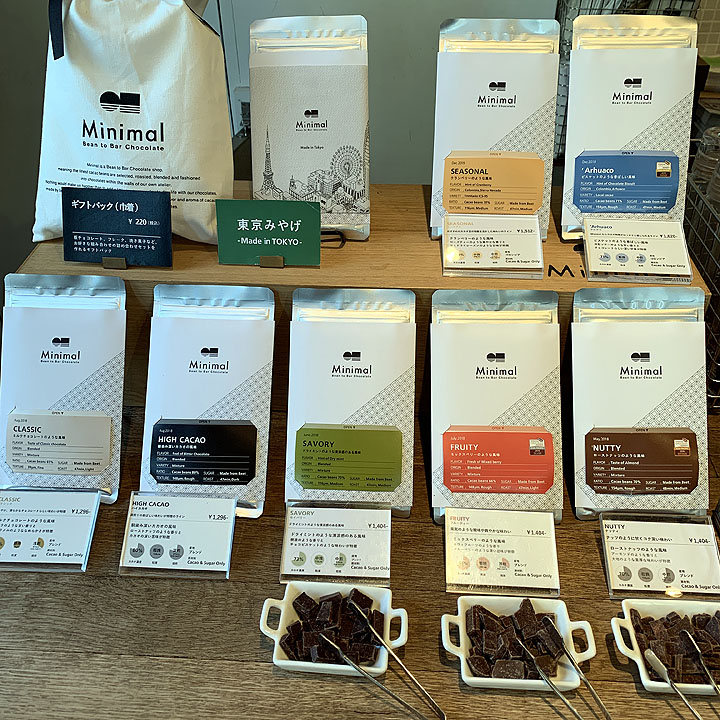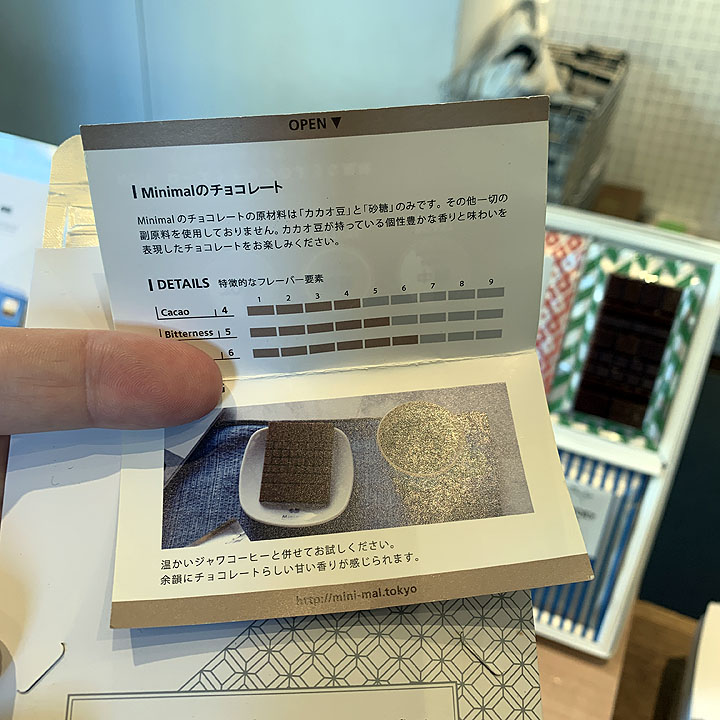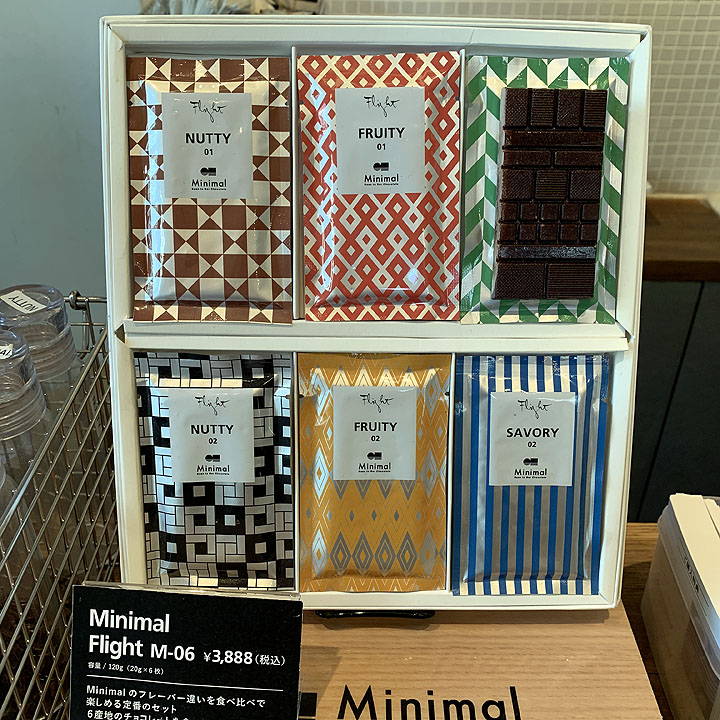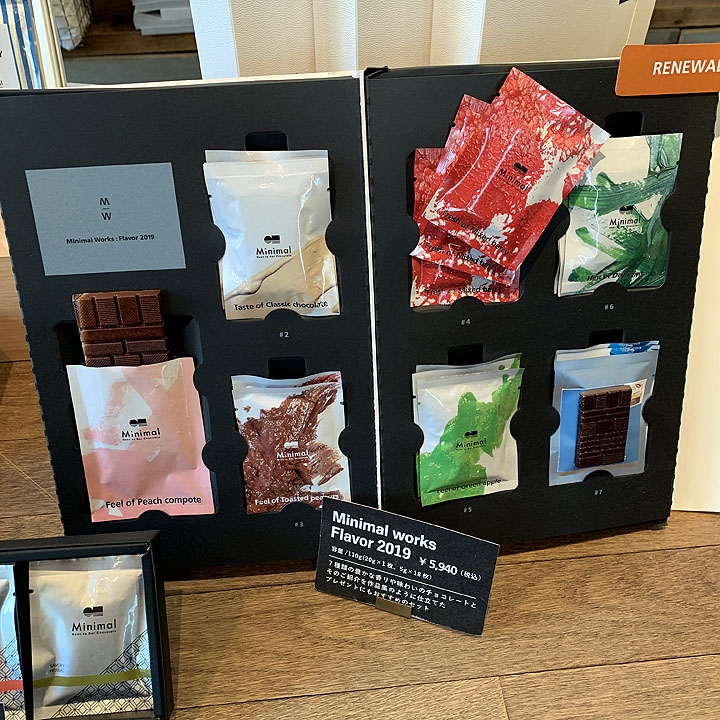 Minimal has carved a place in the market for chocolate that is not as refined as most European and American chocolates with the exception of Taza. Taza popularized a transitional "rustic" style between traditional Mexican-style chocolate (or more accurately, chocolate made for use in beverages), and "European" chocolates. Minimal's texture (particle size) is somewhere between Taza's and traditional Mexican.
From the first time I laid eyes on it, Minimal's packaging has impressed and they have evolved not only their basic bar package (the insert label card is now folded and holds twice as much info), and they have added new formats for other presentations while keeping their fun and very practical mold design.
From Minimal we headed towards Shibuya, home to the most-videod spot in Tokyo, the pedestrian crossing outside Shibuya station.

Along the way we stopped at Cacao Store and Musée Theobroma, both stores owned by Koji Tsuchiya and just along from each other on the same street. The two stores serve different customers. Cacao Store carries many different brands (the largest selection I have seen in Tokyo) in addition to Musée Theobroma ("M-T") – which is both a bean-to-bar maker and a melter. M-T focuses on its own brands and offers up a range of house bars, confections, pastries, and non-chocolate items. (I own several of their notebooks).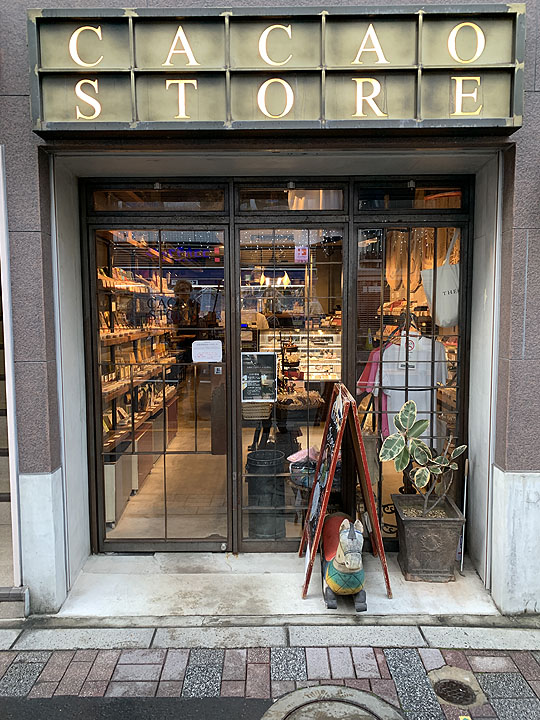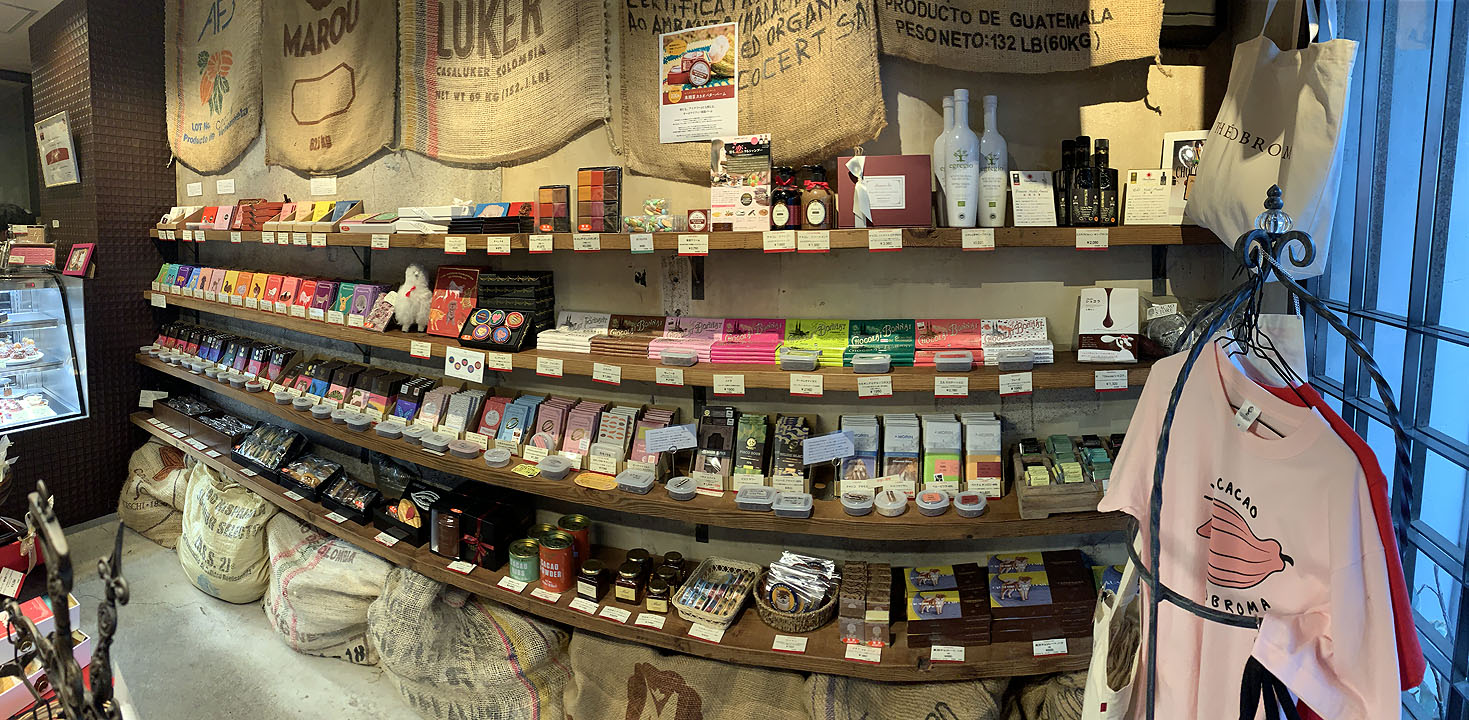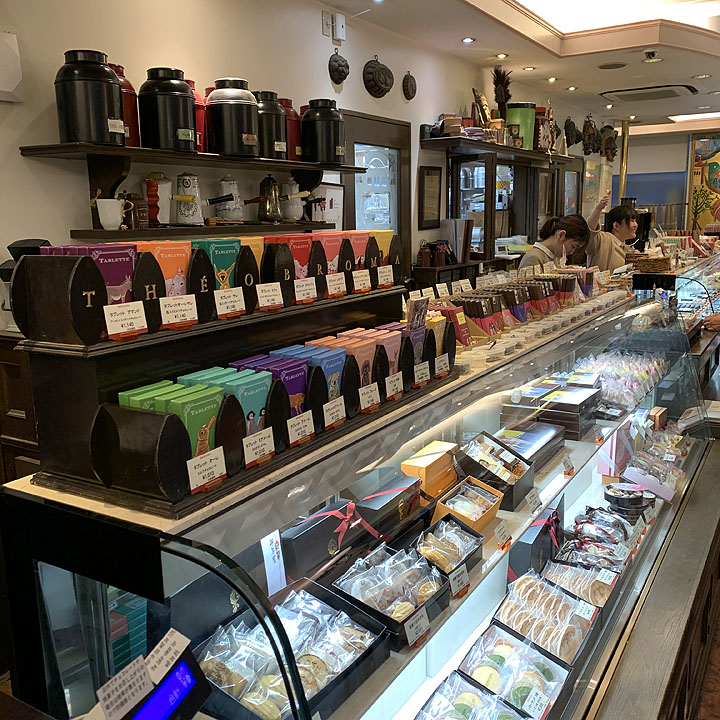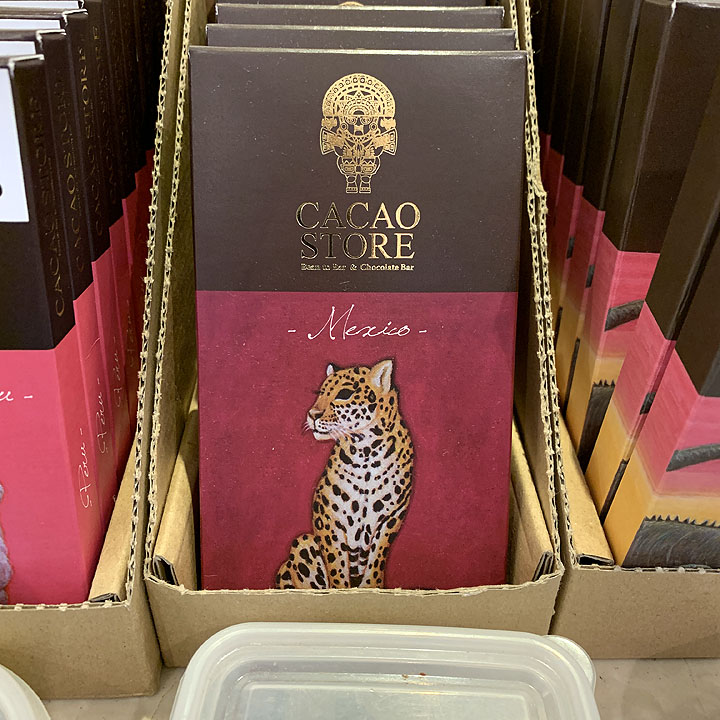 A Competitive Environment
The convenience store segment of the chocolate/candy market is apparently a brutal competitive environment, with 30% of items (turnover in beverages is about 25%) turning over month-to-month and a one-year survival rate of around one item in 3,000. In the C-store environment Ruby must battle with established brands and products to stay relevant with consumers.
What's also interesting about C-Stores is that while brands like 7-11 are seen as down-market here in the US they occupy a very different position in Japanese consumers' minds. Japanese consumers demand novelty on C-store shelves while turnover in boutiques in places like Isetan tends to be seasonal, with favorites returning on an annual basis – during strawberry and cherry-blossom season, for example.
One driver of novelty and technique for coping with it is the widespread use of the principle of artificial scarcity through the application of limited editions: "Buy today because it may not be available next week – or maybe not even tomorrow."
Shibuya Scramble
Shibuya Scramble, a new department store located in the Shibuya Metro (subway) complex, was our last stop of the day. Because we were there as work was ending, it was quite busy compared with Ginza 6 and Isetan. A lot of shopping was going on.
I mentioned earlier that butter is not a flavor that shows up in most areas of Japanese cuisine but is quite prevalent in pastry. The out-est example of this is a brand named Butter Butler, which specializes in financiers in a non-traditional shape. Even less traditionally shaped were financiers in the shape French toast, which I think is a playfully great take on the traditional financier form.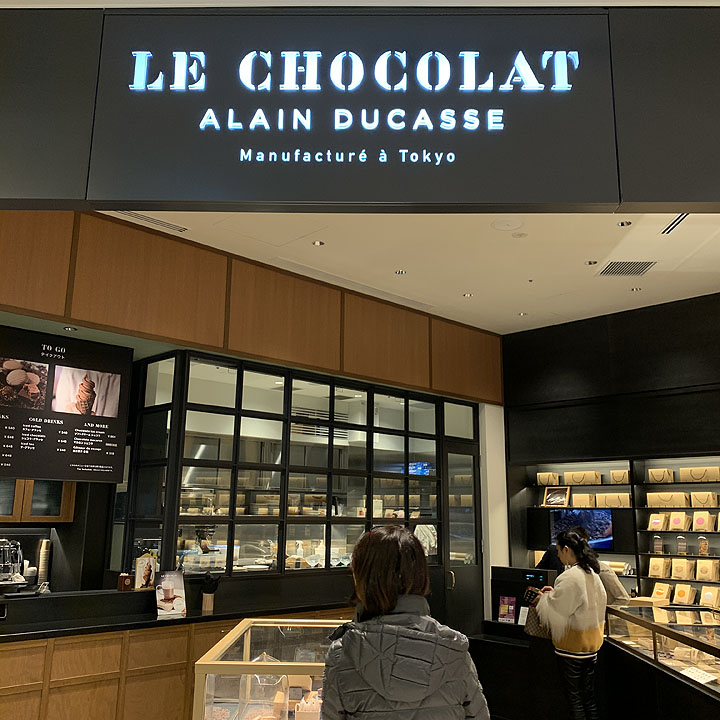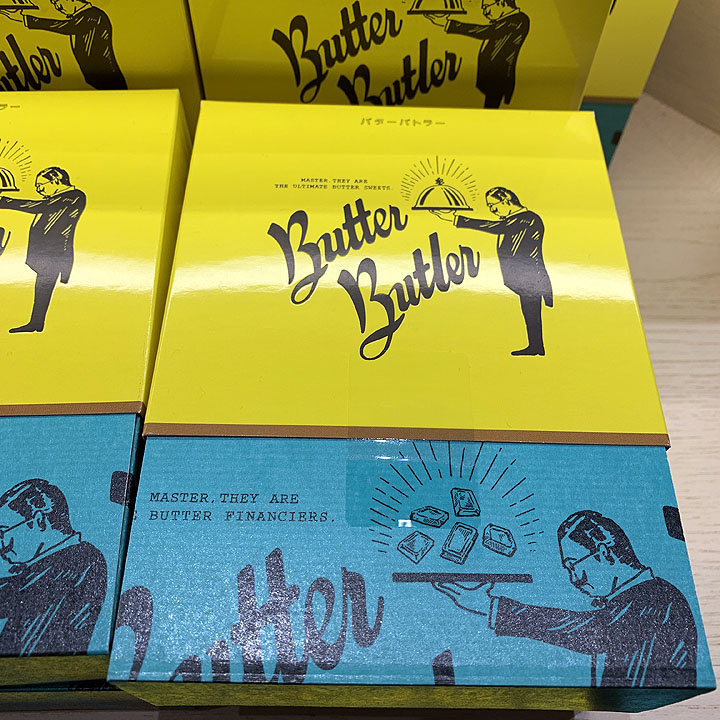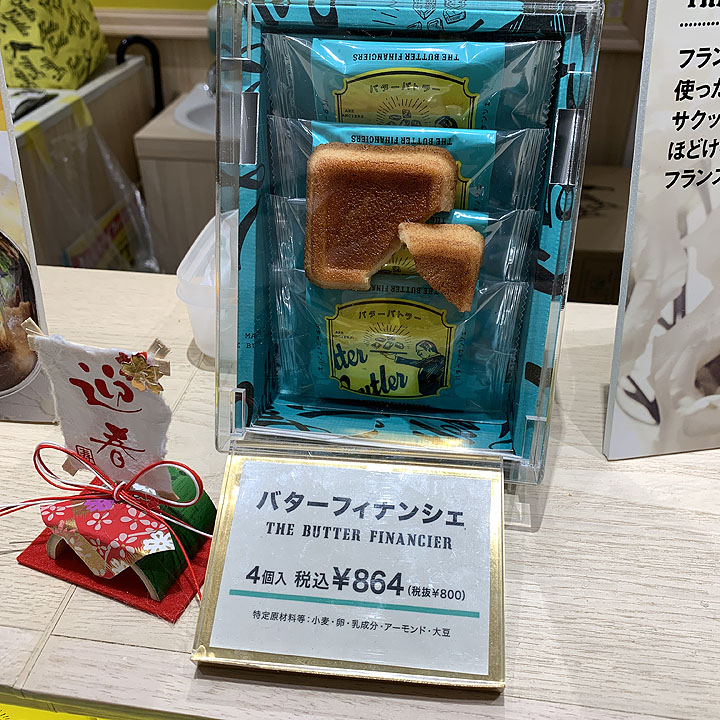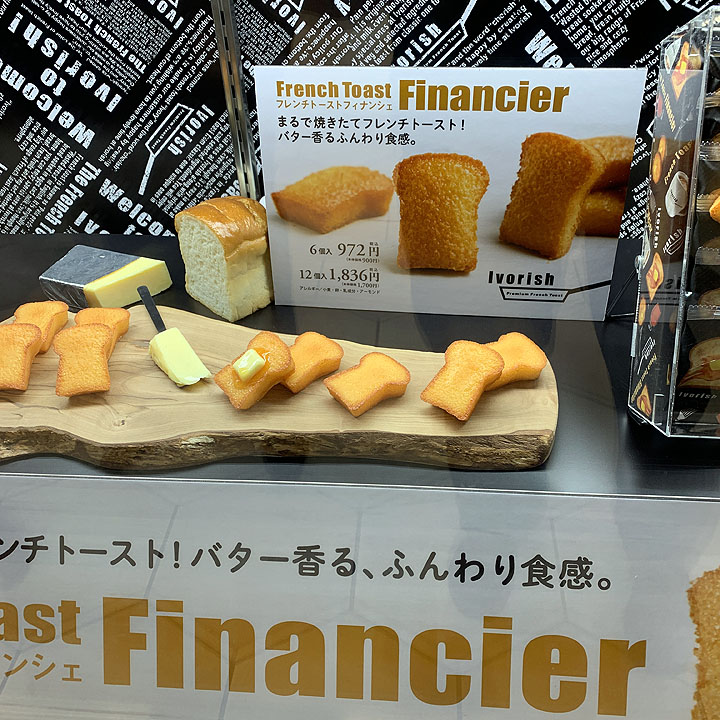 Also in Shibuya Scramble is the Alain Ducasse boutique, the only international confectionery brand I saw with its own stand-alone presence there. A far cry from the number of international brands at Isetan.

Day 2: The Presser
This was the reason for my being invited to Tokyo, and I was the only non-Japanese member of the press to attend this event, which featured several large B-C customers revealing (some of) their plans for Ruby for products for Valentine's Day. The presser was followed by an extended tasting where senior executives of the companies involved were available for interviews.
This year, for Valentine's Day, over 100 new SKU's featuring Ruby will be available at over 50,000 retail outlets – some of them smaller corporate chains that include Caffè Veloce, and others very large convenience store chains including Family Mart – throughout Japan.
Several things stood out as being unusual and impressive about this press event:
There were major competitors sharing the podium: Nestlé, Morinaga, Fujiya (Look brand), Wittamer/Anténor, Caffè Veloce, Mon Cher, and Family Mart. Their presence on the stage showed a level of broad corporate commitment to another company's chocolate at a level I cannot recall ever having seen given to any chocolate or confectionery ingredient – ever. Anywhere.
All of the corporate representatives who presented were available both before and after the press conference itself to take questions. That's a lot of access.
This broad corporate commitment is fostered by strong marketing support from B-C. The press conference was organized by them and was packed with representatives from major print and television as well as online media outlets. That's a lot of earned media coverage at a nominal cost to the brands who participated.
All of the packaging and POP display materials at the event included the word Ruby and/or the phrase Ruby Cacao and/or Ruby Chocolate, often using a logo/motif created by B-C. In several cases, the packaging also included a sticker that explicitly mentions B-C adjacent to Ruby. The word Ruby in all contexts appeared as many as four times on the front of retail packaging. This shows that there is broad market understanding of the value of the word Ruby, something Valrhona failed to do with its attempt to create a new category with its "blonde" chocolate, Dulcey.
The word Ruby is being associated gems and jewelry ("jewelry-like") with gem drawings, and phrases like "Shine Like the Ruby," "Feel More Like Ruby," and "Tree That Bears Gems."
The quality (fit and finish as well as complexity) of some of the packaging from Family Mart was astonishing, especially considering the price (under $8) and the fact that Family Mart is a C-store.
B-C announced that it will now be manufacturing Ruby in Japan to keep up with local demand.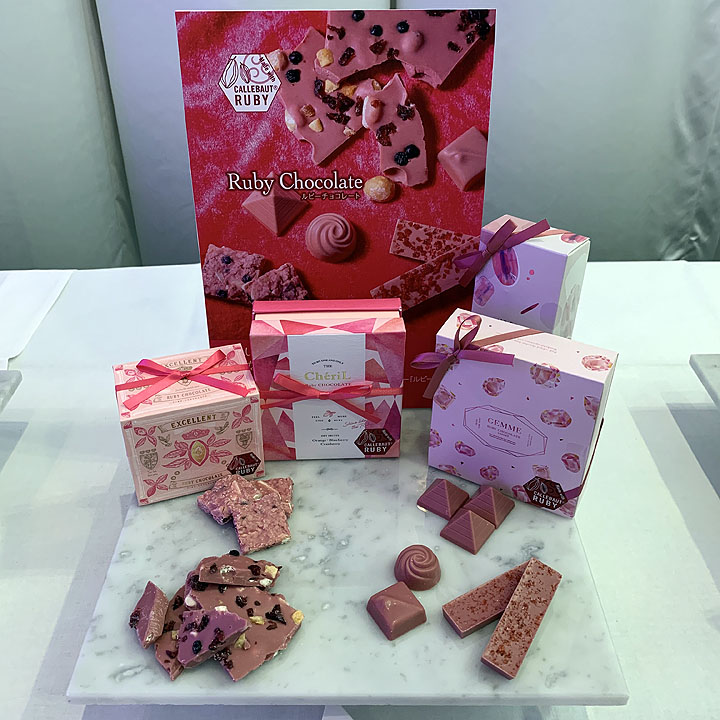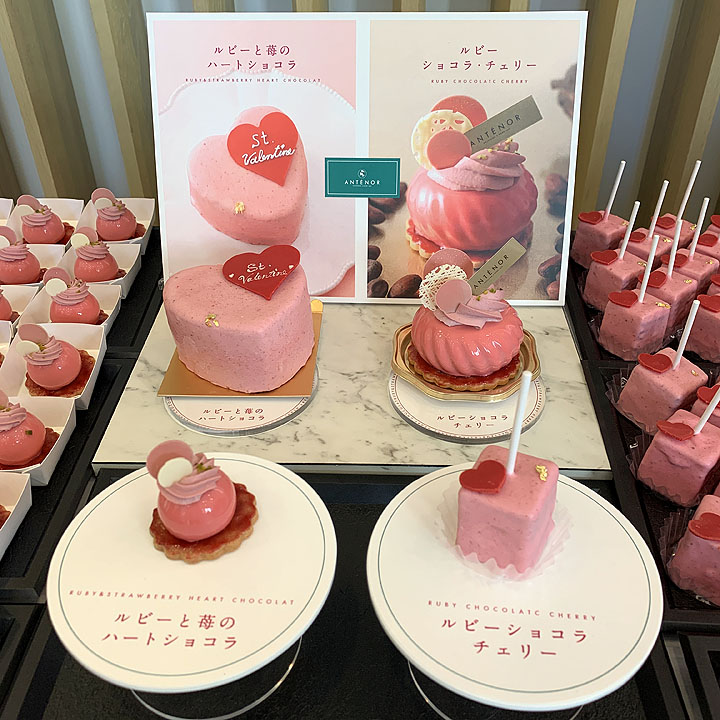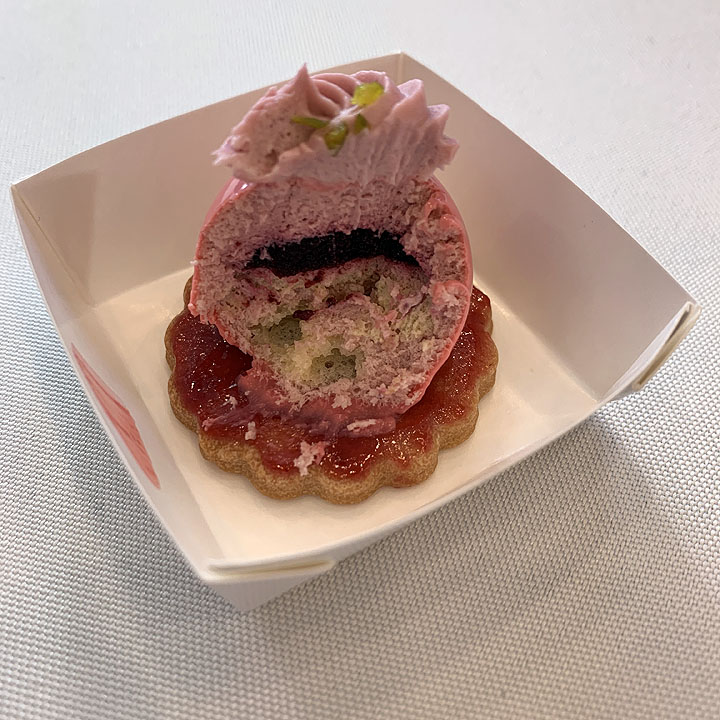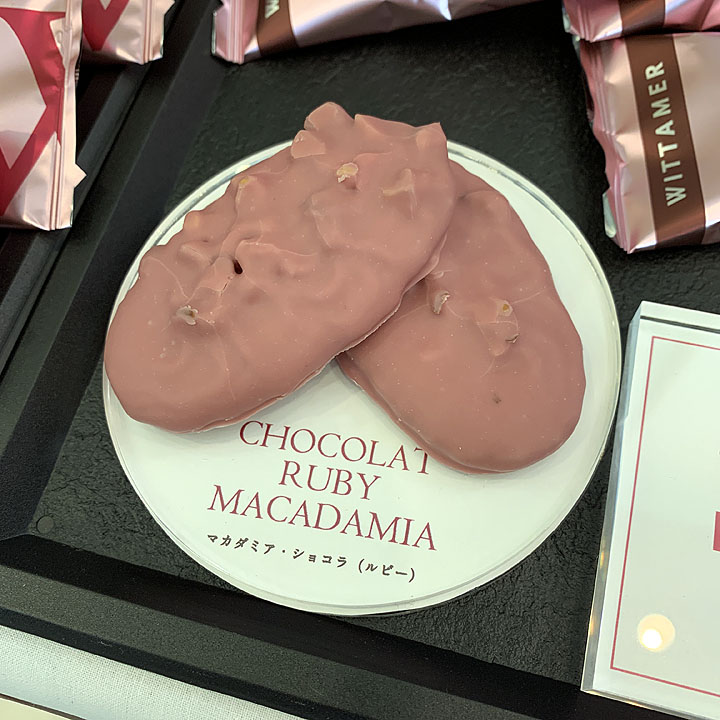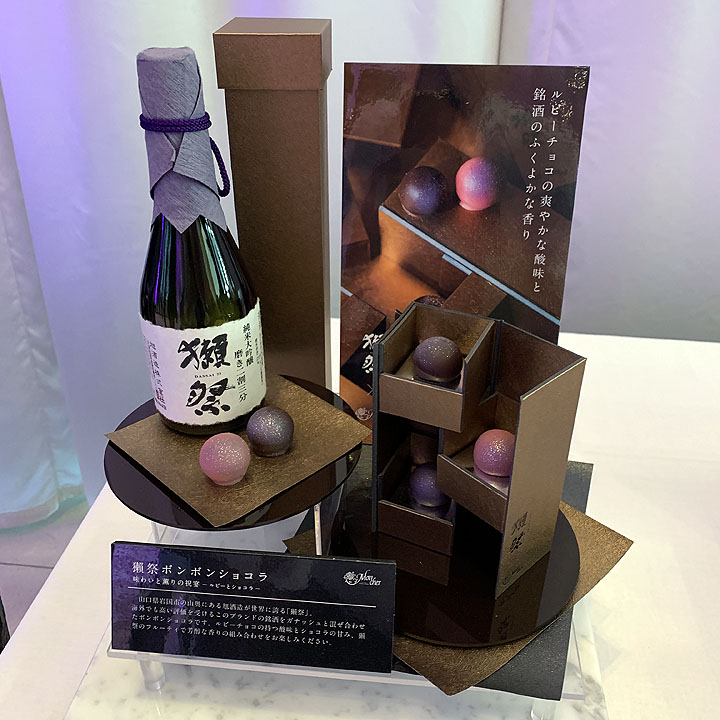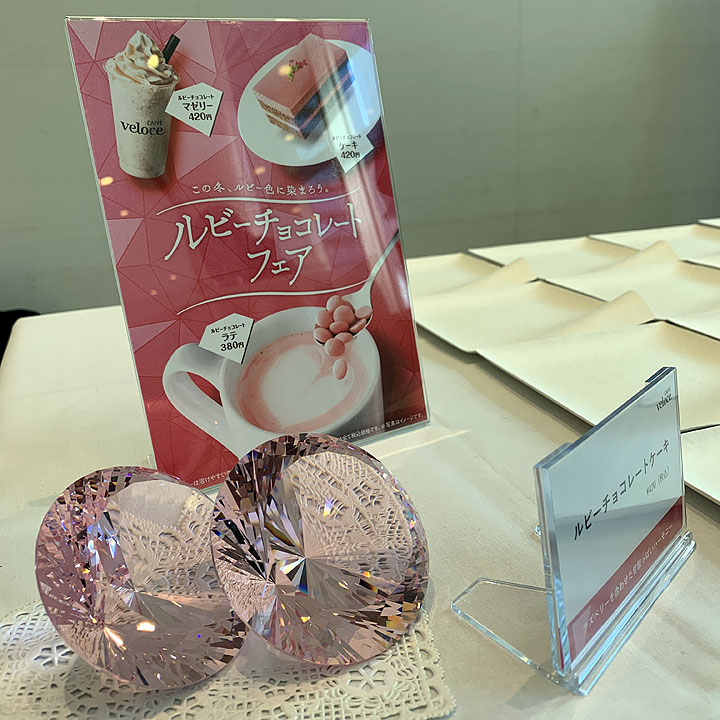 While some of the items shown at the presser were simply Ruby melted down and deposited into molds, lest you think that all Ruby products are unsophisticated, some of them were anything but. Take a look at the cross section of the cake sample in the gallery above, it's composed of:
a shortbread base spread with raspberry jam
strawberry sponge cake covered by a Ruby glaze
berry jelly center
Ruby mousse topping
disks of Ruby and white chocolate for garnish
And although not obvious at first, the Wittamer piece combines a shortbread cookie with roasted, salted, macadamia nut pieces all covered in Ruby. I have had some very disappointing Ruby/nut combinations – but this is one of the pieces sampled at the presser that I really wished I was able to bring home a lot more of. The combination of flavors and textures, including the mac nuts and Ruby, left me wanting another after having just finished one.
For Christmas 2019, Fujiya produced a video featuring the popular Japanese boy band Snow Man as a promotion for its line of specialty cakes. The 16-minute (!) video, which is on YouTube, includes a Ruby cake in what I am told was totally unscripted interaction (though Fujiya reps were in the studio, obvs).
https://www.youtube.com/watch?v=IKvzmiulcmk&t=729s
Another B-C customer, Furuta, has produced at least one television commercial for a chocolate bar made with Ruby. The closest analogy I can think of would be a company like Nestlé creating an ad that highlighted their use of Cadbury Dairy Milk (a Mondelez product) in one of their bar.
https://www.youtube.com/watch?v=LOZqj3ajHSY
This cross-promotion also shows up in own-label products that find shelf space in both gourmet and C-stores.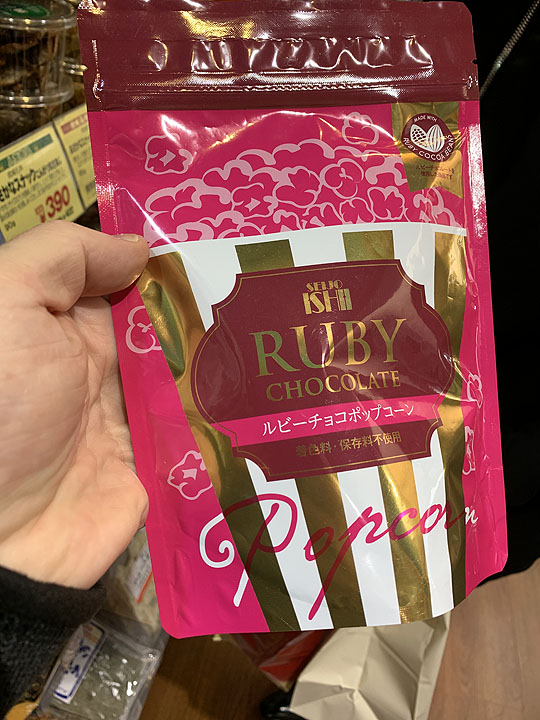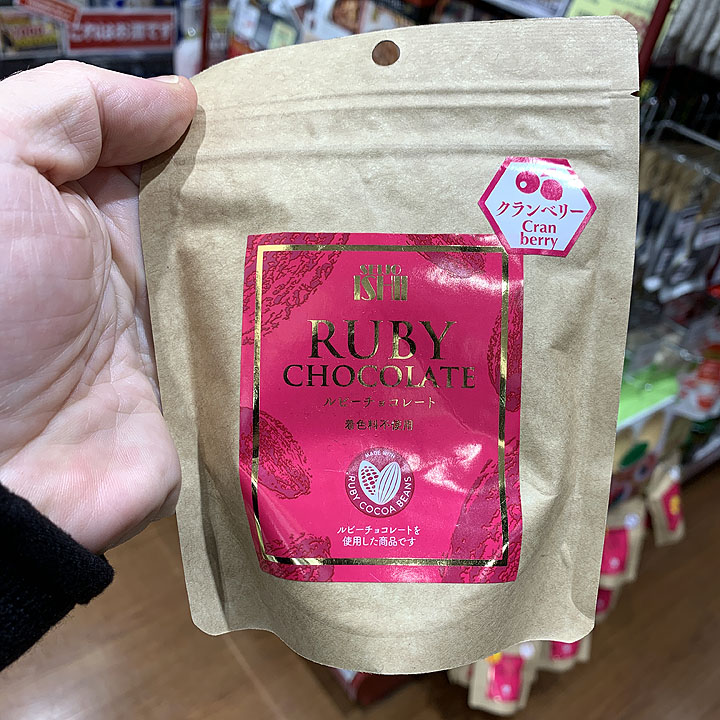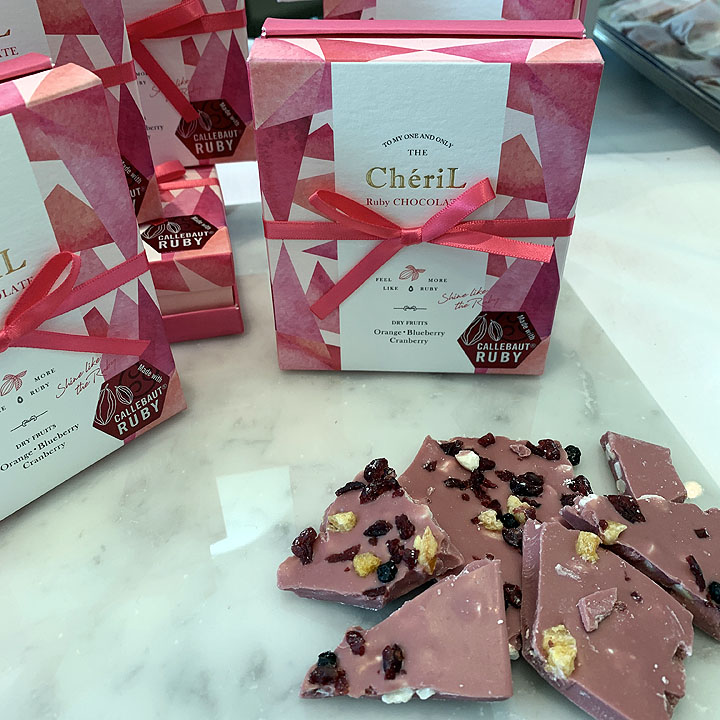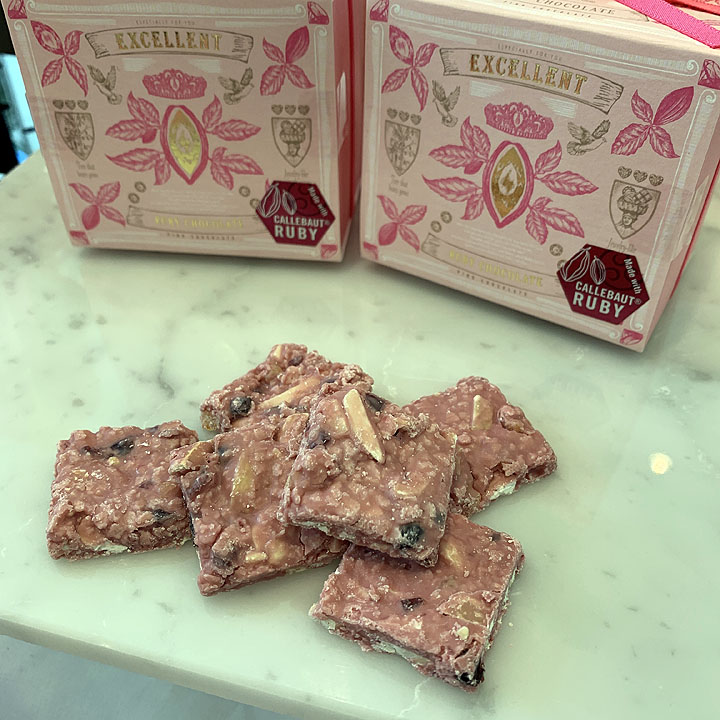 Nestlé and B-C are direct competitors in many ways. One of the more significant new areas of competition is in Nestlé's Cacao Fruit product line (chocolate made with a sweetener derived from fresh cacao juice); B-C announced its Wholefruit initiative back in September (in San Francisco, which I also attended), which includes directly competitive product.
All of the above suggests a strategy by B-C to position Ruby in a way that is similar to Intel Inside – which in the end will be far more powerful than the phrase "made with Belgium's finest chocolate" which does not identify who actually manufactured the chocolate.
Other Cultural Factors Influencing Ruby's Adoption in Japan
I mentioned gifting culture above with respect to KitKats, and texture in my mention of saqu. There's another very important aspect to bring up, and that's flavor.
Many chocolate aficionados pooh-pooh both white and milk chocolate as being not worth eating, and many think white chocolate is not really chocolate. (Spoiler Alert: It is. really chocolate.) For these people, it's really easy to dismiss Ruby because it does not look or taste like what they think chocolate should taste like, and it's too sweet.
But taking a look at flavors culturally, it's revealing to understand that Japanese cuisine has a lot of sweet and sour in it. Ruby is that combination in chocolate. Ruby has a citric/sour aspect to it in addition to being sweet with berry flavors, flavors (for example strawberry and cherry) that hold significance in Japanese culture outside of chocolate. And that may be one reason it became and remains popular.
It's important to recognize these cultural levers because they do not exist, or exist in very different forms, outside Japan. The challenges that face B-C in making Ruby popular in the US and Europe, for example, are different – and applying the learning B-C has done in Japan to other markets is not straightforward. Adoption in China, for example, where Ruby was introduced, has not had the same level of success – but that could be in part due to B-C's relative lack of focus on the Chinese market as much as it is due to inherent cultural differences.

Day 3: More Out and About
Friday was a light day in my schedule with the highlight being a visit to Green bean to bar Chocolate in the Meguro district with Pascale from B-C and an extended meeting with founder/chocolate maker/chocolatier/pastry chef Daisuke Yamanouchi, who worked with Patrick Roger in France for many years before returning to Tokyo to set up shop.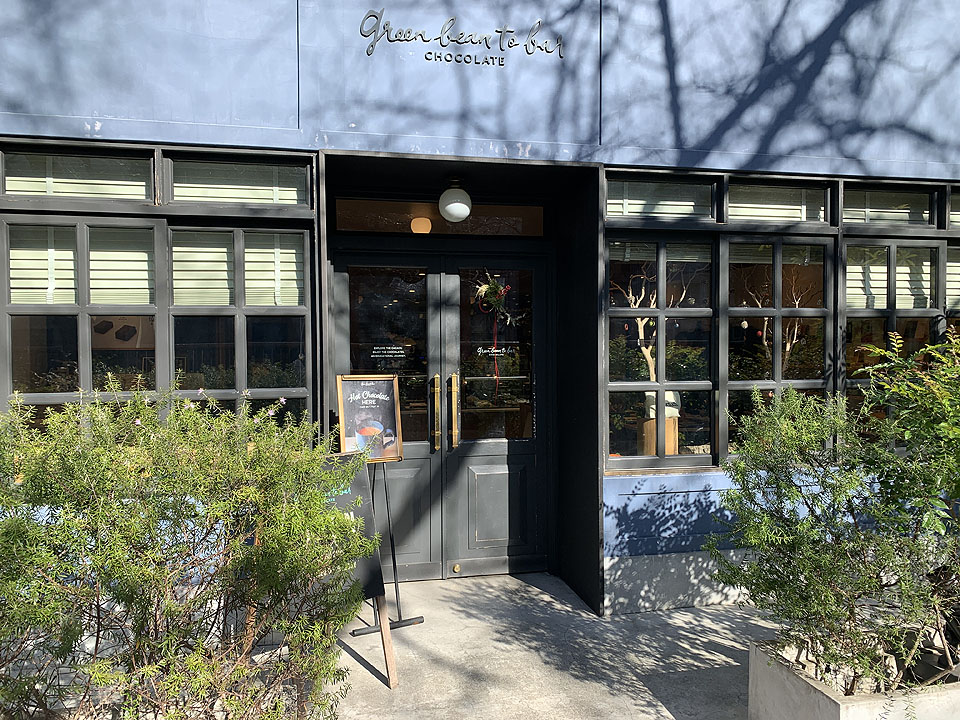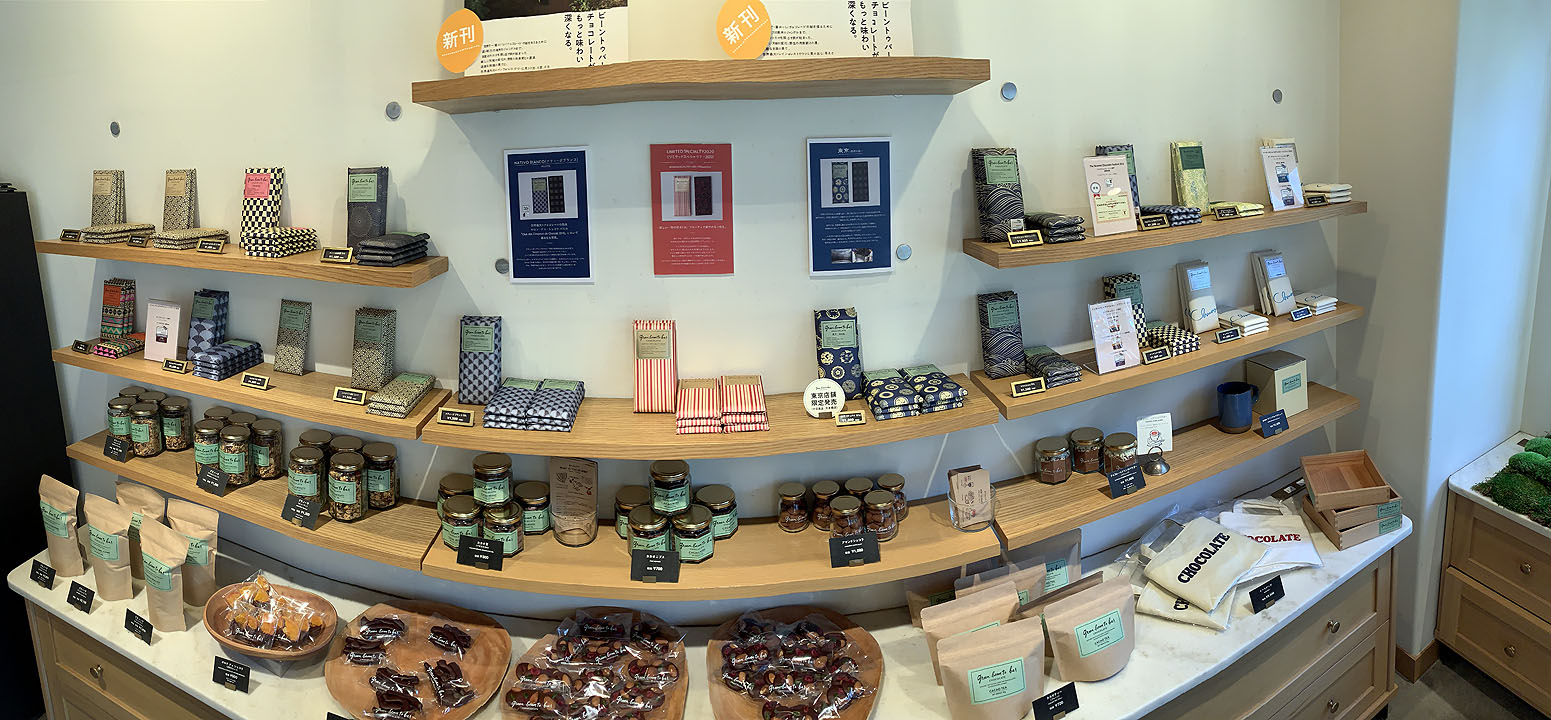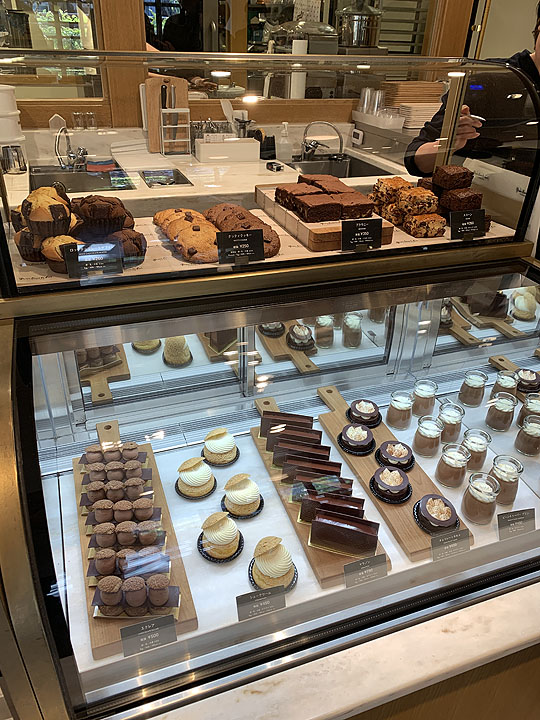 Where many bean-to-bar chocolate makers make just bars, Daisuke reflects his French influence in part by applying his talents to more than just bars. (If you look at the Guide for the Club des Croqueurs de Chocolat, you will notice that the companies that achieve the highest marks tend to be those that do chocolate and pastry and maybe other items, not just chocolate confections. This is what I am referring to when I say French influence – the French like multi-taskers, at least in pastry/chocolate.) Daisuke shared that he makes the bulk of his revenue from his bars.
If you look in the gallery above you'll see how one of the bars is presented in the shop and you should notice that it is a) a limited edition bar, b) it weighs 60gr, and c) it costs about US$18.00. Few (if any) of the bars were less expensive.
I did not purchase the bar in the photo (Madagascar), I opted for one made from Marañon (Peruvian) beans. This is because it reminded me of what may be my all-time favorite bar, Felchlin's 68% Cru Sauvage made from wild beans from the Hacienda Tranquilidad in the Beni Department of Bolivia sourced by Volker Lehmann, from the first production run in 2006. (Daisuke said the Marañon was his favorite.) That Felchlin bar, and this one, had a similar melt profile – one that I would describe as dissolving (because of the naturally high fat content which Daisuke pegged at >60%) – coupled with similar bright floral aromas which were concentrated high in the mouth and nose with little to no dark bottom.
I also tried a selection of the bonbons (which cost about$3 each) and was most impressed with the Goma (sesame seed) piece, in which I believe the sesame seeds were caramelized. As I have mentioned elsewhere in this article, texture is very important in my evaluation of a piece and while the other pieces I tasted were very well made with identifiable flavors, I preferred the crunch of these, and sweet nuttiness of the sesame was very well balanced with the chocolate used.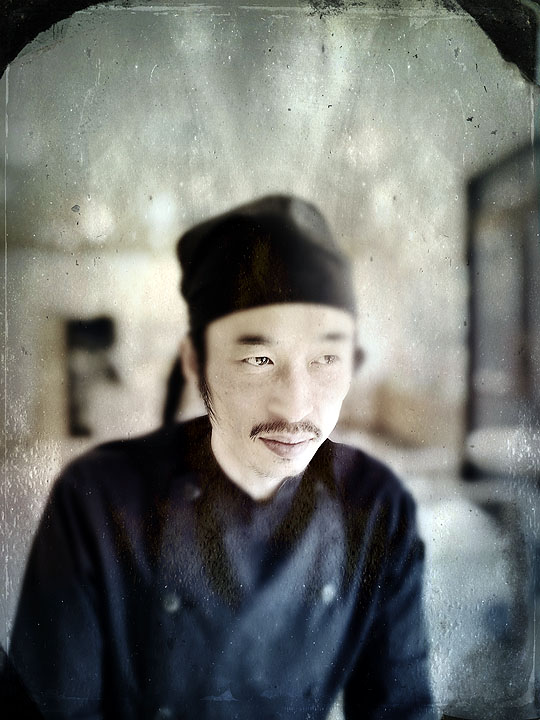 The Most Innovative Thing I Saw During My Visit
I was most inspired by what I saw in the KitKat Chocolatory boutique when it comes to product and marketing innovation. KitKats can be had for very little money in discount stores but there is space in the market for dedicated boutiques selling nothing but KitKats at a super premium price.
Many if not all of the flavors – which include passion fruit, cassis, raw, and volcanic chocolate – and packaging are available only at these boutiques. The "innovation" here is really the retail environment (can you imagine a dedicated Three Musketeers boutique?), combined with constrained access, not really the flavors themselves. What I thought was truly innovative was an extension of the KitKat itself.
This came in the form if its Moléson variety, which uses a KitKat as a base for a mendiant-style top. Nestlé revealed a "KitKat+mendiant" variation for Valentine's at the Ruby presser: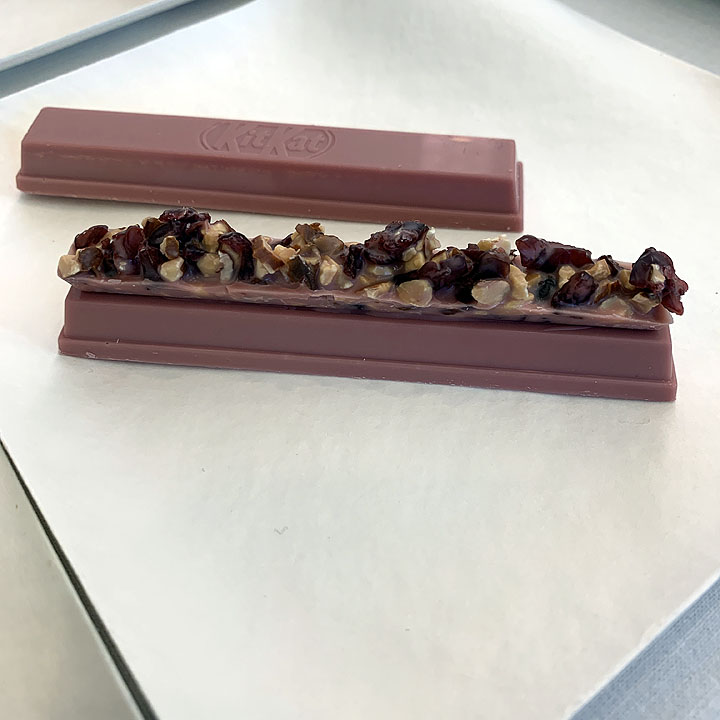 What the Moléson and its Ruby sibling do is play on the tried and true KitKat form factor. This can be a bad thing, and the candy world is littered with failed examples along this line. But what this innovation does is open up the floodgates of new flavor and texture combinations. It's a KitKat … but with so much more potential. Not only do the interaction of the biscuit, filling, and covering chocolate get consideration but now there is the interaction of (perhaps) another type of chocolate for the mendiant layer as well as a multitude of new textural and flavor ingredient options – fruit and nuts in this example but it could be just about anything. How about a crisped sweet rice and flaked seaweed mendiant Kit Kat? Sound crazy? Crazy good!

In closing …
While you may not personally like Ruby and/or what it stands for, the reality is that B-C is well on its way to achieving what it set out to do; Grow its business by innovating whole new categories of the cacao and chocolate industry. Cacao and chocolate are now so much more than just beans, nibs, liquor, butter, powder, and dark, milk, and white chocolate. And they can never go back.
B-C's big challenge (with Ruby) will be replicating the level of success it has achieved in Japan elsewhere in the world, which has to be done by being sensitive to local market factors. Ruby just received its temporary marketing permit to be called chocolate in the US in December 2019, so that puts efforts to promote Ruby in the largest chocolate market in the world (in terms of overall sales), a whole two years behind Japan.
But Ruby chocolate made an auspicious US debut earlier this month with the introduction by Magnum (a brand of the Dutch/British multinational Unilever) of Ruby ice cream bars in both full size and mini formats. Chocolove debuted "Ruby cacao" products in 2019 and I had a chance to taste several of them at a Fancy Food Show and remember the bar with passion fruit caramel as being potentially very addictive. With a relabeling as Ruby chocolate it's likely to sell quite well.
With an H/T and apologies to the Beatles, the Kaiser Chiefs may have said it better in their song Ruby:
Let it never be said,
The romance is dead
…
Ruby, Ruby, Ruby, Ruby
Do ya, do ya, do ya, do ya?
Know what you're doing, doing to me?
Filed under: #ruby #rubychocolate #barrycallebaut #tokyo #japan #kaiserchiefs
---
Archived Comments