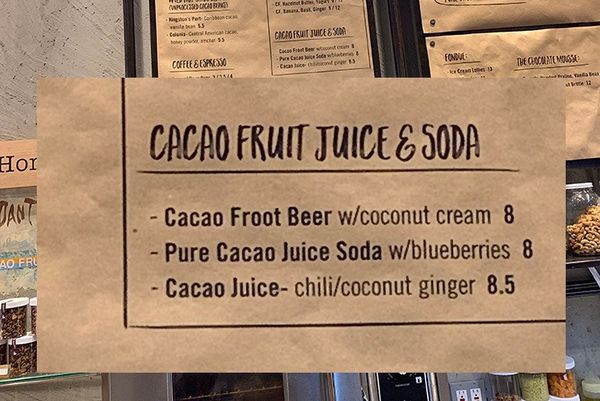 Oded Brenner's Newest Creation
Oded Brenner is one half of the eponymous portmanteau team that founded Max Brenner. Oded left MB and waited out a three-year non-compete agreement. But during the wait he was thinking about the next chapter in his story.
Enter Blue Stripes Cacao, on E 13th Street (off University) in Manhattan's Greenwich Village. There you'll find a wide variety of chocolate products – edible and otherwise – that have been ratcheted up a notch from what was served at MB. There's still a lot of theater involved (they craft chocolate from roasted nibs to order and inject pastries with Nutella on the spot), but the quality of the ingredients and presentation is much more adult and everything is much tastier than what is offered at MB.
And that includes the creative play spirit which led to the creation of the Froot Beer. I helped introduce the cacao syrup to Oded late last year. I was introduced to its creator, Raul Nieto, who is working in Ecuador and Colombia on projects to preserve habitat for endangered animals. Making and selling cacao products is one way he supports the project, which is called Itapoa. The original idea was to import and bottle the syrup for sale, but Oded felt it would be better to create a menu item and Froot Beer is the result.
It's non-alcoholic and very refreshing. If you've ever tasted fresh pulp on the farm and know the scent of fermentation you will immediately get and appreciate this drink. As you can see from the menu board and photos, Blue Stripes is unlike any other chocolate shop you've ever been in. So it's worth passing the Nutella shop on the SW corner of 13th and University and head a few doors down to Blue Stripes for a proper chocolate fix. I do recommend the pastries, the made-to-order hot chocolate, and any of the cacao fruit smoothies made from frozen pulp.
L/R, T/B:
Froot Beer with coconut cream, whipped cream, and cherry garnish.
The nib grinder for making the hot chocolate.
Some of the packaged items on sale.
Filling station.
One of the menus, featuring the cacao fruit beverages.
The hot chocolate menu.
The packaging is creative and thoughtful.
More pastry options. Can you say yum? I betcha can!
Brewing cocoa.
It can be a challenge to get a seat at busy times of the day, but it's one of the few chocolate places in NYC where the wait is definitely worth it.
TL;DR impression: Blue Stripes Cacao is the real thing – no BS.
---
Archived Comments
---
I agree — it's worth the trip and I'm glad your experience was good. I visited shortly after they opened and it was a bit premature, to say the least. The baked chocolate goods we tried were excellent — but we went with our third and fourth choices because the first two were for display only and not available, even though they were whole cakes (?). Chocolate fondue is terrific. Staff needed a little more training — they didn't know the cocoa content of the bars that were for sale or much else about the products on the shelves — but I'm sure the kinks have been worked out by now.
If possible, I'd go on a weekday. Weekends this place is popular!