Pairing Chocolate and Cheese - and Wine and Beer
Chocolate and cheese can go very well together. However, I find the approach that many people use to create pairings to be too self–limiting. There is the received wisdom (akin to red wine goes with meat and white wine goes with fish). And then there is my approach, which says that it's not enough to think outside the box, it's necessary to forget what boxes are.
This is the third pairing that Betty Koster of Fromagerie L'Amuse and I have done together. The first was in October 2016 during the Origin Chocolate Event in Amsterdam with chef Kees Raat. Here the pairings included Shropshire Blue with a walnut brownie; truffled Brie with a meringue; Gjetost with chocolate mousse and coffee-infused dark chocolate cat's tongue; and Burrata with olive oil, large-flake sea salt, and chipotle bonbon, among others. Betty and I did a follow-up class at Bedford Cheese in NYC last June that was largely a recreation of the October '16 pairing.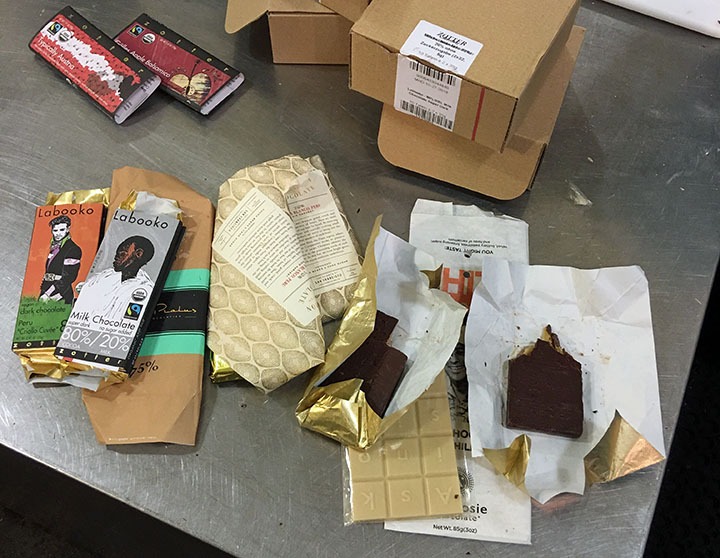 But for this class we wanted to do something entirely different. Rather than present pairings, our goal was to help participants better understand the pairing process. This approach recognizes that everyone has their own sense of taste and own sense of smell as well as personal taste preferences. Rather than focusing on my taste or Betty's taste, we put the focus on the participants' tastes.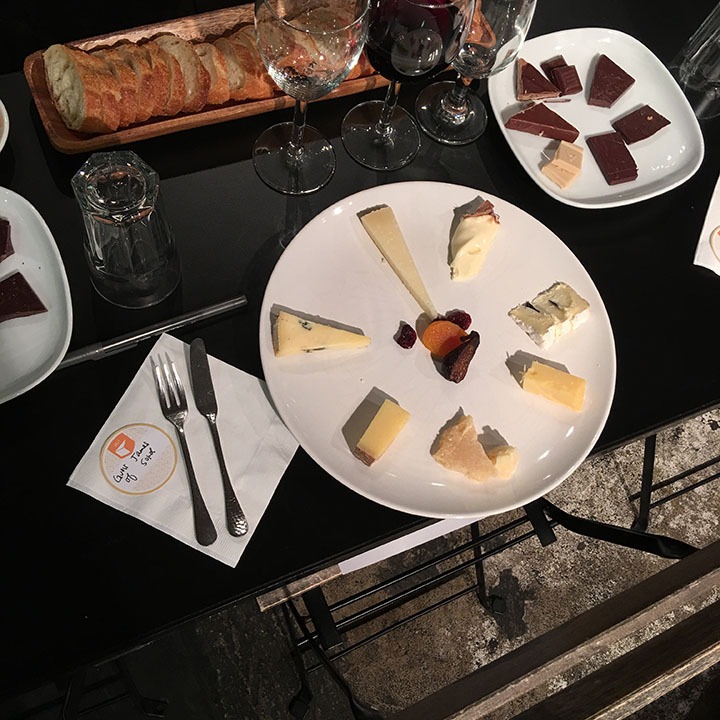 Table setting
We served seven cheeses and seven chocolates on separate plates. These were accompanied by water, bread, raisins soaked in Jurançon, basil–infused olive oil, and orange slices.
There were two white wines – both Sauvignon Blancs – a red (Mencilla), and a sour ale (Rodenbach Grand Cru).
Pairings One through Four
We started out using a pairing exercise I call 3 and 1, 1 and 3.
We went with one chocolate, the Zotter 80/20 dark milk (no added sugar, just cocoa beans and milk powder) with Harbison from Jasper Hill Farms, a truffled Mt Tam from Cowgirl Creamery, and Wilde Weide (Gouda) from Fromagerie L'Amuse. The 80/20 is a huge chocolate and eats darker than the 80% might suggest. That's not because of the roast, which is balanced, but because the only sugar in the bar comes from the lactose in the milk. When paired with the Mt Tam — which is a triple créme layered with mascarpone and shaved black truffles assembled specifically for this class — the depth of the chocolate reinforced the truffle flavor in a very long, dark, tasty finish. The Wilde Weide is an aged Gouda with lots of those yummy calcium crystals that crunched nicely with the chocolate. While many cheeseheads nominate Harbison as one of their favorites, I am not a huge fan of soft cheeses other than fresh goat milk. So my personal favorite here was the pairing with the Wilde Weide.
Intermezzo – The Wine
This is a French Sauvignon Blanc and since being introduced to it in 2016 it has become one of my two favorite white wines to pair with chocolate (the other is a style – Prosecco). This is a wine that has a lot going on, including a bright floral/fruity nose with some minerality on the finish. And it's not sweet. It goes surprisingly well with a broad range of cheeses and chocolates and often acts as a medium that melds the flavors of the cheese and chocolate together. It creates conditions where the whole is greater than the sum of the parts, which is my ultimate definition of a good pairing.
There was a California (Ojai) Sauvignon Blanc that was not nearly as bright as the Mont Gravet and an inexpensive Spanish red. When we did taste the red against the darker chocolates we ran into the clashing tannins phenomenon that, to my mind, makes it harder to pair red wines with dark chocolates.
Despite the commonality in funky fermentation flavors, not everyone was a fan of the Rodenbach, which is one of my personal favorites and one I fought for over the more conventional choice of a chocolate stout or porter. The acidity of the Rodenbach makes it a tough match, but when it does … it's amazing.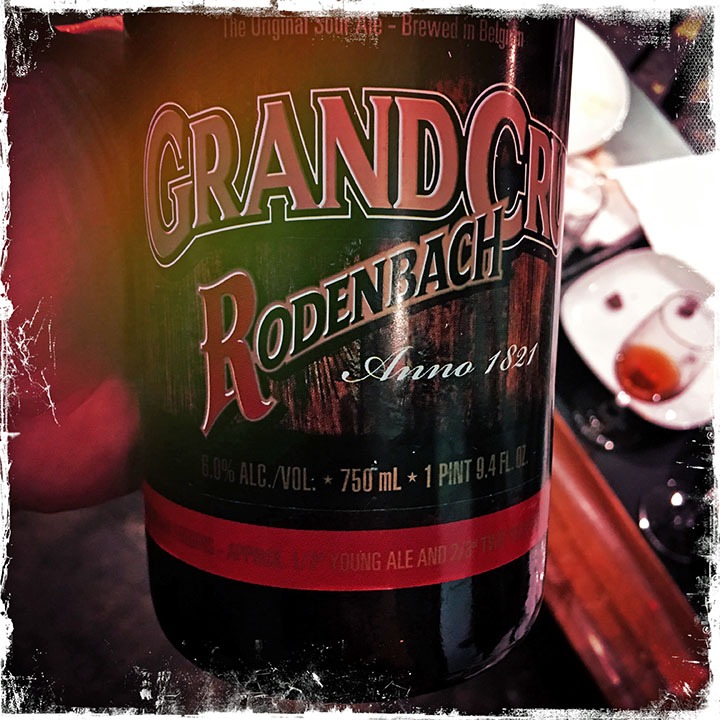 Pairings Five, Six, and Seven
These were proper pairings that Betty and I came up with.
The first of these was the Askinosie Goat's Milk White Chocolate with the Cravero Parmigiano Reggiano. The white chocolate is not all that goaty and it has a subtle sweetness that tones down the saltiness of the cheese. This is one pairing that I liked with both the Mont Gravet and the Rodenbach, as hard as that may be to imagine.
The next was the Comté Reserve from Marcel Petite with the Zotter Typically Austria, which marries grey poppy cream with smooth walnut praliné and a touch of cinnamon. Walnuts are common on cheese plates and the cinnamon with the walnuts and poppy cream were a good match for the nutty sweetness of the Comté – generally recognized as one of the best you can find.
The final pairing was Jasper Hill Farms' Bayley Hazen Blue with another Zotter selection, the Gölles Apple Balsamico bar. Quince paste is often found on cheese plates but I don't know of a chocolate that has quince paste in it, so the apple balsamic gelée seemed like a good choice, especially because balsamic vinegars are often found on cheese plates. The Bayley Hazen Blue is sometimes referred to as a gateway blue cheese because it's not very assertive or salty. The acidity of the balsamic gelée was a nice foil for the funk of the mold and the walnut layer of the bar provided a nice, nutty, counterpoint.
About the Curation Process
Betty proposed the cheeses and I proposed the chocolates and we made our selections back in December. Many of Betty's choices were based on personal liking and what was going to be possible to get. I based my choices on style and origin, without any conscious reference to the cheeses. I did, however, think about flavors that are commonly found on cheese plates. We made the actual pairings about an hour before the start of the class. Fortunately, we found things that basically worked, but we weren't completely worried about it as you learn the most from failed pairings – and if you don't have a failure you're not trying hard enough.
During the class, Betty described the cheeses and I described the chocolates. We walked people through the combinations and talked about our perceptions of them, and encouraged everyone to share theirs, especially when they disagreed. We also encouraged people to stray outside the combinations we came up with to experiment with their own, adding the olive oil or raisins or wines into the mix.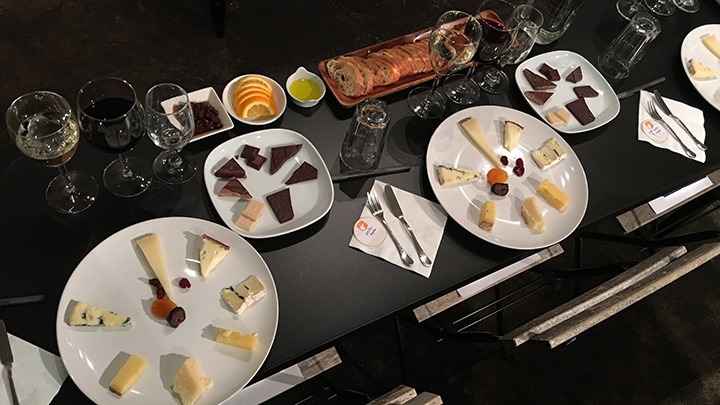 Fromagerie L'Amuse website
Cheese School of San Francisco website
Metropolitan (closed 2020)
Zotter Chocolate Austria USA
Askinosie Chocolate website
Dandelion Chocolate website
Pralus website
---
Archived Comments
---
Comment by: DiscoverChoc
Posted on: Feb 19, 2018

Here's an article on Betty Koster if you wanted some more info on her and Fromagerie L' Amuse …http://www.janetfletcher.com/blog/2018/1/9/dutch-treat
---
Comment by: Keith_Ayoob
Posted on: Jan 26, 2018One addition:
We tasted a piece of the goat's milk white with the Dandelion 70% Piura Blanco from Peru. First with the white on the bottom, dark on top, then the reverse. What a difference! The chocolate on the bottom coats your tongue first, and influences the taste of the chocolate on the top. Very different tastes, even though both are technically in the mouth at the same time. Great exercise.
---
Comment by: Keith_Ayoob
Posted on: Jan 26, 2018
Serious props to Clay and the team — this was an excellent event and struck the right balance between very informative and very enjoyable.
---