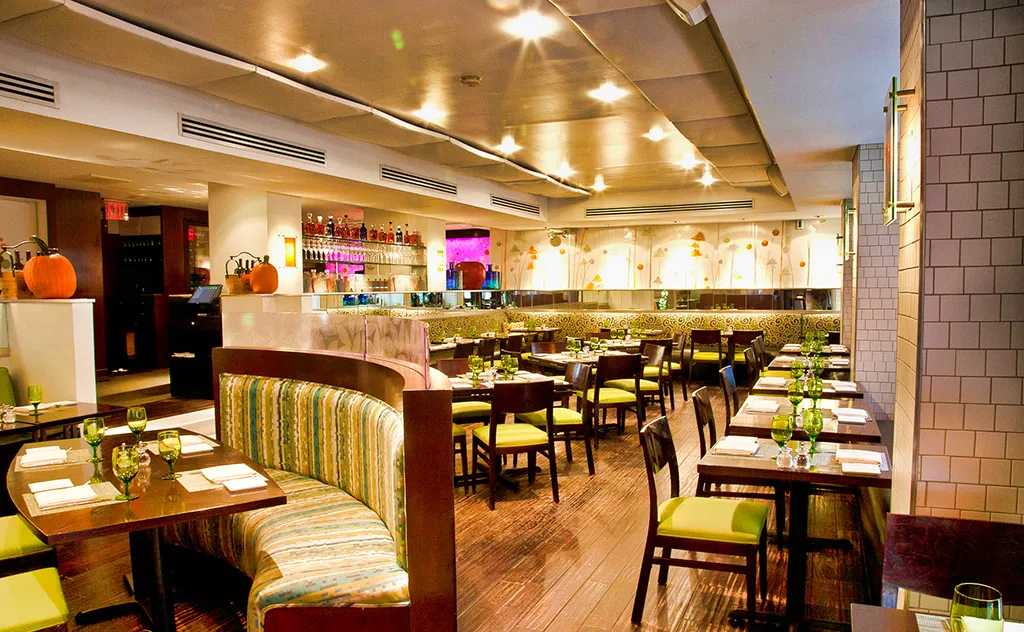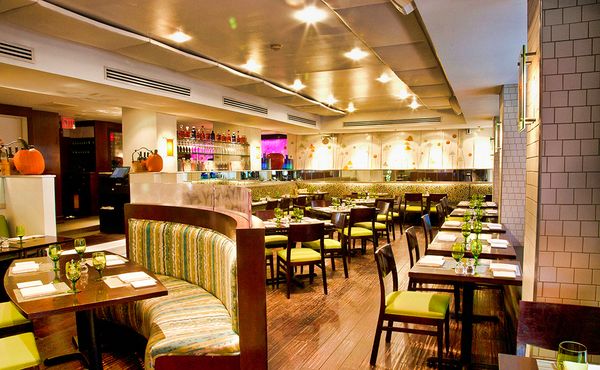 TBar Steak & Lounge NYC
It's easy to tell why a basket of culinary luminaries (basket is my vote for collective noun of culinary luminaries) that include Dorie Greenspan make TBar one of their regular haunts.
The service is top-notch – attentive without being overbearing, friendly without being presumptuous. Of course, this was a late-ish lunch (2pm, so not busy) on a chilly, rainy, Thursday, and the staff knew I was there for review purposes. (See the Disclaimer at the bottom of the review.)
As a steakhouse, it neither looked nor felt traditional. When I think of high-end steakhouse decor I tend to think lots of dark brown elements, low lighting, and baked potatoes drowning in butter and sour cream. TBar is bright and open and quiet because of soft surfaces and acoustic installation on the ceiling.
The food is well prepared and well presented. One observation made about the menu during my research is that it's quite simple and hasn't changed much over the past decade. To pull that off year after year, the kitchen needs to perform consistently well.
I much appreciated the fact that nothing was over-salted to my taste. I am more than okay sprinkling finishing salt over a dish, especially when it adds both texture and little pops of flavor instead of an overall impression of saltiness.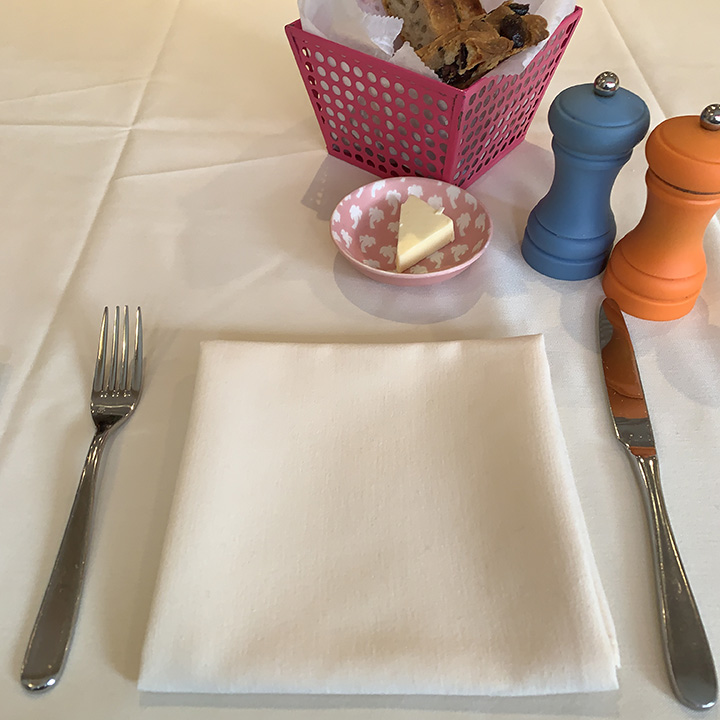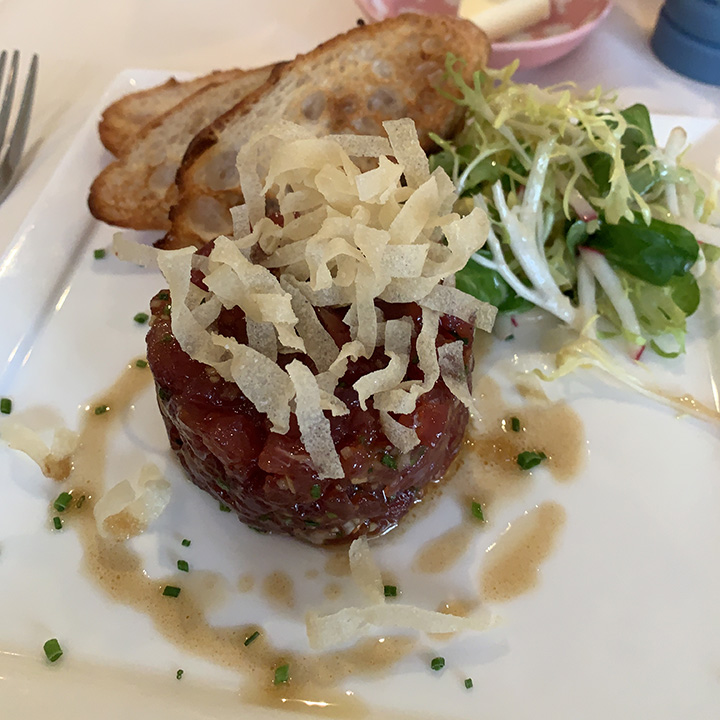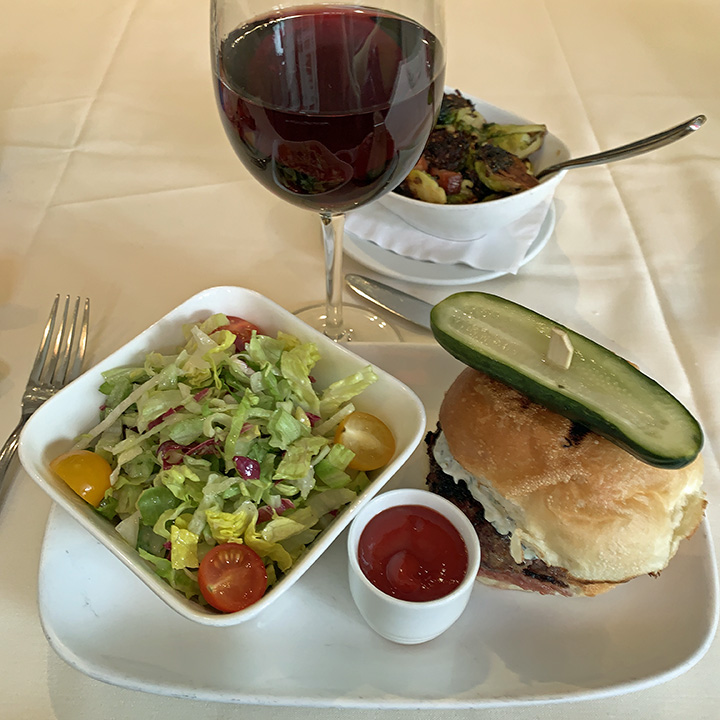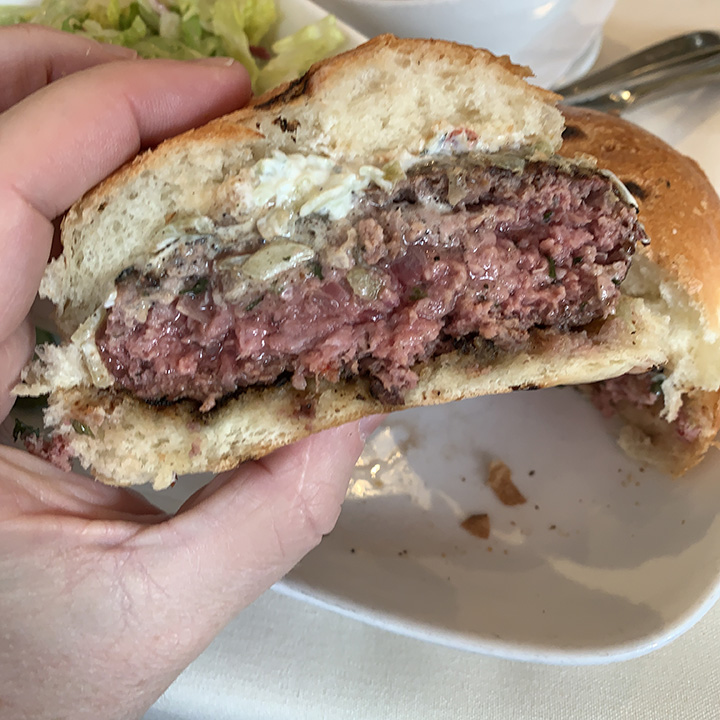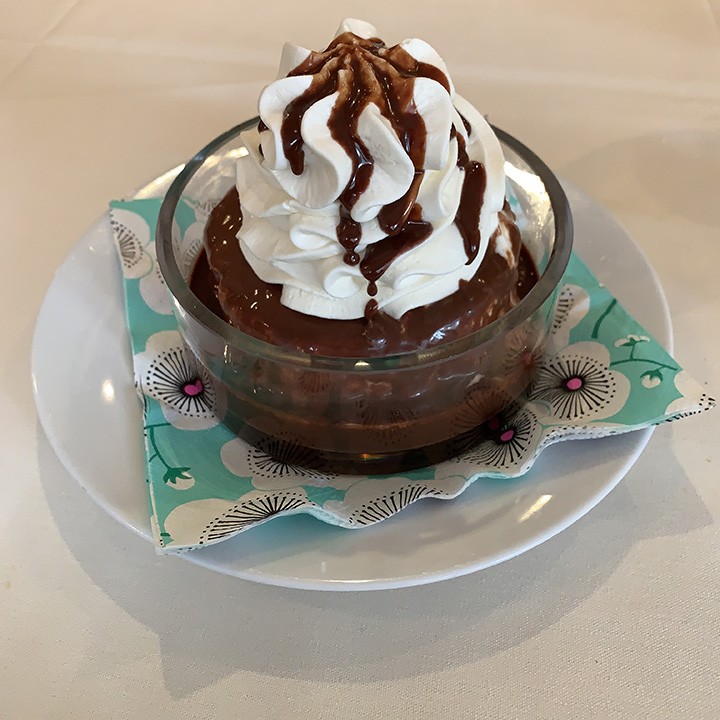 First Course: Tuna Tartare (pictured) with Xavier Flouret Sancerre (2017) "French Blonde." The tartare itself is everything you want from this appetizer and nothing you don't. Firm, fresh, high-quality tuna, served properly chilled, garnished with strips of delicate crispy/crunchy wonton wrapper, sesame oil, and chives. The tuna was not chopped into too-small bits, lending it a nice bite and texture. The side frisée salad was very simply dressed and did not distract from the tuna. I thought the toast too much for the texture of the tuna – the wonton garnish was a better-balanced crunch. The Sancerre was a good example of its type: good body, a nice acidity that went well with the fatty unctuousness of the tuna and sesame oil, with light citrus and floral aromas that complemented what was on the plate without detracting or distracting from it.
Main Course and Side: Lamb Burger with Brussels Sprouts (pictured) accompanied by Montinore Estate Pinot Noir (2017). I ordered the lamb cooked rare (IMO the only way to ask for lamb in any form to be cooked) and the side salad instead of fries, given there was a bread basket for the table and a bun for the burger – and Brussels sprouts. I figured fries were going to be too much. My least favorite part of this course was the salad and had I to do it over again I would get the fries and try at least one. The bun was grilled and the lamb was cooked pretty much perfectly. Good bun/meat/sauce ratio. The Brussels sprouts were an appealing mix of soft and crunchy and did I mention bacon? The Pinot was a good choice for this combination, lighter than the Cab, which would probably have been a better choice had I ordered steak.
Dessert Course: Chocolate brownie sundae (pictured) and cappuccino. One of the first questions I asked my server was whether or not it would be possible to order a smaller dessert portion because on the menu, online and in the restaurant, indicates the regular dessert portion is for four people. Fortunately, the kitchen does offer more petite dessert portions when asked. While the brownie sundae is not going to win any culinary awards, I found it to be a mouth-and taste-bud pleasing combination of temperatures and textures with a hefty dose of basic chocolate flavor. The cappuccino was not at all bitter, appropriately milky, and a nice finish to a pleasant, leisurely meal.
Off-notes: If there is one place where I have to express some disappointment, it's in the beer selection. In a word: uninspired. With but one exception, all were ho-hum lagers or pilseners from industrial producers. The one craft selection was from Brooklyn Brewery. When I asked for that with my burger I was informed there was none cold, so I opted for the Pinot.
Bread notes: I love love love bread, but if you order three courses (and you should definitely consider ordering three courses at TBar) the bread basket, tasty though it might be, is not going to be your best friend. I found the olive bread to be very tasty but even without butter (which I don't use) slightly oily because of the olives. With everything else going on, bread restraint is called for.
Wine notes: I did like that my server did not recommend the most or least expensive wines on the menu and took my direction when deciding. When I looked the wines up online I found the per glass pricing to be in line with expectations given the retail bottle prices I found.
Overall impression: TBar is the kind of place I would adopt as a regular hangout for business purposes and to entertain out-of-town guests. The service is good, the setting is good, and the food is good. There was no over-reaching anywhere and everything really did seem effortless and unobtrusive. There when I wanted or needed it and invisible when I didn't.
Price/Value: TBar's prices need to be judged based on its location, menu, level of service, and other comparables. A three-course lunch with a glass of wine for two courses and coffee with dessert can easily cost over $100 before tax and tip are added in, especially if you opt for one of the steaks (the aged bone-in rib eye is $65 at lunch and it's not the most expensive steak on the menu). A meal at TBar is totally worth what it costs – it's a good value for the price when everything is considered. Ice cream is on the dessert menu and next time I would order up an affogato – my favorite. I will return. 
TBar NYC
1278 3rd Ave (between 73rd/74th)
NY, NY 10021
+1 (212) 772-0404
Disclaimer: My review is based on this one visit, but I did a fair amount of research online before showing up. I did pay a lot of attention to how other diners were being served so I am pretty confident in of my assessment of the service. Of course, YMMV.
---
Archived Comments