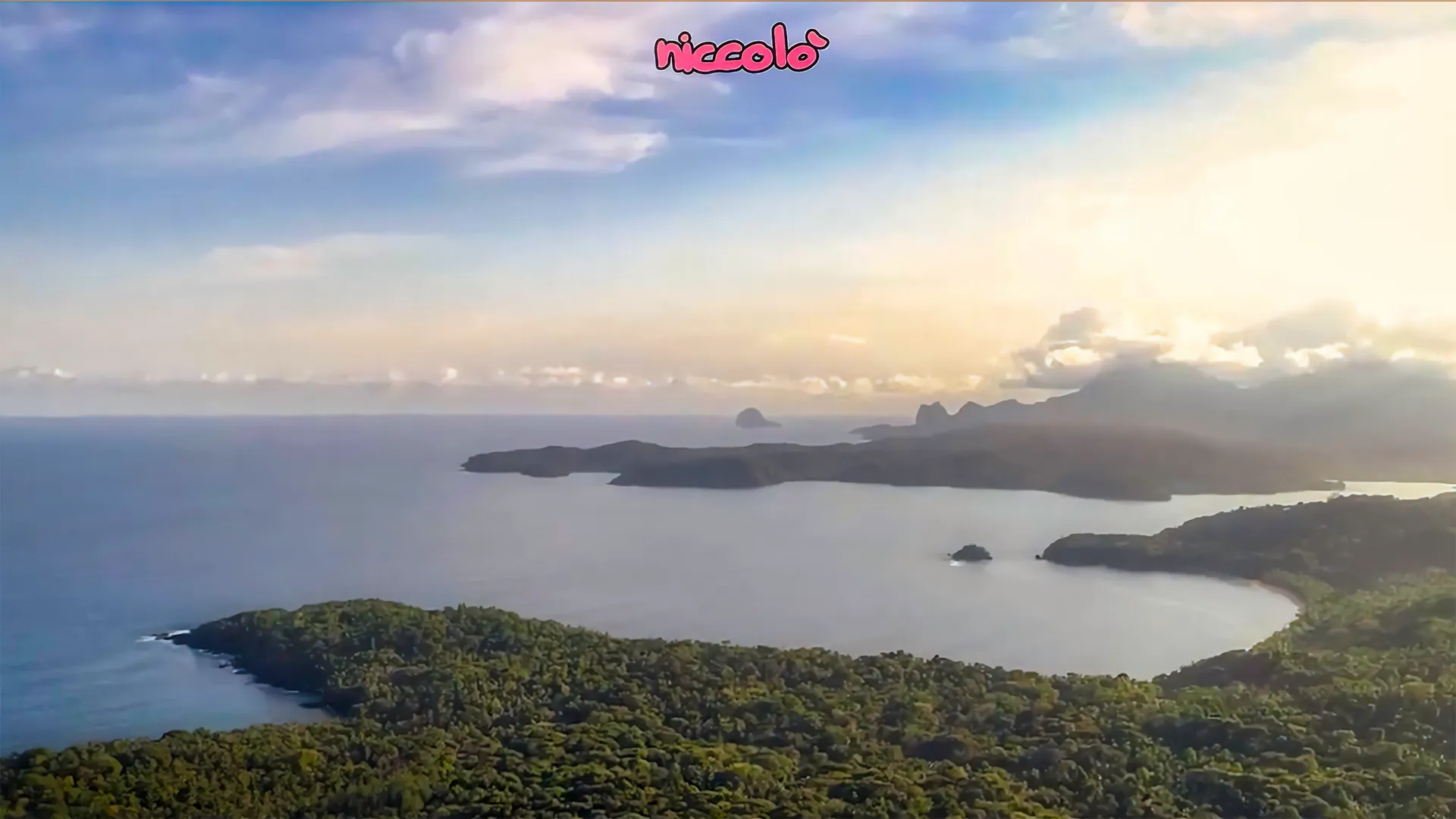 TheChocolateLifeLIVE: A Conversation With Niccolò Corallo
Episode 106 of #TheChocolateLifeLIVE streams from 09:00 MST/12:00 EDT/17:00 Lisbon time on Tue, May 2nd from the new HQ of TheChocolateLife: Prescott, AZ.
The island nation of São Tomé and Príncipe is comprised of two islands (São Tomé, and, to the NNE, Príncipe) that are situated in the eastern Gulf of Guinea – much farther east than most people realize.
The shortest (23+ elapsed hours) itinerary I could find from here (Phoenix) to São Tomé International Airport (TMS) requires connecting through Newark, Lisbon, and Accra, costing more than $2000 in coach. To get to Príncipe then requires an hours-long boat ride, one that does not run seven days a week.
Prior to the arrival of the Portuguese (sometime between 1469 and 1471), the islands were uninhabited. From Wikipedia: The first successful settlement of São Tomé was established in 1493 by Álvaro Caminha, who received the land as a grant from the crown. Príncipe was settled in 1500 under a similar arrangement. Attracting settlers proved difficult, however, and most of the earliest inhabitants were "undesirables" sent from Portugal, mostly Jews. In time, these settlers found the excellent volcanic soil of the region suitable for agriculture, especially the growing of sugar.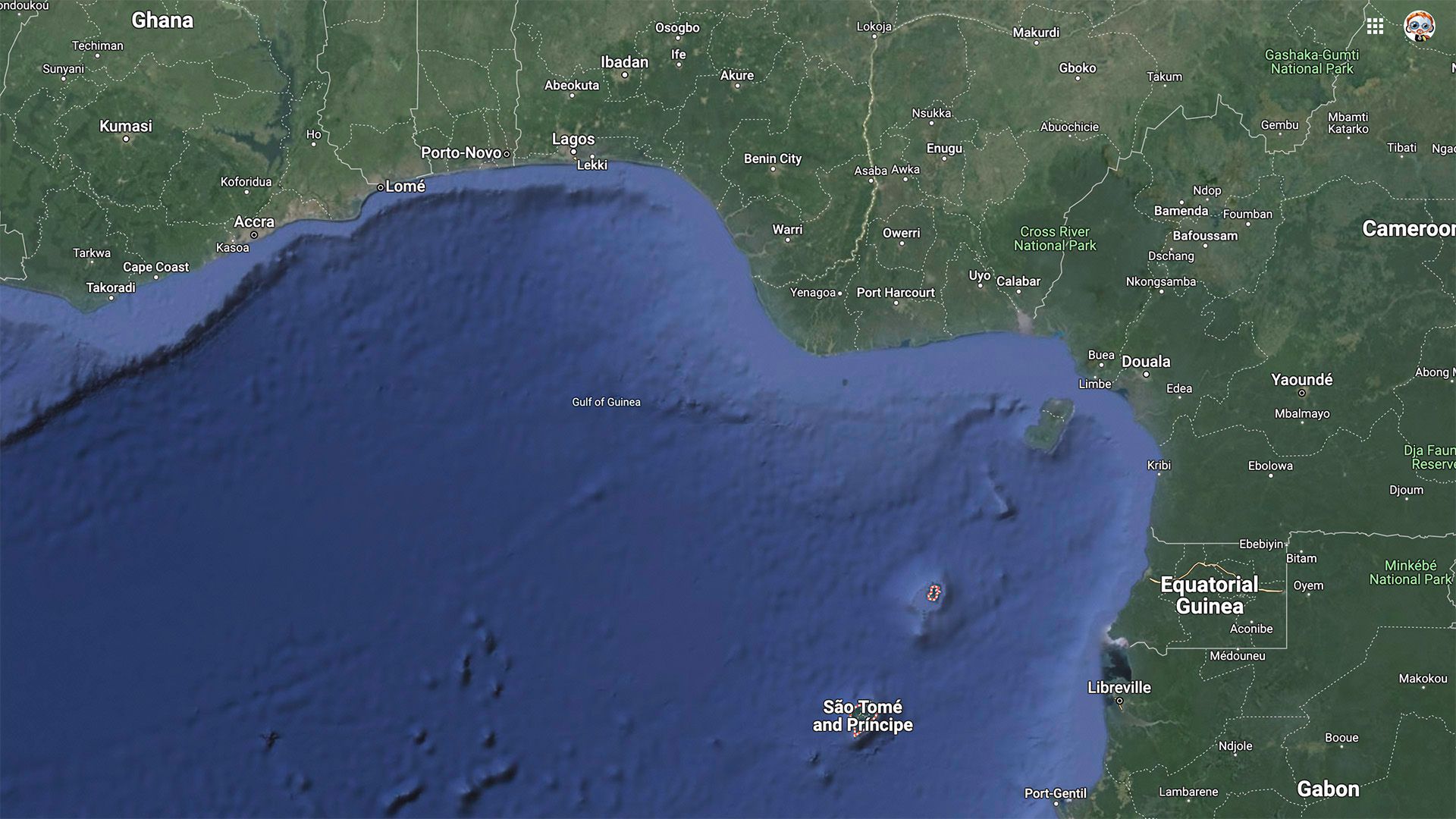 🌝
Although coffee was introduced to the islands within a decade or so of their discovery, it was not until 1822 that cacao – amelonado forasteros from Brazil, also a Portuguese colony – was planted, first on Príncipe. Cultivation began on Sao Tomé in 1830, Fernando Po in 1854, then in Nigeria in 1874, followed by Ghana in 1879.
The soil and climate, coupled with cheap (slave) labor, were so favorable to cocoa in São Tomé and Príncipe that in 1913 Africa's second-smallest country was the world's largest producer of cocoa, earning them the nickname "The Chocolate Islands."
The Cadbury company began buying cocoa from São Tomé in 1886, at which time the islands were the world's third largest exporter of cocoa beans. Cadbury was purchasing roughly 55% of all of its cocoa by the end of the century. In 1901, William Cadbury learned of the use of slave labor on the islands and after investigating, announced a boycott of cocoa from São Tomé and Príncipe in 1909, convincing other British and American chocolate makers to join him. Cadbury and many others then moved their cocoa sourcing operations to Ghana which had better labor conditions and produced a better grade (for their purposes) of cocoa.
After gaining independence in 1975, a lack of investment and collapsing global prices precipitated the decline of the cocoa industry on the islands. According to the FAOSTAT database, production peaked at just over 11,oooMT in 1973, dropping to under 2,000MT in 2006. 2021 production reportedly increased to around 3,000MT.
---
It is out of this background that the Corrallo family, led by patriarch Claudio, came to prominence first on the islands and then globally. First attracted to the islands by coffee, cocoa was later added into the mix. Known kindly as an iconoclast, Claudio grew his reputation and helped return the cocoa and chocolate of São Tomé and Príncipe to the minds and hearts of chocolate makers and fans around the world.
I personally met Claudio for the first time at a Chocoa in Amsterdam in 2015 when after it moved to its current venue – the Beurs van Berlage – from the Maritime Museum.
I was re-introduced to Niccolò in October 2023 in Lisbon while I was in Portugal as an invited guest at the Chocolat Portugal festival held in the World of Wine in Porto.
I say re-introduced because Niccolò did not remember we first met at the Summer Fancy Food Show in NYC in 2008.
😦
I realize I did not post a photoblog from that trip, which includes my visit to Venice. Hmmm. I just might have to remedy that oversight.
A mutual friend in the cocoa world, Francesca Orlandi, who lives in Lisbon, offered to be my guide to her city for a day, and she arranged for us to meet Niccolò at his namesake café, Niccolò, not far from the Miradouro de São Pedro de Alcântara in the Bairro Alto.
Since October we've kept in touch on WhatsApp and Google Meet and had a chance to talk about what it was like growing up surrounded by cacao on a small island and stretching out to create a name and identity for himself, not just as his father's son. One aspect of that new identity is his namesake chocolate venture.
These are among the topics we'll be talking about in this interview. Of course, if you're watching live you'll be able to post questions in the comments.
My LinkedIn profile
TheChocolateLife page on Facebook (live event)
---
Hashtags
#niccolo #niccolocorallo #saotome #principe #saotomeprincipe
#chocolate #cacao #cocoa #cacau
#TheChocolateLife #LaVidaCocoa
---
💡
Have thoughts to share or questions to ask?

Leave them in the comments. Not a member? You must be a member to comment. Click the Join button to become a Free or Premium member.
---