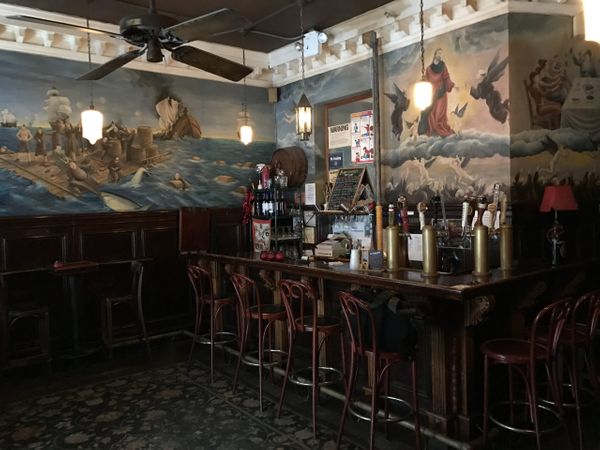 Valentine's Day 2017 Beer and Chocolate Pairing
Reporting back after my Valentine's Day chocolate/beer pairing at Burp Castle on East 7th Street – making up one corner of the Brewmuda Triangle – NYC.
It is always fun to work up chocolate and beer pairings.
I personally find it a lot easier to create happy marriages between chocolate and beers than with wines. Some of it is due to the fact that I find beer has a much wider variety of textures and structures than are found in wine – there is something comfortingly compatible in the combination of the soft creamy bubble structure of a classic British Pale Ale and a milk chocolate that, in my experience, has no counterpart in still and sparkling wine, with the possible exception of the sparkling wine offerings from Rumball (Australia).
Beers and chocolates are both made with ingredients that are roasted, and I definitely believe that that is one of the reasons for the harmony between the two.
Still – there is huge variability in beer and I purchased the chocolate without knowing exactly that the beer lineup was going to be. So my approach in the store (2Beans at 100 Park Ave) was to think about styles of beers that might be on tap and make generalized selections. Knowing that Burp Castle is a Belgian beer bar I could be pretty confident that there would be no big American-style over the top hoppy IPAs. Ales, sweet lambics, sours, ciders, tripels, quads, and other styles. A lot of territory to cover — but I am up to the task! Because I had not tried all of the chocolates and was not familiar with all of the beers I showed up about an hour early to taste everything.
Here's where things settled out:
Liefman Fruitesse (4.2% ABV – alcohol by volume)
Köstritzer Black Lager (5% ABV)
TCHO 53% milk
These two beers are about as far apart as it's possible to get and yet the TCHO 53% milk goes well with both.
I've paired milk chocolate with fruity lambics before (Lindeman's Faro might well be my all-time fave in this category) and the result is strongly reminiscent of a chocolate-covered whatever the fruit is. With the Lindeman Faro – which is made with Belgian candy sugar and finishes with tart Granny Smith apple, the result is just like a milk chocolate-covered caramel apple. With the Fruitesse what you get is a mix of chocolate-covered cherry/strawberry yummmm.
The Köstritzer Black Lager is dark as a stout but is not heavy with the fragrance of chocolate malt. Instead it comes across more like a soft English Pale (think Brooklyn Brewery's Pennant Ale) with a very soft, creamy, bubble structure. The fudgy character of the chocolate plays with the yeasty notes of the lager very nicely.
Wells Bombardier ESB (5.2% ABV)
TCHO 39% milk
Staying with milk chocolate for a moment. I picked the two TCHOs because of the difference in percentage. 2Beans had many other milk chocolates but I was curious how these two different offerings from the same company would fare. The 39% was not bold enough to hold its own against either the Liefman or Köstritzer but presented a nice balance with the ESB, which despite the initials (ESB = Extra Special Bitter) is not at all bitter, with an official IBU (International Bitterness Units) rating of 0. It's thinner-bodied than the Köstritzer, too, and there is a yeasty breadiness that balances nicely with the distinct caramel notes of the chocolate.
RadebergerPils (4.5% ABV)
La Guillotine Belgian Blonde (8.5% ABV)
Milkboy 60% dark w/ pine essence
Pump Street Bakery 60% Rye Crumb/Milk/Sea Salt (Ecuador, Hacienda Limon)
I selected these two chocolates on the off chance that there might be beers with a bitter edge to them, as well as to see how they worked with some higher–alcohol choices I knew would be on tap. I also chose Pump Street because. Chris Brennan. And – rye bread crumbs as an inclusion, though I could have gone with the sourdough which I am definitely going to try soon – with a sour. The Radeberger, though it is a Pilsener, is a little on the strong side for a Pilsener (to me) and does have a bitter edge to it. The resinous quality of the pine and the rye crumbs brought out that aspect of the Radeberger in a nice way, and both stood up to – and complemented – the alcohol content of the La Guillotine.
Allagash White (5.1% ABV)
Bonnat 75% Mexique—Grijalva
In addition to what I bought at 2Beans I brought some bars from my personal stash – and one of those was this very limited edition bar made from beans from a grower I worked with on my #CacaoMEX project down in Tabasco, MX, last year. One bag was shipped to Bonnat in Voiron to turn into chocolate that we then debuted at the Salon du Chocolat in Paris last October. While there is room for improvement in the fermentation of the beans, the chocolate has a depth and richness of flavors, including some soft spice and raisin that are not typical of the region. The Allagash is a hefeweizen made in Maine, and its soft structure complemented the buttery texture that is classic Bonnat. And, because hefeweizens are strongly associated with orange (slices are often used for garnish), the spice and raisin aspect of the chocolate made the combination quite tasty.
Tripel Karmeliet (8.5%ABV)
Southern Tier Creme Brulée Stout (10% ABV)
Harper Macaw 73% bourbon barrel aged (Brasil, vale do Juliana)
Both of these are big beers and while I don't generally believe that going big with big is the best approach, in this case the bourbon notes in the chocolate are what made these combinations work – the chocolate simply became a natural extension of the beers.
Ommegang 3 Philosophers Quad (9.7% ABV)
Pralus 80% Fortissima
This is another case where pitting big against big really worked – assuming, of course, that you like that sort of thing. The Fortissima is a blend and comes across as more intense than a lot of 80%s in part because of the heavy roasts that Pralus is known for.
Rodenbach Grand Cru Barrel-AgedSour (6% ABV)
Aspall Dry Cider (6.8% ABV)
Cacao Sampaka white w/matcha and lemon
This is an example of just going for it – not just thinking outside of the box, but forgetting what boxes look like. Not many people I know would think of bringing a white chocolate to a beer pairing but as far as I am concerned nothing is off limits and I was sorely tempted to also bring the Rococo white/cardamom bar. In this case the sweetness of the chocolate is a foil to the sourness of the Rodenbach and the dryness of the Aspall (apple) cider. The beers make the chocolate less sweet and the chocolate reduces the dryness of the cider and the sourness of the Rodenbach, which is a one-third/two-thirds mix of new and old Flanders Red ales – there is no fruit used but there is a fruity tang to the beer. And that's where the matcha and lemon kick in for both the sour and the cider … the vegetal/floral character of the matcha and the citric tartness of the lemon add dimension and complexity all the way around.
And that, my friends, is how I spent my Valentine's Day, exploring my love for beer and chocolate, and sharing it with beer and chocolate lovers. My thanks to 2Beans for supporting me in this tasting.
---
Archived Comments
---
To the Dave Barry quote at the bottom of the article I would add, "Or chocolate."
---
Valentine's Day for me is a very important day in my life, as a very important event happened that are very dear to me. And of course, my favorite drink, without which I do not have a single holiday, I have not tasted anything tastier than beer. As it turned out, I'm not the only person who cannot imagine his life without him, in this article https://beerconnoisseur.com/blogs/quotes-beer-famous-writers you can find 7 quotes from famous writers about this wonderful drink. It has a very long history and is mentioned in literary and romantic works of fiction. He is loved in all countries and in the world and I understand them.
---
gotta say this is interesting but definitely worth a try
---
I love this! Thinking about putting together a pairing for my husband for Father's Day.
---
Beer and chocolate… can't go wrong!
---
I never would have thought to pair chocolate with beer. The closest I have had to that is espresso flavored beer, which is also quite delicious.