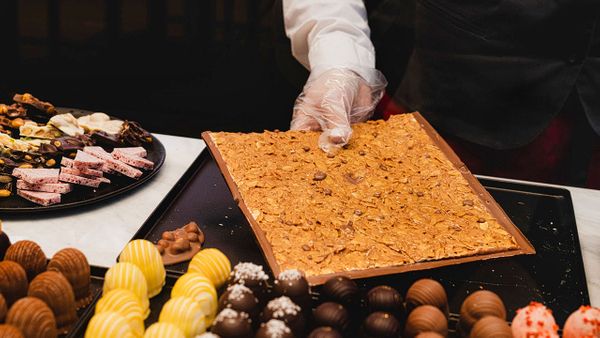 What the Heck is a FrischSchoggi™?
I think I first became aware of Läderach back in 1986 on my first-ever trip to Europe before I got interested in chocolate. If I recall correctly I walked past a Läderach store in Lucerne.
But it wasn't until a trip to Switzerland in 2008 that I paid attention to Läderach, when I know I stopped to take a long look at planks of chocolate barks stacked in a window in a shop not too far from the lake.
What I remember most is seeing stacks upon stacks of these big planks of bark, noticing they were poured on top of transfer sheets so the Läderach branding was visible on every piece. While you could buy packages of assortments, you could also order a custom selection by weight, with pieces broken off to order.
I had never forgotten this and have long been an advocate of what I have always called "bean-to-bark" products. It makes working with all kinds of inclusions easy and the requirements for precise molding just disappear.
But I never really paid attention to Läderach the company until I spent time on their stand at the Salon du Chocolat in November 2019 here in NYC, a visit that was followed up by an email from their PR company about their Valentine's Day product offerings. I was sent a box of sample products and took the opportunity to visit their store on Lexington Ave in Manhattan.
FrischSchoggi!!
While FrischSchoggi literally means "fresh chocolate" and is used in all Läderach products, the use that appeals to me most – more than a decade on – is in what I think of as barks. While they do make a wide variety of pralines (aka bonbons), Läderach is literally a bean-to-bark chocolate maker, offering up about 20 different combinations of white, milk, and dark chocolate with flavorings and inclusions of all sorts.
If you've been following TheChocolateLife for any length of time at all you know that I do not reflexively turn my nose up at white chocolate – especially when it is flavored and has inclusions. For this reason I purchased the Raspberry/Blackberry FrischSchoggi when I visited the shop and it did not disappoint – in fact, I found myself finishing it much faster than I should have because I could not (did not want to?) stop myself. The other FrischSchoggi I purchased was the milk chocolate/Honey croquant and again it did not disappoint, in the same way. (I finished it quickly, too.)
What contributed to my enjoyment of these two FrischSchoggi (and in fact all the other flavors I received to sample) was the texture of the chocolate itself, which has a luxurious mouthfeel because it hasn't had time to start over-crystallizing. This soft melt gets combined with the textures of the inclusions – freeze-dried fruits, roasted nuts, caramels cooked to different levels of crunchiness. There's a guideline in pastry and confectionery I learned when I was involved with the World Pastry Forum from 2002–2010, "Complement with flavor, contrast with texture." The FrischSchoggi I tried played the complement/contrast game very well.
And I was able to try the Raspberry/Blackberry in white chocolate and the Raspberry in dark chocolate and the hazelnuts in both dark and milk chocolate, the milk chocolate Florentine shown in the photo, and several others – each shared this trait of delivering nice complementary flavor experiences with contrasting textures.
But what I think I like most about FrischSchoggi is they encourage sharing. You can buy a big hunk of a single variety or a bag of different varieties and hand them around to share. This is a very different experience from a variety box that might have only one piece of each flavor in the box.
➡️
And what is chocolate, anyway, if it's not for sharing?
Disclosure
The samples I received were provided to me at no charge for review purposes. I did not interact with Läderach PR about this article except to ask for clarification on factual claims. I did not receive any form of payment for my review. I paid full-retail out of pocket for the products I purchased in-store and did not reveal who I was and why I was in the store until after I made my purchase.
The Company
Läderach was founded in 1962 and refers to itself as Switzerland's largest chocolatier. This does not refer to annual turnover. They are referring to the total number of employees (over 1000) and the number of retail locations (80) globally.
One thing I did not know until I spent time on their stand at the Salon was that Läderach makes all their own chocolate from the bean. This immediately sets them apart from virtually every other chocolatier of their size in Switzerland (and in Belgium, too) who generally source their chocolates from an industrial manufacturer.
Láderach Pralines (bonbons) …
I was also sent samples of these products in seasonal packaging. More conventional boxes are available year-round.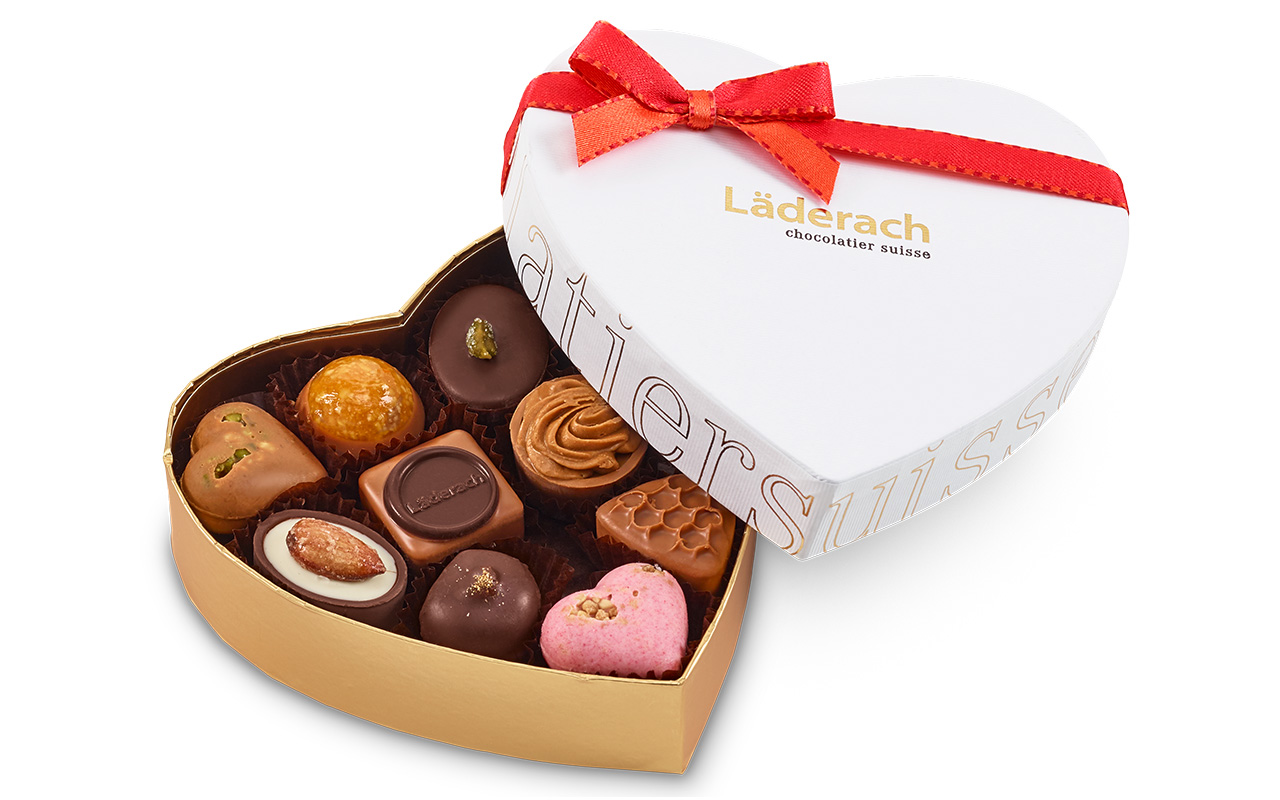 Everything I tried was very well made, but I cannot say that any of the flavor combinations was truly innovative. (Maybe I did not look closely enough?) But, truth to tell, I was not looking for anything truly exotic.
I cannot fault in any of what I tried when compared with pieces from companies like Teuscher, Godiva, Neuhaus, etc. As with the FrischSchoggi there is a unique take on the shapes, flavors, and fillings they do offer, which is really quite refreshing to see. Overall, the non-FrischSchoggi pieces tended to be a little sweeter than I prefer, but that's not surprising given they're Swiss-made appealing to American taste preferences – which tend toward lighter and sweeter with a preference for obvious flavor profiles. Even the dark chocolate items are not as dark and bitter as a lot of French, Spanish, and Italian brands, which is also what I think people expect from products from Switzerland.
… and More
In addition to the conventional pralines, Läderach offers a range of what they call bijoux (individually wrapped candies), mini-mousses (chocolate-covered marshmallow toppings on a biscuit base),  molded small squares (carrés) in a variety of flavors, Grand Cru single origin chocolates, panned items, rochers, and … more.
I did receive a sample bag of the bijoux and a boxed assortment of the mini-mousses. If you like chocolate-covered marshmallows you should like these.

In Closing
Taking the pieces and presentation together, Läderach pralines are an attractive alternative to the me-too look, flavors, and packaging of other Belgian and Swiss brands. While the focus of the samples I received was Valentine's Day, there is something here for everyone for year-round enjoyment, whether for personal pleasure (with or without sharing and I totally understand if you don't want to share) or for personal or business gifting.
Visit Läderach online here to learn more about their products.
In NYC, Läderach has a store on Lexington Ave in the high 50s and is opening a flagship store on 5th Avenue later this Spring.
I do want to say I was quite impressed with the level of service and product knowledge everyone I interacted with in the Lexington store showed. They had in-depth answers to most of the questions I asked and pointed me to online resources to find answers to the questions they could not answer. This is not always the case. I was also encouraged to visit the factory in Glarus on a future trip and I hope to take advantage of the opportunity before too long.
---
💡
Have thoughts to share or questions to ask?

Leave them in the comments. Not a member? You must be a member to comment. Click the Join button to become a Free or Premium member.