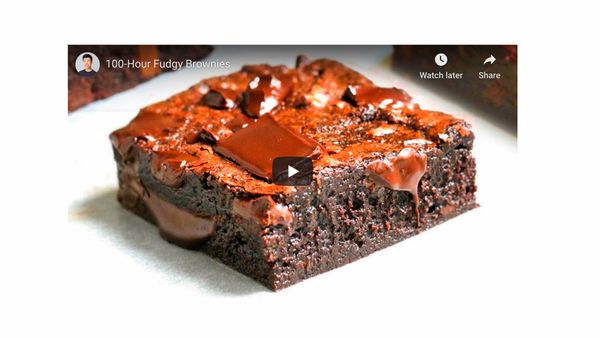 100-hour Fudgy Brownies
The recipe video that went viral and spawned an avalanche of response videos.
It's an extremely rare occurrence that a cooking video on YouTube makes me smile or laugh even once, let alone multiple times. This video from Alvin Zhou did just that.
And it was just the diversion I needed after experiencing 2020 make an unwelcome intrusion into 2021.
¡But ... You ask! How could it possibly take 100 hours to make a batch of brownies. (Does anyone have that kind of patience these days – in an era of instant gratification in which making brownies in coffee mugs in a microwave – can you even call it baking? –is all the rage?) The answer is simple: after putting the batter in the baking pan it goes into the refrigerator for 72 hours. Then, after baking and cooling, they rest for another 24 hours before being portioned.
I know from my experience working at the World Pastry Forum many years ago that hydrating chocolate-chip cookie dough can work wonders for the finished cookies. There are definite differences in the results of cookies baked off immediately, after four hours, after eight hours, and after letting rest overnight. Generally, the longer you can let the dough rest before baking off, up to a point of diminishing returns, the better.
This recipe takes that idea to an extreme. But before we even go there it's critical to look at the ingredients and method – which do not conform to a lot of "best brownies evah" recipe/videos on YT, Instagram, Twitter, and elsewhere on the Interwebs. Apart from the time it takes there are no gimmicks. It's easy to see how choosing excellent ingredients will make a huge differences. I am a huge fan of blending chocolates in recipes (I have often mixed milk and dark chocolates when making fondue), and so (spoiler alert) I am totally down with the recipe using both milk and dark chocolates in the batter.
Click to visit the 100-hour Fudgy Brownies's page on YouTube after watching it here – if (and only if) you're interested in diving down a deep rabbit hole watching response videos, most of which lack the humor, production values, or humility of the original.
In Closing...
I have not made these yet, but I definitely plan to. I have some new baking chocolates on their way direct from Bonnat and this seems to be the perfect recipe to try those out. When I do I will let everyone know how they turned out.
Looking for other chocolate recipe/cooking video content to help while away some time? Search for "Video Roundup".
What do you think? Is this a recipe you'd consider making? Can you think of any ways to improve on the recipe? Let us know in the comments.
---