7/7/17 – World Chocolate Day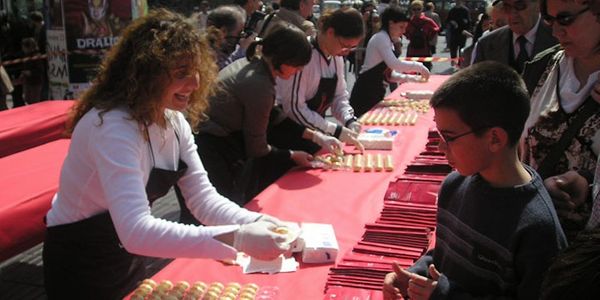 July 7, 2017 marks some 465 years since chocolate was introduced to Europe. World Chocolate Day, sometimes referred to as International Chocolate Day, is an observance that occurs globally every year on July 7.
Celebration of the day includes the consumption of chocolate, which is hardly surprising? Want to celebrate the day more elaborately? Lonely Planet has some ideas for you.
Please let us know how you plan to celebrate! (And please post photos of what actually happens because, you know, what happens on TheChocolateLife does not remain on TheChocolateLife!) Wikipedia entry: https://en.wikipedia.org/wiki/World_Chocolate_Day
Story Header Image: ous de xocolata a l''escultura de Colón, Barcelona 2005. Used under the Creative Commons Attribution Share Alike 2.5 Generic license.
---
Archived Comments
---
Are you going to be in Dubai?
http://www.hoteliermiddleeast.com/31003-dubais-the-sum-of-us-marks-international-chocolate-day/
---
The best places to celebrate World Chocolate Day … in Melbourne, Australia:
https://www.theweeklyreview.com.au/eat/best-places-to-celebrate-world-chocolate-day-melbourne/
---
I am going to be at the Salon in Peru. How do you plan to celebrate?
---
There is a very good chance that I will be at the _Salon del Cacao y Chocolate_ in Lima, Peru on that Friday!