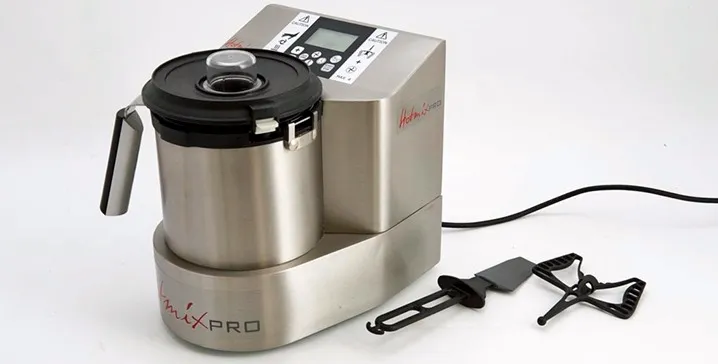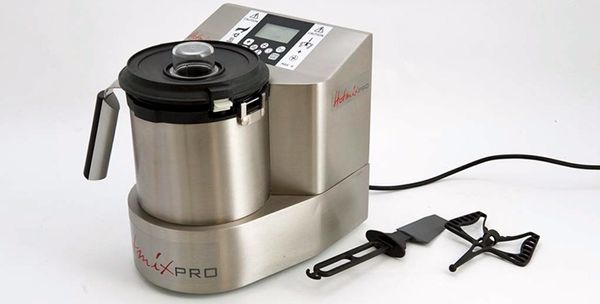 2017 ChocolateLife Holiday Gifting Guide
Featured Gifts
HotMixPro Gastro 
The HotmixPRO Gastro thermal mixer processes many types of food with, precise temperatures up to 190°C (374°F), speeds up to 12,500 RPM, 78 different programmed functions, and 168 classic recipes pre-loaded on the SD card.
Whether caramelizing sugar, setting custard creams, blending sauces, cooking jams, or kneading doughs, HotmixPro's automtated processing prepares these recipes without constant attention from the chef. Preparation of complete recipes is convenient and programmed, and allows any team member in the kitchen to peform even the most complicated recipes. The result is consistency in high-quality food preparation, while increasing efficiency in the kitchen. Hotmix Pro Gastro is your versatile assistant in the kitchen.
List price: $3300
ChocolateLife member price: $1950 + shipping
Save $1350 by purchasing through TheChocolateLife!
Ships to US/Canada (60Hz)
To get this price, orders must be placed through TheChocolateLife. Email tcl_info@thechocolatelife.com to place an order.

ENDED – Chocolate and Cheese Class at Bedford Cheese Shop
Join Bedford Cheese Shop and ChocolateLife creator and moderator Clay Gordon (author, Discover Chocolate, Larchmont, NY) for an evening of chocolate and cheese like no other! We'll be featuring some bean to bar favorites, paired with the season's best cheeses., plus cider, beer, and wines Think of this as the warm up for New Year's Eve in just a few days, when you can contemplate all your favorite treats you've tried in 2017, and how many more you'll have in 2018! Cheers!
Thursday, December 28, 2017 6:30 PM – 8:00 PM (EDT)
at The Homestead at Bedford Cheese — 67 Irving Place New York, NY 10003

​Tools
Brod & Taylor Proofer
A versatile multitasker in any confectionery kitchen, this little proofing box can be used as a small chocolate melter as well as keeping colored cocoa butters for decoration and airbrushing at a good working temperature. When not in use it can be folded up and stored away. Great for applications that require maintaining a constant temperature for long periods of time, including sous vide.
Purchase on Amazon.

ThermoPro Thermometers and Humidity Monitoring
Having easy to use and precise temperature and humidity measuring capabilities is important in the kitchen. ThermoPro makes thermometers and monitors trusted by chefs around the world. If you temper chocolate, knowing the temperature and humidity in the immediate working environment (and noting them in your production log) can help you diagnose blooming and other issues weeks and months after a piece or bar has been finished. The TP55 is small enough and inexpensive enough to put one everywhere you want independent temperature and humidity monitoring.
Purchase on Amazon
TP03A Instant Read Digital Thermometer
TP55 Digital Hygrometer Indoor Thermometer Humidity Monitor
​

Cocoa and chocolates
Guittard Cocoa Rouge Cocoa Powder (unsweetened, 8 oz)
Hands down, this just might be one of my all-time favorite alkalized cocoa powders. Purchase on Amazon: :: http://amzn.to/2jGOlpD
Guittard Chocolate Grand Cacao Drinking Chocolate (10 oz)
The basis for a delicious European-style drinking chocolate. To make a more intense and less sweet, mix in some Cocoa Rouge. Purchase on Amazon :: http://amzn.to/2ibOelN
E. Guittard Kokoleka Hawaiian Single Origin Milk Chocolate Block (38% Cocoa, 500g/ 1.1 Lb) A taste of the islands for the holidays. A slightly dark milk for those looking for something out of the ordinary. Purchase on Amazon :: http://amzn.to/2AnsZYg
E. Guittard Kokoleka Hawaiian Single Origin Dark Chocolate Block (55% Cocoa, 500g/ 1.1 Lb) A taste of the islands for the holidays. Straddling the border of semi-sweet and bittersweet, this is a versatile chocolate in any recipes calling for melted or chopped chocolate or just plain eating. Elevate your baking game! Purchase on Amazon :: http://amzn.to/2khxWfs

Books
Some of what we've been reading over the past year.
Bread, Wine, Chocolate: The Slow Loss of the Foods we Love :: http://amzn.to/2jJzA5I — by Simran Sethi
"Bread, Wine, Chocolate … Should be required reading for culinary students, journalists, scholars and citizens who care about what they put into their mouths and what we're doing to Mother Earth. Sethi is the kind of writer who can coat the bitter pill in honey and we all just swallow and say thank you."
— Linda West Eckhardt, James Beard award-winning cookbook author, Editor/Founder of Everybody Eats News
The Chocolate Tree: A Natural History of Cacao :: http://amzn.to/2khxrlA — by Allen M Young
The Chocolate Tree chronicles the natural and cultural history of Theobroma cacao and explores its ecological niche. Tracing cacao's journey out of the rain forest, into pre-Columbian gardens, and then onto plantations adjacent to rain forests, Young describes the production of this essential crop, the environmental price of Europeanized cultivation, and ways that current reclamation efforts for New World rain forests can improve the natural ecology of the cacao tree.
How the Cookie Crumbled: The True (and Not-So-True) Stories of the Invention of the Chocolate Chip Cookie :: http://amzn.to/2jKCTcu — by Gilbert Ford
In this unique and clever picture book, author Gilbert Ford sheds a little light on just about everyone's list of favorite sweet treats—the chocolate chip cookie—and reminds readers everywhere that just because a story is told doesn't mean it's true.
Making Chocolate: From Bean to Bar to S'more :: http://amzn.to/2icKr7z — Dandelion Chocolate (multiple authors)
From internationally-lauded San Francisco chocolate maker, Dandelion Chocolate, comes the first ever complete guide to making chocolate from scratch. From the simplest techniques and technology—like hair dryers to rolling pins—to the science and mechanics of making chocolate from bean to bar.
Bean-to-Bar Chocolate: America's Craft Chocolate Revolution: The Origins, the Makers, and the Mind-Blowing Flavors :: http://amzn.to/2AnbLue — by Megan Giller
Author Megan Giller invites fellow chocoholics on a fascinating journey through America's craft chocolate revolution. Learn what to look for in a chocolate bar and how to successfully pair chocolate with coffee, beer, spirits, cheese, and bread. This comprehensive celebration of chocolate busts some popular myths (like "white chocolate isn't chocolate") and introduces you to more than a dozen of the hottest artisanal chocolate makers in the US today.
As an aside, the book also includes an original recipe from ChocolateLife creator and moderator, Clay Gordon.
Obroni and the Chocolate Factory: An Unlikely Story of Globalization and Ghana's First Gourmet Chocolate Bar :: http://amzn.to/2AnrSYX — by Steven Wallace
What country makes the best chocolate? Most people would answer "Switzerland," or, if they're discerning, "Belgium" or "France." But, how many cocoa trees grow in Zurich? Lyon? Antwerp? Shouldn't the country known for growing the best cocoa beans be the one that makes the best chocolate? So, captivated by theories of international trade but with precious little knowledge of cocoa or chocolate, Steven Wallace set out to build the Omanhene Cocoa Bean Company in Ghana―a country renowned for its cocoa and where Wallace spent part of his youth―in a quest to produce the world's first export-ready, single-origin chocolate bar. What followed would be the true story of an obroni―white person―from Wisconsin taking on the ultimate entrepreneurial challenge.
Items purchased on Amazon earn a small commission that helps support TheChocolateLife.
---
Archived Comments