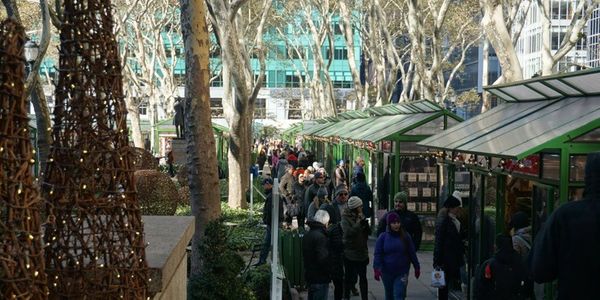 A Cocoa Walk Guide to the Bryant Park Winter Village
In the delightful Bank of America Winter Village of Bryant Park in New York City, we welcome all chocolate lovers to take a cocoa walk and discover many chocolate treats being offered throughout the holiday pop-up village. The Bryant Park Winter Shopping Village, with over 150 boutiques is open every day to the public for free, Monday – Friday 11am – 8pm, Saturday & Sunday 10am – 8pm. The village is a great place for holiday shopping, artisanal foods, chocolate gifts, chocolate confections, hot cocoa, having lunch and enjoying the day walking around in a fun winter village with a lot of holiday spirit. The shops are open now through January 2nd and offer the unique experience to be able to enjoy five great chocolate shops to visit all in one area.
Raaka Chocolate
Take a walk by Raaka Chocolate, a world famous Brooklyn based bean-to-bar chocolate company with a shop and factory in Red Hook.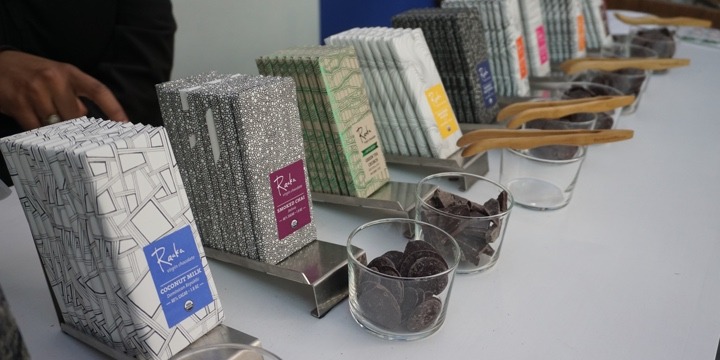 Raaka is well known for crafting creative and inspired flavors, such as their cask-infused bourbon dark chocolate bars, starting with select unroasted beans which they process themselves in-house. Here you can enjoy sampling their handcrafted bean to bar chocolates such as pink sea salt, smoked chai, coconut milk, green tea crunch, maple and nibs, ghost pepper, cabernet sauvignon and more 🙂 They are also selling very nice gift boxes of their chocolates and there is a First Nibs Monthly Chocolate Subscription gift option where they will send each month, for the next 3 months, two limited-edition handcrafted chocolate bars and one bar from their permanent collection.
MarieBelle
Enter a world of timeless romance and whimsical creations at MarieBelle's chocolate boutique, a SOHO-based luxury chocolate and confections company. Here you will find beautifully crafted chocolate gift boxes, a new library box assortment of their featured bars, a selection of delectable confections, fresh Aztec hot chocolate made from real shaved chocolate, and many wonderful gifts.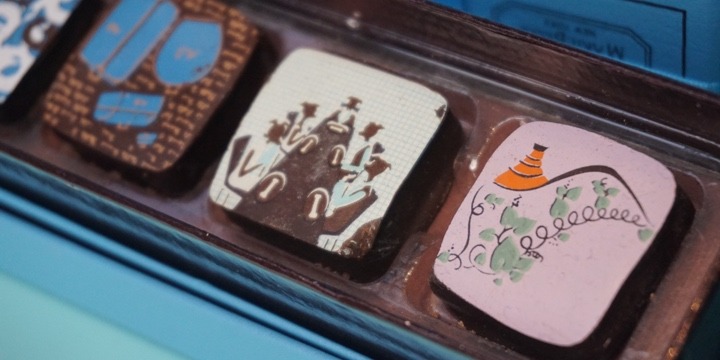 Themed ganache chocolates include famous art and classic New York City scenes. New confections this year include Chocolate Cluster Bars and Pistachio Toffee. Their hot chocolate is among the best in the city, and is made daily at their winter village location. Stop in and try some.
Max Brenner
Come stop by 'Chocolate by the Bald Man', Max Brenner and experience an imaginative, family-friendly chocolate shop with lots of chocolate goodies and gifts to choose from.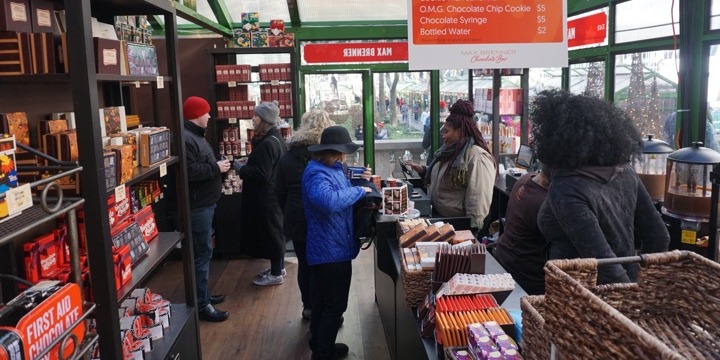 They offer a range of chocolate products and related novelties like their signature First Aid Chocolate Box, Milk Chocolate Drops with Popping Candy, and their popular fun Chocolate Syringes for all those chocolate addicts lol 🙂 Exclusive to the Bryant Park location is their Cookie Max Sandwich – two Max Brenner chocolate chip cookies filled with delicious chocolate ganache, rolled in sprinkles. Get one while you can 🙂 They also offer Chocolate Fondue Towers, Hug Mugs hot chocolate kits, and the Alice Cup, a complete milkshake kit inspired by Alice in Wonderland. These all make great holiday gifts for the chocolate lovers in your life, ready to buy right off the shelves. If you need to warm up while shopping, grab a cup of soothing hot chocolate on the spot!
United Chocolate Works
Head on over and checkout United Chocolate Works a very unique and creative New York based chocolate company selling their handcrafted chocolates made in Italy. Their chocolates are so cool to see in forms of many different tools, cars, buses, trains, phones, cameras, nutcrackers, flutes, keys, locks, roses and more!!!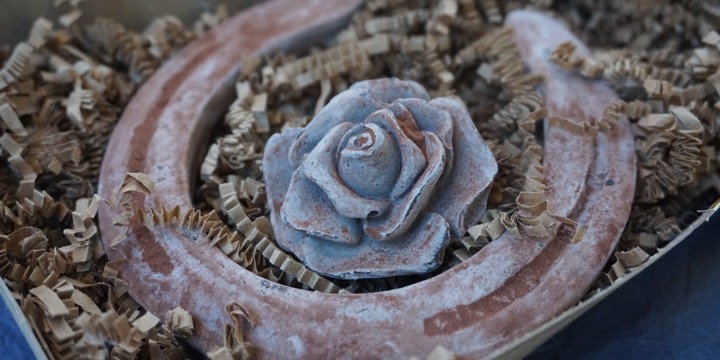 All using techniques that portray an antique rustic image that can almost fool the eye it looks so real. Their chocolate is made from 60% dark chocolate and 40% cocoa butter and not only tastes very yummy but makes a fun unique gift for the holidays 🙂
No Chewing Allowed
While you are in the village, be sure to stop by the fun and flavorful No Chewing Allowed! As the name implies, these French style truffles are meant to be savored on the palate, allowing them to melt in your mouth into a smooth, velvety chocolate experience. The truffles come packaged in a variety of sizes, including tins, gift boxes, and individually wrapped, making this a no-brainer gift for the chocolate lover on your shopping list.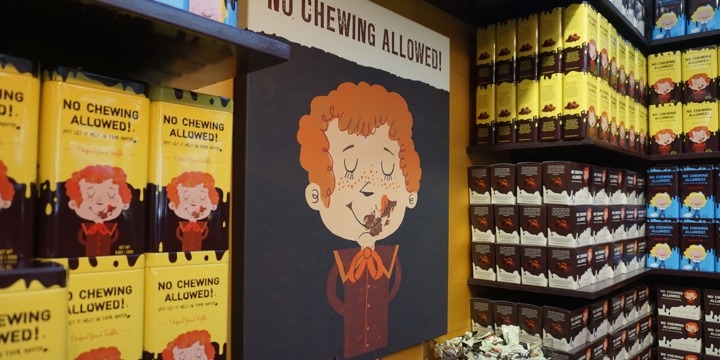 The friendly staff are quick to offer up samples and answer questions. They also sell premium semi-sweet hot chocolate, a popular item with winter village shoppers. Made from cocoa liquor, the hot chocolate is available in bags to bring home or gift, and is also available ready to server at their location in the village.
Nearby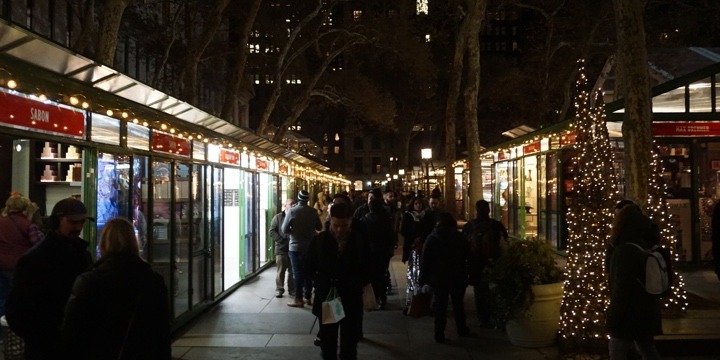 Your chocolate adventure doesn't have to end here. Use the Nearby feature in the Cocoa Walk app to help you discover and navigate to some fabulous shops within easy walking distance from Bryant Park. Across 42nd St to the north you will find Kreuther Handcrafted Chocolate, purveyors of luxury chocolates and pastries that fuse American flavors with classical French technique. On the south side of the park is Royce, a Sapporo, Japan based international chocolate and confection manufacturer. Stop in and try their world famous Nama, a soft, smooth truffle-like chocolate confection that must be experienced to believe.
Just west of the park you will find Fika, a Swedish style coffee shop that happens to have their own chocolate factory and bakery elsewhere in the city. For a place that is primarily a coffee shop, their award-winning line of chocolate truffles are on-par with some of the best in Manhattan. Head east of the park to 5th Ave and about half a block south, and you will find a Kee's Chocolates kiosk in the lobby of an HSBC bank. Here you can find hand crafted chocolates with exotic flavors like yuzu from Japan, sea salt from France, and saffron from Spain.
—
Have you been to the winter village this year? Have you been to any of these popup chocolate shops? If so, what did you try or buy? What is your favorite?
---
Archived Comments
---
Every time I am in this area it's Saturday … and Kreuther is closed. Do you have specific favorites there?