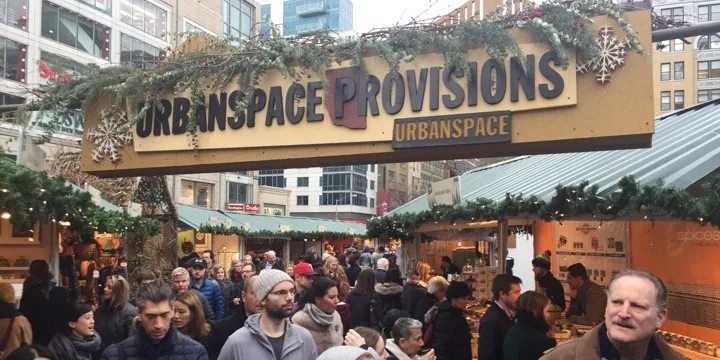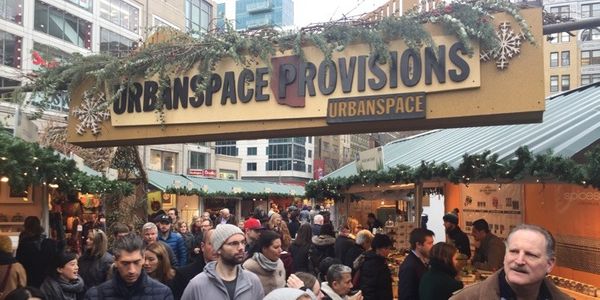 A Cocoa Walk Guide to the Union Square Winter Market
Cocoa Walk invites you to join in a journey of discovery as we explore the chocolate of the Urban Space Holiday Market at Union Square in New York City. This internationally renowned holiday market boasts 190 booths featuring unique gifts created by local craftsman, artists and culinary experts. The market is open to the public Monday – Friday 11am – 9pm, 10am – 9pm Saturdays, and 11am – 8pm Sundays, now through Dec 24th. The market is a great place for holiday shopping, artisanal foods, chocolate gifts, chocolate confections, hot cocoa, having lunch and enjoying the day walking around in a fun holiday market.
Nunu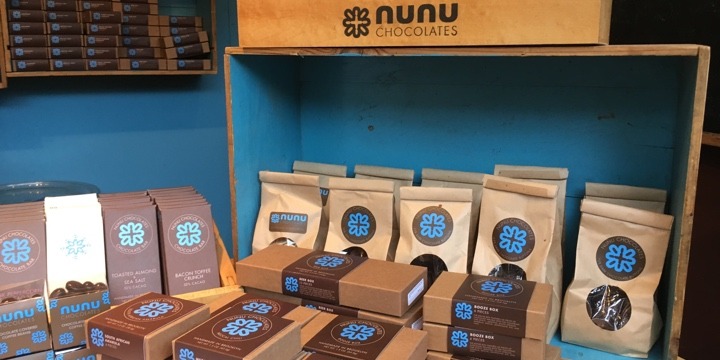 Head on over to Brooklyn's Nunu Chocolates hand made from single origin cacao beans, derived from a family run farm in Columbia which practices IQNet compliant sustainable farming. The term 'nunu' is an affectionate nickname for children in Africa. In addition to 70% and 36% bars, they offer some truly inspired trendy flavors including beer truffle boxes, absinthe ganache, mezcal chili ganache, South African amarila, bacon toffee crunch, and hokey pokey sponge candy. They also sell one of the best hot chocolates and we recommend getting a cup to try and stay warm and happy as you walk around the shopping village.
United Chocolate Works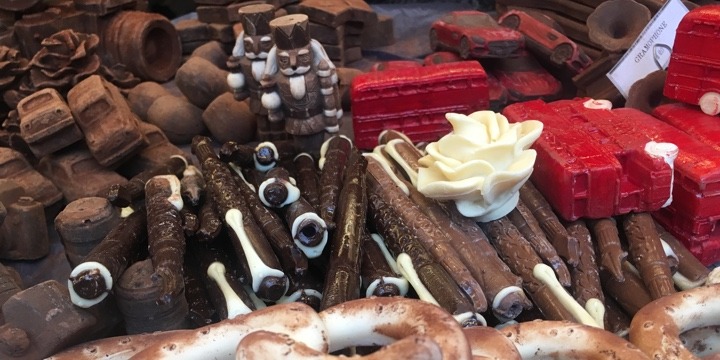 Checkout United Chocolate Works a very unique and creative New York based chocolate company selling their handcrafted chocolates made in Italy. Their chocolates are so cool to see in forms of many different tools, cars, buses, trains, phones, cameras, nutcrackers, flutes, keys, locks, roses and more!!! All using techniques that portray an antique rustic image that can almost fool the eye it looks so real. Their chocolate is made from 60% dark chocolate and 40% cocoa butter and not only tastes very yummy but makes a fun unique gift for the holidays 🙂 You can ask to have a sample of their chocolate and if you haven't seen their work it is definitely a must see!
Fatty Sundays
Fatty Sundays specialize in gourmet flavored chocolate covered pretzels with over 15 varieties to chose from, including Peppermint, Coconut, Toffee, Cookies & Cream, PB+J, Sea Salt Almond, Cinnamon & Sugar, and more! New for the holiday season, they offer a luxe Pretzel Bites Tin, featuring a pound each of decadent Toffee and Peppermint Pretzel Bites. Run by sisters Ali and Lauren, their sweet and salty pretzel confections are handmade from the best ingredients in Brooklyn. Makes a great gift, stocking stuffers and as a nice treat walking around the shops.
No Chewing Allowed
While you are in Union Square, be sure to stop by the fun and flavorful No Chewing Allowed! As the name implies, these French style truffles are meant to be savored on the palate, allowing them to melt in your mouth into a smooth, velvety chocolate experience. The truffles come packaged in a variety of sizes, including tins, gift boxes, and individually wrapped, making this a no-brainer gift for the chocolate lover on your shopping list. The friendly staff are quick to offer up samples and answer questions. They also sell premium semi-sweet hot chocolate, a popular item with winter village shoppers. Made from cocoa liquor, the hot chocolate is available in bags to bring home or gift, and is also available ready to server at their booth.
German Delights Inc.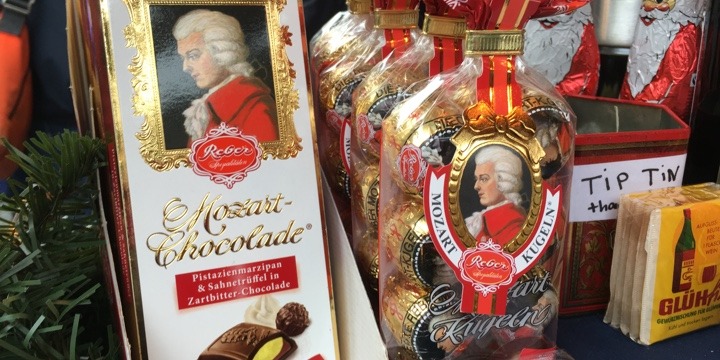 Take a little step into Germany at the German Delights Inc. booth selling a collection of various beautiful and interesting German made gifts, like hand-carved wooden light-up winter decorative scenes, ornaments, chocolate Santas, German chocolate advent calendars, chocolates by Reber Spezialitaten, hot apple cider, and hot gluhwine. The Reber Spezialitaten fine chocolates being sold here are a very sophisticated, unique line of chocolates created especially as a tribute to Mozart a true genius. Their new Mozart truffle medallion chocolates are made from the finest all natural gourmet pistachio marzipan, composed of fresh pistachios and bittersweet chocolate. Founded in 1865, the Reber Spezialitaten chocolate company has bean pleasing customers with their artisanal compositions and fine quality chocolates for over a 150 years.
Plenty of Good Coconut Macaroons
Take a walk on over to Plenty of Good Coconut Macaroons a family run business from Brooklyn, where Spencer a friendly guy is giving free samples out to everyone to taste their incredibly delicious macaroons made in classic or dipped in chocolate. They have a great toasted coconut flavor packed with coconut and are a must try and buy 🙂 They come in little clear boxes that are great for gifting, stocking stuffers or just a nice treat as you walk around the shopping village.
Rubyzaar Baked
Inspired by classic rock songs and artists, Rubyzaar Baked offer a menu of loaded gourmet cookies featuring fine ethically sourced fair trade Guittard chocolate. Cookies with names like NYC Pretzel Logic, Casbah, Kashmir, and Keith Moonpie nod to Steely Dan, The Clash, Led Zeppelin, and The Who, and feature ingredients like smashed salty pretzels, fresh mint, earl grey & smoked almonds, burnt marshmallow, smashed graham crackers, and of course world class chocolate! If you are a cookie fan, this is a must stop.
Jars by Dani's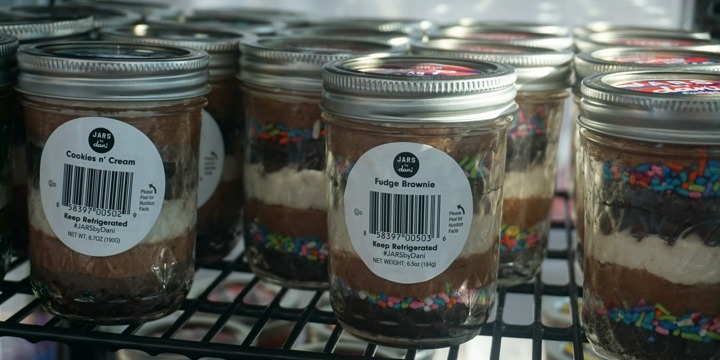 At Jars by Dani, you can experience beautifully layered jars filled with lots of yummy stuff in flavors like fudge brownie, peppermint, cookies n' cream, cookie dough, peanut butter, white chocolate, gluten free fudge brownie, a vegan jar and more! Dani Beckerman experimented with recipes until she perfected her delicious, cute and fun signature line of jars. Also online at jarsbydani.com.
Momofuku Milk Bar
Momofuku Milk Bar is an award winning bakery from chef & owner Christina Tosi, known for innovative creations like Cereal Milk Ice Cream, Compost Cookies, and Crack Pie. For the chocolate lover, you can find their Chocolate Chocolate Cookie, the rich and fudgy Best Freaking Cookie, Grasshopper Cake Truffles, and a selection of decadent chocolate layer cakes.
Dulcinea Churros
Dulcinea, meaning elegant sweetness, alludes to the elevated state of Dulcinea Churros. They sell churros filled with chocolate, S'mores berlinas, Spanish hot chocolate and more! These aren't just churros, these are gourmet churros stuffed, dipped, and coated with sensational ingredients that push the culinary envelope and a must try delicious treat 🙂 This year they have launched their very popular Churro Ice Cream Sandwiches at their outdoor locations too! Stop by and enjoy a fresh gourmet churro made-to-order special just for you.
Farm To People
Farm To People's mission is to make it easy to discover & buy from small batch artisanal producers. Among the many fine products they carry, you will find a wide selection of some of the best bean-to-bar chocolate bars around. These include Raaka, Fruition, Hu Kitchen, Antidote, Mayana, Bearded Brothers, Acalli, Laurie & Sons, Askinosie, Fine & Raw, Willamette Valley Confectionery, Nathan Miller, Madre, Elements Truffles, Eat Chic, Tumbador, and more! They also carry their own line of chocolate bars. This is a great place where you will find a collection of the some of the best bean to bar chocolates all in one place.
Izzy & Tallulah
Izzy Tallulah offer an original product line that celebrates the bonds we share with family and friends. Debuting at this same venue in 2015, their product line includes chocolate and maple cream fudges, chocolate caramels, maple bacon toffee, a white & semi-dark chocolate peppermint bark, and seasonal confectionary treats, all made in small batches using the finest ingredients.
Leckerlee Bakery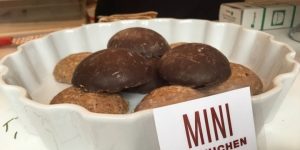 Stop by Leckerlee where they have the most delicious Nuremberg-style Lebkuchen traditional German gingerbread, handmade in New York City, that is know for embodying love and friendship. Come try and enjoy a free sample at their booth 🙂 They make them classic or covered in chocolate, and are sold as individual big cookies, by the pound, nice boxes, Christmas gift tins, and mini sampler bags. Every gingerbread bite captures the spirit of the holiday and are great with coffee, tea or hot cocoa all winter long 🙂 You can also find them online at leckerlee.com.
Nearby in the 'Hood
If you've experienced and enjoyed all that is offered at Union Square Holiday Village, and are looking to continue a Cocoa Walk discovering the best chocolatiers and shops in Manhattan then Cocoa Walk is the app to take your own chocolate walks and tours anytime you want, lots of fun and a great gift for any chocolate lover 🙂
We also recommend taking a short walk over to checkout Max Brenner just steps away from Union Square Park, an imaginative family-friendly chocolate shop and a fun trendy restaurant with a menu full of chocolate specialties, it's the perfect place to sit down with the kids, family, or your friends for a special treat and enjoy their chocolate fondue, crepes, sundaes, chocolate pizzas, their popular chocolate chip cookie skillet, hot chocolate and so much more!!!
Only a couple blocks north east of the square is … a cheese shop? Yes! Bedford Cheese Shop, located at 67 Irving Place, and are known for carrying a nice selection of the best craft chocolate bars around.
Across from the west side of the square is the very popular and one of the biggest candy stores in the world Dylan's Candy Bar. With over 7000 kinds of candy, they specialize in novelty and nostalgia candies, and carry a wide selection of chocolate along with their yummy line of fun chocolate bars. This is a candy shop everyone and child dreams to visit.
Walk a couple of blocks north to find Cocoa Store, a little shop that carries a 'carefully curated collection of luxury chocolate brands' lining the walls. If you are looking for that discerning bean-to-bar experience, this is your stop.
We hope you really enjoy exploring the Union Square Holiday Village Chocolate shops and the special gourmet food treats and hope you will continue discovering the world of chocolate in NYC with the Cocoa Walk app available here: https://appsto.re/us/GxM29.i
---
Archived Comments