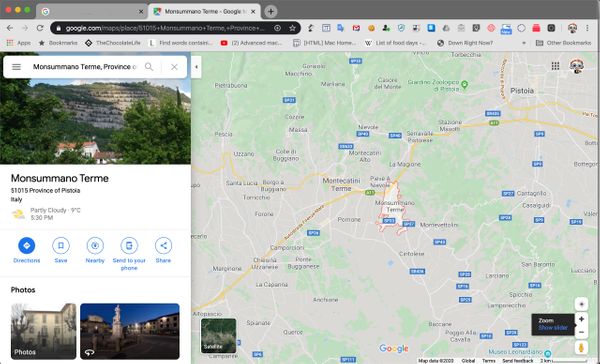 A Visit with Andrea Slitti (2014)
Following the path of my Chocolate Life has led me to interesting places and to make interesting decisions. For some reason, many of those decisions seem to involve travel. For example, on my first trip to Bolivia (in January 2010) I flew to La Paz then scrambled to catch a flight to Santa Cruz to be met by Volker Lehmann. After freshening up and a short nap we drove downtown to run some important errands before dinner in advance of catching the overnight bus to Trinidad. Where we got a taxi from the bus station to the commercial airfield to catch a small plane (a six-seat Cessna) to Baures to hop a jeep that forded a river on a small boat to reach the Hacienda Tranquilidad, the cacao operation that Volker operates.
Although not in the same league as the trip to Bolivia my visit to Monsummano Terme to see Andrea Slitti had some of the same air: walk to a train to catch a bus to JFK to fly to Milan (7 hours) to get picked up in a car to go to the hotel to drop off my bags, take a quick shower, and then get back in the car to be driven 4 hours for a one-hour appointment with Andrea before getting back in the car to make the return drive of four hours. In the rain.
I've known of Andrea Slitti since maybe 2001. And when I say known of I mean that I've tasted the work of the man who may be the most highly-awarded chocolate maker in Italy; the man who is probably the inventor of dark-milk chocolate – what he calls Latte Nero.
By the time Giuseppe (the international sales manager for FBM; (Slitti has a lot of FBM equipment much of it custom-designed for them) and I left Monsummano Terme we'd spent three hours with Andrea touring the factory – something that relatively few outsiders, especially in the chocolate industry – are allowed to do – and the retail shop. We also had an impromptu tasting of some chocolate and Solbeso (a distilled spirit that is made from fresh cacao fruit juice that is one of the projects I am working on) I brought with me to share.
Picture taking inside the factory is not encouraged, so words will have to do.
The workshop building is deceptively small because not all of it is above ground. What is also not immediately obvious is that it might be the greenest chocolate factory anywhere in the world – and the vast majority of the design and specification was done by Mr Slitti himself. There is a rainwater diversion and collection system that takes care of all of the gray water needs of the factory. There is a significant solar power installation. Heat from the HVAC system is captured and used to meet all of the hot water needs of the factory. The building is oriented so that the temperature-sensitive parts of production are on the north side of the building. The exterior of the building is all double-wall construction. All of the interior walls are SIPs (structural insulated panels).
And if all that is not enough, all of the corner, edge, and cove molding between the walls and the floor and the ceiling is steel and all the joins are welded. No insects or rodents are making their way into this building. Air curtains are installed in production areas with doors to the outside to keep flying insects outside.
There is an entirely separate room for making and working with ganaches. And a separate room for panning. Every production work space has its own independent HVAC system to enable the temperature and humidity of each room to be controlled precisely. And independently.
All of this makes it the coolest (in all senses of the word) chocolate factory I have ever been in – and it might just be the coolest chocolate factory anywhere.
And that's before we start talking about equipment.Separate roasters (at least 250kg each) for cocoa and coffee. The primary piece of chocolate production equipment is a Netzsch ChocoEasy. There are tempering machines everywhere ranging from 18kg up to 45kg (135kg/hr). I lost count of how many tempering machines there were. At least two enrobing lines – one with a 17-meter-long cooling tunnel! There is a custom bar depositing line that FBM made for Andrea that can do over 1250 100gr bars per hour that does not have a cooling tunnel attached to it. (Technically, this might have been one of the most surprising things I saw. The exit section of the bar molding line ends up inside a huge cool storage room and there are special racks to hold the molds while they cool.)
And to top it all off, amazingly, a lot of wrapping is still done by hand. While machinery could obviously be employed here (and bars are flow-wrapped and boxed), Andrea insists on doing as much as possible by hand because it means that there is a final visual inspection before pieces leave the workshop.
While all of the above is impressive, what may be even more impressive was just how clean everything was. Nothing was out of place. The floors and walls were spotless. All of them. There was no dripped chocolate on the outside of any of the tempering machines. The belts on the enrobers were as clean as any I have ever seen. The work tables in the wrapping room are all attached directly to the floor so no dust collects underneath them making the floors easier to clean.
And all this attention to detail shows up in the finished product. I don't think I have ever seen the chocolate surfaces of a piece with a transfer on it shine they way Slitti's do.
The Slitti family made their name as excellent coffee roasters and it is Andrea who expanded the business into chocolate. The expertise in roasting is the first thing you notice in tasting Slitti chocolates. I have a large selection of bars from 100% to 35%, including one milk, one lattenero, and one origin bar (Pru). Plus two jars of chocolate spread. I have to wait to take photos of the bars before I start opening them, but a marathon comprehensive tasting session is in the offing and I will share my thoughts on these when I get done.
The Slitti factory and retail shop in Monsummano Terme is in what locals call the chocolate valley. Paul DeBondt's workshop is not far, neither are Amedei and others. While you may not get the chance to tour the Slitti factory, the shop is well worth a visit. The coffee is excellent and there is a large selection of confections that don't make it to the United States. Monsummano Terme is not far from Pisa (hello, leaning tower) and, as the name suggests, the area is home to many thermal hot springs. You are also not far from Parma, home to … well, too many good things to eat to even begin trying to list them here. The only disappointment I have for the day is not being able to stop at at least one local market to browse the bounty that the region offers. Not that I would be able to bring most of it back through US Customs and assuming any of it lasted that long!
---
Archived Comments