Being a Tourist in Amsterdam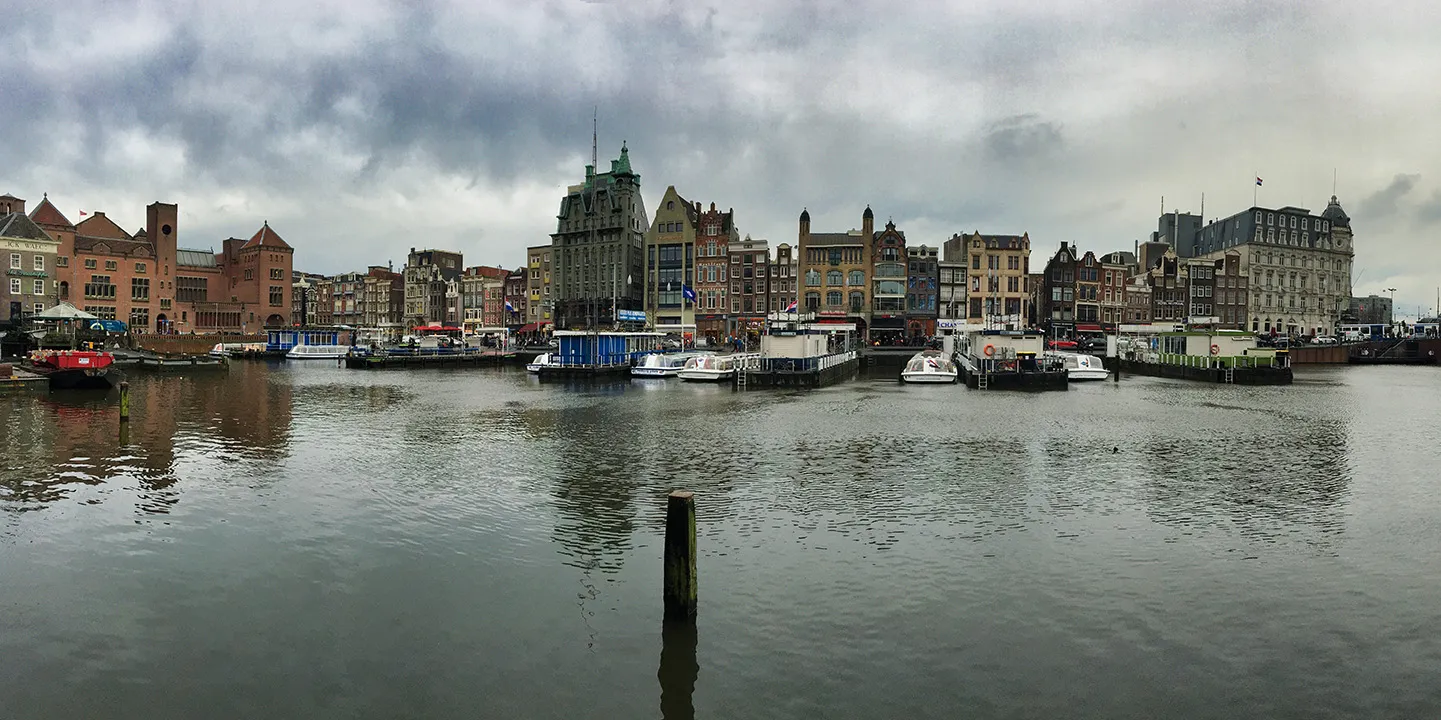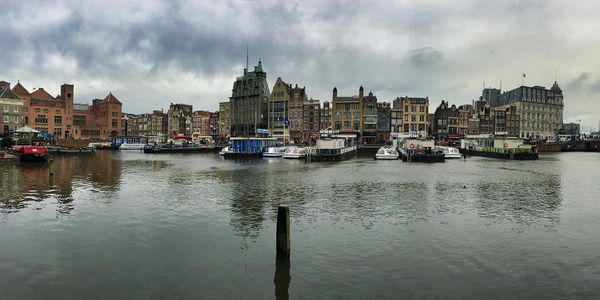 I am going to be slamming busy from tomorrow (Thursday) through Monday, so I have decided to enjoy the day: get a late start and be a tourist and enjoy the city by walking around.Amsterdam is often called the most bicycle-friendly city in the world. The same cannot be said for many of the bicyclists themselves, unfortunately. Bicycle-friendly also means Pedestrians Beware! as many cyclists ply the roadways with a ruthless casualness.
It's not as if the bicycles themselves are anything special. The vast majority are single-speed antiques with coaster brakes that look to be built neither for comfort nor speed but for durability. Bikes with ten or more gears are so rare that they call attention to themselves, as is a bike painted anything other than black.
Despite the wheeled menaces, Amsterdam is a lovely city to walk in, and one that is surprisingly hard to get lost in. Looking a lot like a spider web with spokes radiating from the center (the Oude Kerk, or Old Church) and concentric rings. Sometimes the spokes and rings are canals and sometimes they are streets.
The scale of Amsterdam is very manageable and there are about a thousand ways to get from where you are to where you want to go – no matter where that might be. So even if you do get lost and take the long way 'round, you actually haven't gone all that far out of your way — and if you pay attention you're likely to see some very interesting architectural details dating back 300 years or more.
This morning I walked from the apartment where I am staying (on the Amstel River not far from the Magere Brug (the skinny bridge) and the infamous Amstel Hotel) to a neighborhood called the Jordaan.
There, on Hazenstraat, is Chocolatl, a store that rivals the best chocolate bar stores back home in New York City. In it you'll find dozens and dozens of bars from around the world. Yes, many of the expected American brands are there (including the Mast Bros – which phenomenon I do not understand), but, for an American, what's fun is looking at European brands I can get back in the US. And, unlike New York State, it's possible to mix the sales of alcohol and food, so I picked up a couple of bottles from a local craft brewery – Oedipus – and I will carry them back home to share with friends. They also serve excellent coffee and there's some nice seating that makes it a pleasant place to relax and step out of the weather. (It started raining hard and I did not have either a hat, raincoat, or umbrella.)
From Hazenstraat I traced a meandering path to the flower market. Yes, there were thousands if not tens of thousands of tulips, amaryllis, and more – both blooms and bulbs. But I can't bring the bulbs back with me through US customs and while there are tons of flowers, it's a toss-up as to which there are more of; flower shops or souvenir shops. The market is also book-ended with a Starbucks at one end and a McDonalds on the other. Sigh. There's just no escaping them, I guess.From there it's a matter of just a few minutes to Dam Square, which means you are in shouting distance of the Red Light District. But if you are in Dam Square you are also close to the other great chocolate shop in Amsterdam as well as a very decent wood-fired oven pizza restaurant (da Portare Via; I managed to spend three days in Italy without having pizza once).
If you stand in the square directly in front of the Grand Hotel Krasnopolsky on your left hand is Warmoesstraat and about 100 meters from the Dam is Kees Raat's Metropolitan Deli. (Which, sadly, closed in 2020, which makes the following out of date.)
While the selection of chocolate bars is not nearly as broad as Chocolatl's there's not a lot of overlap. PLUS you can get bonbons, gelato (and house-made frozen yogurt), hot chocolate, baked items, panned items, cacao beer (!), and more. And coffee drinks. Good coffee drinks. I don't think I've had a bad anything made by Kees and if you look closely in the back of the store you'll see a CocoaTown grinder … Kees makes his own chocolate from the bean as well as his own nut pastes for his gelatos. It's an eclectic place that mirrors Kees's eclectic creative energy. But – what may be best of all – it's open until midnight, so after a night of drinking (ahem – you are in Amsterdam) you can head over to the Metropolitan Deli for a chocolatey delight before heading to bed.
---
Archived Comments