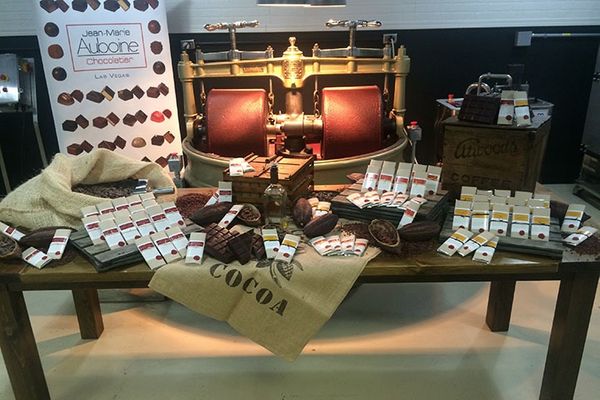 Ended – Bean-to-Bar Chocolate Class
Three-day bean-to-bar chocolate making class at the Jean-Marie Auboine school sponsored by FBM.
Over the course of the three day, students will participate in all aspects of making chocolate, from sorting beans through roasting, cracking, and winnowing; to refining and conching, to tempering (using continuous tempering machines) and depositing; to producing finished, wrapped, bars to take home. Typically, two batches are completed (one milk and one dark), and a third batch is started. A variety of equipment is used and the class focuses on process and technique, not how to use specific machines.
Approaches to developing roasting and conching profiles will be discussed, as will techniques that can be used in every day production to improve quality while also improving production throughput.
The class is co-taught by Jean-Marie Auboine and Clay Gordon.
From a student who attended the May 2017, class:
"Thank you for a truly wonderful class this week. I got so much insight and inspiration, new perspectives, direction, understanding of process, and I appreciated your perspective on both chocolate and business. I couldn't have asked for more. It was well thought out in so many ways beyond just the class. Everyone who I talked to got just what they needed as well."*
Cost is (was) $1050 for the three days.
---
Archived Comments
---
That would be soo much fun!!
---
@PanayiotisT – In my experience the key to not gaining weight, when in Vegas, is to avoid the eat-all-you-can buffets at the hotels. The calories from the chocolate in class pale in comparison!
---
A bit pricey! I'd also probably gain a lot of weight
---
Looks like a great experience. I would definitely go if I could!