Book P/Review: Chocolate Alchemy - A Bean to Bar Primer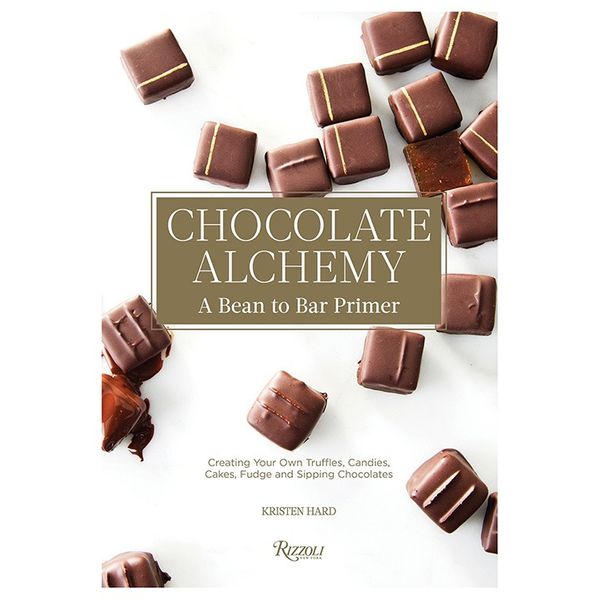 I spent large parts of the Presidents Day weekend poring over a review copy of Chocolate Alchemy: A Bean to Bar Primer written by Cacao Atlanta founder Kristen Hard (with a foreword by Bill Addison) sent to me by the publisher, Rizzoli.
Actually, it only took me less than 10 minutes to suss out that — at least when it comes to making "bean-to-bar" chocolate — the book closely hews to the dictionary definition of primer:
Primer: An elementary textbook that serves as an introduction to a subject of study […]
The rest of the time spent reading and thinking about the book have been focused on questions of honesty, which, I am sad to say, the book places front and center.
Literally front and center.
As in the title of the book front and center.
First Impressions
If you are tempted to purchase Chocolate Alchemy because you want a guide to learning to make your own chocolate from cocoa beans then be aware that this book is an extremely elementary, cursory, and not at all convincing take on the subject of making chocolate from beans.
If you have never made chocolate from cocoa beans before and if having an overly simplistic introduction to making chocolate is your main reason to consider purchasing the book, there are other, far better, sources for information on the topic, especially ChocolateAlchemy.com — which has been providing guidance to small chocolate makers around the world for about fifteen years.
If you have already made chocolate before there are no new insights here about making chocolate. Unfortunately, there are also many subtle and not-so-subtle errors of omission and commission that reduce the book's value as a trustable source on many things related to cocoa and chocolate. Virtually all of the descriptions about cocoa and chocolate, from genetics to flavor profiles to technique, are far better (i.e., more accurately) covered elsewhere.
If you have already experimented with making chocolate before, it's possible some of the recipes might be interesting to you. I am not evaluating Kristen's street cred as a pastry chef/confectioner here because I have not had the opportunity to make any of the recipes let alone a large proportion of them, but I didn't see anything really innovative in the list of recipes and the Sources section seemed like a casual afterthought that was phoned in.
This Chocolate Alchemy devotes just twenty pages to the topic of making chocolate, and that page count includes six and one-half pages of photos.
Honestly …
Upon reflection, it's not clear to me the author really even cares about educating people about making chocolate. More weight is put behind her ideas about chocolate as health food and her ideas about the future of chocolate — which seem to center around a nascent business that may not be as Original (Beans) as she suggests. The book relies, in my opinion, on telling a good story to an audience that does not have either the knowledge or experience necessary to parse the stories being told.
One clue to this possibility is that the author does not care to share the origin story of the title of the book. There is no acknowledgment of the most likely source of inspiration for the main title, the seminal online community ChocolateAlchemy.com and its founder, John Nanci.
It is impossible for Kristen not to have been aware of Chocolate Alchemy's existence before the files were sent to the printer in China. This point is not in dispute because ChocolateAlchemy.com is referenced in the Sources section of the book. Three separate times.
In many respects, John pioneered the equipment and techniques used by small makers around the world, figuratively writing an encyclopedia on small batch chocolate making.
Efforts that Kristen and Cacao Atlanta benefit from daily.
For Kristen not to acknowledge this inspiration is extremely troubling to me.
I wonder why someone should think it's okay to use a phrase so intimately associated with someone else and their work without acknowledgment. [Hint: Because they knew it was wrong to do so?] While it is true that John Nanci never trademarked the phrase Chocolate Alchemy, it has been in continual use by him since at least 2004 and its use is associated with John by very nearly everyone in the global community of small batch chocolate makers.
It's impossible that something this blatant would escape notice (the chocolate community is way too small for that), and yet the author went ahead, anyway. The only conclusion I can come to is that the use and oversight are deliberate — the author knew what she was doing. And did/does not appear to care.
At the very least the use smacks of intellectual dishonesty and of an apparent complete disregard for what the rest of the small maker community thinks.
Closing thoughts
When I received the review copy two days ago, this is not where I thought this p/review would end up. I did not expect to have to put the time into writing what you have just read. And I know this may be just the beginning. But, I am an observer and critic and this is part of my job.
I have reached out to Kristen for an interview and I will let everyone know the outcome, if and when the interview request is granted.
I was near the center of the Mast Bros firestorm ignited by Scott Craig's articles and I took quite a bit of heat for my candid deconstruction of the issues I see in Bernardini's The Reference Standard. Both blew up around the same time and the personal and psychological toll extracted was considerable and I know I am still suffering some consequences of those decisions. I am not looking forward to being a part of another controversy, but I don't really feel I have an alternative.
I cannot condone the decision by the author and the rest of the editorial team not to formally acknowledge John Nanci and ChocolateAlchemy.com as a (if not the) source of inspiration for the title of the book. It is an inexcusable oversight.
This is a bit of due diligence that the publishers should have done very early on in the process and I, for one, have lost respect for Rizzoli as a publisher for enabling and allowing this oversight to make it to print.
IF there is a reprint, in any language, in any territory, I hope that both the author and the publisher will address this troubling oversight directly and to the right thing by acknowledging the source of the inspiration for the title. And by choosing a different one.
---
Archived Comments
---
I concur with your professional assessment, even having not read the book, I am of the opinion it is quite wrong to ride on such large coat tails and not acknowledge or give credit to the 'coat owner' in anyway. Blunt and honest, works for me.