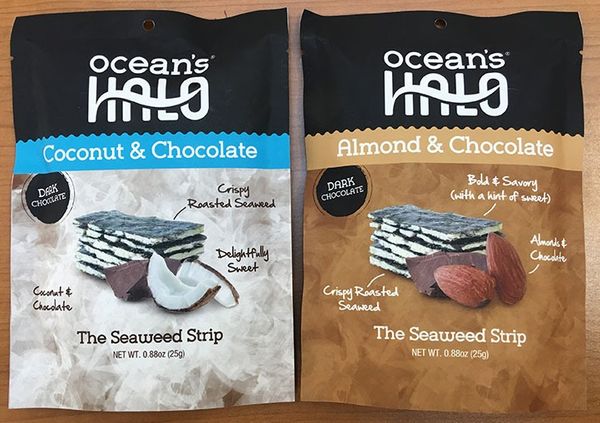 Chocolate and Seaweed? Nori, to be precise.
Whod'a thunk it? Chocolate and seaweed? I for one am glad someone did.
I ran across this item last year at the Winter Fancy Food Show but it was not ready for prime time. The manufacturer was test sampling but final packaging was not available, and I got the sense that recipes were still in flux.
This is my favorite new snack. I love nori anyway, and these layered seaweed flats combine the flavor, aroma, texture, and umaminess of nori with chocolate – and in one variety almonds and the other coconut. Crunchy, not too salty, not too sweet, and the flavor hits you differently from strip to strip.
In a word? Addicting. To lean on a trope: Bet you can't eat just one.
Plus – they're low sugar.
Find out more at fb.me/oceanshalo
—
In a related article, I posted about the Worst Food Product I saw at the Fancy Food Show. Search for this article: Stupid Food Product for January – Infused Ice Cubes.
---
Archived Comments