Chocolate Cinnamon Cupcakes for the Holidays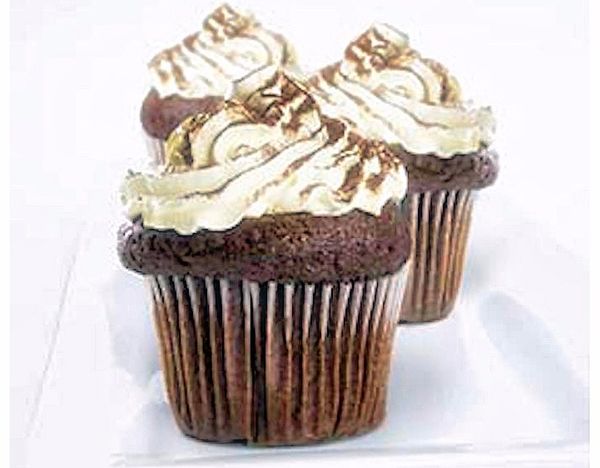 This recipe caught my eye because it contains coffee, which is going to amp-up the chocolate flavor. For extra oomph try using espresso. A good dried espresso powder will work nicely, just reconstitute it first.
Of course, the addition of coffee means these cupcakes might not be a thing you want to give to young kids (goodie! more for the adults!), unless you want them to stay awake long past when Santa is supposed to arrive. Or maybe they're a modern update to milk and cookies and the coffee will help keep Santa awake through the long night delivering presents (if they last that long). You decide.
The method does include a frosting recommendation but not a frosting recipe. What are your thoughts for something different with a holiday twist to top these with? Let us know in the comments. I am thinking something with a cinnamon or coffee liqueur would be a great choice.
Ingredients
2 2/3 cups/640 mL all-purpose flour
1 tsp/5 mL baking powder
1 1/2 cups/350 mL baking cocoa
1 tbsp/15 mL ground cinnamon
1 1/2 tsp/7.5 mL sea salt
1 tsp/5 mL baking soda
3 1/2 cups/820 mL sugar
1 1/4 cups/300 mL freshly brewed coffee, cooled to room temperature
1 1/4 cups/300 mL buttermilk
– 3/4 cup/180 mL grapeseed oil
1 tbsp/15 mL double-strength vanilla extract
2 large eggs
2 large egg yolks
1 1/4 cups/300 mL mini chocolate chips, lightly dusted with flour
Method
In a large bowl, sift flour, baking powder, baking cocoa, cinnamon, salt, and baking soda. Combine sugar, coffee, buttermilk, grapeseed oil, vanilla, eggs, and egg yolks in another large bowl. Beat until the egg mixture is blended. Add dry ingredients and beat on medium speed until well blended, about 4 minutes. Stir in chocolate chips.
Heat oven to 325°F/165°C. Spoon batter into cupcake papers, filling about 2/3 full. Bake until the center of the cupcake is firm to the touch; about 26-28 minutes. Makes 3-4 dozen cupcakes or about 90 mini cupcakes (bake 20-22 minutes). If desired, frost with a simple vanilla buttercream frosting with chocolate swirl topping.
Note: Dusting chocolate chips lightly with flour helps the chocolate chips from sinking to the bottom of the bowl
---
Archived Comments