Chocolate in Copenhagen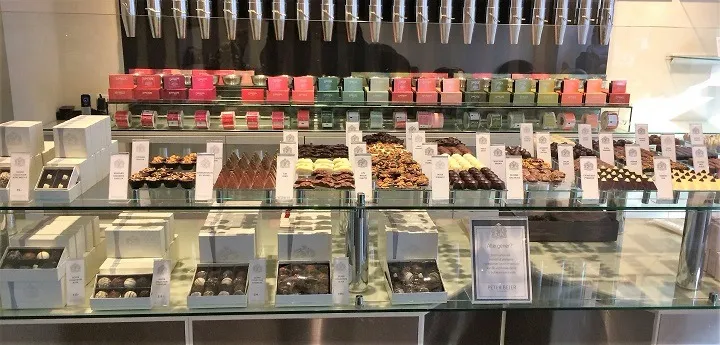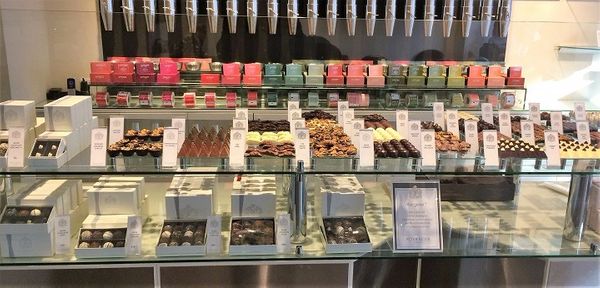 I found myself in Copenhagen for a work-related conference and free time was short, so my hunt for artisan chocolatiers had to be focused. Adding to the challenge was that Copenhagen retailers tend to shut down around 6 PM. Here's what I found:
Peter Beier Chokolade: This is a top-flight shop. Truffles, bars of various cocoa content, and an English-speaking staff that's helpful. Good variety of ganache flavors. I translated the text on the bars and much of his chocolate comes from his own farm in the Domincan Republic, using "traditional fermenting and conching methods." Bars go all the way to 88% cocoa content. The 88% was smooth, very intense, but not too acidic.
Summerbird: All organic is the key mission focus here. They have bars that go up to 71% (Peru) but most are lower cocoa content. Truffles, filled chocolates, licorice-flavored chocolates pop up here (the Danes are big on licorice in general).
Personal fave: The Summerbird location I visited was in a sort of fancy-food court on the "-1" level of a department store called Magasin. Also there in the gourmet market area was a great variety of Friis-Holm bars, Denmark's own award-winning chocolate company that really does make some excellent bars of different percentages, up to 100%. About 60%-85% for most varietals. A number of bars are award-winners and they're worth the price. I had not seen some of them before coming to this market, so of course I bought a nice variety. I particularly liked the "Lazy Cocoa Grower's Blend" where they don't ferment or separate the beans as they are supposed to, but the end result is actually quite good and even complex.
Hotel Chocolat: This chain has about 95 locations, most in the UK but two in Copenhagen. If you haven't been, it's worth a look. Their product line changes, they often have some varietals but lots of "gifty" things, too. No customizing here — you take what is pre-made. Among solids, there are batons and "slabs" up to 88% cocoa content. Worth a look if you're here, but be selective, as many products have lots of additional ingredients, like nuts and fruit.
I couldn't visit these but wish I had and they're definitely on my Copenhagen bucket list:
Anker Chokolade: I'm kicking myself for not getting to this one. A colleague did and loved the truffles here. (She didn't offer any tastes, either.) Very good word of mouth on this shop. The website doesn't indicate bars, but they do a 70% "bark" with lots of seeds & nuts. The boxes of handmade pieces look terrific. They also sell champagne and juice under their label. Definitely stop in if you're in town.
Ro Chokolade: More out of the way in the western part of the city, I didn't get here. Bankers hours — closes at 5:30 PM most days, doesn't open until 11 AM. Saturday they're open only until 4 PM, but I've heard great things about this place. Everything is handmade, small batches. When I have more time and am not in work-mode, it's definitely a must.
---
Archived Comments
---
As requested and promised, here is my review of a very good chocolatier on the west coast of Denmark. A bit of a drive from Copenhagen, but well worth the effort. Keep an eye out for this man. He's a former chef and baker and he has only been working as a chocolatier for two years, but if you see what he makes now, you'll want to see what he'll be making in the future. https://www.facebook.com/chocriti/posts/584626791661034
---
If you're into walking in European cities, Copenhagen is great and you can see a fair amount while traipsing from shop to shop on a self-guided tour. Just a thought — and it makes you feel great about sampling.