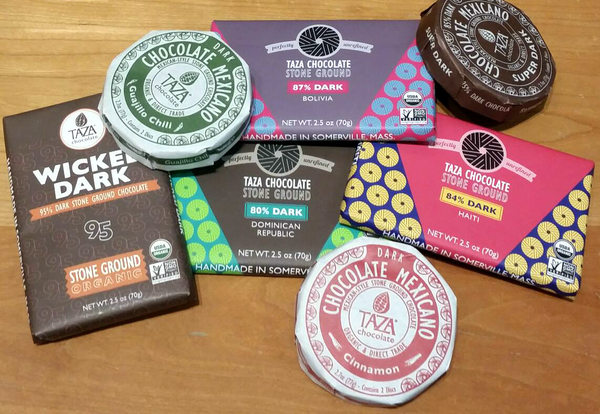 Ended - Chocolopolis' Second "Serious Chocolate" Contest
Chocolopolis Announces the Second Serious Chocolate Contest
We take our chocolate seriously, and we seriously want to have fun with it!
SEATTLE, March 12, 2018 – Calling all armchair pastry chefs and chocolate bakers! Seattle chocolate store, Chocolopolis, is accepting entries for the second Serious Chocolate Contest to be held on Saturday, March 24th at 11:00am at Chocolopolis at the Interbay WorkLofts n Seattle.
Contestants may enter their chocolaty creations into one of two categories, Chocolate Desserts or Chocolate Truffles and Confections.
The theme for this year's contest is Taza Chocolate. Contestants must use Taza Chocolate in their creations with the exception of cocoa powder and cacao nibs, which may come from another source. The theme provides an opportunity to celebrate Taza Chocolate's significant contributions to the craft chocolate community.
On Saturday, March 24th a panel of judges made up of pastry chefs and chocophiles will convene at Chocolopolis in Seattle to judge entries and award prizes.
Why is Taza Chocolate the Theme?
Chief Chocophile, Lauren Adler chose the theme of "Taza Chocolate" as a throw down challenge to contestants to inspire them to create innovative and tasty treats using Taza's "Perfectly Unrefined" chocolate.
Adler said"
"Taza Chocolate has become one of my favorite chocolates to use for mousse and ganache because of the amazing flavors in the chocolate. Many customers do not think of baking with Taza Chocolate because of its unrefined texture, but they don't know what they're missing!"
While Taza Chocolate's unrefined chocolate has a sandy texture, the sugar melts once heated, removing some of the grainy texture and allowing the underlying cacao to shine through with incredibly delicious flavor notes that speak of well-fermented cacao that is roasted to perfection.
Taza Chocolate has been a pioneer and a leader in the craft chocolate movement. Taza's Founder, Alex Whitmore, created Maya Mountain Cacao, planting the seed for other craft chocolate makers to more easily purchase quality cacao directly from farms at country of origin. The launch of Maya Mountain Cacao and Taza's continued work in countries of origin have resulted in improved harvest and post-harvest practices. The results show in higher quality cacao, a better price for farmers and a more direct relationship with other craft chocolate makers.
Winners & Prizes
First, second and third-place winners will be awarded in each category, and one entry will be awarded "Best in Show". Best in Show will be chosen based on the judges' evaluations of entries across both categories.
Best in Show and First Place prizes – a gift basket filled with chocolate from Chocolopolis, chocolate from Taza Chocolate, confectionery tools, and a copy of Megan Giller's book, Bean to Bar Chocolate: America's Craft Chocolate Revolution.
Second Place prizes – a gift bag of Taza Chocolate and a copy of Megan Giller's book.
Third Place prizes – a gift bag of Taza Chocolate.
​How to Enter
Contest rules and entry forms are located at www.chocolopolis.com. Entries will be accepted until 10:30AM on Saturday, March 24. Contestants may mail or drop off completed entry forms to:​
Chocolopolis1631 15th Ave. W., Suite 111Seattle, WA 98119
​Entry fees may be paid in person or online. Visit the Chocolopolis website for complete contest rules and an entry form.
​Questions about the contest or the eligibility of a chocolate ingredient should be directed to Chocolopolis.​
About Chocolopolis
Located in Seattle's Interbay neighborhood and online, Chocolopolis invites customers to discover a world of chocolate through chocolate tastings and experiences. Featuring one of the country's largest curated collections of single-origin chocolate bars, Chocolopolis is home to a vibrant community of chocolate lovers who look to Chocolopolis for its expertise in craft chocolate. Chocolopolis also offers confections from world-class chocolatiers such as Christopher Elbow, Kathryn Taylor and Batch PDX.
Founded by Chief Chocophile, Lauren Adler, Chocolopolis opened in July 2008, just as the American craft chocolate movement was beginning.
Chocolopolis is a Seattle company located in the Interbay WorkLofts at 1631 15th Ave. W., Suite 111, Seattle, WA 98119.
Additional information about Chocolopolis is available at www.chocolopolis.com.
​For more information, please contact Lauren Adler, Chief Chocophile.
---
Archived Comments
---
This gives me ideas. I'm off to Paris for a "chocolate pilgrimage" of 4 days. Planning on visiting as many boutiques as possible. Bringing back bars, truffles, etc. but also going for chocolate desserts of as many sorts as I can. Making a "contest" out of it seems interesting, but often I find bars are just different, not better or worse, and I wouldn't want to forego any of them. We'll see. I post soon after my return is a definite!