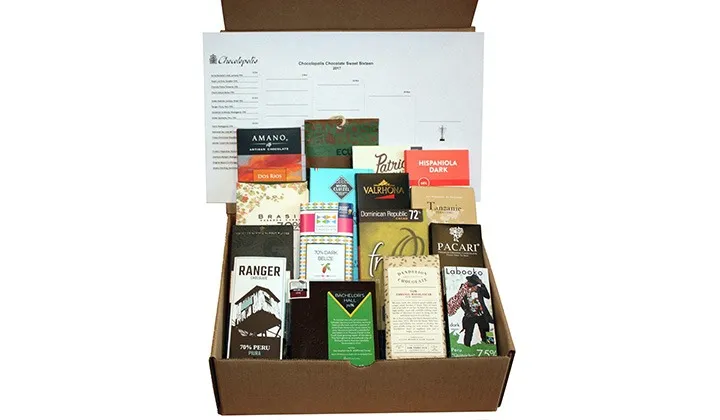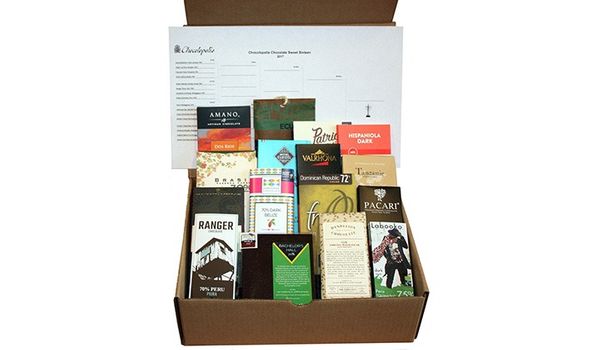 Chocolopolis announces WINNER in the 2017 Chocolate Sweet Sixteen
UPDATE: December 2, 2017: After eight weeks of customers tasting and voting for their favorite chocolates in our Chocolate Sweet Sixteen bracket system, we've crowned a winner. Drum roll, please!
The winner is Patric Madagascar 67%! It was a tough competition with some surprises along the way. Patric's Madagascar 67% was up against last year's winner, Fruition Hispaniola 68%. Both are fantastic chocolates, and it's tough to pick a winner, but Patric came through as a first-time contestant. Congratulations to the very talented chocolate maker, Alan McClure!
Original Post
SEATTLE, September 20, 2017 – Chocolopolis announced this year's competitors in its third annual Chocolate Sweet Sixteen competition. The competition begins on October 5, 2017 at Chocolopolis' weekly chocolate happy hour from 5pm-9pm. Customers may compete for prizes by submitting a fantasy bracket of projected winners. The deadline for submitting fantasy brackets is October 3 at 5pm PDT.
This is the third year that Chocolopolis has held the Chocolate Sweet Sixteen competition. Sixteen single-origin and blend chocolate bars are arranged into brackets of four at the beginning of the competition. Each week during happy hour customers taste the four competitors in that week's bracket and vote for their two favorites among the four. The tasting is blind, so customers cannot identify the chocolate at the time of tasting.
At the end of each happy hour votes are tallied, and the two chocolates with the most votes in each round of four move forward in the competition. The competition culminates in a semi-final round with two chocolates competing for the championship.
Past winners include Askinosie San Jose del Tambo 70% (Ecuador) in 2015 and Fruition Hispaniola 68% (Dominican Republic) in 2016, both of which are competitors in this year's competition. Fruition Hispaniola was also a semi-finalist in 2015.
Anyone who would like to compete for prizes may complete a fantasy bracket of winners.
At the end of the competition, the person with the most correct fantasy bracket, as determined by a panel of judges, will receive a $200 gift certificate to Chocolopolis. Everyone who correctly guesses the winning bar will receive one of the winning bar for free. Please click here to read the contest rules.
The 2017 Competitors in the Chocolopolis Chocolate Sweet Sixteen are:
Amano, Dos Rios, Dominican Republic 70%
Areté, Fazenda Camboa, Brasil 70%
Askinosie, San Jose del Tambo, Ecuador 70%
Charm School, Belize 70%
Dandelion, Ambanja, Madagascar 70%
François Pralus, Tanzanie 75%
Fresco, Dominican Republic 212 72%
Fruition, Hispaniola, Dominican Republic 68%
Michel Cluizel, Vila Gracinda, São Tomé 67%
Original Beans, Cru Virunga, Congo 70%
Pacari, Los Rios, Ecuador 72%
Patric, Madagascar 67%
Ranger, Piura, Peru 70%
Soma, Bachelor's Hall, Jamaica 70%
Valrhona, Manjari, Madagascar 64%
Zotter, Quinacho, Peru 75%
—
About Chocolopolis
Located in Seattle's Interbay neighborhood and at www.chocolopolis.com, Chocolopolis invites customers to discover a world of chocolate. Featuring one of the country's largest curated collections of single-origin chocolate bars, Chocolopolis also offers confections from world-class Chocolatiers such as Christopher Elbow and Kathryn Taylor. Chocolopolis opened in July 2008, just as the American craft chocolate movement began.
For more information, please contact:
Lauren Adler, Chief Chocophile
---
Archived Comments
---
We expect to have the bundle back in stock any day. We're waiting for a shipment of Charm School Chocolate. As soon as it arrives, we'll update our stock online.
---
This is a fantastic list and would make a fantastic holiday gift. I'm absolutely visiting next time I'm in Seattle!