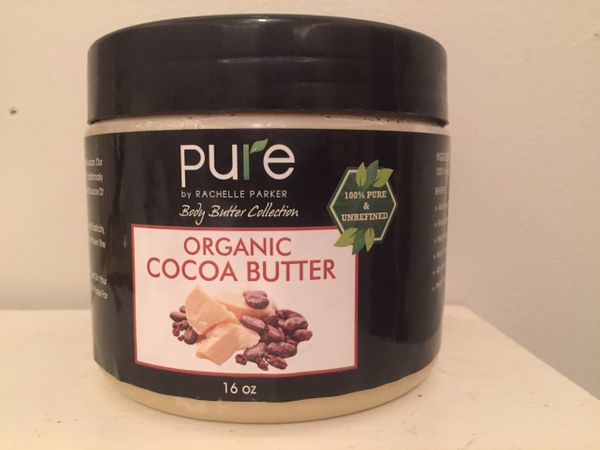 Versatile Cocoa Butter
Part of the body butter collection from Pure by Rachelle Parker, I found this organic cocoa butter to be an all-over miracle. For dry and dull skin, to weak and lifeless hair, slather this stuff on and get excited for the results!
I've had this for a couple of weeks now, and it has seriously been great now that it's cold and the heat is blasting inside. I put this on dry skin areas every night, and even on my face if I need some extra moisture, but my favorite way to use it is on my hair. If you just need a little extra shine daily then warm a small bit in your fingers and work through the frizzy areas and into your ends.
If your hair really needs some loving then work a large amount from root to tip before you go to sleep. When you wake up and wash it out your hair with be soft, shiny, and easy to work with. I have found that it's a good idea to do this weekly, especially if you use heat on your hair a lot, as it aids in hair strengthening and reduces hair loss.
This large tub of cocoa butter has many great uses (but it's not for cooking), so get creative! Keep it by the sink to use as lotion after you wash your hands, or add it to your hair styling routine–you can't go wrong!
This would be a great gift for anyone you know who cares about beauty products, but likes them natural, organic, nice-smelling without artificial perfumes, and simple.
—
Available for purchase on Amazon :: http://amzn.to/2jIEQGn.
---
Archived Comments