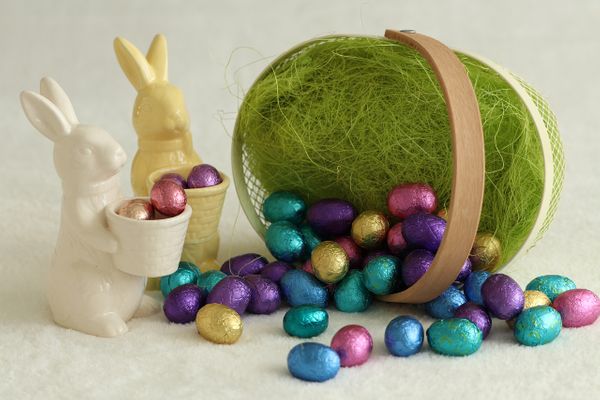 Favorite Ways to Celebrate Easter with Chocolate
Easter is one of America's favorite holidays when it comes to chocolate, even though chocolate was not a part of original Easter festivities.
According to some sources, the Easter bunny first arrived in America in the 1700s though the association of bunnies with Easter dates back to the 1500s.
The association of eggs (though not chocolate eggs) to Easter may hearken back to pagan traditions, Easter eggs now represent the resurrection, but, this association did not come about until 15th C Germany.
Because of the way cocoa was introduced to Europe from the new world, chocolate could not have become a part of Easter festivities until well into the 16th C. There are conflicting stories about where the first chocolate Easter eggs were made, with some sources attributing them to Frys and Cadburys in the UK (as early as the 1840s) and others to French and German makers before then. One major impediment to the development of molded chocolate Easter eggs was the fluidity of chocolate before the Frys first started adding cocoa butter to chocolate to make improve fluidity (and mouthfeel).
This year it is estimated Americans will spend nearly $17 billion dollars on Easter-related stuff. Over $2.5 billion of that will be spent on chocolate in some form.
That's a lot of stuff. And a lot of chocolate.
Much of the money will be spent on chocolate bunnies and chocolate eggs (solid and creme-filled).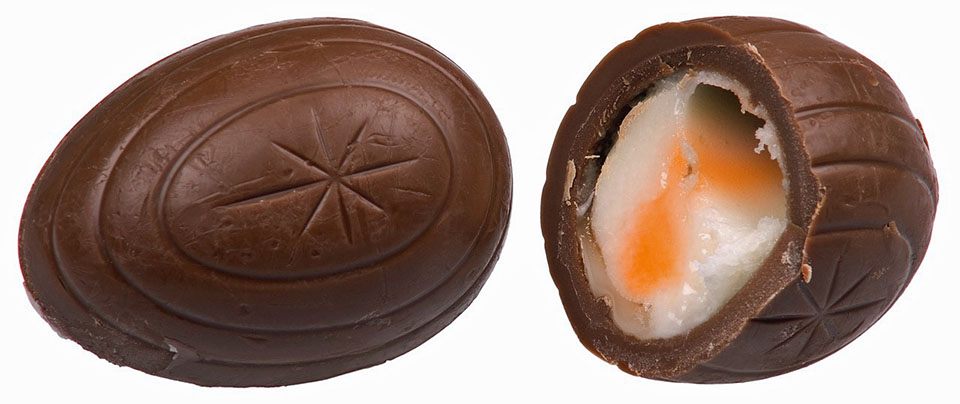 In my family, favorite ways to celebrate Easter with chocolate included:
Double chocolate chip pancakes. Or waffles. (What made them double was cocoa powder in the batter.)
Hot chocolate with freshly-whipped cream.
Find the Easter basket by following a trail of wrapped chocolate eggs. (The thinking being that if you put jelly beans directly on the floor they were dirty and should not be eaten.)
Exploring the different ways chocolate Easter bunnies can be eaten.
Melting chocolate Easter bunnies into funny shapes (e.g., with an iron).
What are your favorite ways to celebrate Easter with chocolate? Please let us know in the comments below.
---
Archived Comments