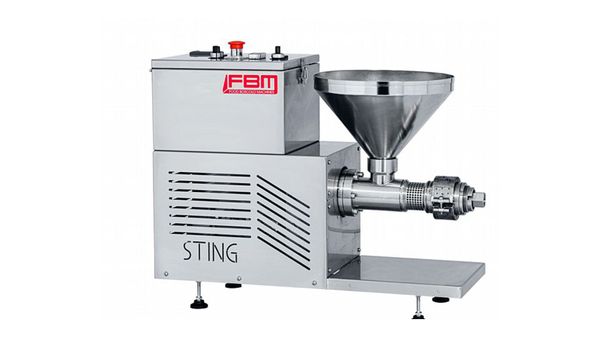 SOLD: Sting Cocoa Butter Extractor
Bought for project that never materialized. Never used. $5,900 plus shipping
The STING cocoa butter extractor sits conveniently on any countertop and is the ideal piece of bean-to-bar equipment for craft chocolate makers who wishes to maintain full control over their chocolate recipes. Using nibs from non-conforming cacao beans that otherwise would have gone to waste, artisans can produce cocoa butter from the same origin of beans and avoid using commercial cocoa butter sources.
The Sting is a unique design that generates heat provided by a band of resistances and pressure exerted on the nibs by a steel screw pump to extract 35%-45% of cocoa butter from the nibs, depending upon your beans and their origin, and can extract ~1 kg of cocoa butter per hour.
COCOA BUTTER EXTRACTOR:
Convenient table top machine
Uses nibs from non-conforming beans
Eliminates the need to purchase commercial cocoa butter
Dimensions: 580 H x 725 W x 280
The STING cocoa butter extractor is quick, and suitable for all artisan chocolate makers who wish to personalize their chocolate even more without relying on large industries. Cocoa butter is extracted through a tube and the remaining waste product can then be transformed into cocoa powder, as desired.
---
Archived Comments
---
Seahorse Chocolate is located in Bend, OR – correct?
---
🙋‍♂️
This machine has been sold so the seller's contact information has been removed.