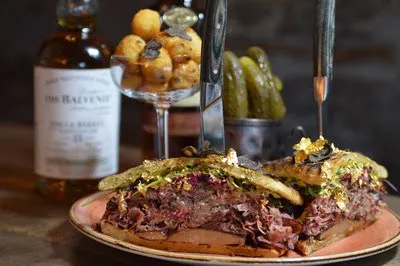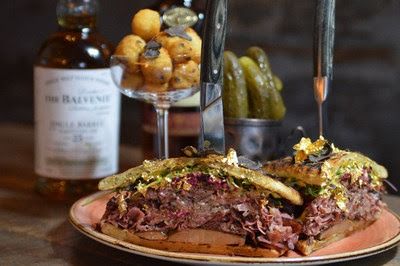 How much is that sandwich on the menu?
DOMA Land + Sea in Cedarhurst, NY has created a $1,000 pastrami sandwich. I kid you not.
Like what the world really needs right now is a $1000 sandwich. I don't care how big the game is or isn't.
The sandwich, dubbed the "King DOMA," is said to be "constructed with the most elite ingredients attainable on the market."
According to the press release that arrived in my inbox today, "DOMA Executive Chef Oscar Martinez coined the idea with the intention of doing something extraordinary in honor of The Big Game. The sandwich is prepared with more than a dozen carefully curated elements, is served with a glass of Cristal champagne and costs $1,000 each. The preparation *[awkward capitalization and all]*, is subject to change [*but at that price you'd think there'd be guarantees]*, includes:"
– 28-Day Dry-Aged Prime Beef Short Ribs
– 7-Day Glenlivet 25 Single Malt Brine
– Indonesian Luwak Coffee Pastrami Rub
– "Gold Speck" Argentinian Grilled Rye Whiskey Flatbread
– Pan-Roasted Hudson Valley Foie Gras
– Italian Alba White Truffles
– Gold-Dusted Black Truffle Tater Tots with Saffron-Tomato Aioli
– Stoli Elite Wasabi-Infused Roasted Beet and Cabbage Horseradish
– Crystal-Infused French Mustard
– Microgreen Herb Medley
– Garnished with Gold Leaves and Mr. Pickle's Kosher Dills
– Served with a glass of Cristal Champagne
Adding up the days, the prep on this sandwich takes five weeks (four for aging and one for brining) plus.
If you've got this kind of money to spend on a sandwich, why not donate it to a cause and do some good in the world? I know some cacao farmers who could do a lot with $1000. (Interested in making the donation? DM me @DiscoverChoc.)
What do you think? If you had $1000 to blow on a sandwich, would you? Let us know in a comment below.
---
Archived Comments
---
I'm a pastrami purist. Foie gras and white truffles do not belong on a pastrami sandwich. If they want to pay me $1,000 to try it I'd be game (and I'd donate the $1,000 to the Heirloom Cacao Project's Bursary Sponsorship). Otherwise give me a Katz's pastrami sandwich any day. Conspicuous consumption at its worst.