Maple Cream Truffles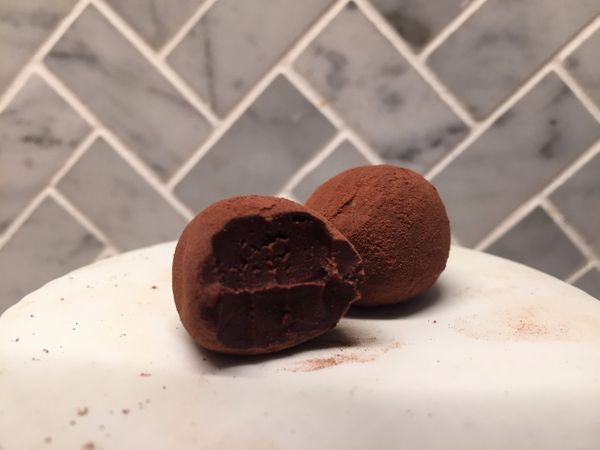 It has been a wonderful holiday season full of family, friends, and baking of course! While this is more of a confection project, the Maple Mint Truffle kit by Amore di Mona is just as fun, if not more.
I was given the kit to try, but unfortunately a couple of the pieces were no longer with the set. The kit should have had 2 bags of chocolate, one for the ganache and one for coating the truffles, a jar of maple cream, maple syrup, and peppermint extract, but I was missing one bag of chocolate and the peppermint extract. *[ Editor's Note: This was my fault, not Amore di Mona's. ]* That did not stop the truffle making process, as I just made plain maple cream truffles and coated them in cocoa powder instead.
It was a quick process, and the steps were easy to follow!
You were to melt the chocolate, add the maple cream, and add maple syrup until you get a consistency you like, although I was not sure what that was supposed to be so I added just half the maple syrup. Once those ingredients were well combined, you must let the ganache set in the fridge, where I left mine overnight because I had a lot of Thanksgiving cooking to do and forgot, but the ganache was fine! The most fun was taking half-tablespoon sized pieces of ganache, rolling them into balls, and covering them with cocoa powder! The truffles were complete, delicious, and it looked like I had spent hours making them when really the working time was maybe 30 minutes with rolling and coating.
I love a hands on crafting kit, and one that I can eat is a real bonus!** This little kit was such a great activity, and it would make a perfect holiday gift for friends, coworkers, and even younger kids: just about anyone who loves chocolate.
—
Amore di Mona: Couverture Chocolat Speciale
www.amoredimona.com
204 N 17th St, Louisville, KY 40293
(502) 609-5461
info@amoredimona.com
---
Archived Comments