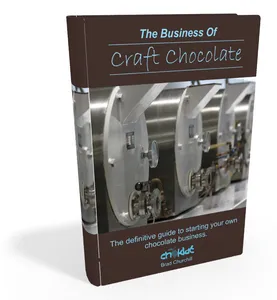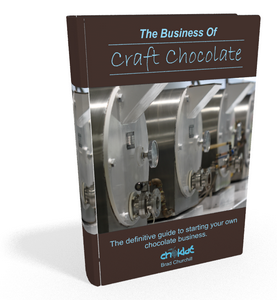 New Book For Startup Craft Chocolate Businesses!
Hi All,
For the past 12 years I have been contributing to this and other forums online, all while growing my own chocolate company from the ground up. I have amassed a wealth of knowledge of do's and dont's along the way.
I have just written a book that brings all of my lessons together. It covers food costs, labour costs, packaging, marketing, business strategy, and provides the reader with links to resources that a consultant would normally charge thousands of dollars for, resources such as:
– Proforma income statements
– Food costing spreadsheets
– Equipment lists
– Real costs of starting a bean to bar operation
– Utensil lists
– Project plan samples
– Links to great resources and suppliers
– Other technical books related to starting your business
– In depth analysis of marketing strategies that work and don't work
– What to expect if you are planning on wholesaling your creations.
If you are thinking of starting your own chocolate business, THIS is the resource you need to start with. 96% of small businesses fail because nobody will tell them the information that I have put in this book. It is the best business investment you will make.
​
Check it out: [http://MyBook.Choklat.com](http://MyBook.Choklat.com)
​
Brad Churchill
CEO
Choklat
---
Archived Comments
---
Hi Ray. I would be happy to have you visit and spend some time with you. (and hopefully you'll buy some equipment and other supplies!). Please feel free to send me an email at Brad@Choklat.com and we can arrange a time for your visit. By the way, I didn't see the book purchase come through… Can you verify that you did buy it? Cheers.
---
Hey Brad. I am buying your book right now thanks for creating it for us. I am working on a business plan for a shop in southern Ontario. Im sure you get asked this a lot but do you have a mentorship program? I used to live in Calgary and would love to go back and spend some time volunteering to help gain some knowledge and experience. I think I have an interesting back story and would love to tell you more about myself. If not either way i will have your great book as a much needed resource. Thanks Ray
---
Reviews are starting to come in! Here are a couple:
Sandra Says:
"Even having a crazy busy week, I managed to read the book! It is a wealth of knowledge, experience, valuable info with numbers, real life experiences, resources etc. The reading is sooo engaging that it was difficult for me to put it down. I just finished reading it, took a bunch of notes and so ever grateful for all the links and spread sheets provided! Thank you for literally being 'An Open Book'."
Richard Says:
"I am a founding sponsor of C-CAP (Careers through Culinary Arts Program). They are a national non-profit that educates, and guides underserved high school students toward a bright future. C-CAP impacts over 17,500 students a year and has awarded over $53 million in scholarships since its inception 27 years ago. I have given it and once over and been still reading. We have very similar backgrounds an you are very much on the money with your advice."
---
No problem! It's here when you need it. Oh… by the way, the price is in CDN, which, I think is about the price of a good US craft chocolate bar… LOL
---
Congrats on your book! I can't afford to get it right now but it is now on my I want it list.