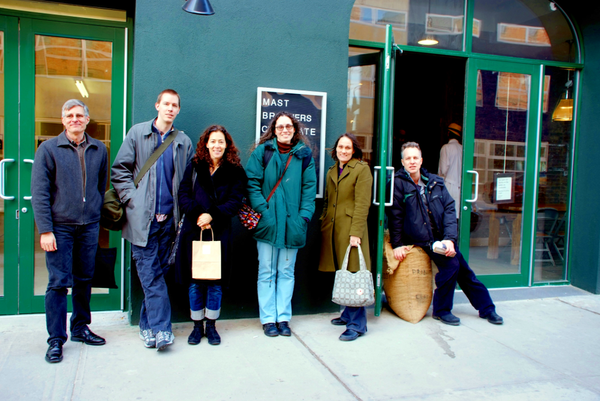 New Chocolate Societies Popping Up at a Faster Pace
Ever heard of a chocolate club or society? If you haven't you probably will soon. There are quite a few in the US with the oldest club dating back to 2003 and the newest club debuting on July 19 in Seattle.
As a co-founder of the newest society, The Pacific Northwest Chocolate Society, I thought I'd write a post about chocolate clubs in the US, only knowing of 2 or 3. I connected with Brady Brelinski of the Manhattan Chocolate Society to find out if he knew of others. Brady tends to be on top of this information, so I figured if anyone would know, he would. Sure enough, Brady had a list of chocolate clubs. There may be others, but his is a pretty good list of those that are active right now.
The thing that interests me the most about these clubs is the story of how they got started. What was the catalyst that brought these people together to share chocolate? How have they decided to organize and meet? Some are made up of groups of friends that came together over a love of chocolate, others are groups that met because of chocolate. Some are by invitation only, others are open to anyone with an interest in chocolate.
Thanks to Brady's information, I was introduced to the Berkeley Chocolate Club which was founded in 2003 and is the oldest chocolate society in the US. I had the pleasure of speaking with founder Leonard Pitt, who has a particularly good story. One day he bought a bar of Lindt 70% and went to visit a friend. His friend saw the bar of dark chocolate in Leonard's pocket and said, "I bought a bar, too. Let's try them together." Leonard found it to be a fascinating experience, enjoying the comparison of two chocolates whose flavors and textures were illuminated by each other. They invited friends to join them monthly, and the rest is history.
In the beginning the Berkeley Chocolate Club had 16 to 17 members, and everyone brought a bar to share at the monthly meetings. This proved to be too much chocolate at once, so the club whittled it down to six bars chosen by Leonard and members Gloria and Carrie. While their website says, "No milk need apply," Leonard tells me that they did try a milk chocolate tasting one night to honor one of their members who loves milk chocolate, but it's unlikely they'll do another one. These days the club has 12-14 regular members, and, on occasion, a guest may be invited. If they know someone who has traveled and brought back chocolate but is not in the club, they're invited for one night.
One of the earliest chocolate clubs that was geared toward a wide audience was the Chocolate Meetup founded in 2006 in New York by author and chocolate expert, Clay Gordon. While no longer in existence, this was one of the first groups to share chocolate education at a time when craft chocolate makers were just starting. Clay was working on the first edition of his book, Discover Chocolate, and he was looking for ways to grow a physical community and connect with his audience. Given the newness of the craft chocolate market (there would have been 3-5 American craft chocolate makers just starting out at this time), there was little understanding of the market and few specialty chocolate shops with whom Clay could partner. It presented some unique challenges for Clay. He handed off moderation of the group when he began TheChocolateLife.com.
While the Berkeley Chocolate Club was founded by serendipity, the Manhattan Chocolate Society came about in 2007 via a more organized approach. Brady Brelinski started organizing chocolate tastings as a way to share what he and his wife, Andrea, were already doing by themselves and with friends. It didn't take long for them to connect with a group of like-minded individuals to create a more formal club. Brady says,
We just got lucky, but having the right members has been the key to our success and for lasting over 10 years. In short order we had a group of eight, and we explicitly formed our group by writing out our goals, writing out our plan to reach those goals and came up with our name, the Manhattan Chocolate Society. Yes, we actually had meetings where we brought large poster size Post-it notes and brainstormed our ideas.
​While Brady takes the lead in organizing events, all the club members actively contribute and are an integral component to keeping the group alive. The Manhattan Chocolate Society has six core members today, and they all consider themselves founding members. In addition to Brady and Andrea Brelinski, members include David Arnold, Matt Frederick, Alexandra Leaf and George Gensler. The group publishes a complete list of past tasting themes and special events on their website, illustrating the enviable number of notable chocolate cognoscenti who live in the New York area or join the group while passing through.
​The Utah Chocolate Society was founded by Brian Ruggles and a group of co-founding core members in 2010. One of the largest and most active clubs in the US, the Utah Chocolate Society allows chocolate lovers to join the core members in monthly tasting tournaments. Recent tastings have included as many as 63 people tasting and voting for their favorites in a round robin of 20 chocolate bars. Brian says,
We often taste blind, and the key is to let everyone speak up if they want to talk about what they taste. It is really a very fun, casual, human interaction.
​Meetings often end with desserts, ice cream, gelato or other chocolate treats provided by local companies, or a pot-luck style dessert round with chocolate treats made by members.
​In the past two years, new clubs have begun to sprout at a faster pace. Author and journalist Megan Giller started New York's Underground Chocolate Salon in conjunction with her website, Chocolate Noise, in 2016. She invites groups to join her in tasting chocolate, citing the salons of 1920's Paris as her inspiration.
The Santa Monica Chocolate Society was started by Ruth Kennison in 2017 and meets on the first Thursday of each month in Los Angeles to share chocolate and to commune with chocolate speakers and experts.
​Then there's the international crowd. It should be no great surprise that one of the largest clubs with the strictest membership criteria is the French Club des Croquers de Chocolat, which maintains a roster of 150 members at all times and was founded in the 1980's. Potential members must be sponsored by two current members, write an essay about their motivation for joining, and wait for a seat to become available.
Another international club is the Finnish Chocolate Society which was founded in 2005 by a group of friends with a passion for chocolate. Located in the town of Oulu, one of the criterion for membership is that you speak Finnish. The group meets monthly, and there are separate meetings in towns where members reside. They taste and rate chocolate, and they publish the ratings on their website. If you check out their Top 100 list there are photos by each rating, so you can get a sense of what they like even though the text is in Finnish. In addition to bars from the world of fine flavor cacao (e.g., Valrhona Palmira 2010), they also rate a lot of fun chocolate and chocolate that is widely available.
​More recently, new international clubs are popping up as well. Drawing on Megan Giller's encouragement, a group in the Netherlands founded the Secret Chocolate Lounge in 2017. While the Secret Chocolate Lounge is open to anyone as a Meetup group, each meeting is limited to 10 participants who are responsible for bringing chocolate to the meeting.
In 2018 students at Hult University in the UK founded the Hult Chocolate Society for students who are passionate about chocolate.
This brings us to the upcoming launch of the newest club, the Pacific Northwest Chocolate Society.
Founded by Barbie Van Horn of Finding Fine Chocolate and me, Lauren Adler of Chocolopolis, the Pacific Northwest Chocolate Society provides an opportunity for chocolate lovers to come together to share chocolate in a friendly, fun and approachable gathering. The society's mission is one of inclusion, offering engaging chocolate events for chocolate lovers of all stripes. Our mission is to enjoy chocolate and to have fun, more specifically:
​Everything we do is united by chocolate. We believe in having fun while tasting, pairing, evaluating, and learning about the amusing and serious sides of bean to bar craft chocolate. Our lively events explore not only tasting and pairing chocolate but also fine flavor cacao origin, chocolate makers, farmers, co-ops, supply chain, and processes. We are a community of chocolate enthusiasts who meet monthly.
​The Pacific Northwest Chocolate Society kicks off its inaugural meeting in Seattle at Chocolopolis on July 19. The theme of the event is a side-by-side comparison of mass-market chocolates and craft chocolates followed by a group discussion about the differences in experience, and what contributes to the differences. Future themes will be based on the desires and interests of the larger membership. Tickets for the launch event are $10 and include the cost of the chocolate samples. For more information, visit the PNW Chocolate Society Facebook page.​
Know of other chocolate clubs or societies? Let us and our readers know by posting a comment.
---
Archived Comments
---
Lauren – I plan to be in Seattle for the NW Chocolate Festival and would enjoy participating in a meeting. Perhaps Monday the 12th in the evening? I know it's Veteran's Day …
---
Thanks, Clay! Hope you can join us next time you're in Seattle. We'll keep everyone updated on our progress.
---
@chocolopolis / Lauren –
I am looking forward to hearing the news from your meetings. A lot has changed over the past decade and I wish you all success!