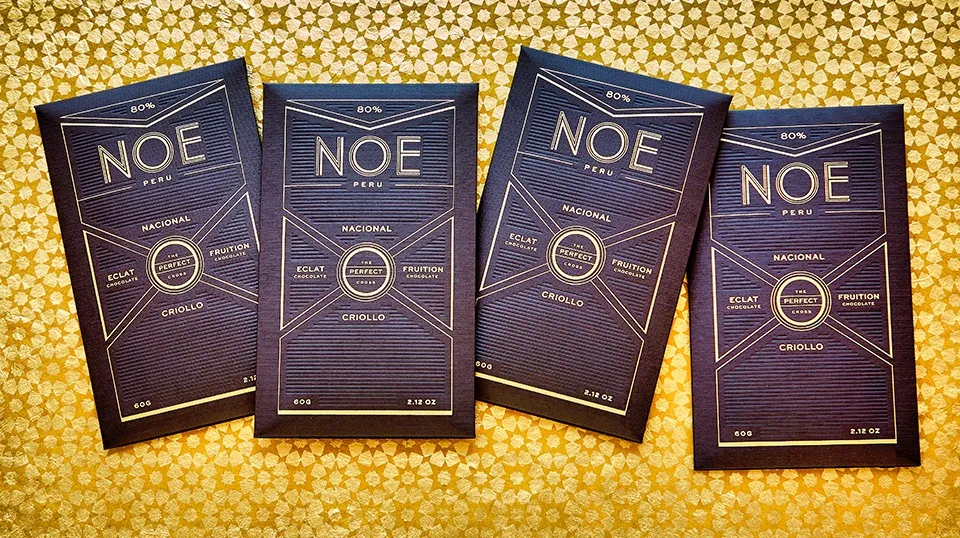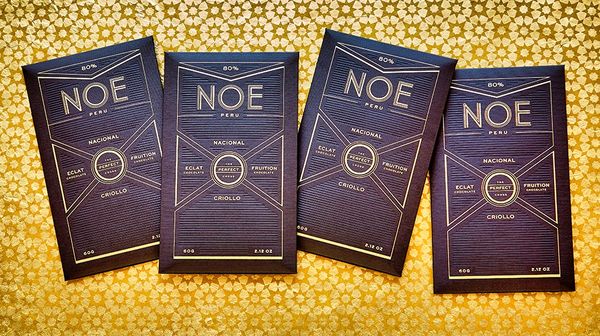 New from Peru: Good? Evil? Noe!
Anyone who knows me knows the high regard I hold for Bryan Graham (Fruition Chocolate Works, Shokan, NY) and Christopher Curtin (Éclat Chocolate, West Chester, PA). They both are masters of their respective crafts, have great flavor sensibilities, and are just darn nice people to hang with. So when I got a call from Christopher last week that he wanted me to taste the fruits (pun intended) of his collaboration with Bryan I was happy to say yes!
Some of you may remember Christopher's last major collaboration – the Good & Evil bar – with Eric Ripert and the late (and sorely missed) Anthony Bourdain. That bar was made with beans from the Marañon River Valley (Perú), a then relatively recently rediscovered variety related-to-but-genetically-distinct-from the Nacional variety Ecuador is famous for.
This bar is also made from beans from the Marañon River Valley but from a different location, and they are sourced from the land of a single farmer, Noe Vazquez.
These beans are much larger than most other varieties (larger even than CCN-51 which tend to be huge) and the pods are very thin, making harvesting a very delicate process. Genetic, environmental, and other factors conspire to limit the harvesting window to just one-to-three days once the pods are fully ripe! Most years the beans germinate in the pod – ruined before they can be fermented.
And did I mention there are only about 25 known productive trees of this variety? Not just in the Marañon River Valley or in Perú, but in the world?
Four bags, amounting to about 250kg, made their way from Perú to Shokan, NY (about a two-hour drive up the Hudson River Valley from Manhattan) where Bryan and Chris worked on the roast profile. It's here that Bryan and Christopher had to work together to arrive at a roast profile they could both agree upon. When Christopher created the Good & Evil bar he worked with the German-based chocolate maker Coppeneur. Anthony and Eric, while accomplished chefs, had no experience actually making chocolate, so Christopher drove the creative production decisions.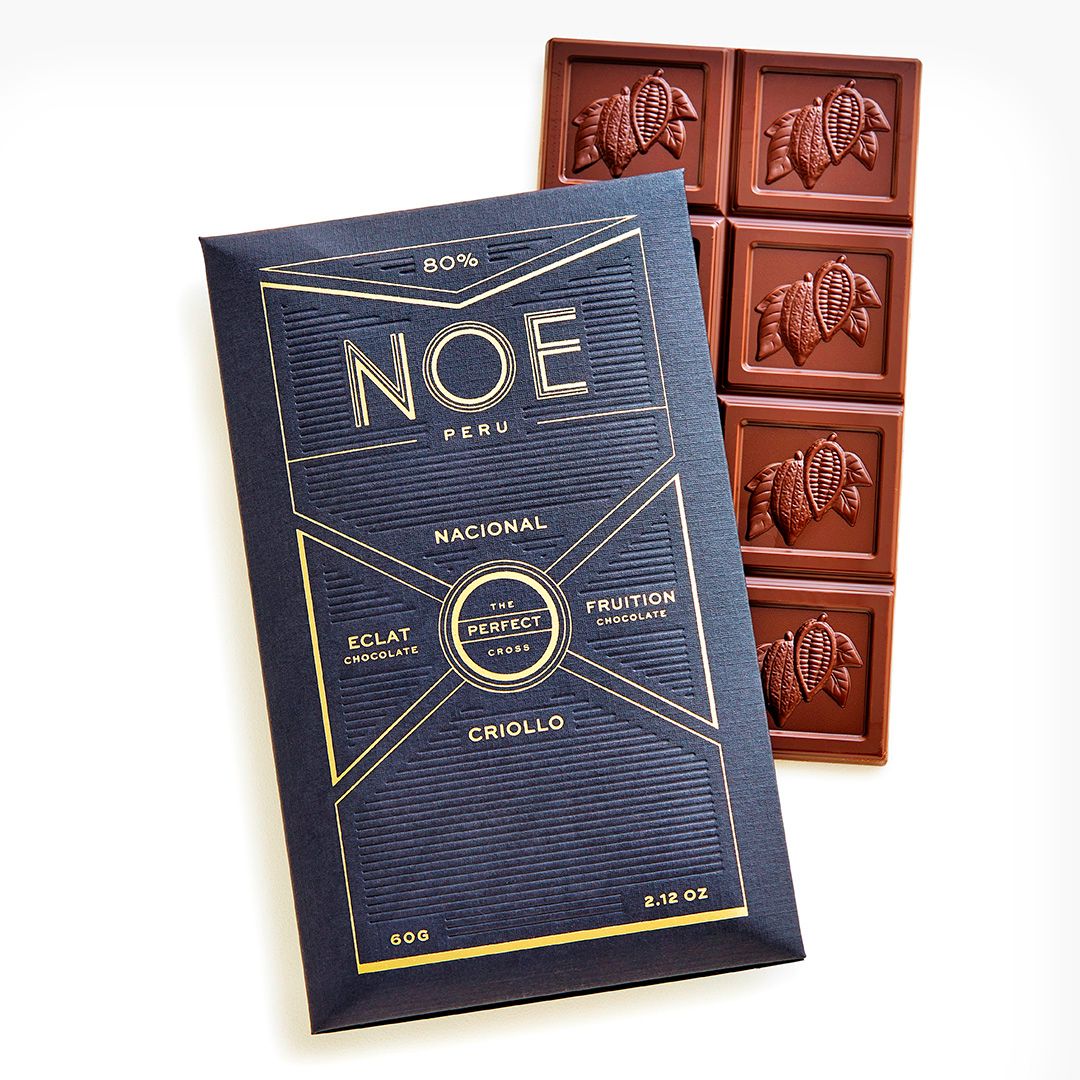 The result is a bar which has a heavier roast profile than I would guess Bryan would prefer, given what I know about the other bars he makes (including ones made with other Marañon beans), but not quite as heavy as what I think Christopher would prefer given his experience working with Coppeneur (Gemany) and Van Dender and Marcolini (Belgium). An example of a good compromise between their two respective positions.
On the nose, the dominant aroma is that heavier roast. It's neither good nor bad on its own but it's a clue that the total experience is going to confound expectations. Especially because this is an 80%, two-ingredient, bar.
The mold is comparatively thin and the tempering is perfect which means the break is clean and the first bite is easy. The melt is so smooth it's almost like the bar is dissolving in the mouth – in a good way. That is probably due in large to the fact that the beans have a naturally very high fat content.
Starting out, the dominant flavor is the roast, which is no surprise given the dominance of the roast in the aroma. There's no bitterness, even at 80%, and no detectable astringency. The flavor of cocoa and nuts beats back and forth and towards the end there was a definite taste of nut skins although there was none of the astringency I normally associate with that flavor.
If you breathe in through an open mouth and then through the nose there is a very attractive brightness I would normally associate with a floral quality, though I was not able to put a name to it.
What to say about the finish but that it's clean. And if you wait five minutes after the chocolate has cleared your mouth the finish is still impeccably clean. I detected no off notes of any kind, speaking to the care that went into sourcing and all aspects of manufacturing.
Closing Thoughts
Spoiler Alert: Major FOMO alert on this one (you will be sad if you miss out). The Noe bar is the result of a collaboration of two very experienced and talented makers – an eating experience I strongly recommend.
When I eat chocolate recreationally, I like comfort bars, things that put a smile on my face and that I don't need to think about too much. I am a huge fan of dark milks. An 80% two-ingredient bar is not one I would normally think to add to my recreational eating list. But this bar is now not only on that list, it's near the top of it.
The good news is that, at $14 (60gr/2.12oz, suggested retail), I think the Noe bar is ridiculously under-priced given what goes into sourcing the beans and the delightful eating experience the bar delivers.
The bad news is that the beans for this bar are from the 2017 harvest. There was no 2016 or 2018 harvest. They are that ridiculously difficult to harvest, ferment, and dry. Only about 1500 bars were made and only a portion of those are going to be released on the general market and virtually all of those will be in the US.
They are going to be available on the Fruition and Éclat websites and through select gourmet retailers who may or may not be anywhere near where you are. I did the math with Christopher this afternoon and there will only be about two cases of twelve bars available per state on average, and there is no guarantee of future harvests. And then they will be gone. There may be no 2019 harvest and so there's no way to know the next time these beans will be available to make chocolate from.
Could (should) this be the $100 bar I've been talking about for yers?
Personally, I would like to see the bar priced much higher so that a substantial portion of the proceeds could be spent getting stock into multiple cacao gene banks to preserve the genetics, start a nursery program so the 25 trees don't become 0 trees, and for genetic testing and analysis to understand what these beans are. I understand why the price is what it is – but there are no gimmicks (e.g., very expensive wooden packaging that raise the price artificially.
Thoughts? Please comment below.
---
Archived Comments
---
This comment was posted in a closed Facebook group over the weekend by Brian Horsely, who is very closely associated with the Marañon/Fortunato cocoa:
Great write up Clay Gordon, I can offer some clarification on a few points.
I am writing this comment from Noe's house, Noe is the president of the local cacao growers co-op, my dear friend, and the father of 2 of my godsons, Victor and Max, who are sitting with me now. Noe discovered the original 25 trees in 2005. We had them genetically tested by USDA-ARS in 2009, they're a perfect – if inexplicable – cross between pure Nacional and Criollo.
We have propagated and planted nearly 1000 clones, in a jardin clonal and in various farms, and assured the future of the genetic line. You were right of course Volker Lehmann! Noe and I personally harvested, fermented and dried the beans in the Marañon Cacao plant.
The beans are like nothing else you've ever seen – far bigger than any ccn51 bean, and with a natural sweetness and pecan flavor right off the drying bed. If any bar deserves to be right-priced, it's this one.
Noe is an unsung hero of cacao who has done more for the industry than anybody knows, if anyone deserves to reap the benefits of a $100 bar, it's him.