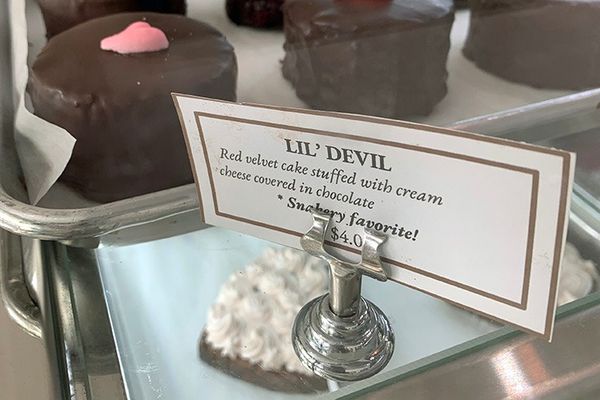 New Kid on the Block: The Snackery Bakeshop
I have lived for over 20 years in a small village located on the Sound Shore in Southern Westchester about 25km from mid-town Manhattan. That small village (population ~5900 in the 2010 census) just so happens to be the 24th-wealthiest in the US and the 4th wealthiest in NY State in 2018, according to Bloomberg. In 2005 it was listed as the 11th-best place to live in the US by CNN/Money.
Despite the wealth of its inhabitants, like many small villages, Larchmont (and Mamaroneck, the town it is within), has been plagued with main-street issues since the real estate bubble popped in 2008. Many shops have been shuttered and replacements are opening at a very slow rate, with some storefronts closed for years because of unaffordably high rents.
That said, the Larchmont retail storefront scene seems to me to be unusual in at least one respect: food. One area is the fact that within 200m of my front door are three bakeries, a gourmet cheese store, and two Mexican, one Indian, two Italian, one French, one Japanese, two American restaurants/bars, a pizza place, a rib joint, two liquor stores, one Chinese takeout place, a gourmet grocery, and three specialty deli/sandwich places. Opening right across the street from me is an açai bowl and cold-brew coffee joint. And on the ground floor of my building there is a gourmet chocolate store that serves one of the best French-style hot chocolates this side of the Atlantic (make sure to order the house-made marshmallow). Whew.
On "the other side of town," about a ten-minute walk from where I live, there are three coffee shops (one of which roasts beans on premises and one of which is a Starbuks), three sandwich shop/delis, and one diner also selling coffee. Larchmonters must really love having a lot of coffee options. In this stretch of town there is also a gourmet ice cream store, three stores offering a wide array of sugar and chocolate candies and chocolates, and a specialty chocolate store.
So the opening of a new bakery offering coffee drinks and hot chocolate – The Snackery Bakeshop – along Palmer Ave. came as something of a surprise to me; of all the kinds of businesses that could open, could Larchmont support another bakery/coffee shop? I had a chance to visit the store this past week and speak with the owner and from what I can tell, the answer is yes.
Snackery Bakeshop founder Sara Leand started a cookie business in her college dorm and after moving to Westchester restarted the business and ended up selling her cookies to major gourmet groceries (including Citarella, Fairway, and Balducci's) in the region. Sara closed that business to start a family and now, with her youngest having entered kindergarten, is pursuing a goal she has had since childhood, operating a bakery.
From a design perspective, the interior of the store is simple and straightforward, bright and airy, with few if any frills other than an old porcelained oven. The fancy decoration is reserved for the products themselves – some of which are quite elaborate, and, in a word, whimsical. There's a serious three-layer cake underneath all that crazy decoration –bringing new meaning to having frosted hair.
Another place the Snackery excels and differentiates itself from the other bakery offerings in town is its reimagining of childhood favorites. One is the chocolate Lil' Devil in the listing image and shown below. The filling is cream cheese based and less sweet than buttercream would be. But don't worry – there are many items with buttercream filling or layer or frosting. The red velvet cake is flavorful and moist and in combination with the chocolate glaze, delivers enough chocolate oomph to satisfy even me, and I am not a fan of most chocolate cake because they often don't deliver enough chocolate yumminess.
Another is Snackery's take on the iconic "twinkie." Plain carrot cake (no raisins, no nuts) with a cream cheese filling. The filling is not too sweet and the cake itself is moist and flavorful. Not a low-calorie treat by any stretch of the imagination, but I'm gonna count it toward my vegetable quota for the day, anyway.
Other Menu Observations
I can recommend the hot chocolates. They strike a sweet spot (pun intended) between packaged hot cocoa and a French-style hot chocolate, but I think that means they're very accessible and may find a wide audience. In addition to a classic plain hot chocolate, flavors include dulce de leche (which is a tad too sweet for me), and a Mexican style which I have not yet tried.
The coffee, a French brand, is low-acid and medium roast, and so it is different from other coffee offerings. It's worth a try – I had a red-eye (drip coffee with a shot, black), and while it was not as coffee-y as I like, there was a very attractive floral element to it that I think will complement a lot of the baked goods. I can also imagine a yummy mocha made with this coffee and their hot chocolate.
The churro muffins are also very much worth a try.
There is a selection of savory items I did not taste, and Sara told me there will soon be a bread baker on-premises.
While not a gluten-free establishment, some items are GF and there are some vegan options as well.
Deets
The Snackery Bakeshop is located at 1985 Palmer Avenue, on the NewRo side of the movie theater. At the moment it's open Tue-Sat from 10am. Beginning in March, the Snackery will open earlier (8am) to catch a morning crowd – perhaps after kids have been dropped off at school. With the expansion of opening hours the savory menu will also expand.
Sara says that business so far (the shop opened around Thanksgiving) has exceeded expectations to date. From what I learned during my interview with Sara about her background, her reasons for choosing Larchmont, and her opening and menu expansion plans I am confident a sweet future is in store for The Snackery Bakeshop.
---
Archived Comments