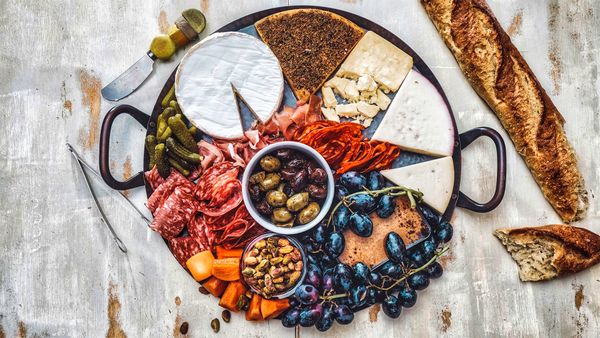 NY Food Show: Fancy, Tasty, & Pricey
The Specialty Foods Association's Fancy Food Show is like product-central for makers wanting to launch new products, find distributors to reach more markets, or who just want to ensure their products stay top of mind.
It's also an event where people who write about food can learn what's coming down the product development pike that might interest consumers.
Yes, of course there was chocolate: artisan makers, premium chocolate, foreign-made, domestic, the works. But with all the food groups represented, it was a massive sensory overload. Focusing (mostly) on chocolate, here were some artisans who pulled my attention, as well as a little bonus at the end.
---
Hitting the Bars
jcoco, a woman-owned company that, according to their website, sources their cacao from a "small local Peruvian chocolate maker [that] ensures full traceability and sustainable farming practices - and the best flavor profile possible. To preserve these practices for many years to come, we pay our farmers substantially above the industry average for fine cacao."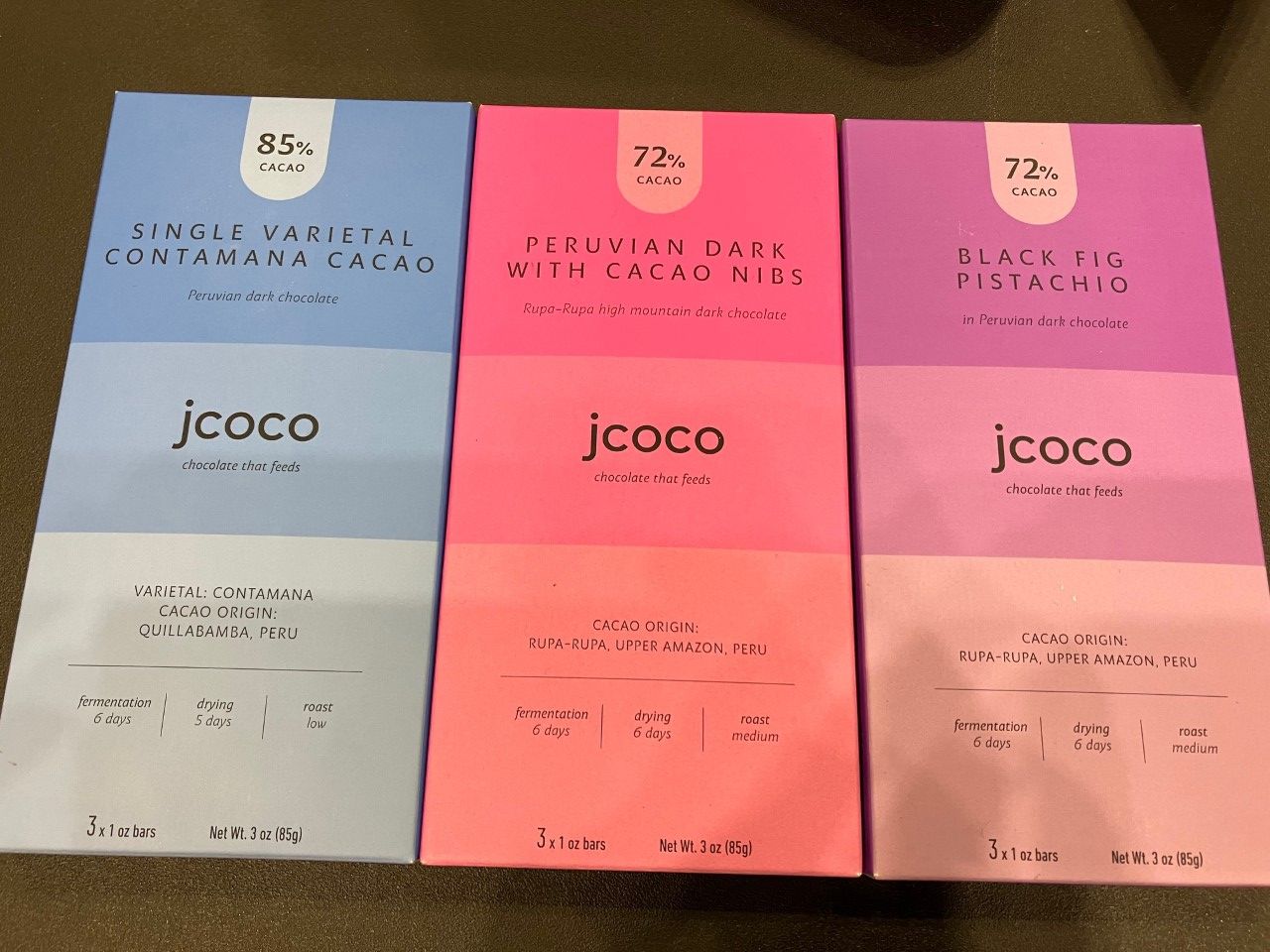 I particularly liked their 72% black fig pistachio bar: I love figs and pistachios, but I tend to forego lots of inclusions. This bar however, had an almost buttery mouthfeel and texture, with the slightest hint of sea salt that kept the figs, pistachios, and chocolate on equal footing. I tasted some subtle cherry notes, but no astringency. I'd get this one again and encourage them to make an 80% bar with the same ingredients (hope springs eternal!).
Their 3-oz. bars are $11.99, but they offer 1-oz bars as well, for $3.99 apiece. Good for buying smaller amounts without the usual price penalty.
Madhu Chocolate: This company sources its cocoa from the Tumaco region of Colombia. Their website states, "We ethically source high quality cacao beans from Colombia. With fair and transparent trading, we are contributing to the prosperity of the farmers and help eliminate slavery."  To that end, they partner with Uncommon Cocoa and pay a premium for their beans. It's a small, hands-on company and they wrap all their bars by hand.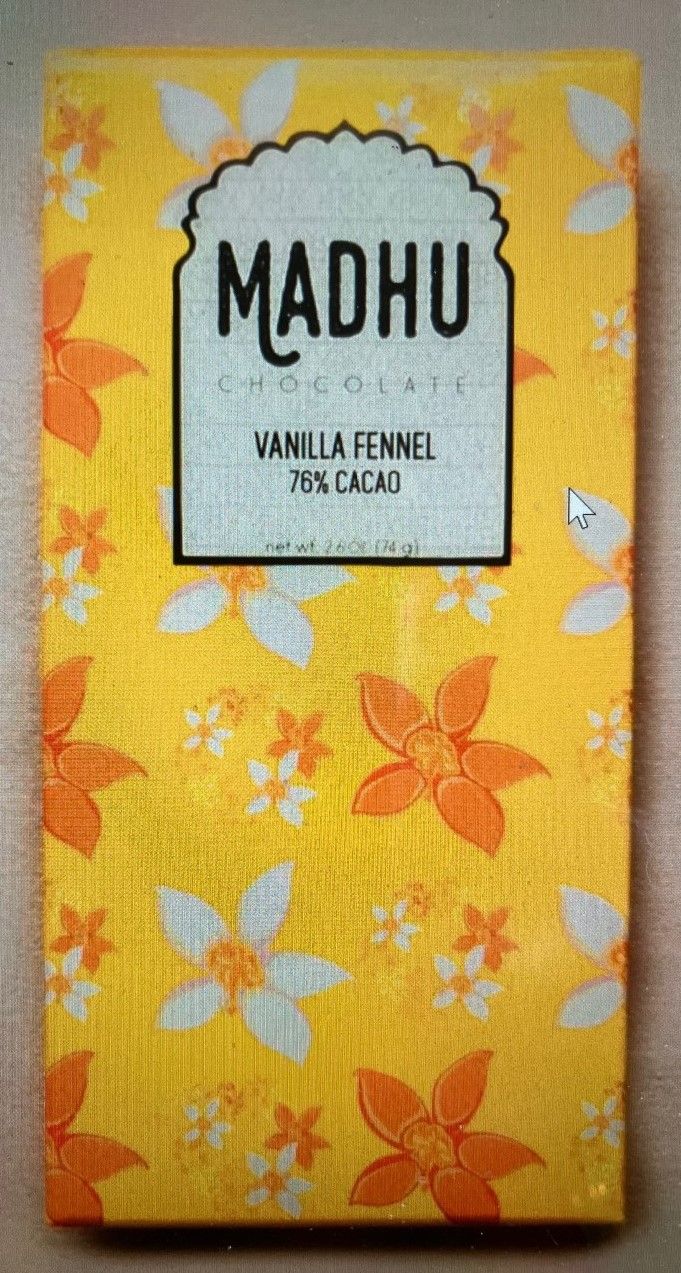 Madhu chocolate specializes in bars infused with South Asian flavors, spices, and herbs, such as:  65% orange-clove, 65% masala-chai, 78% lemon coriander, 50% rose pistachio, and my favorite: 76% vanilla-fennel. Fennel, with its floral-licorice notes can be polarizing, but including a dash of Madagascar vanilla was a good idea.  It mellows out the fennel and adds to the bar's roasted notes. For this fennel-enthusiast, Madhu gets it right.
One bar that I thought was really creative was the "Why Choose" bar from Miss Maude's, of Richmond, Virginia and another woman-owned company. The dark (60% cocoa) and milk (32% cocoa) bars are made from organic cocoa and each is divided into 8 squares. The kicker: each square in the bar has a different flavor: salted caramel, marcona almond, earl grey, tart cherry, champagne, pink salt, hazelnut praline, crisped rice, and each square is imprinted with its flavor, so there's no guesswork.  They sell for $15 for a 104-gram bar.  The 60% cocoa content is on the sweeter side for me, but I loved the idea of having so many different flavors in one bar.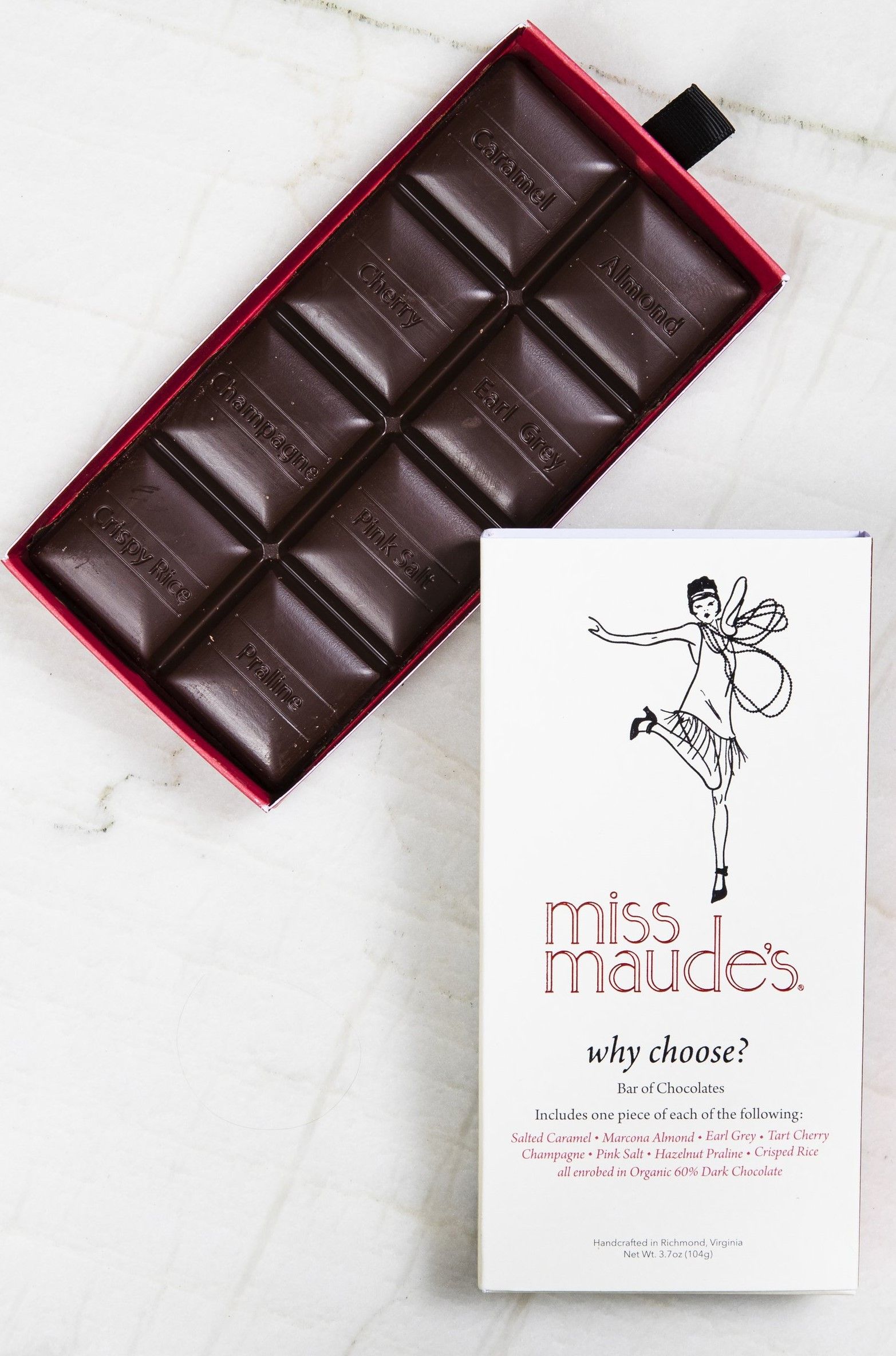 ---
On Beyond Chocolate!
All that chocolate tasting requires some sustenance, and the key term at this show was "fancy food." When protein is required, what more fancy food is there than caviar?
Kelly's Catch, located in Tennessee, specializes in caviar from paddlefish roe, which are native to the rivers in Tennessee and other areas of the US. Kelly's likens the appearance and size to the roe of Sevruga caviar.  They also market American White Sturgeon caviar and a few others, but the Paddlefish and white sturgeon were the ones available for sampling at the SFS.
The paddlefish roe are a little grayer in color than the sturgeon roe. They're a tad saltier as well. I preferred the sturgeon caviar. It was less salty, and had a more rounded flavor, that almost hinted at sweetness. It's supposedly the favorite of "first-time caviar buyers," although the Paddlefish caviar is the most popular among Kelly's customers. Not sure if price influences the buyers – a 2-oz. tin of the Paddlefish caviar runs $35.90, and the same amount of the sturgeon is $103.00.
Caviar does have some nutritional benefits.  It's loaded with heart-healthy omega-3 fat, but is also a great source of B-12, calcium, magnesium, zinc, and even has vitamin C.  There are more economical ways to get these nutrients, but it's nice to know that the hefty price tag can also deliver more than indulgent taste.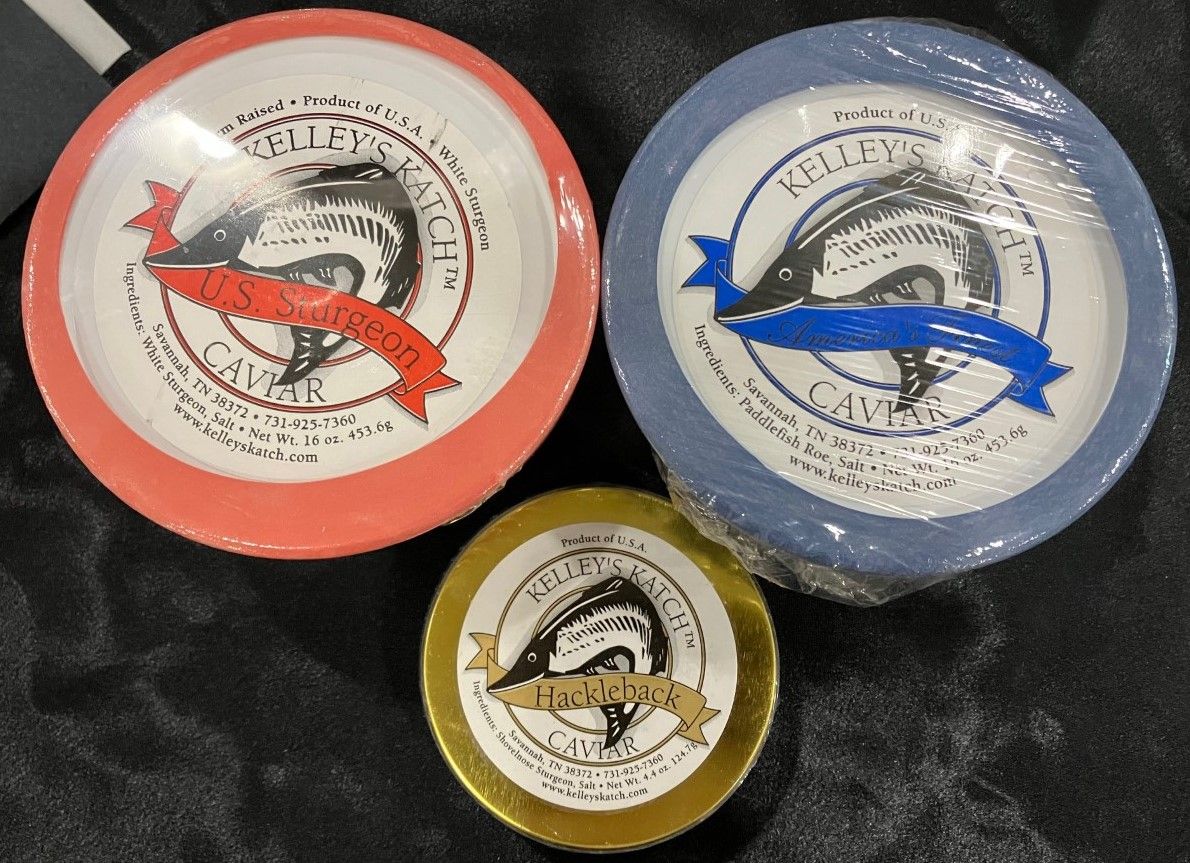 Alas, no champagne or vodka to go along with the caviar. Maybe next year.
---
💡
Have thoughts to share or questions to ask?

Leave them in the comments.