Piety & Desire – Chocolate N'Awlins Style
"I've always perceived things at the intersection of art and science, and making chocolate, from bean to bar, hits all the right notes for me."
Chris Nobles was fresh out of college and already had a few stints as a restaurant cook under his belt. He was considering those long-term career choices when he found and began reading TheChocolateLife, and that piqued his interest in artisan chocolate.
"I was reading everything at Chocolate Alchemy and all of Clay's stories. Harvesting, fermenting, grinding, grading. It was all fascinating and that stared me down the rabbit hole that led me to this place."
This place is Piety & Desire, Chris's artisan chocolate shop on New Orleans Magazine Street.
In New Orleans, most tourists want to visit Bourbon Street first. Bourbon St., however, is the least appealing part of a visit to my hometown. It's bad food, overpriced drinks, dirty strip clubs, and your best chance to get robbed.
Magazine Street is for those of us who understand culture, architecture, wonderful food, and the draw of supreme hospitality. Here one can find the city's most exquisite food, its best bars, sublime music, and glorious pastries.
Artisan chocolate is a natural fit for this part of town and Chris appeals to that sensibility with a clever cup of hot chocolate labeled "Cajun Drinking Chocolate." I grew up in the so-called Cajun Country of south Louisiana and quizzed him as to this drink's origins.
"Chris, come on. Cajun and chocolate?"
"Yup. I make a dry blend of spices with cayenne pepper, black pepper, thyme, and a little filé, and hey I've got that Cajun blood in my family, too. Well, Cajun, Creole, Sicilian and a little Euro-mutt."
Filé is dry, ground sassafras leaves and it gives Louisiana gumbo that backbone of earthiness. I never would've added it to my hot chocolate, however I'm game to try it. And Chris is on to something. His hot chocolate is redolent of artisan chocolate and has the heat and warmth of the best hot chocolate I've had in Mexico.
The day of our visit, the Gulf of Mexico had just delivered a few inches of rain and the tourists hadn't ventured out just yet. I get the sense an average day at Piety & Desire would mean serving gallons of this chocolate to visitors from across the globe. "Yeah, it's pretty popular. We get a lot of customers that come in and they're curious, they expect something very spicy and it's not. It's very satisfying."
I mentioned to Chris that chocolate shops have to have something that's above and beyond the expectations of the customer. Something that says "I gotta try this."
"A lot of people that get into artisan chocolate business didn't think it through, me included. We've grown and I wanted to grow horizontally because shipping chocolate is a terrible way to make a dollar. It is so time consuming and it's a low check average. Chocolate has to be experiential. There has to be a great story that comes with it."
Piety & Desire has their factory in an industrial neighborhood, near a pumping station and a body shop. Their Magazine Street shop resides in the former Caronna's Bar, 100+ year-old bar of carefully carved oak, mirrored glass, and New Orleans vibes.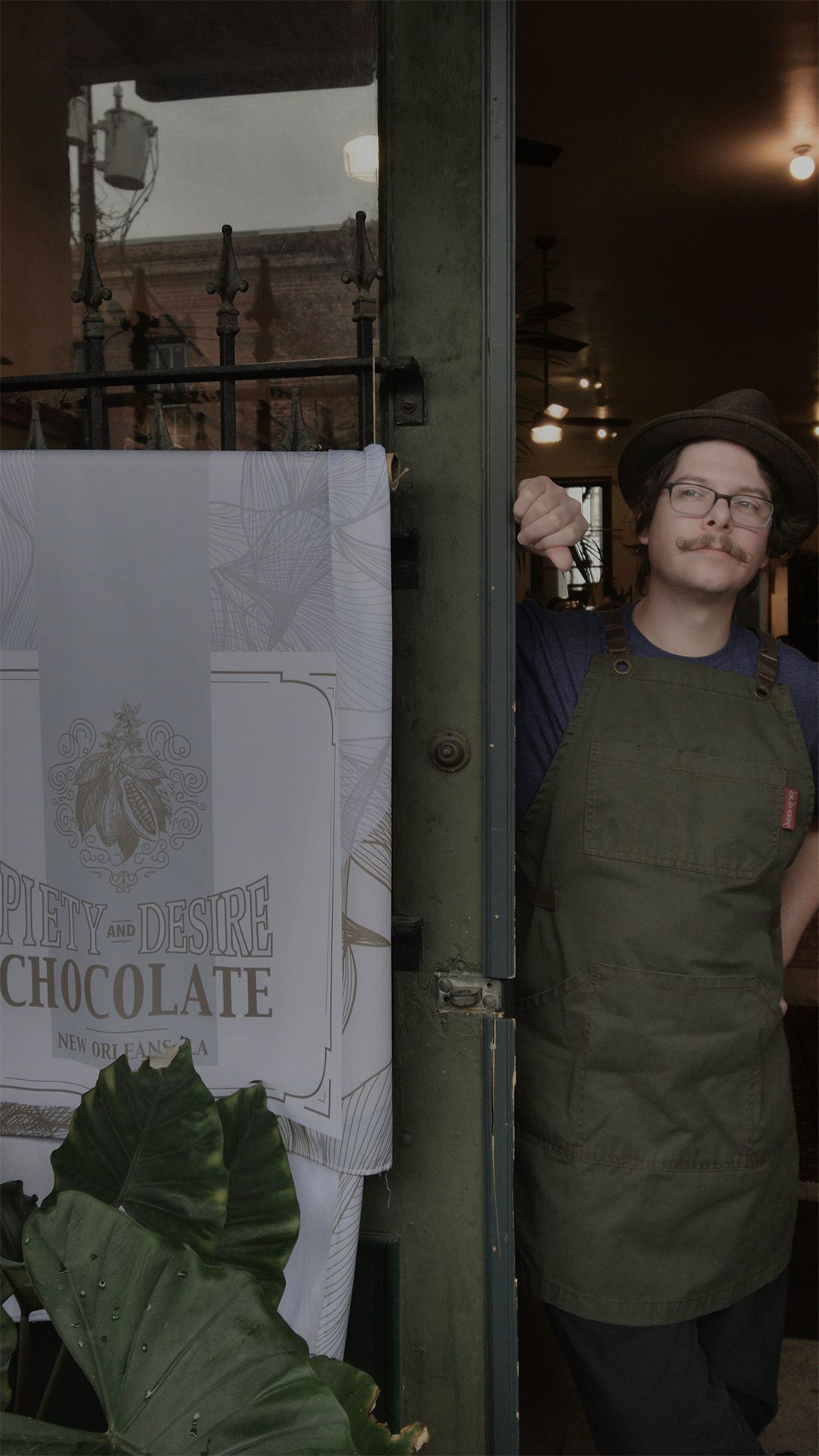 Their bars, coffee, and chocolate bonbons are admirable and when I asked Chris for a taste of something I've never had, he offered up a bonbon with a milk chocolate shell, a white chocolate sourdough ganache and cashew sourdough crunch. I love making sourdough bread stuffed with dark chocolate and those yeasty notes paired beautifully in that bonbon.
"Chocolate and file? Chocolate and sourdough? Chris, this is exactly what I would expect of an artisan chocolate shop on Magazine Street. Well done, sir."
🍫
Piety & Desire is located at 2032 Magazine St. 70130
(504) 799-1709
---
💡
Have thoughts to share or questions to ask?

Leave them in the comments.