PNW Chocolate Society Hosts "Meet the Maker" Evening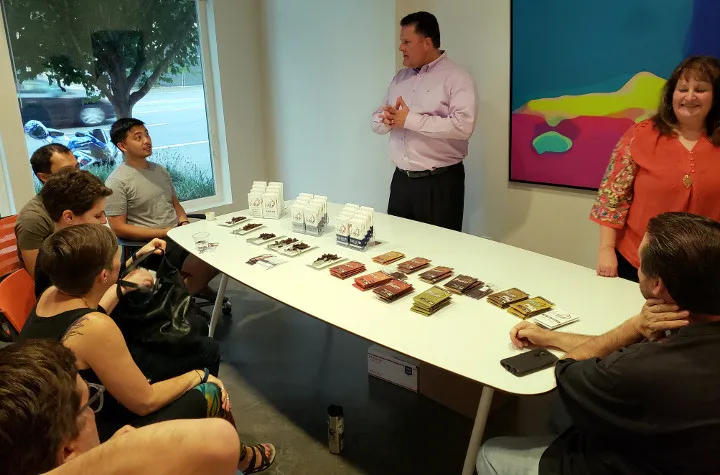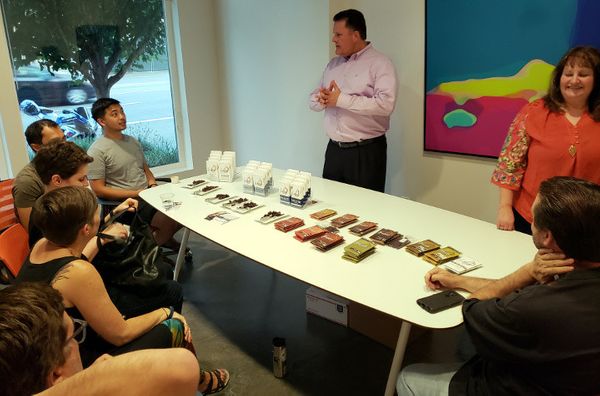 The Pacific Northwest Chocolate Society held its second meeting this past Wednesday, August 22 at Chocolopolis in Seattle. The theme was "Meet the Maker" featuring Seattle-area chocolate makers including Bellflower Chocolate, Fresco Chocolate, Good King Cacao and Indi Chocolate.
At the first meeting in July members requested that they be broken into smaller groups so they can meet chocolate lovers they don't know. Co-founders Barbie Van Horn and Lauren Adler implemented that suggestion by having members call off numbers from one to four, and then breaking people into groups based on their number.
Each group of 6-8 people spent 20 minutes with the chocolate makers, hearing the makers' stories about how they came to cacao and chocolate, and tasting chocolate samples.
Rob and Amy Anderson from Fresco Chocolate brought samples of their entire line of chocolate bars plus two prototype bars made with cacao from Venezuela, one from Carupano and one from Chuao. When asked how he'd gotten tasty cacao out of Venezuela given both the quality and logistical challenges, Rob replied, "Chloe found it for me". After Chloe connected him with the cacao, Rob worked with DHL to get it out of the country, but the logistics of getting it out of Venezuela were challenging and expensive.
Will Dixon of Bellflower Chocolate brought samples of Bellflower's single-origin chocolate milk, which is enjoyed by endurance athletes for its recovery properties. Members tasted samples of single-origin chocolate milk made with cacao from Kokoa Kamili (Tanzania), Alto Beni (Bolivia) and Camino Verde (Ecuador). He also offered samples of chocolate "milk" made with hazelnut milk. Bellflower wanted to use something local to make a non-dairy milk and since Washington state grows a lot of hazelnuts they decided to make hazelnut milk from scratch. Bellflower has a bicycle cart from which they sell their chocolate, and Will has been working with King County Health Department to get approval for an innovative add-on that meets the county's sanitation requirements while enabling Bellflower to sell chocolate milk on tap from their bicycle cart.
Kim Wilson from Good King Cacao works with cacao farmers in Indonesia and Honduras to harvest and ferment flavorful cacao to be used in her "Gourmet Snacking Cacao". It was interesting to learn that the largest customer of the Indonesian farmers she works with is Mars. In both Indonesia and Honduras Kim hired women to hand shell the fermented and dried cacao beans before she brings them back to Seattle. Kim had a new product for members to taste, one that is not yet on the market, "Gourmet Snacking Mix". These mixes each include one flavor of her Gourmet Snacking Cacao mixed with a blend of nuts and dried fruits. Much like her approach to cacao-sourcing, Kim has connected directly with small US producers of fruits and nuts who process to her specifications in small batches.
Erin Andrews from Indi Chocolate brought a Premier table-top refiner with her, one she sells to home chocolate makers, to demonstrate how to use it. She had members in the group pour a few nibs into the refiner, and she talked about how the refiner works. She also had displays of other products she sells that incorporate cacao, including spice rubs, teas and body care products that use cocoa butter.
The meeting ended with time for a recap and suggestions for future meetings. Suggestions included a chocolate book club, a chocolate movie night, and "field trips" to other chocolatiers and chocolate makers.
Next month the society will take their first "field trip", heading to Indi Chocolate. The date and details of the event will be announced soon.
​
​
---
Archived Comments