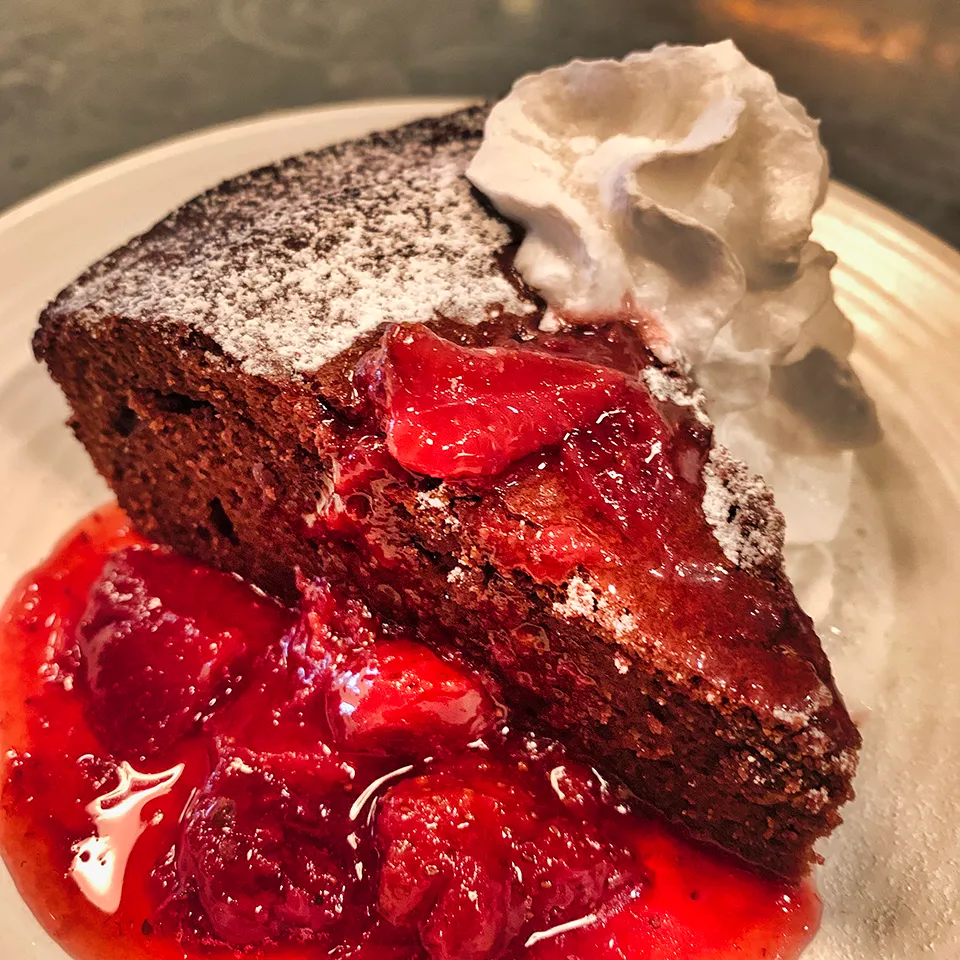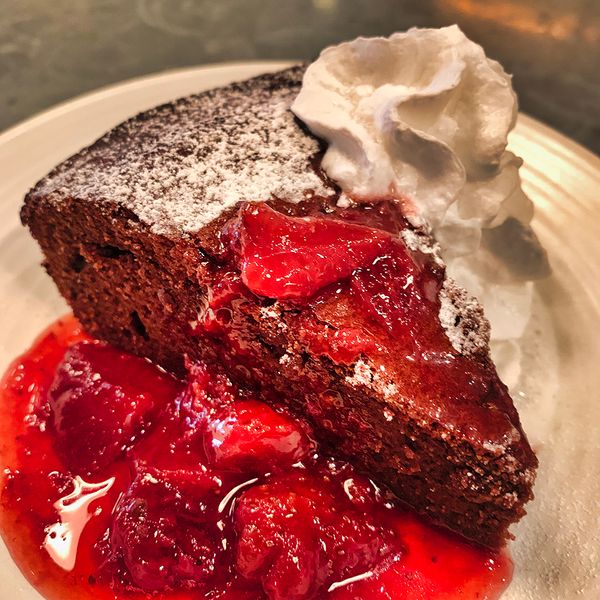 Little Beet Table's Chocolate Cake
Disclaimer 1: I do not adhere to a gluten-free diet.
Disclaimer 2: I tend to stay away from restaurants that aggressively push a particular diet – I have been to several of the very-highly touted "raw food" restaurants and have found them profoundly underwhelming – because they are pretentious and come across as trying too hard to justify the diet they are pushing. I am not, for example, into the raw food lifestyle and so I come away from dinners at those restaurants wanting a NY slice or some other form of real food.
Now that that's out of the way, I was invited to the press preview of the opening of Little Beet Table in Greenwich, CT (376 Greenwich Ave 06830 – or on the Ave as a local would have it), about a minute or so walk from the Greenwich Metro-North station. After a short perusal of the website, I RSVP'd, mentioning that my real interest was in anything dessert-ish with chocolate in it.
Little Beet Table – which also has outposts in Manhattan and Chicago with plans to open soon in Washington, DC (Chevy Chase) – focuses on serving tasty, healthily-sourced and freshly-made, foods and beverages that are also gluten-free. Adam Cornelius, Operations Manager for Little Beet Table (LBT) who was at the presser, told me nothing containing gluten enters the premises and that employees are not even allowed to bring sandwiches into the restaurant or kitchen. While also lactose-free, LBT is neither vegan nor vegetarian, but those preferences can be accommodated in the kitchen. (I was told they keep different sets of utensils for vegan and non-vegan prep. Vesher? Kogan?)
TL;DR – What About the Chocolate Cake?
Topline Takeaway: The chocolate cake at LBT is much better than I expected it to be on every level, and a quite satisfying eye- and mouth-full. That does not mean I found it to be really, really chocolatey (it's not). What it is is a very well-thought-out presentation consistent with the rest of the LBT menu.
I have written elsewhere that I am not generally a fan of chocolate cake because I find they are rarely chocolatey enough for my taste. I am also generally not a fan of most gluten-free baking because of its often odd texture. (I am very happy I am not celiac!)
When you go to place like LBT you're not expecting (or at least I would not expect) to be weighted down by a lot of heavy choices or heavily-laden plates. Portions are well-proportioned and even when you order an appetizer and a mains after snacking at the bar (and you will want to try the lives and the popcorn at the very least) you're going to be comfortably full, not let-your-belt-another-notch stuffed. Perusing the dessert menu does not risk having pangs of regret later, and the desserts appear to be created to complement the rest of the menu, not pile on.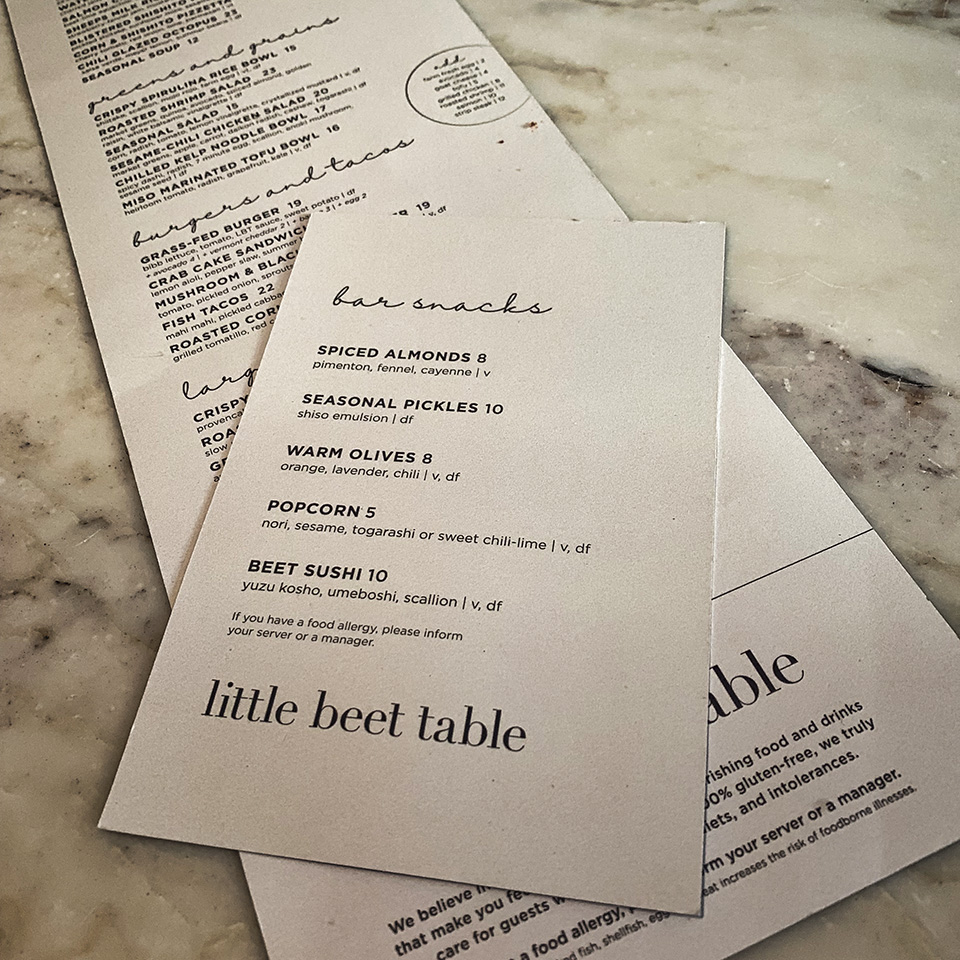 The chocolate cake is a good example of that approach. Based on a 62% chocolate made from Ecuadorian beans, the presentation (shown in the photo) included a strawberry compote and lime-coconut milk foam. None of the elements is at all too sweet, and when all three components on the plate make their way onto the fork and then to your mouth in one bite … well, the sum is greater than the parts. The technical term, in food criticism circles, is yummy. I don't know that after dinner at LBT I'd even want to see a dense flourless death-by-chocolate torte on the dessert menu – it just would not make sense given the rest of the menu. Were I to quibble, and it would be a very small quibble, it would be to consider upping the cocoa content of the chocolate used – that might give it more chocolatey oomph and the higher fat content might make the crumb denser.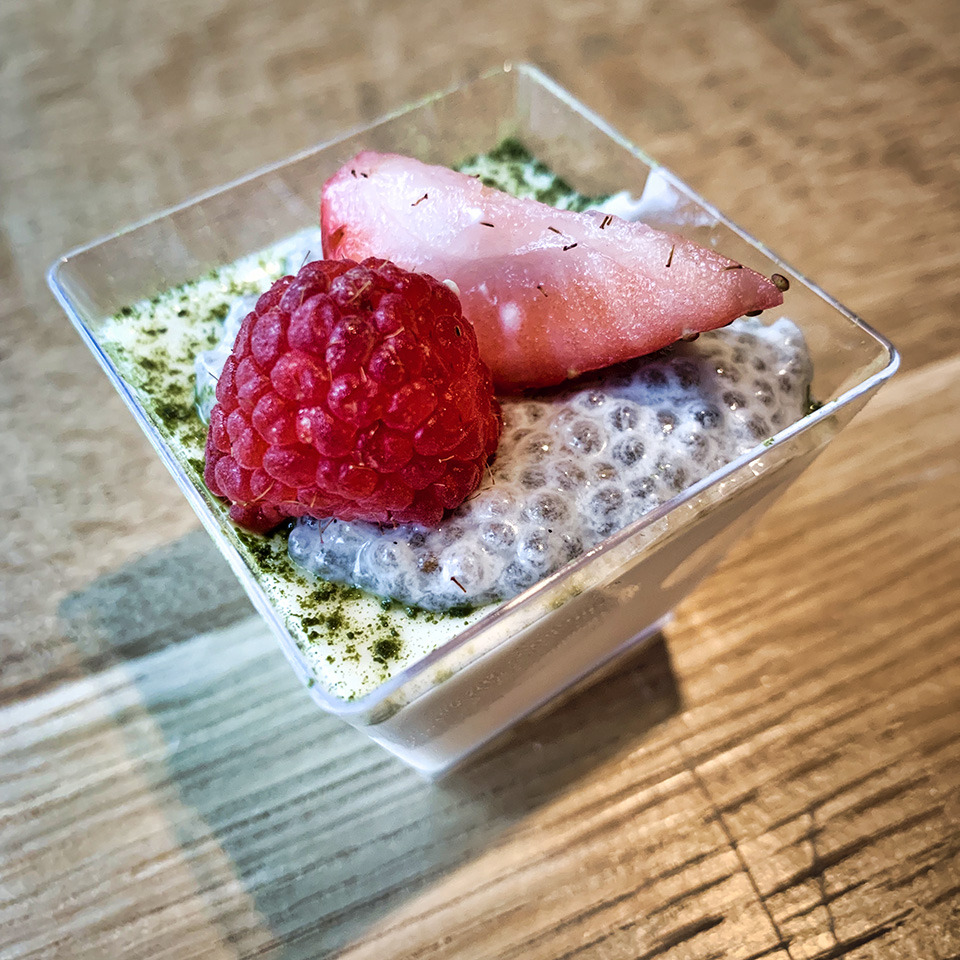 Served at the presser in Greenwich were two dessert options (I had the cake at the Manhattan location – Park Ave S between 24/25 – two days later), a light and luscious coconut-milk panna cotta dusted with matcha powder topped with a chia seed foam and then crowned with fresh fruit. As with the chocolate cake this is a well thought out presentation and you're not going to care one iota that it's gluten- and lactose-free.
I had a technical issue with the photos of the chocolate chip cookies passed toward the end of the event and so I don't have one to show you. They're still tweaking the recipe but they were quite decent nonetheless, whether hot (served at the presser) and cold (in the goodie bag). At the moment these are not on the regular menu.
Other Stuff I Tried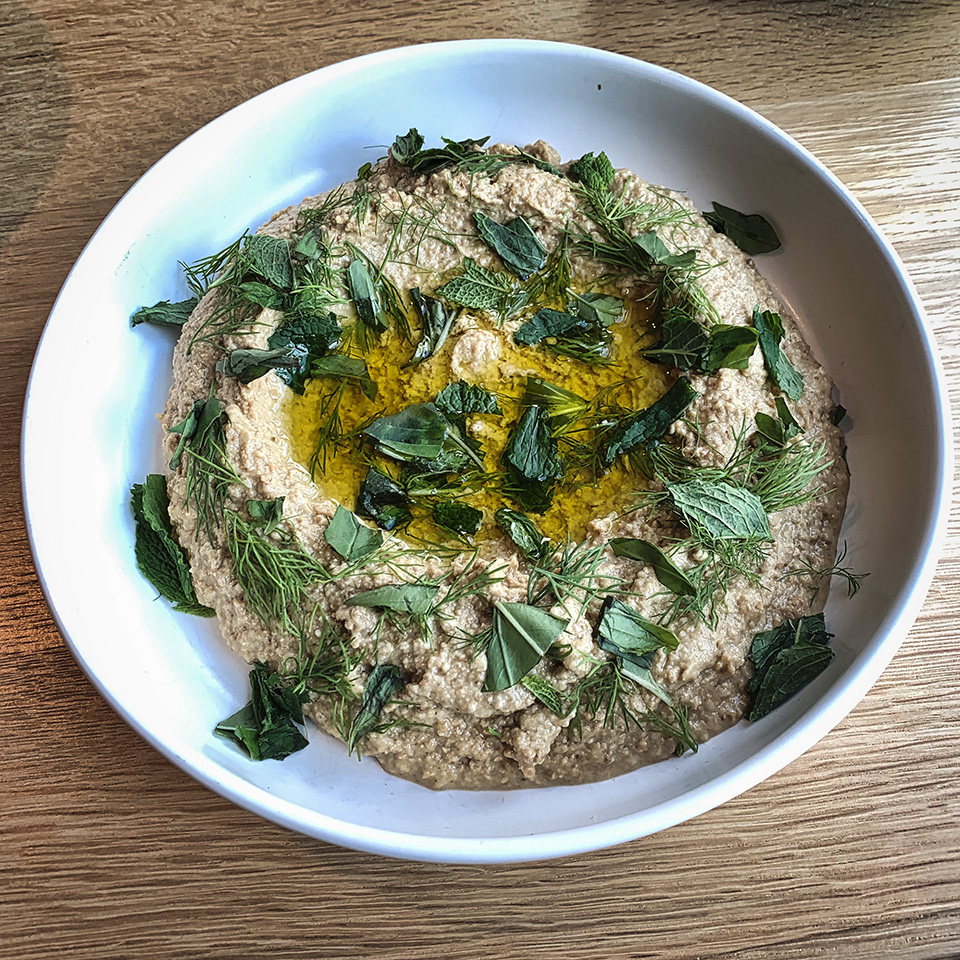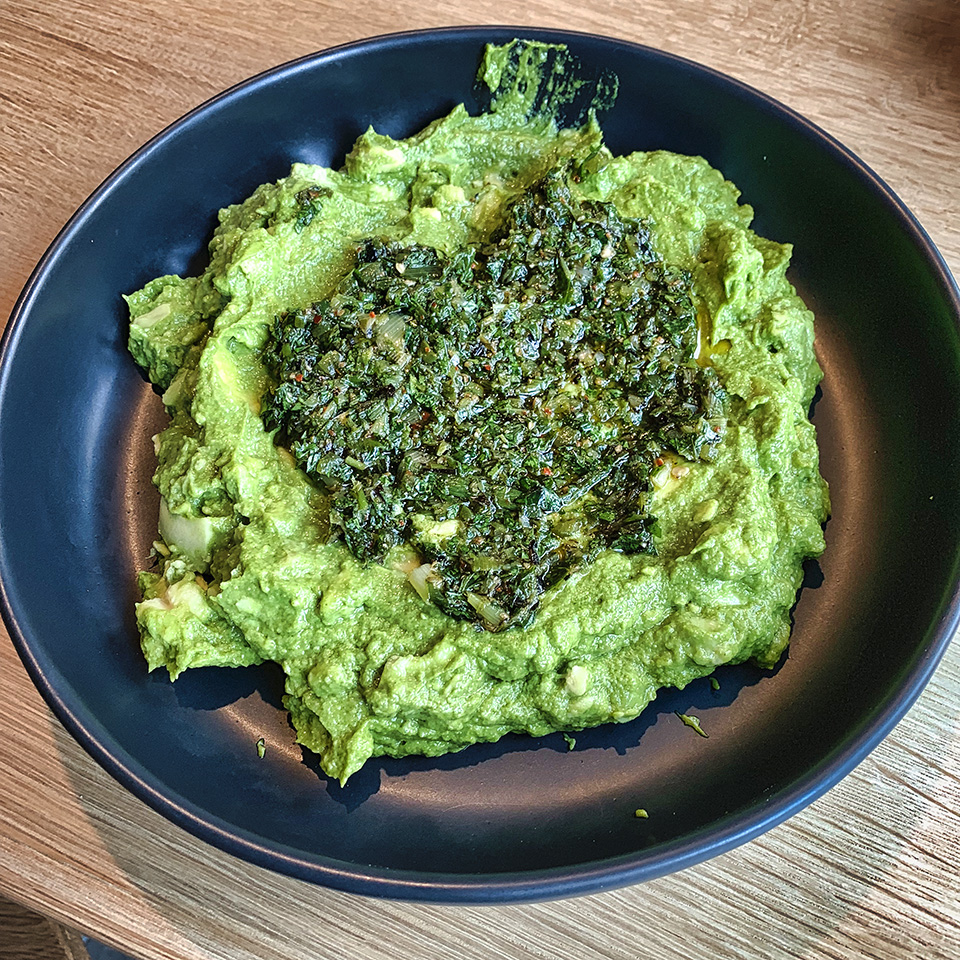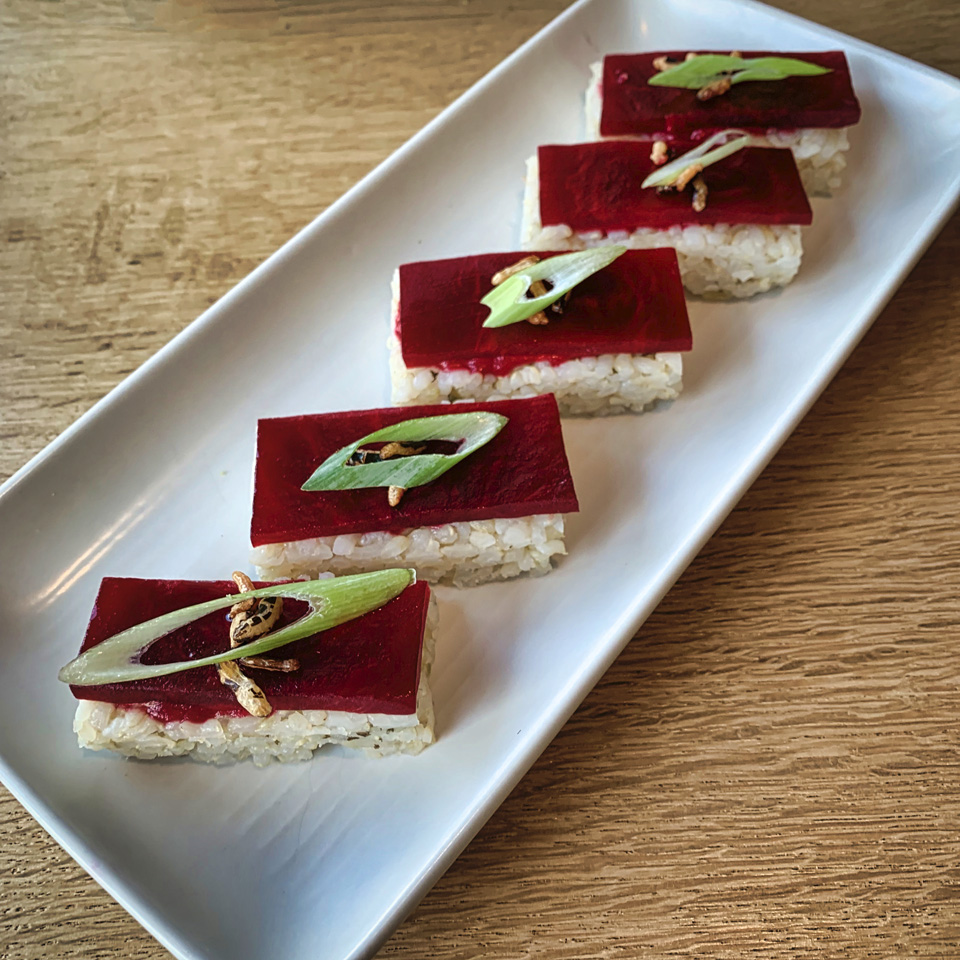 I just happen to love pan-seared blistered shishito peppers and tend to order them whenever I see them on a menu. Were it not unseemly to do so I would have considered taking an entire platter and making it my own. The dipping sauce is tasty but was an entirely superfluous gilding of the lily for me, anyway.
The Sunflower Hummus and Watercress Guacamole were both very tasty interpretations of the dishes (both hummus and guacamole can be quite bland) and so I tend not to order them. In both cases, the garnishes elevate the taste and presentation and neither was, to my taste, over-salted.
The only dish that did not impress me was the Beet Sushi. While I liked the individual components the balance was off with the rice base being too heavy and texturally wrong for the beet in my opinion.
Not photographed but also on offer were the warm olives and popcorn bar snacks – both of them addictively more-ish. Fish tacos were passed around and I do have to admit it was nice to have a protein that was unapologetically un-vegan. (I had two!)
But What About the Bar?
If you are a craft cocktail fan you are going to have fun spending time at the bar at Little Beet Table. One key aspect of their bar program is the use of fresh juices, juiced on-premises, daily. The bar staff also make their own cordials and the combinations of liquors, liqueurs, juices, cordials, and other ingredients are inventive and tasty. There is also a small selection of gluten-free beers and ciders if you're not a cocktail fan. There are plans to expand the wine list but I did not have any wine at the presser.

Conclusions
Because I was a guest at a press function I cannot comment on the level of service given to diners who show up for service. However, I did find the servers at the presser to be well-informed about what they were serving as well as pleasant and attentive. I see no reason to expect anything different during normal service.
From the range of dishes I sampled, I can heartily recommend Little Beet Table for any person or group whose dietary requirements and interests run the gamut from gluten-free lactose-intolerant vegan to out and proud carnivore (which is, like, everyone?), and no one will have to compromise or settle to get a truly tasty and satisfying meal.
---
Archived Comments