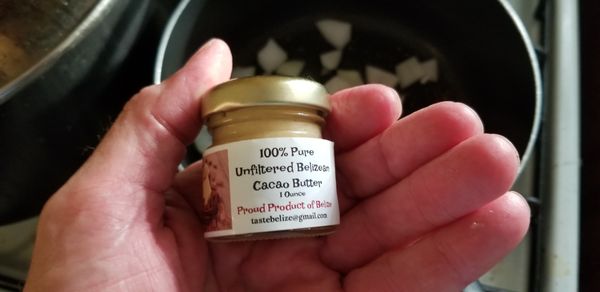 Savory, Not Sweet, Cacao
The cacao powder added deep, distinctive notes I haven't drawn out of braised beef, and reminded me, complexity-wise, of some of the competitive BBQ I've enjoyed
My most memorable dishes have featured traditional technique and familiar ingredients. The older the recipe, the more respected the technique, the deeper its appeal. After apprenticing to Juan Cho at Ixcacao and gaining knowledge of cacao as a plant, and not a sweet, I am only now beginning to understand what chocolate is, and what it could be.
We recently entertained guests at our place in Placencia and I prepared braised beef shanks, Osso Bucco style, accompanied with a proper risotto. "Bone with a Hole," that's the translation, and that bone is a leg bone which on any animal will be full of muscle, tendon, collagen, and ligament so the only method of cooking shanks is slow braising.
A mixture of stock, aromatic vegetables, seasoning, and herbs can slowly impart flavors and create succulent textures and prior to our adventure in Belize, it's unlikely I would've added cocoa powder to braising beef. Now I'll never skip it. The cacao powder added deep, distinctive notes I haven't drawn out of braised beef, and reminded me, complexity-wise, of some of the competitive BBQ I've enjoyed. And the accompanying risotto was finished with a luxurious spoonful of cacao butter.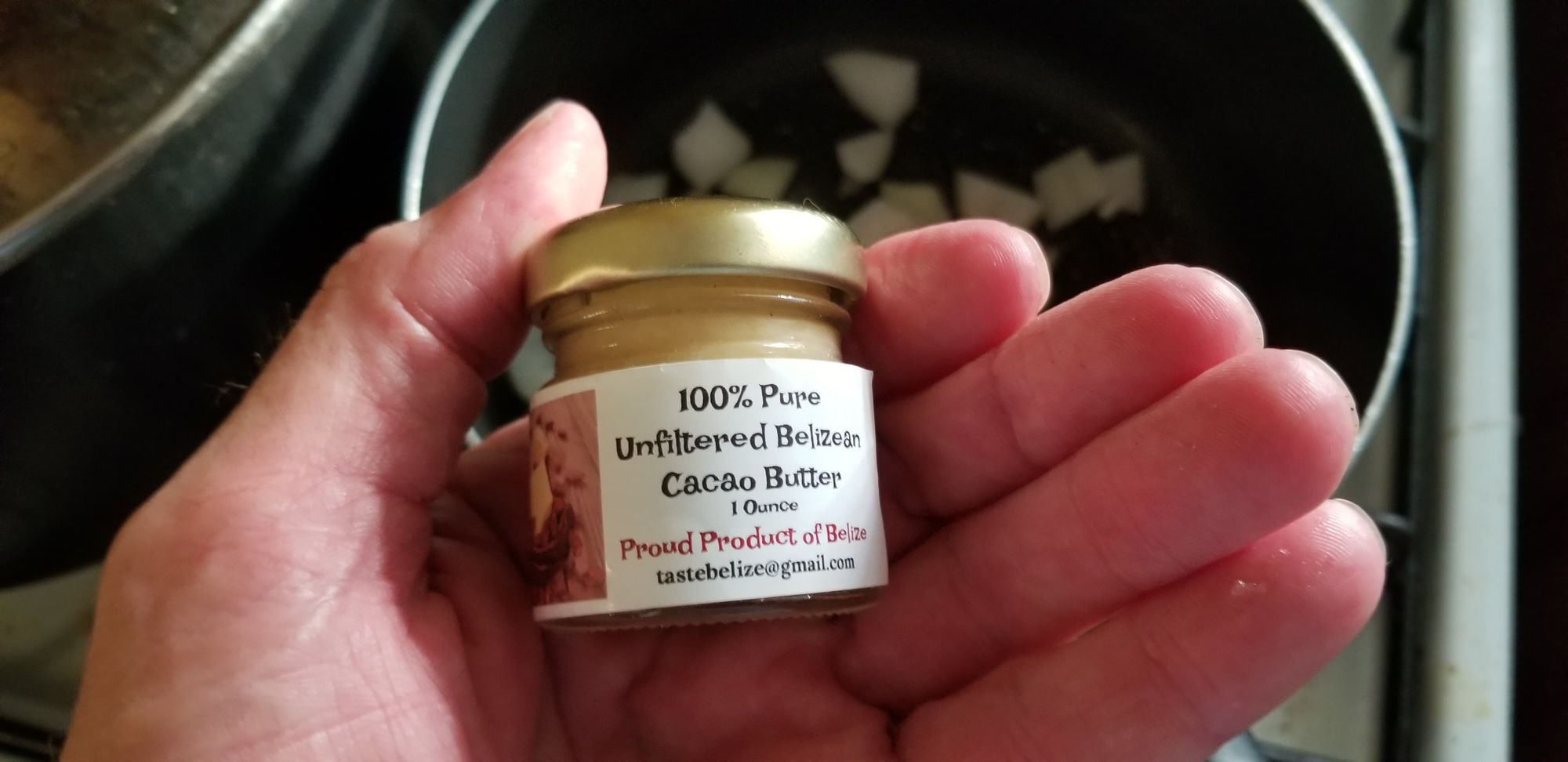 ---
Osso Bucco con Cacao
Ingredients
4 beef shanks
¼ cup vegetable oil
1 tablespoon salt
1 tablespoon fresh ground pepper
3 carrots, peeled and diced
2 sweet yellow onions, peeled and diced
8 garlic cloves, peeled and diced
6 cups fine beef stock
½ bottle fine California Merlot
1 can peeled tomatoes
1 tablespoon fine dark cacao powder
1 small habañero pepper, seeds removed (yeah that part's optional)
6 plum tomatoes, quartered
2 zucchini, seeds removed, diced
2 chayote squash, peeled, pit removed, diced
Method
Season the beef shanks with salt & pepper. In a large steel stock pot over high heat, add the vegetable oil then sear the beef shanks on both sides to a crisp, dark brown. Remove shanks from pot. Add onions, carrots, garlic and saute until translucent. Add the red wine, simmer until the aroma of alcohol has cooked off, then add the beef stock, cacao powder, habañero, remaining salt and pepper, and canned tomatoes. Add the beef shanks and cover with broth and vegetables.  Cover and place pot in a 350F oven for 90 minutes. Remove from oven and add quartered fresh tomatoes, diced zucchini, and chayote squash. Return to oven for 25 minutes. Time to start the risotto. When risotto is finished, remove beef from oven, taste and add salt if necessary. Serve over cacao butter risotto.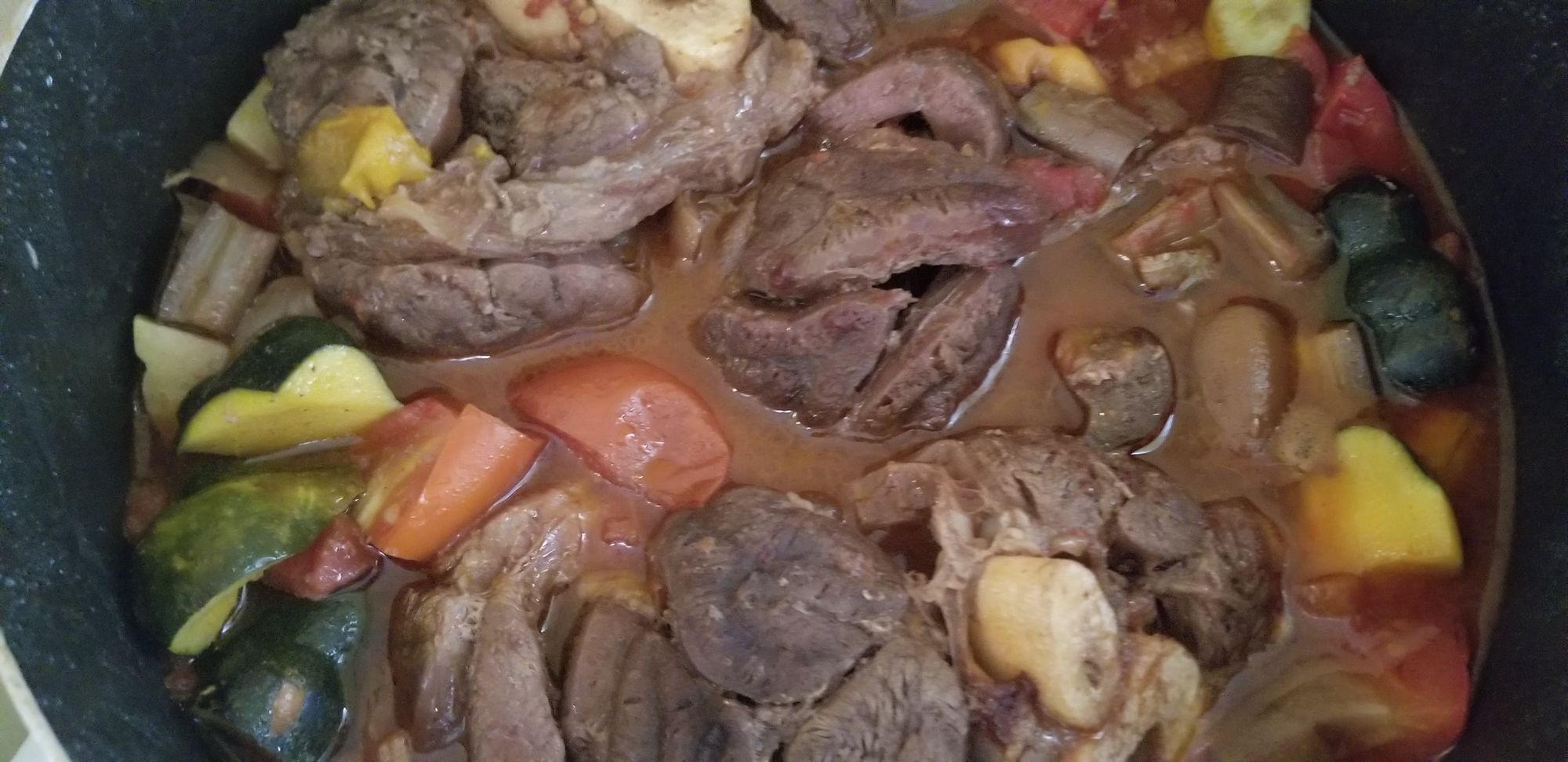 ---
Cocoa Butter Risotto
Ingredients
1 cup Arborio rice
1 tablespoon olive oil
1 sweet yellow onion, finely diced
1 clove garlic, finely chopped
1 quart chicken stock, hot
1 teaspoon salt
1 teaspoon fresh ground black pepper
1 tablespoon whole butter, cold
½ cup grated Parmesan (the stuff in the green can isn't Parmesan)
1 tablespoon fine cacao butter
1 large, smooth wooden spoon (gonna have to trust me on this one)
Method
In a large steel stock pot over medium heat, add the olive oil and gently cook the onions and garlic until they are soft. Do not brown. Add the rice, stir with the wooden spoon to coat the rice with oil, then add a cup of the warm chicken stock. Reduce heat to low. Stir rice until stock has reduced to almost dry. Add another cup of stock, stir, and continue in the same fashion of stirring the rice, reducing the stock until all stock has been used. This should take about 20 to 25 minutes. Taste and should you desire a softer texture, feel free to add in a bit more warm stock or a bit of warm water. When last of liquid has cooked down, turn off heat, stir in the Parmesan, whole butter, and cacao butter. Taste, add salt or pepper if needed.
---