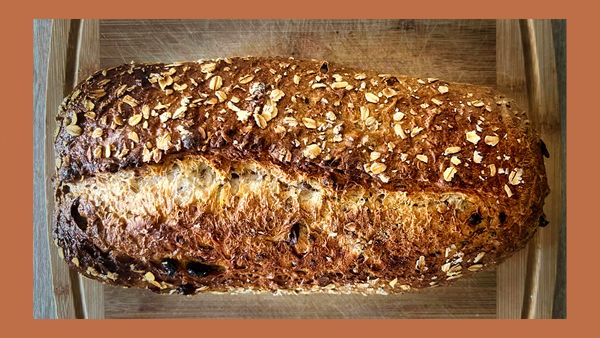 Sourdough Gone Wild(Grain)
If you're like me, you tried your hand at sourdough at some point over the past two years. While I love my starter, sometimes I want the taste without the work.
I have a confession to make. Long before I learned to love chocolate, I loved bread.
👉🏼
If you love bread, too, make sure you scroll down to the bottom of this post to take advantage of the special offers on subscription Wildgrain sourdough boxes available to ChocolateLife readers.
My grandparents on my father's emigrated from Russia just after the turn of the 20th century, and I am guessing that's where my love of bread came from. As a kid we never had store-bought white bread in the house, only whole grain breads. My father was the baker in the family, preferring to make dense, chewy, fragrant seeded rye and pumpernickel. I have many fond memories of hours in the kitchen with him watching the process and then being impatient waiting for a freshly-baked loaf to cool down enough so it could be sliced and eaten plain.
After moving out to go to college I took my love of bread with me both as something to make as well as a dietary staple. I started visiting San Francisco regularly for business in the early 1980s and that's where I developed an appreciation for sourdough – regularly bringing loaves I purchased at the airport back with me to New York.
Ever been to The Pantry in LA and had their sourdough "toasted" on a lightly buttered flattop? Yum.
As a parent, I treated my kids to some of the best Italian artisan breads I could find down on Arthur Avenue in the Bronx, preferring those over bland supermarket offerings. I also did a moderate amount of bread baking and for several years we had a Friday dinner tradition in our house – pizzas using dough we (well, I) made from scratch.
---
Fast Forward
I heard about Wildgrain because I am on a number of press release announcement lists. I reached out expressing interest, but only if there was something in the boxes that contained chocolate. Assured there was, I signed up to receive a review box. So, disclaimer: This review is based on products I received at no charge.
Even though I am still working from home most days, I don't always have the inclination to play with my sourdough starter. And although I live in a neighborhood in Brooklyn that is heavily eastern-European, I don't keep a lot of bread around because to this day I have very little willpower when it comes to good bread. (I figured that having things in the freezer might help me moderate the rate at which I consumed everything. I was partly right?)
With Wildgrain I can get fresh-baked bread without the wait and without having to make a trip to the store. (There are also some proposed dietary advantages to eating fermented sourdoughs as opposed to conventional yeasted doughs to take into consideration but that are beyond the scope of this post.)
---
#WelcomeWildgrain
Unboxing and Thoughts About What's Inside
The box arrived with both conventional gel packs and some dry ice in a well-insulated box. All of the products inside arrived with no signs of having thawed even a little. Per instructions I quickly opened and unloaded the box, transferring everything to my freezer.
My review box included:
One loaf of Slow Fermented Cranberry Pecan bread (18oz)
One loaf of Sourdough Sesame bread (20oz)
One loaf of plain white Sourdough bread (21ozs)
One bag of six plain Sourdough rolls (31ozs total)
One container of Tonnarelli pasta nests (12ozs)
One container of Fettuccine nests (12ozs)
One tray of four Chocolate Avalanche Croissants
One of the points Wildgrain emphasizes is their partnerships with small bakers and pasta makers around the country. I certainly appreciate this – it's one of the reasons I loved to shop for bread and pasta down on Arthur Ave, walking into the workshops where I could see them being made. Even though there is lots of bread on offer here in Brighton Beach, and a lot of it is par-baked on premises, most of it appears to be from industrial bakers and has an industrial blandness and there is no sourdough I could find. So I no longer bother.
Now, if you've never had frozen, par-baked, before ... are you sure? If you've been to a  chain grocery store like a Stop & Shop and purchased one of their "artisan" breads – they're not made in the store. Frozen loaves are trucked in and they are baked off in the store. Done properly, the par-baking/freezing process has gotten so good over the past decade that there's often no way to tell if something has been par-baked and then frozen.
If I was thinking straight, I would have started with the plain loaf so I could get a benchmark. But I wasn't thinking straight and I started off with the Cranberry Pecan bread because I do so love me a loaf with dried fruit and nuts. Walnut. Raisin. Pumpernickel. (sigh)
Baking these off could not be much easier. Place a rack in the oven, preheat to the indicated temperature, place the frozen loaf onto the rack, and bake for the time indicated on the package. Remove from the oven and let cool before slicing. While you get an idea of the look from the above photos, what I can't convey is the smell of baking except to say that it made me very happy. The crust turned out crispy and chewy, and sweetly caramelized with a good balance of pecans and cranberries for nutty texture and tart-ish sweetness. This sweetness muted the sourness of bread itself, but by choosing a bite without crust, nut, or fruit – the sourness from extended fermentation is present and very nicely balanced. I think technically when it comes to open airy bits (of which I am not a huge fan because open airy bits don't actually have any taste) and the crumb – all I can say is that I struggled to get this loaf to last three days before I was searching for crumbs in the bag.
I had the same experience with the other breads – technically very well made and with a very pleasant sourness. Perhaps not quite as sour as one of my own three-day cold ferments, but then these all took under an hour from freezer to mouth.
I will say that I did have to put the white loaves one position lower in my oven than recommended, and check them at the shortest baking time to make sure the tops didn't over-brown. But that's my oven – a countertop multi-mode convection oven. YMMV.
I am a huge fan of fresh-dried pasta, which I also learned to appreciate from shopping down on Arthur Ave. (Borgatti's on 187th, actually, if you ever are on the Ave.) There are some really quite nice frozen raviolis at Trader Joe's I purchase regularly. The great thing about this frozen pasta is you get the texture of a fresh pasta with some more leeway in cook time; I can't tell you the number of times I've been distracted for a minute while cooking fresh pasta and end up with everything all stuck together. Bring salted water to a boil in a pan, pop the frozen nests into the water, cook for four to five minutes, stirring occasionally to separate the strands. Drain and sauce. So much better than 99% of the dried pastas you find on supermarket shelves, even the Italian brands.
---
And finally, we get to the croissants.
While every Wildgrain subscription box focuses on breads and pastas, each box also contains a sweet treat of one sort or another. May's box contained a four-pack of Chocolate Avalanche Croissants. More pain au chocolat than true croissant, and I am not sure where the name came from. There was a small flow of melted chocolate that leaked out during baking and got crispy ... I am not sure I would call that a chocolate avalanche.
Regardless, they bake up in about 20 minutes and are ready to eat in about 30.
Flaky, buttery crust. Warm gooey chocolate center. And those crispy bits where the chocolate leaked out onto the baking pan.
These are in no way low-carb, low-fat, low-calorie treats, but sometimes I just feel the need to treat myself, and while I have a lot of chocolate bars around, sometimes I need (crave? hunger for?) some combination of carbs, butter, and chocolate. Having the option to enjoy these warm, and on a whim, is bonus.
Which I did/have. Three times ... there's just one more left.
---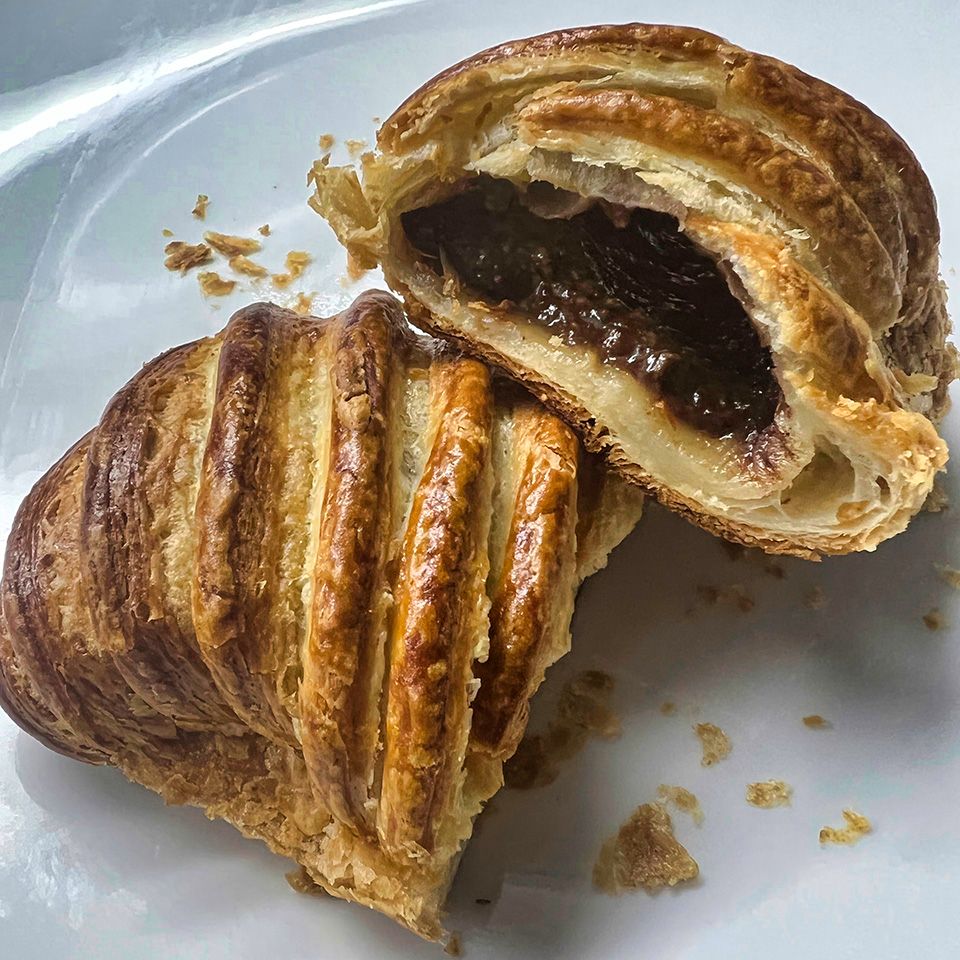 Order Your Wildgrain Sourdough Subscription Box Today
Take $30 off your first order by using code TCL30Wild at checkout. Expires August 31, 2022. Order before May 31st and get FREE croissants as long as you're a subscriber.
Your order also supports TheChocolateLife.
(A quick note; if you are using a VPN it may get in the way of the redirect. Temporarily disable your VPN if the page fails to load.)
Click to order!
---
💡
Have thoughts to share or questions to ask?

Leave them in the comments.