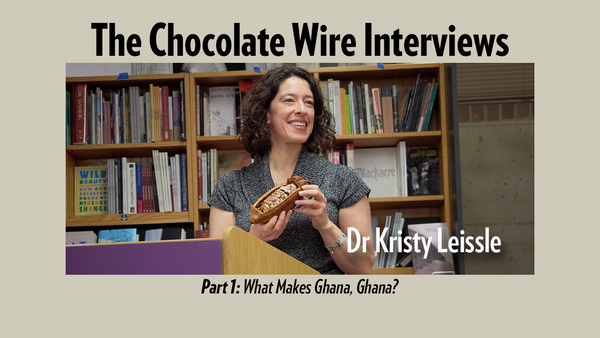 The Chocolate Wire Interviews: Dr Kristy Leissle
Topics Covered in this interview
In Part 1 of this interview with Dr Kristy Leissle, author of the highly-acclaimed book "Cocoa," we discuss the impact of the coronavirus on the Ghanaian cocoa farmer, the influence of COCOBOD, the change of ownership of Divine Chocolate and its potential impact on Kuapa Kokoo, racism in chocolate, and the use of the word "fine" in cocoa and chocolate, among other topics.
Books Mentioned in this interview series
Cocoa by Dr Kristy Leissle
The International Cocoa Trade by Robin Dand


My book, Discover Chocolate
All of the above are Amazon affiliate links; by purchasing these books using these links you support the work of TheChocolateLife and TheChocolateWire at no additional cost to you.
Other Interviews in the series

About TheChocolateWire
The Chocolate Wire's mission is to promote cacao producers, chocolate makers, those who use chocolate and cocoa products globally, and the media looking for sources and stories. TheChocolateWire is a service of TheChocolateLife. To learn more about the service, including how to submit a story for distribution and support the service, visit www.thechocolatewire.com.
Follow TheChocolateWire on social media
Instagram :: @chocolate.wire
Twitter :: @chocolatewire
---
Archived Comments
---