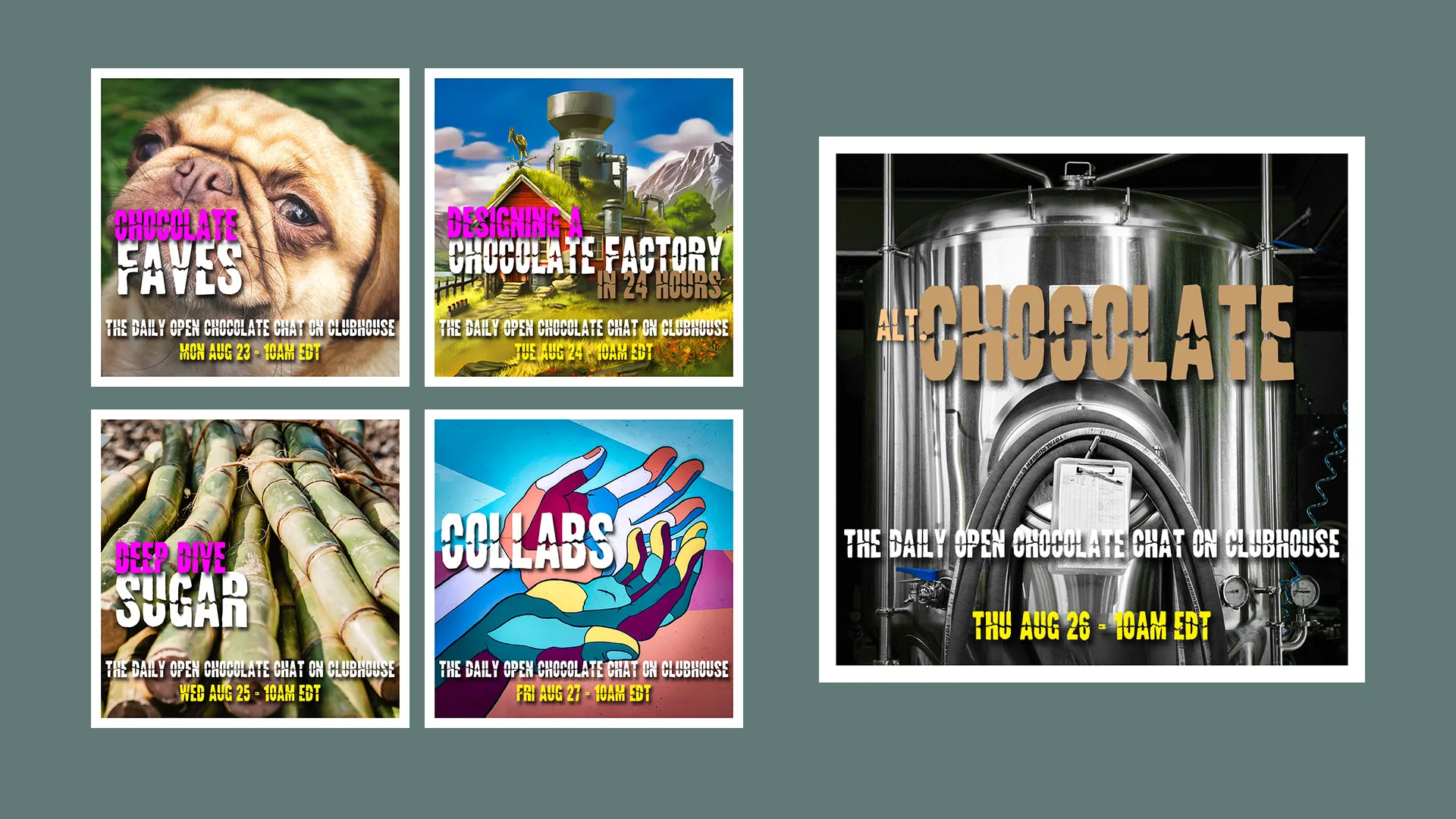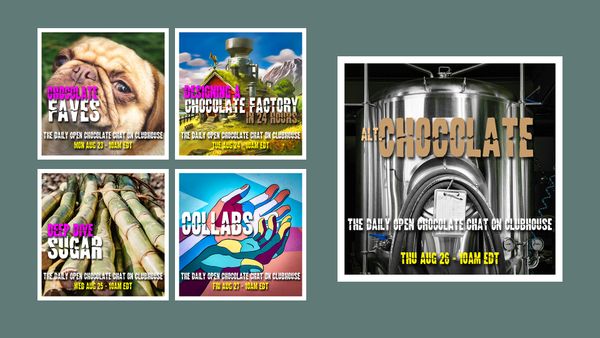 TheChocolateLife on Clubhouse – Week 23
Featured Topics for the Week of August 23~27. Episodes 23.01~23.05 (109~113).
Plan to start your day listening in and participating: Live From Brooklyn, NY and streaming globally ... it's The Daily Open Chocolate Chat on Clubhouse! News, views, and wide-open conversations about topics in cocoa, chocolate, and more Weekdays starting at 10am EDT.
To make the most of your TheChocolateLife on Clubhouse experience don't forget to:
Become a member of TheChocolateLife.com. There is a free member tier, but paid membership options are available and your support is greatly appreciated.
Follow me – @discoverchoc – on Clubhouse.
Follow me – @discoverchoc – on Instagram.
Spread the word by adding a quote or thought you had about a room as a comment to that day's IG post and/or here on TheChocolateLife (you do have to be a member to comment).
---
Monday – Favorite Chocolates
Bars? Bonbons? Our favorite chocolates and chocolate experiences.
---
Tuesday – Design a Chocolate Factory ... in 24 hours
You have 24 hours to design a chocolate factory in a 10mx20m space within a much larger building. What do you do?
What is BRC? Global food safety standard explained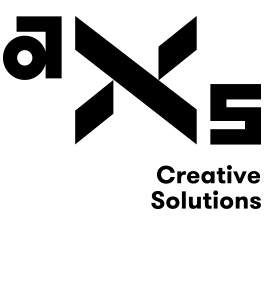 ---
Wednesday – Deep Dive: Sugar
Chocolate as we know it today is highly dependent on sugar – which comes in an extremely wide variety of forms and sources. H/T Jorge Zaldivar (Mamey D) for inspiring today's topic.
Partial topic list:
Types of sugar (source)
Special characteristics (moisture level, aroma, crystal size)
What makes vegan sugar vegan?
Is there any GMO sugar cane?
Heirloom varieties – the role of genetics
Sugar and Sugar Substitutes (.DOCX, h/t DGH)

---
Thursday – alt.chocolate
In the last month or so there have been press mentions of a small handful of initiatives working on lab-grown/manufactured "chocolates." Are alternative chocolates the solution to everything (anything?) bad about the cocoa supply chain? As with everything cocoa and chocolate the answers are, "It's complicated," and/or "It depends."
In this case, when you read the press so far, what jumps out at me are that most of the press knows nothing about cocoa and chocolate – so they are asking the wrong questions.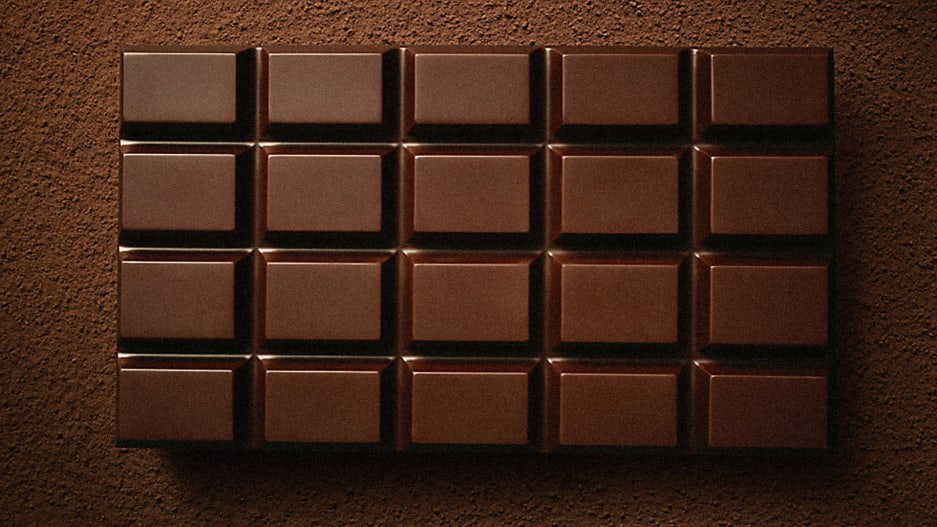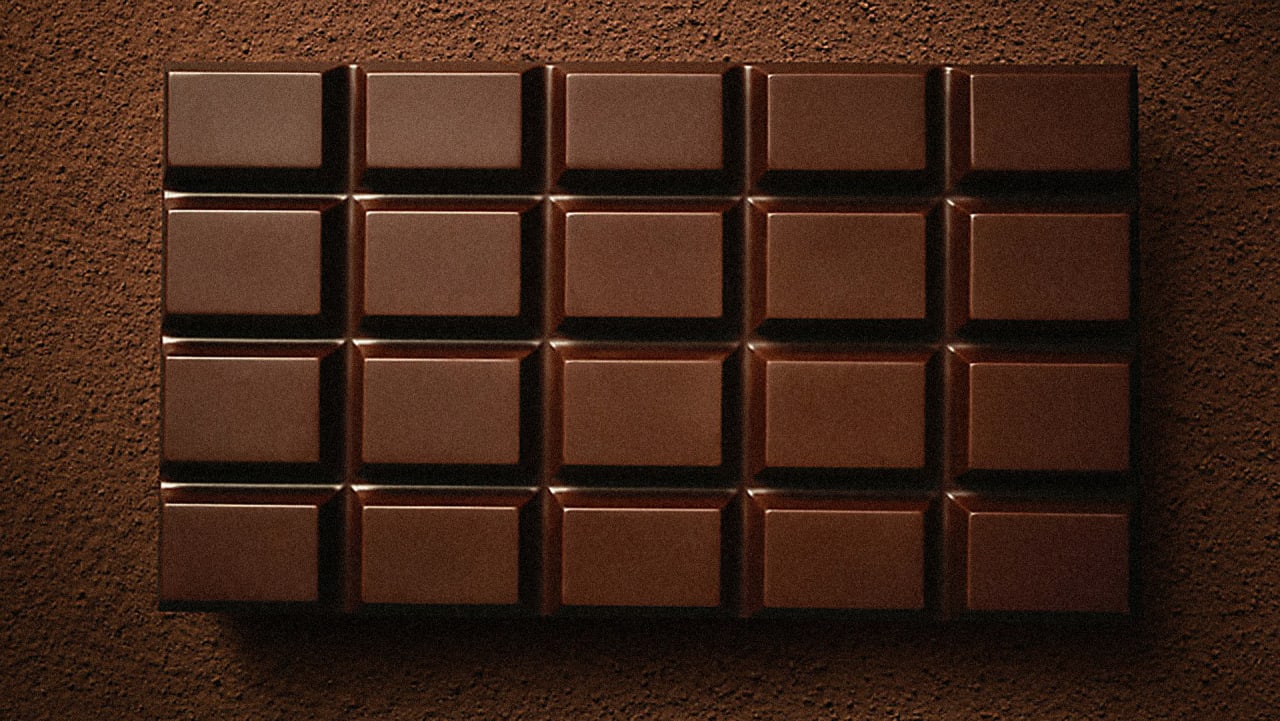 ---
Friday – TCL/CH Collabs
Ways that we, as a community, can work together and help each other.
Cacao Juice – h/t Thomas Forbes who will soon be undertaking a remote volunteer exercise for the Peace Corps with a group in Ecuador looking to develop value-added products, one of which might be cacao juice (aka miel de cacao).
---
OneWorldChocolate
I envision OneWorldChocolate (OWC) as a 501(c)6 trade association with a global footprint that fills the gap between the FCIA and the WCF. OWC's mission will be to "foster improved education, communication, and collaboration among and between all sections of the cocoa to chocolate supply web."
This is part of my succession planning – to ensure that TheChocolateLife does not disappear if I am involved in an accident or for any other reason. One of my contributions to the startup of OWC will be all of the IP assets related to TheChocolateLife.com, which I would see as a primary online community-building outlet for OWC. This includes all of the domains below – and more.
OneWorldChocolate.com (501(c)6) and OneWorldChocolate.org (501(c)3).
Farm2TableChocolate.com
TheJoyofChocolate.com – Share our love for chocolate!
LoveSexAndChocolate.com – Originally registered for an event experience in Amsterdam's Red Light district, this has evolved to include the idea of a coffee-table photography book with chocolate and love/sex-related quotes.
Chocolaw.com – Chocolate combined with legal humor.
CocoaOtaku.com – Geeky and nerdy things related to chocolate.
42Chocolate.com – Any Douglas Adams fans in the audience?
And, of course, DiscoverChocolate.com, LaVidaCocoa.com, Chocophile.com, plus several more.
I do not see myself as on the board of directors or as an officer of OWC, rather in a operations/leadership role during the transition. I am looking for a group of people who will make the necessary cash investment to get OWC registered as a non-profit and who will act as the original advisory board and board of directors/officers of OWC.
As an aside, there is now installed on TheChocolateLife.com a private chat server with most of the capabilities of Slack. If anyone is interested in following up on this opportunity I will set up a private group to facilitate discussion.
---
What We're Working on For Future Rooms
I am headed to Nigeria for a business trip and so am looking for ideas for rooms and club leaders and guests to step in while I am traveling as I will be unable to join in.
Monday, August 30 – Destination: Nigeria
Day TBD – Cottage Food Laws (h/t Thomas Forbes).
Day TBD – A Lighter Side: Chocolate in Movies, Musicals, & Comics. From Willie Wonka to Chocolat to Spiderman villains the Universe and beyond! (h/t DGH).
---
Help The TCL/CH Community Grow!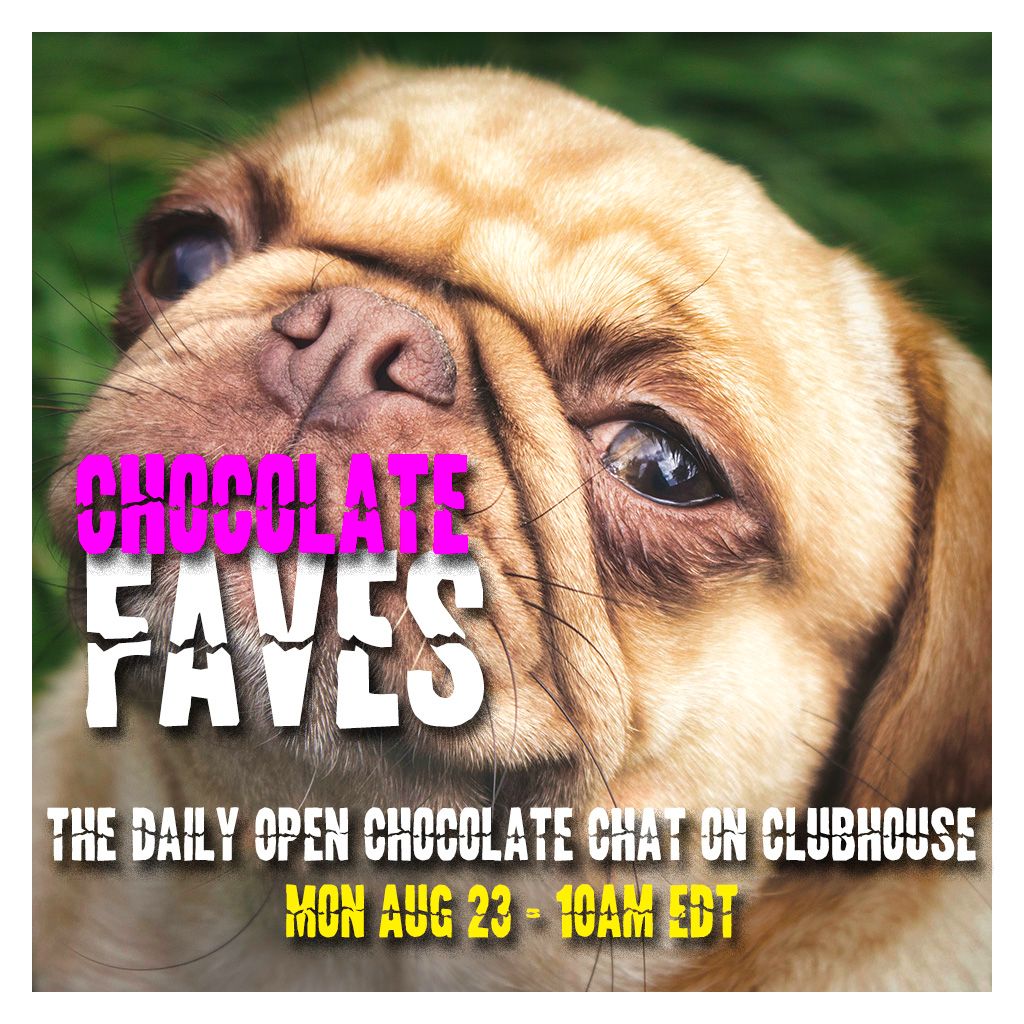 ---
Continue the conversation – or start one - in the comments below!
---