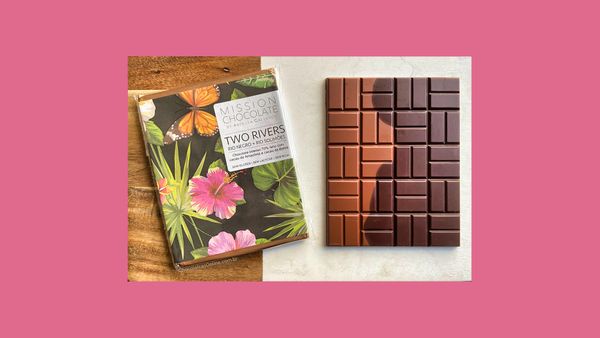 Dois Rios and a Chocolate Bar
Does storytelling impact the desire or curiosity to taste a bar? Oh, yeah!
➡️
This post was contributed by Zelia Frangioni, publisher of
ChocolatrasOnline
and organizer of the Prêmio Bean-to-Bar Brasil. Zelia lives in São Paulo.
The world is full of wonderful things to inspire chocolate makers to create their products, but we know it is not easy to create something that is unique in many ways (flavor, design, storytelling, ingredients …). We know that a well-made single origin chocolate will look, smell, and taste amazing, regardless of the storytelling behind it.
Once in a while, the story of a bar adds so much meaning to it that it is impossible to resist.
Some makers see chocolate everywhere! Maybe you've never thought that two rivers could be an inspiration for a chocolate bar. (I had never thought it would!) So it was a surprise when Arcelia Gallardo of Mission Chocolate released this bar. A nice surprise for several reasons. And, no, it is not a milk/dark chocolate bar as it seems!
First, let me introduce myself. I am Zelia, a Brazilian chocolate blogger and big fan of craft bean-to-bar chocolates. For the past almost 7 years, I have seen and tasted many craft bars, blends, and single origins, with and without inclusions, from all over the world.

But it was here, in my city, São Paulo, that this bar was created.
---
Brazilian cacao is not famous for its flavor. (At least, not yet!)
It is famous because Brazil was one of the three top cacao producers in the world in the 1980s. By the end of that decade, Brazil was heavily hit by a cacao disease called witches broom [vassoura de bruxa in Portuguese] that decimated the cacao plantations in the main producer state, Bahia. Farmers lost their crops. Thousands of workers lost their jobs in the 90s due to that disease. The glory days for cacao producers were gone. Political power, wealth, work force, everything gone.
Now, after 30 years fighting witch's broom, Brazil is returning to being among the largest cacao producing nations again. And something else has been changing too: the country still produces bulk cacao, but cacao producers are investing in infrastructure and technology to also produce fine cacao.
Brazil is one of the few countries in the world that could be a completely independent producer of chocolate; Brazil cultivates cacao and sugar, manufactures chocolate, and has a huge consumer market. The United States and European countries don't produce cacao (there's just a little bit in Hawaii). Most African countries producing cacao don't produce much finished chocolate nor have a well-developed consumer market. Most Asian populations don't have the habit of consuming chocolate.
---
So here we are, a huge cacao producing country, home of the second longest river in the world – and the first one in terms of water volume – the Amazon. It is formed by the merging of many rivers, but at one special point there is the "Meeting of Waters" (Encontro das Águas), the merging  of 2 big rivers: the Rio Solimões and the Rio Negro. They meet and flow side by side, but they don't mix waters for kilometers. They are totally different in color, temperature, speed and chemical composition.
I have been there, in the city of Manaus, where the 2 rivers encounter each other. Tourists are taken by boat to see and touch those waters.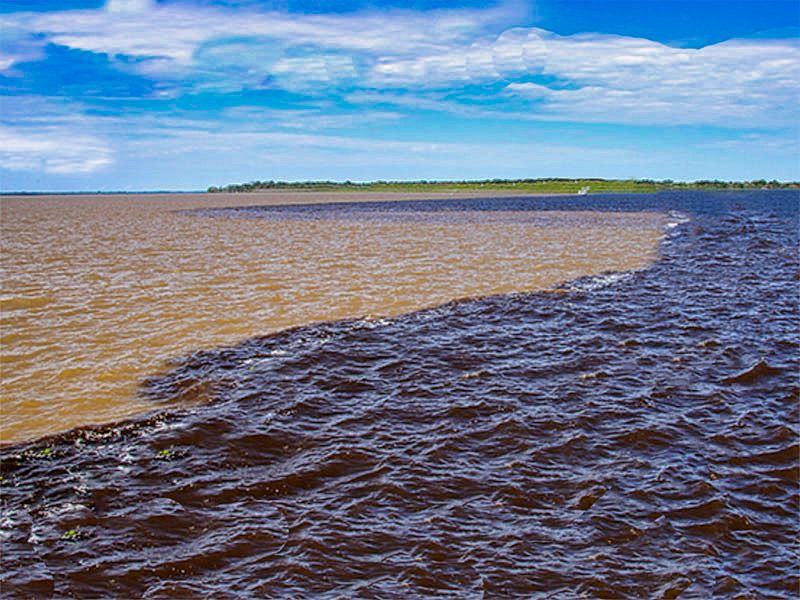 Solimões' water is cold (around 72F) and looks muddy and Negro's water is warm (around 82F), dark and transparent, flowing more than twice as fast as Solimões.
---
Creative chocolate makers see chocolate everywhere, right? Arcelia visited the Meeting of Waters and "saw" chocolate there. Arcelia is not Brazilian, she is American and has lived in Brazil since 2015, making chocolates that have been awarded here and internationally. She was inspired to create a bar by her experiencing the Encontro das Águas. It took her some time to find the right cacao beans for this bar. Meanwhile, she created bars inspired by Brazilian desserts, all bean to bar, making all chocoholics very happy.
Two Rivers is one bar with "Two completely different chocolates in flavors and colors, but really good interpretations of dark chocolate," according to Arcelia. They are 70% cacao chocolates, just cacao, sugar, and cocoa butter.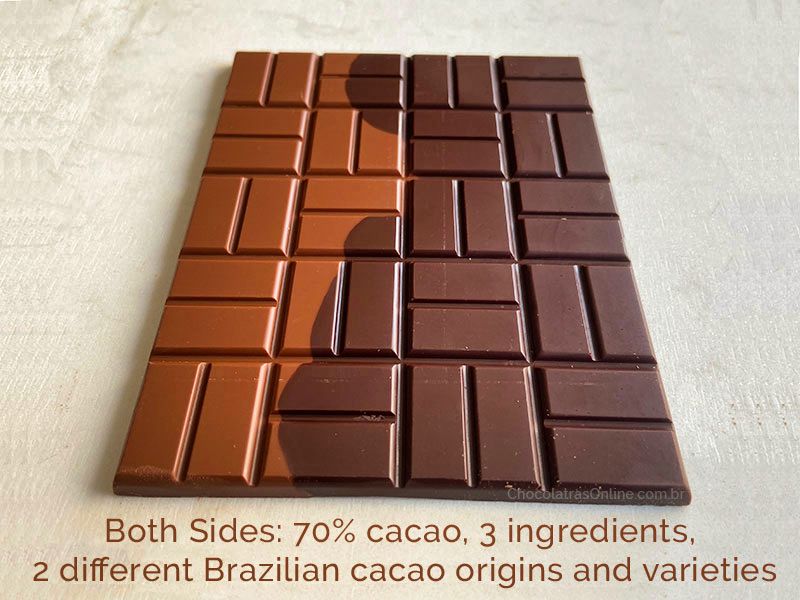 The darker side of the bar is made from cocoa beans from the Amazon region, the state of Pará, which brings cacao and brownie flavor notes. The other side, much lighter in color and with a red touch, seems a milk chocolate, but it has no milk. It is made from Catongo cacao, a variety from the state of Bahia that is naturally almost white and brings fruity and citric notes and a creamier mouthfeel. Both have low bitterness, extremely fine texture, and long aftertaste.
I asked Arcelia about the concept of this bar and she defined it as:
A "poem that symbolizes so many things. Many rivers in the Amazon, that become 2 rivers, that become the Amazon River, is an interpretation of Brazil itself. Many cultures (Japanese, Italian, Portuguese, German …) that are so different, side by side, coming together to become one of the most powerful, largest, and visually impressive countries in the world, one of the strongest forces in cocoa and chocolate in the world."
That is true and the bar is simply delicious. What else can I say? I just want to dive in this chocolate bar. How about you?
---
Credits: All images ©Zelia Frangioni. Zelia is a contributing writer to TheChocolateLife located in São Paulo, Brazil.
What do you think about this bar? Is this something you would like to try? Share your thoughts in the comments.
---