Where is a Twinkie Not a Twinkie?
The fever-dream brainchild (and I use fever-dream in the most super-respectful way) of Arlington, TX-based Hurtado BBQ, the Texas "Twinkie" is being promoted as a super-tasty Super Bowl (on Feb 2nd) snack or for celebrating National Texas Day on Feb 1st.
But why stop the partying? Fire up the grill and enjoy these with a Shiner Bock or 24-pack and make it a weekend to remember. (Or not.)
A Texas Twinkie is a jalapeño that, after removing the seeds and ribs, gets stuffed with chopped brisket and pimiento and cheddar cheeses before getting wrapped in bacon. This concoction then gets smoked (low and slow, natch) before being glazed with BBQ sauce. (In the preferred embodiment with Hurtado"s house-made sauce, but the press release does say you can make it with any BBQ sauce).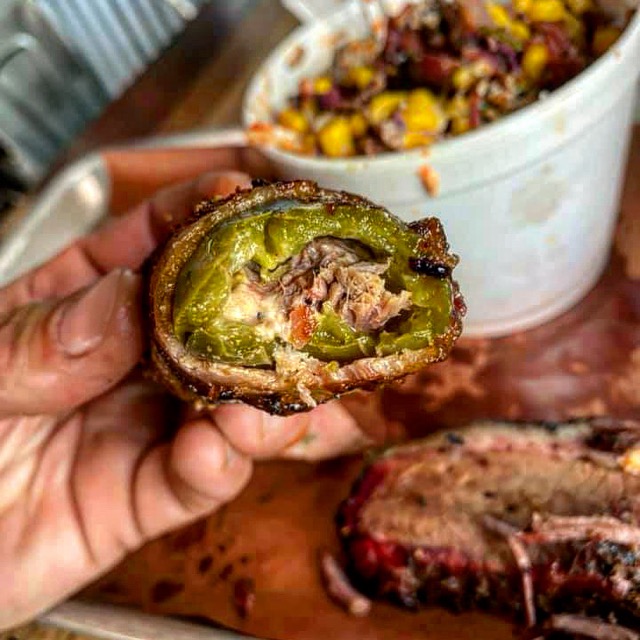 While Texas Twinkies look like they could not disappoint (well, at least to non-vegans/vegetarians), and, except for any added sugar in the BBQ sauce, it's a snack those on low carb diets could eat more than one of. This might just be the best rendition of a jalapeño popper recipe I've run across … but is it appropriate to call it a Twinkie?
Really?

Let TheChocolateLife community know your thoughts in a comment. Would you eat/make these?
Filed under: #superbowl #bbq #twinkie #texas #brisket #jalapenopopper
---
Archived Comments