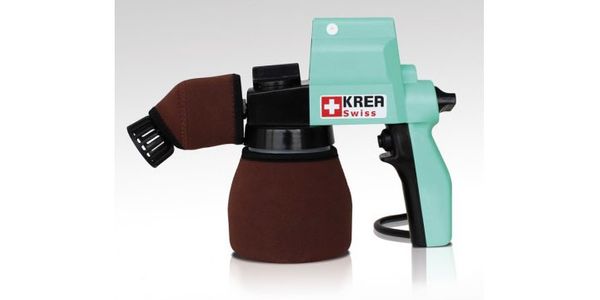 Which Chocolate Spray Gun To Purchase?
Can anyone guide on which chocolate spray gun to purchase?
---
Archived Comments
---
I've been eyeing this tool as a christmas present to myself…..I'm curious: Do you think using this would help to mask fat bloom on dark chocolate? If so, what color do you think would work best?
Also: will the airbrush rub off if the chocolate is then wrapped in foil?
Thanks!!!
---
@Tracey Glenn
06/14/14 07:06:10PM
After reading all of the above, I have the answer to all your chocolate spraying prayers!
The company mentioned may timesin this thread, Krebs have just launched a new spray gun specifically for chocolate, the 'hotchoc'. It's a heated and insulated electric spray gun specifically designed for use with chocolate. Ruth Hinks of Cocoa Black was using it last week on a live web link via The Staff Canteen and its going to be used at the Callebaut Chocolate Academy in Banbury. It lands in theUK next week 🙂
Someone also mentioned 'over spray'. There is minimal overspray with this gun. It's far more accurate than the other models, is lighter and quieter too.
For anyone wanting to contain mess they have also got a spraybox which compliments the hotchoc. It's a collapsible and washable spray box.
Have a look at the Krebs [ now KREA SWISS ] website to see the details for yourself.
—
@KREA Swiss Food Equipment
07/22/14 09:34:18AM
Hi Mark
A couple of years on and I just want to formally share the news that we have a new KREBS food gun model out- a heated chocolate sprayer that keeps the nozzle warm so there is no clogging and it is great for 50/50 for moulds, finishing, speckling, velvet etc (to answer your question Kerry). It`s called the hotCHOC and there are some videos available.
KREBS Food Sprayers
—
@Kerry
07/22/14 10:34:37AM
What's the cost of the unit?
—
@KREA Swiss Food Equipment
07/22/14 10:53:44AM
Hi Kerry, I`ll send info you about the heated chocolate spray gun.
—
@Mark Wightman
10/08/14 07:04:41AM
Hi, I notice that the website specifically mentions a chocolate/cocoa butter mix. How will this gun work with pure coloured cocoa butter on moulds?
—
@Christian Berke
10/08/14 09:10:06AM
Mark, check out the Krebs facebook page There you can see & read how professionals use it. Ella for example, a chocolatier from Sweden, recently came in 3rd place in the Swedish nationals (pralines).You will see a picture of the award winning praline for which she used the hotCHOC sprayer to create the white and the yellow. And there are other application examples, such as the velvet effect.
—
@Tracey Glenn
10/09/14 04:31:46PM
I follow Ruth Hinks from Cocoa Black on Twitter and she tweeted some pics last week showing what she had created with this Krebs chocolate sprayer….nice 🙂 https://twitter.com/Ruth_Hinks/status/518003583284162560/photo/1
—
@Mark Wightman
10/13/14 05:20:41AM
Thanks Christian. I have ordered through Walsh Direct.
Cheers,
-Mark
—
@John Duxbury
10/13/14 01:12:56PM
The Krebs solutions look very interesting but I'm getting confused on the best model for a small shop, so my volume of spraying isn't that great. I use colored cocoa butter, colored compound and thinned down chocolate, all at different times. If I understand correctly the LM25 works best for thinner spraying materials used on light-weight and above pieces; the LM45 works better with heavier weight sprays (compound coatings and colored chocolate) but isn't really recommended for light-weight pieces (the pressure is too high); while the HotCHOC works best with 50 – 50 mixes and keeps the temperature for an hour.
My first question is: which model works best when using a variety of spraying materials – melted compound, thinned chocolate, or colored cocoa butter. And secondly, if I'm using 7oz bottles of colored cocoa butter, won't there be a lot of waste every time I change colors and have to clean out the spray bottle? Like I say, the solutions look very interesting but at a price range of $320 – $398, I really don't want to make a mistake by ordering the wrong model. Thanks for the help, John
—
@Daniel Herskovic
12/10/14 10:01:29AM
Hi Mark and Krebs,
I am curious to find out if anyone has had great success spraying colored cocoa butter from the Krebs Hot Choc sprayer? I am looking to replace my airbrush. The only thing I use a sprayer for is using colored cocoa butter on bon bon molds. I don't use any 50/50 mixtures to spray cakes or other finished products. Can you let me know of your experience with using colored cocoa butter wit this sprayer? If it is good, I would be very inclined to invest in this tool. Thanks very much!
Daniel
—
@KREA Swiss Food Equipment
11/25/15 10:47:57AM
Hello Daniel.
If your intention is spraying pure (colored) cocoa butter, then you are better using the air-brush. The hotCHOC will work (ideally with the R4 nozzle – see www.kreaswiss.com), but it will not get as fine a spray with such a low viscosity, thin material. Our electric spray guns atomize the pure liquid as such and pure, hot cocoa butter is just too thin and liquid to get your desired result. With an airbrush you obviously add air, i.e. to every butter fatter particle you add some additional 100 air particles on top", which means the particles get a wider spread.
---
@Krebs Switzerland
09/12/12 02:28:06PM
Hi Colin.
I'll send a quote for the Krebs LM45 food sprayer- and the suction extension tube in case you want to spray direct from a larger container. We provide with the local power requirements so Oz is fine.
Kind regards
Krebs Switzerland Food spray guns
—
@Wendy DeBord
09/22/12 11:07:33PM
Have you figured this out yet? I'd love to know how you did!
I'm stumped, I can think of how you'd spray very light products……….isn't the over spray as much of an issue as the air pressure?
The only way I've been able to do similar was to completely coat the product in a very thin chocolate (tossing in a bowl, like you would a salad) and then sifting it out laying it on to parchment to dry. I'd love to know an easier way.
—
@Colin Green
09/23/12 04:49:52PM
Hi Wendy,
Yes – I think I have it now. Although still working on it.
The spray gun was a total failure for the reasons given earlier. However two very good things came from it. One was that if anyone is thinking of using a standard spray gun for chocolate I'd sincerely suggest that they DON'T go there. I'm now told that if I want to use milk chocolate then that's different – should have specified that in the first place. Buy new needles and nozzels. I give up. I have no belief that that will work now. So I have blown my money.
The GOOD part is that I do have belief in the Krebs product not the least for the wonderful attitude and help from Sean from Krebs that pops up on this forum. He has good answers for chocolate spraying although I am still cautious of the air pressure. However the following seems to indicate that I won't need to spray.
(Incidentally, the overspray can be handled by spraying into a BIG BOX. Simply work within it.)
The second VERY good idea came from this forum and some others I have been chasing around with. I tempered a 50/50 mix of Sicao milk chocolate and cocoa butter and as you say, piled my strawberries into the pot. Have to work quite fast and REALLY watch the temperatures. Then pour them into a seive and let the chocolate mix drip out. (Did I say to REALLY watch the temperature?) Then pick the berries off one by one – a fast process – and place them on a special "chocolate mat" I purchased. The chocolate won't seep into the mat and the strawberries break off cleanly with almost no "foot".
When they "set" – as the mix is tempered that happens quickly – I simply take them off and pile them into the pan and start to build the chocolate up. The layer is really thin but as it's tempered it's hard and the strawberries tumble well without breaking up – although I need REAL care as once they start to break they go to pieces quickly.
This process has drastically shortened the process from a two day process to about seven hours turnaround and I am convinced that I can reduce it further. It's still not really "commercial" but a LOT better. I am about to do the same with dark and white chocolate too.
Also looking at enrobing to see if I can make it faster still but the above may not mean that I can delay purchasing the enrober (although I REALLY want it for other things too) if modifications to the above work even better.
I have this weekend installed an AMAZING "Cool Bot" – idea also from this forum – which will help me HEAPS with low temperature control (after tempering and in panning). And am waiting for my new 70Kg pan to arrive too. PLUS a new spray system for the pan. With all of these I SHOULD be able to make commercial quantities semi-automated in time for the Christmas rush.
—
@Rick Kiyak-Boughton
10/22/12 12:38:45AM
Greetings Where can we get the spray gun in the US? THanks Rick B Green Goddess Organic Chocolate
—
@Ankur Bhargava2
10/22/12 03:17:50AM
Hello Wendy. I just read about the "CoolBot" system I am fascinated by it. Reading on their website, it helps that they are honest about where the system will NOT work and who should not buy it. Has it helped your tempering process?
As you might gather from my page I represent a company that deals with all things chocolate, save for actual provision of slabs. We also conduct workshops through ROTARY and other NGOs as part of their initiatives to generate employment amongst specific groups. Reading about "CoolBot" gave me an idea for a low-cost cooling environment that can be adapted and implemented at the grass-root level to take chocolate making to the next level.
Since we are not chocolatiers at our core, our workshops are generally catered towards the basics. However, you being a chocolatier and if you would be willing, I would be glad if you could provide an insight on your experience with this system.
—
@KREA Swiss Food Equipment
02/04/13 12:10:19PM
Hi Rick- sorry for the late reply- just seen this.
In case you didn`t already get hold of the KREBS food sprayer already, we have dealers in the US that keep it on stock including Albatross and Kerekes.
If you need any help, just contact me here
—
@Chef Johnny K
06/24/13 08:28:21AM
Krebs 45 is the best answer. fabulous spray gun, great on thicker chocolate & fruit puree
you can buy one online www.superkleendirect.com – several to choose from but the 45 is best for thicker liquid
happy cooking!
—
@Chef Dave
06/24/13 08:30:06AM
Love my Krebs45 Spray Gun
used it for butter this weekend for a big job, croissants for 300 for Sunday brunch
fast, no waste and perfect results
---
@kerry
07/20/12 09:07:40PM
What do you want to do with it?
—
@Mark Simpson
09/11/12 05:58:53PM
Hi Sam, I've been discussing this in another thread, and I just bought a Krebs LM25. I almost got a Wagner one but was concerned they are meant for paint and not food. It arrived today and first impressions are good, a few choices of nozzle depending on the concentration of application needed (I use the wider one for spraying trays of doughnuts mainly).
—
@Kerry
09/11/12 06:09:05PM
Mark,
Have you tried it with chocolate yet? What is the material for the nozzle – ie can you hit it with a heat gun if it gets blocked?
—
@Mark Simpson
09/11/12 06:20:48PM
Hi Kerry admittedly I'm using quite thin chocolate because it's just a topping, but it seems to be handling this okay. Anything thicker and the the higher wattage one would probably be better though. Not sure about the nozzle yet, seems quite easy to clean though, I just made sure I flushed it though with warm water as soon as I'd finished with it
—
@Kerry
09/11/12 06:22:40PM
Can you adjust the flow?
—
@Colin Green
09/11/12 07:01:10PM
I would urgently like to know if the Krebs has a substantial air flow please? I am doing very light products (freeze dried fruit) and as they are so light I need as small an air plow as I can get.
Any thoughts please? I'm in a bind and need to purchase a gun as soon as possible.
Thanks!
—
@Krebs Switzerland
09/12/12 03:59:12AM
Hi Colin,
You can use the Krebs LM25 (60W) food spray gun and simply turn the power knob right down for a very small airflow. It works exactly as it sounds and we sell many many food guns into the market for cake decoration etc where a delicate balance of power options are needed.
If you go to the Krebs gun food sprayer web page you can find more info- or contact me on this link and I'll arrange a gun for you ASAP.
Kind regards,
Krebs Switzerland Food spray guns
—
@Krebs Switzerland
09/12/12 04:11:45AM
@ Kerry- Yes, you can adjust the power of the food gun by the knob at the back, so you can change the flow from very powerful, to almost nothing. There is an online brochure which shows this better.
As Mark points out, if you need the extra power required to spray very thick materials, then you can choose the Krebs LM45 spray gun.
Krebs Switzerland Food spray guns
—
@Colin Green
09/12/12 06:57:07AM
Thanks so much for this. I am going to have another try at the system I have purchased as it cost me quite a bit of money and I have not tried the dilution with cocoa butter idea as yet. I have ordered some and it should arrive tomorrow. The high air flow is a problem although I can turn it down – although I assume that that will imact the way the sprayer works.
I am in Australia so I assume that I can get one here OK.
—
@Krebs Switzerland
09/12/12 07:10:17AM
Hi Colin- yes, we ship to Oz very often and just setting up a couple of dealers there as getting too many enquiries for the food guns to manage direct. Just give me a shout if you need one sourcing.
Kind regards
Krebs Switzerland Food spray guns
—
@Colin Green
09/12/12 08:03:19AM
Can you give me a price please? And shipping. [email address redacted]
Preferably 240V 50 Hz although I do have US power (120V 60Hz) too if needed.