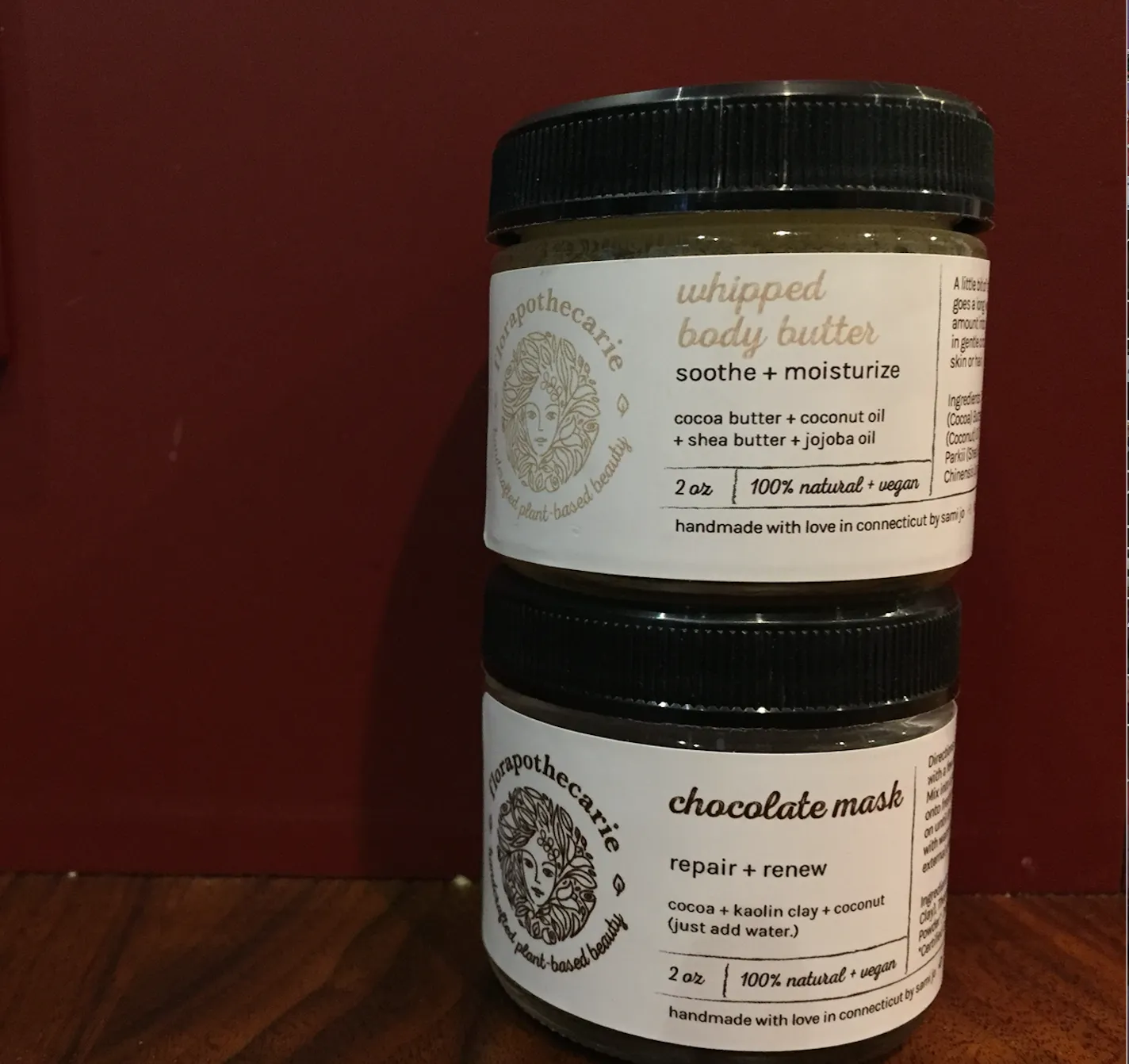 You're Going to Smell Like a Cup of Hot Cocoa!
*Beauty products are something I have all too many of, but I am also never going to stop buying them or trying new ones.* I was recently gifted the Whipped Body Butter and Chocolate Mask by Florapothecarie, and they are glorious!
Let's start with the body butter. It is a very thick consistency, which is what you would assume considering it is made of cocoa butter, coconut oil, shea butter, and jojoba oil, but it isn't heavy on the skin. It says right the jar that a little bit goes a long way, and that is definitely true as it is made of several oils and it can start to get a little greasy. Since we are heading into the dry season, this is the perfect time to stock up on this miracle cream! Even my dry, cracked hands from working in the bakery look soft and smooth now, I just slather the body butter on at night and I wake up feeling like silk! What's even more amazing is that this body butter doubles as a hair moisturizer, and it does that extremely well!
> My new go to is to scoop out a little of the butter and massage it into my hands, and then work my hands through my hair to tame fly-aways, and give my hair a good shine.
The Chocolate Mask is also incredible. Cocoa powder is great for your skin as it has many antioxidants that help repair skin cells, and this mask provides just that! The mix of cocoa, kaolin clay, and coconut gives a nice boost of hydration, and smoothes and brightens dull skin, it also smells amazing and really put me in the mood for a big mug of hot cocoa. I think when I first used the mask I didn't use enough so it dried rather quickly.
> So, I would suggest giving yourself a good coat in the stuff, putting cucumbers on your eyes, and sitting back with Christmas music playing.
Both of these products are wonderful and make a perfect gift for the holidays, whether for others or just a treat for yourself. This would be the type of thing I would want in a stocking stuffer or as a Secret Santa gift, but it is also too good to give away! Seriously, save these for yourself because they do wonders for your skin and hair, and it'll put you in a jolly spirit when you use them!
Available on the [Florapothecarie online shop](https://florapothecarie.com/).
---
Archived Comments