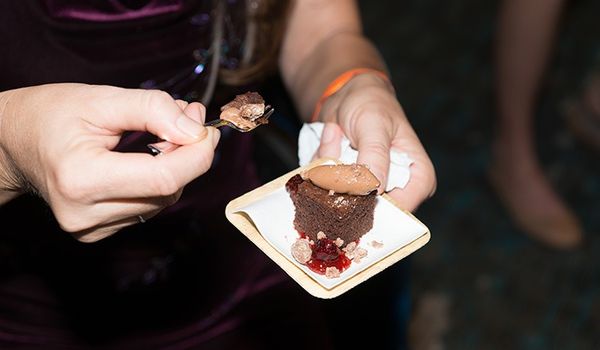 Ended - 2018 Big Island Chocolate Festival
Indulge in the alluring, rich taste of chocolate—in both its sweet and savory forms—while participating in delicious, fun and informative chocolate-themed activities.
A limited number of Early Bird ($75) and VIP ($120) gala tickets are on sale now; general admission is $85. Also available are three different overnight room packages, including a Two-Night Chocolate Weekender. All room packages include a pair of tickets to the Saturday evening gala.
"Chocolate is produced worldwide and each country is proud of the heritage it has brought to the industry," says KCA President Farsheed Bonakdar, regarding this year's "Around the World" theme. "We think our attendees will enjoy the event's international flavor."
The two-day chocolate extravaganza includes a cacao plantation tour at Original Hawaiian Chocolate Factory, a college culinary competition and several public foodie and agriculture-themed seminars. Activities culminate 5-9 p.m. Saturday, April 28 with the indoor-outdoor festival gala—enjoy a host of sweet and savory culinary stations presented by top isle chefs, chocolatiers and confectioners. Fun chocolate activities include chocolate body painting.
Culinary participants will depict this year's international theme at their booths and be judged on originality. While chocolate hails from Meso-America where cacao beans were first brewed to make a drink, chocolate is now produced worldwide, with early roots in Belgium—which invented the praline—and Switzerland. While these two countries join the U.S. and Germany as the top chocolate-producing countries today, others include Spain, Mexico, Peru, France, Brazil, Denmark and Italy.
Culinary stations will also be vying for awards in a variety of categories judged by a panel of celebrity chefs: "best" bonbon, savory, bean-to-bar, plated dessert and Hawaiian cacao. Attendees can get in on the friendly voting by casting a ballot for two People's Choice Awards: Best Savory and Best Sweet.
The Big Island Chocolate Festival is presented by the Kona Cacao Association, Inc. The mission and goal of KCA is to promote the cacao industry on the Big Island of Hawai'i by presenting BICF as an educational and outreach opportunity for local cacao farmers, the hospitality industry and cacao enthusiasts.
---
Archived Comments