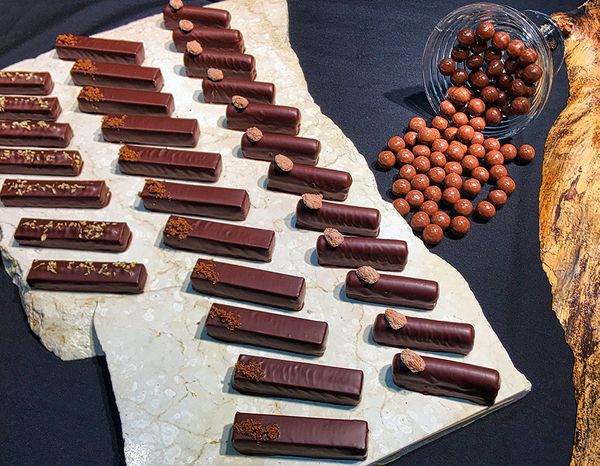 Beyond Bean-to-Bar Class – Sept 4-6 2019 in Las Vegas NV
If you're a bean-to-bar chocolate maker there are many more things you can make with your chocolate than just bars.
Many of the items you can make with your chocolate have much higher profit margins than bars do. If that idea interests you then this is the class for you!
Topics covered and products made in the 2018 class include:
Spray-decorating molds with colored cocoa butter
Shelf life
Enrobing
Panning
Ganaches
Caramels and caramelized nuts
Nougat
The ultimate goal of the class is to spark the creative process and encourage chocolate makers to consider making more than just chocolate bars. Over the course of the three-day class participants will be shown a number of tips, tricks, and techniques that have a positive impact on productivity and bottom line results.
The photos above and below show some of the items produced during class.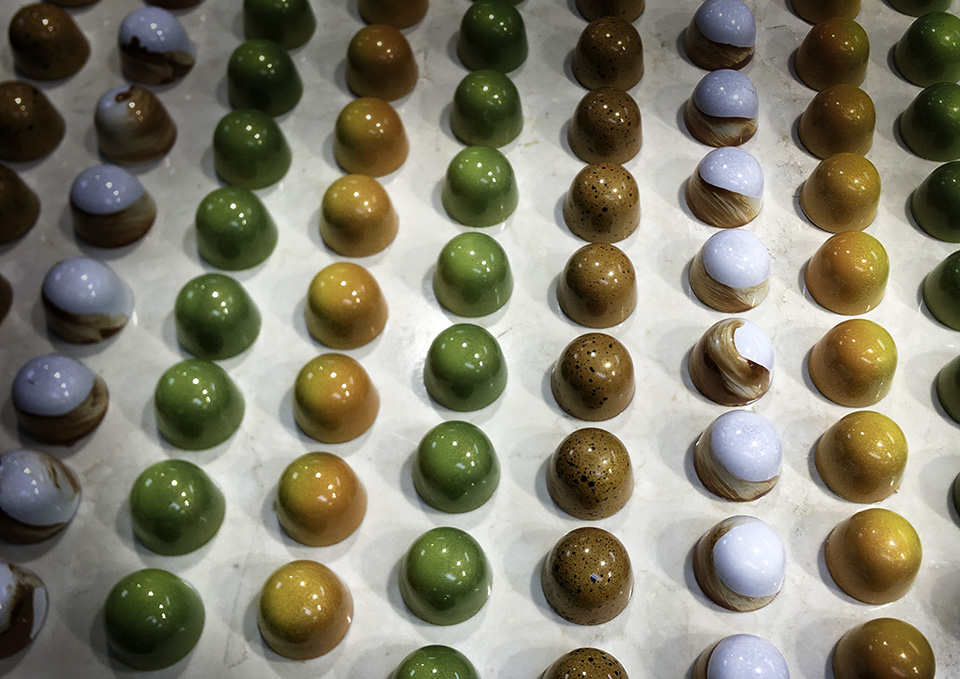 Every class is different (to keep it interesting for the instructors) so there's no guarantee the same recipes will be produced in the upcoming class that were prepared for the last class. Maybe we'll be making enrobed marshmallows (not shown) again, but maybe we'll be using a one-shot machine. Or???
(The class also takes into account production questions students have, and students are encouraged to bring products they make to share with the rest of the group to troubleshoot and get input and suggestions.)
The class is co-taught by Clay Gordon (author of Discover Chocolate and founder of TheChocolateLife) and Jean-Marie Auboine, whose workshop has been producing a huge range of products – including products made with chocolate made from bean to bar – for many of the most demanding chefs and venues in Las Vegas and beyond for well over a decade. The class is sponsored by FBM.
Because of the sheer volume of work product produced over the course of the class, it's less hands-on than the bean-to-bar classes held in May. In the last Beyond class, a dozen different completed products were made incorporating more than twenty elements, including baked components over the course of the three-day class.

If you're interested, contact Clay Gordon directly by DM or by email on classes@thechocolatelife.com for more details and tuition costs.
Because of FBM's generous support, a discount off the regular tuition cost of classes at the JMA school is available to all students. Students also are eligible for discounts on FBM equipment ordered within three weeks of the class.
---
Archived Comments