Decline and Rebirth: Chocolate in New York City, 1930-Present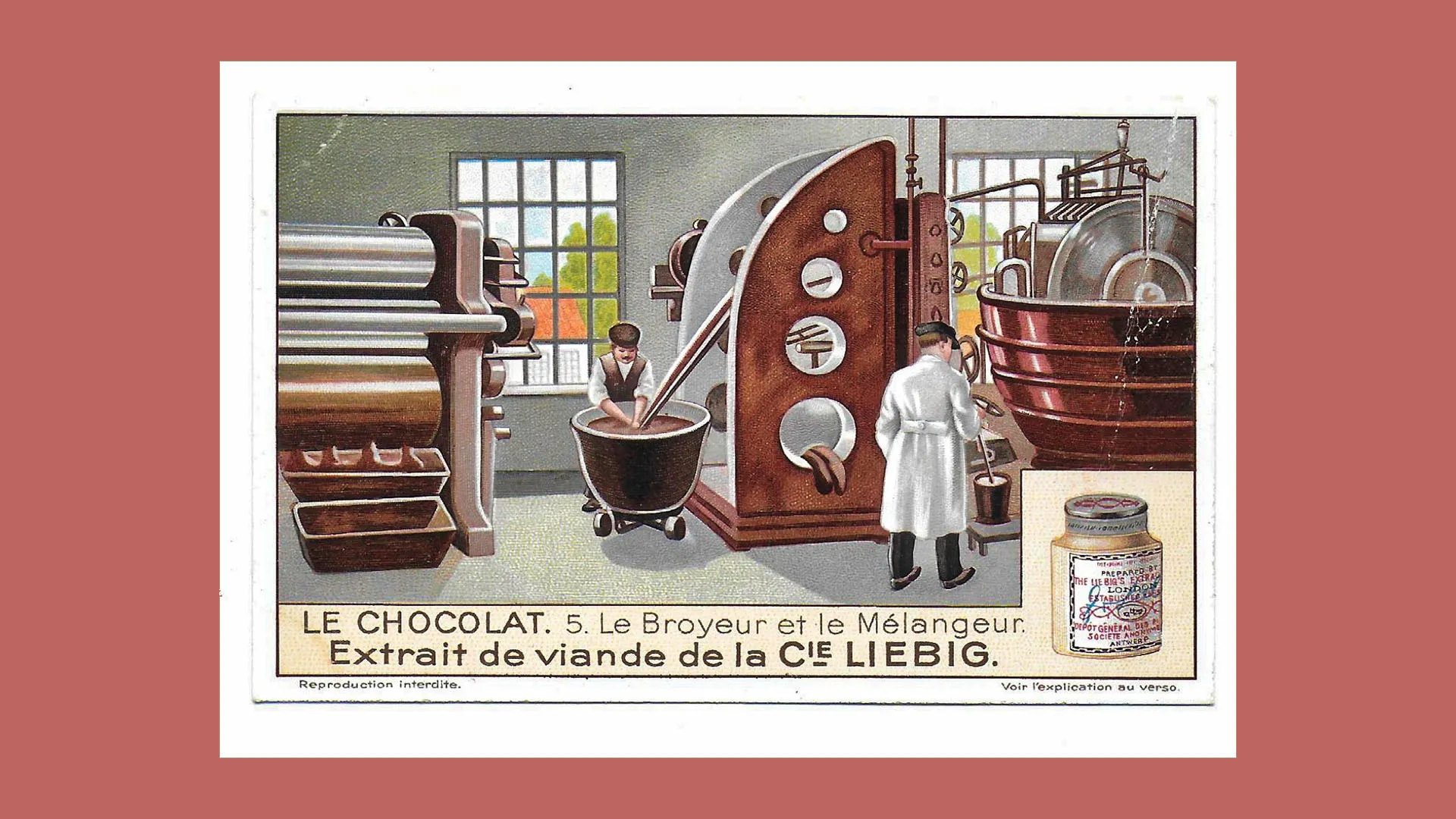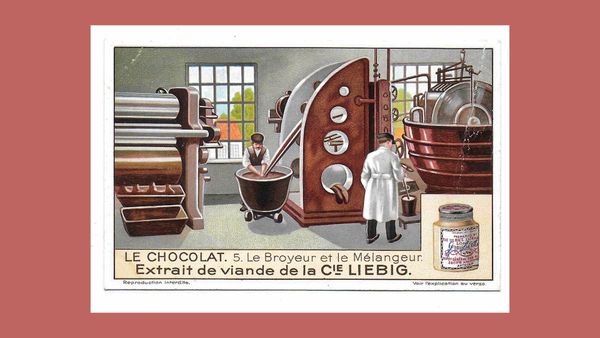 The New York makers that helped usher in the industrial age of 'big chocolate' would eventually be consumed by it. Following the decline of the city's manufacturing a rebirth, of sorts, emerged in the early 2000s.
➡️
This post was contributed by
Michael Laiskonis
, Pastry Chef, Consultant, Educator @ The Chocolate Lab at the Institute of Culinary Education NYC, James Beard Foundation 'Outstanding Pastry Chef' 2007, IACP 'Culinary Professional of the Year' 2014.
A consumer's perspective and experience with chocolate today is highly dependent on where they choose to purchase it.
For many, the gateway remains the baking aisle of an average supermarket, or the 'impulse' display of candy in front of the cashier of the local bodega, pharmacy, and gas station, stocked with familiar mass market chocolate and candy bars. For others facing the end cap selection of chocolate bars at Whole Foods or specialty markets, higher priced options represent lifestyle choices – motivated by perceptions of health and wellness, ethical labor and environmental concerns, or trendy flavors and inclusions.
Browsing the offerings of an online specialty chocolate retailer, bars priced in the neighborhood of $10 reflect an emphasis on flavor, direct connections to cacao as an agricultural product (touting origin, growers and processors, or a bean's predominant genetics), and process (through words like 'bean-to-bar,' 'craft', 'artisan,' and references to production scale). Pastry chefs and chocolatiers, too, face a range of product options and price points, from inexpensive bulk chocolates (some refer to old makers otherwise forgotten - Peter's, Wilbur, Merckens, and Ambrosia) to high-end couvertures categorized by origin, formulation, application, and flavor profile – more often than not bearing a European name.
The industrialization of chocolate certainly broadened the scope of its use and application, yet it has also conditioned our collective palate to recognize only a narrow range of its potential. Though a relative drop in the greater bucket of cocoa production, new categories of specialty chocolate, in theory, offer a challenge to the status quo.
As I study the history of chocolate making to better understand its evolution into the present day, I also ponder the complex issues that will inform the paths we choose moving ahead.
---
The State of the Industry
Since the birth of the modern chocolate industry in the early 1900s, global cacao production has increased tenfold to over 4 million metric tons (MT).
That chocolate now occupies a deeply embedded place in our culture, represented by a diverse range of products and applications is perhaps the great achievement of what we have come to call 'big chocolate' over the course of the 20th century. With that, however, came a concentration of processing by a handful of mammoth multinational corporations, hidden behind a veil of opacity. One can easily argue that as a result, chocolate become homogenous or perhaps 'dumbed down.' Chocolate is ubiquitous – often consumed thoughtlessly – while also marketed as an indulgence to fetishize. The ultimate price we've paid for a constant flow of cheap chocolate is a severing of ties to its origin and the millions of producers who earn the smallest share of the profits.
As we enter the 1930s, we see a continued trend of industrialized processes, consolidation, and acquisition of smaller chocolate manufacturers, all amid a growing commodification of cacao and chocolate products. The growth of media and sophisticated marketing campaigns sold new candy concepts to a growing middle class.
In this period the 'bigger-faster-more' business model of mass production gave birth to iconic brands and products still familiar to consumers today.
Hershey became a thriving factory town unto itself in Pennsylvania and was a household name known for its cocoa powder and bite-sized Kisses; by the 1950s the popularity of its plain bar made the company name practically synonymous with the very idea of chocolate. The tiny 'morsels' that would later take their name from the Toll House restaurant, where Ruth Wakefield developed her chocolate chip cookie recipe, was produced in the 1930s by Nestlé, headquartered in Fulton, New York.
Chicago-based Mars joined them with the launch of the Milky Way (1923), Snickers (1930), and 3 Musketeers (1932) candy bars. What began as a modest candy factory founded by Frank C. Mars was later expanded by son Forrest Mars. During a brief split with his father, Forrest spent time in Europe working for Nestlé and Tobler in the 1930s. Like Nestlé, for which chocolate and confections are today just a small part of its global food business, Forrest Mars began diversifying into other products early on, with the purchase of a pet food business in the 1930s and the Uncle Ben's rice brand launched in the 1940s.
The Decline of Chocolate Making in New York
New York's growing currency as a capital of culture, media, and finance did not extend to its once bustling chocolate scene.  Soaring real estate values in Manhattan pushed manufacturing of all kinds off the island. Even in the outer boroughs, there was little space available for creating the ever-larger footprint chocolate manufacturing required. The city's industry had already been moving westward into New Jersey, and the geographical shift of chocolate processing would find new centers in Pennsylvania and the Midwest.
With few exceptions, chocolate making had all but left the city by the 1940s, a dramatic decline from the dozens of factories operating in the late 1800s. Though several makers remained national brands into the 1920s, most succumbed to the grim economic downturn of the 1930s.  As a point of entry for raw cacao beans, New York's primacy as a port also diminished by mid-century, with the Delaware River ports of southern New Jersey near Philadelphia beginning to receive the bulk of the nation's supply of beans.
In the previous installment of this series, we witnessed the sharp rise and fall of firms like the Pirika Chocolate Company in Brooklyn, who expanded with the American candy boom of the early 1920s, and just as quickly imploded due to mismanagement.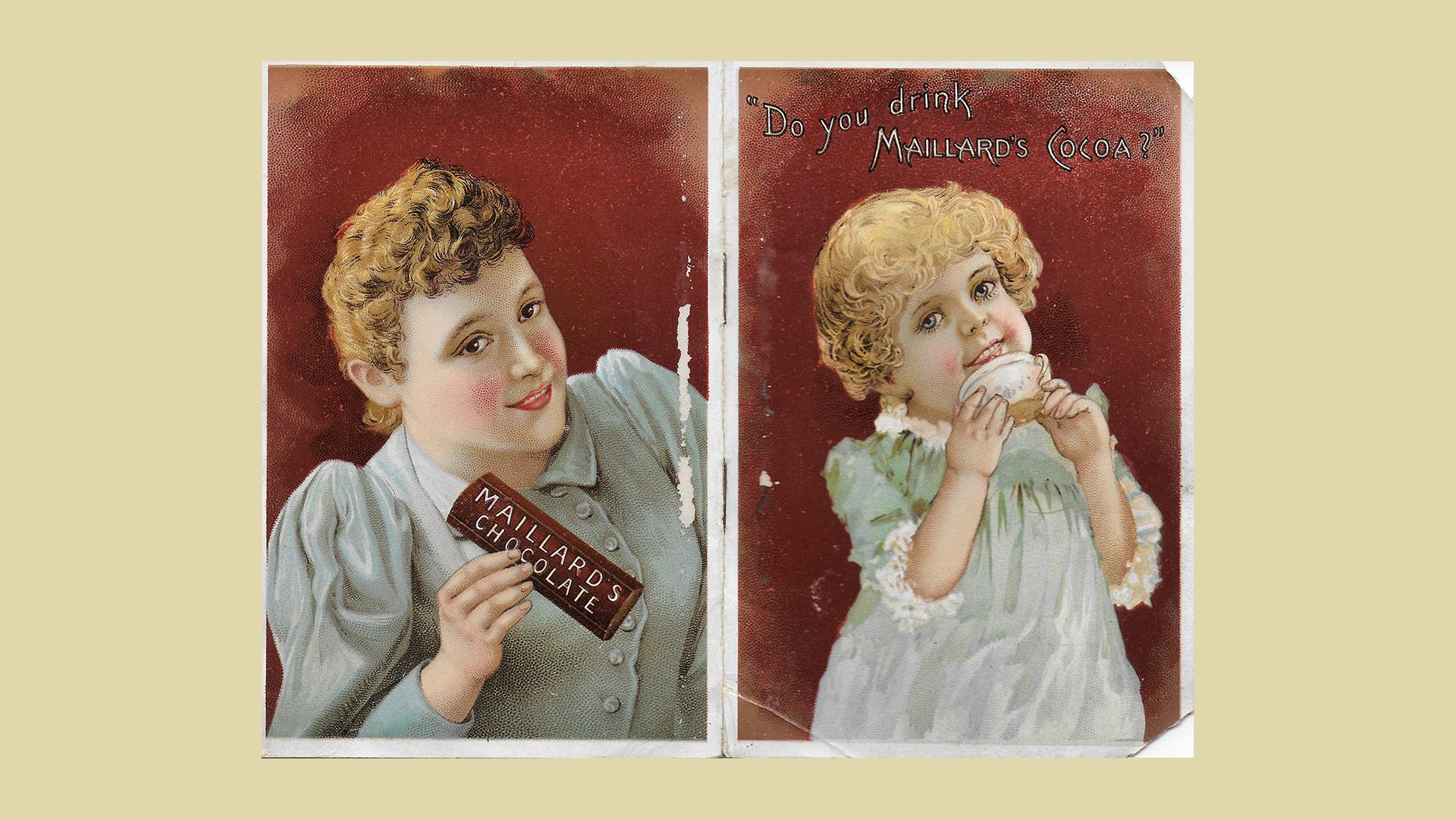 Huyler's, the candy empire founded in the city's 'golden age' of chocolate, was sold by the founding family heirs in the 1920s. Hobbled by the Great Depression, the brand survived in name only as a small restaurant chain into the 1950s.
Below, a final look at the lifespan of those most influential companies that remained at the start of the 1930s.
---
Maillard
The brand that was founded upon the arrival of Henry Maillard in the 1840s lent a French flair to New York's chocolate culture, and a second generation led the company to its peak into the 1920s. The elegant flagship boutique that stood for decades in the Fifth Avenue Hotel moved up to 35th Street in 1908 and then to Madison Avenue and 47th Street in the 1920s. The factory also moved from Manhattan to Long Island City in Queens.
Likely due to financial strain of the Great Depression, the Maillard brand was purchased by Sam Born by 1935. An immigrant from Ukraine, the Brooklyn candy company he founded in 1923 would become known as Just Born – today associated with marshmallow Peeps, and Mike and Ike candies. What remained of Maillard's chocolate manufacturing moved to Bethlehem, Pennsylvania upon acquisition, and chocolate bars bearing the name were produced into the 1960s. One of last references on record is a recipe for 'French Chocolate Cake' from Evelyn Sharpe, printed in The New York Times in 1969, which specifically recommended Maillard's Eagle Brand chocolate.
The chocolate wrappers below represent the half-century shift from a Maillard's bar in the early 1900s to the mid-1960s product as a subsidiary of Just Born.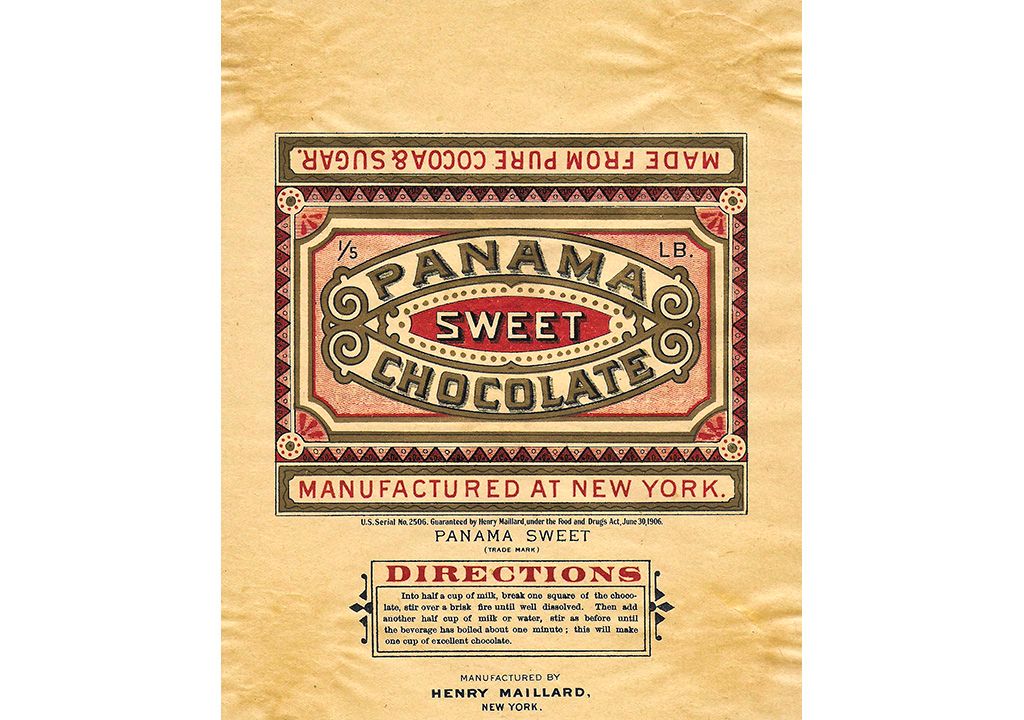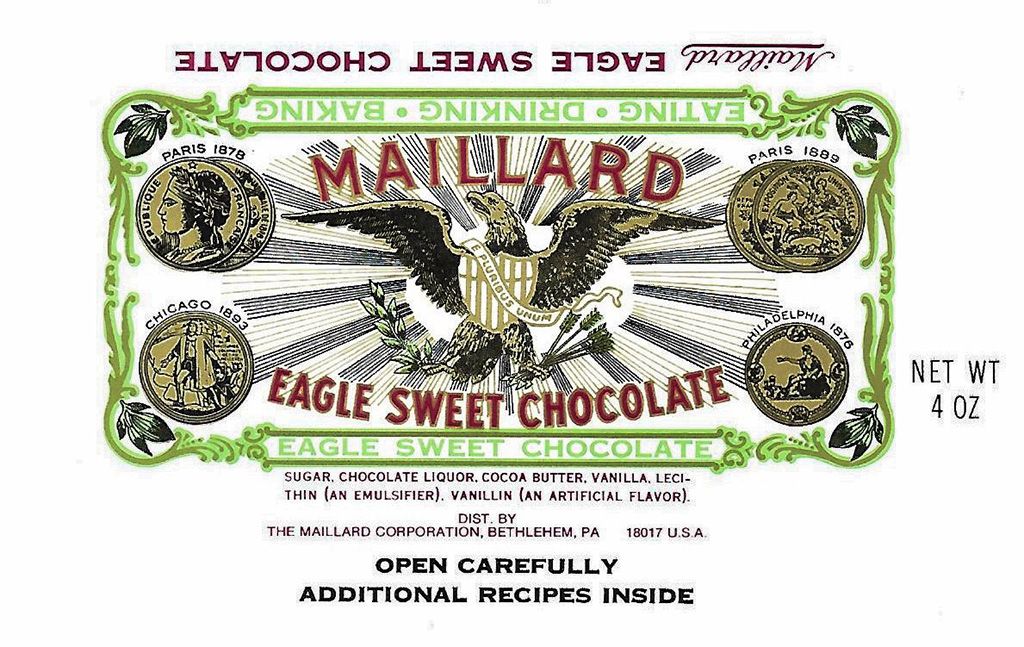 ---
Hawley & Hoops
After selling his patent for the modern toilet plunger in the 1870s, jack-of-all-trades John Hawley invested the proceeds into a candy business on Chambers Street and was later joined by the young confectioner Herman Hoops. Their factory just south of Houston Street between Lafayette and Mulberry Streets processed chocolate and cocoa, but it was their penny candy business that likely kept the company afloat through the Depression and into the 1940s. After fifty years at the helm, Hoops died in 1934, and the factory remained in business under his son.
Forrest Mars purchased the company in 1952, merging its operations into his own. Of note is a connection to the early manufacturing and labeling of the iconic M&M candies. Though developed before the acquisition, packaging from the 1950s bears the Hawley & Hoops name, suggesting that Mars saw value in using the established brand to propel his own products. It appears Mars still used the name decades later, as patents relating to chocolate manufacturing filed as late as 2001 are assigned to Hawley & Hoops, Inc. in McLean, Virginia (home to the headquarters of Mars, Inc.).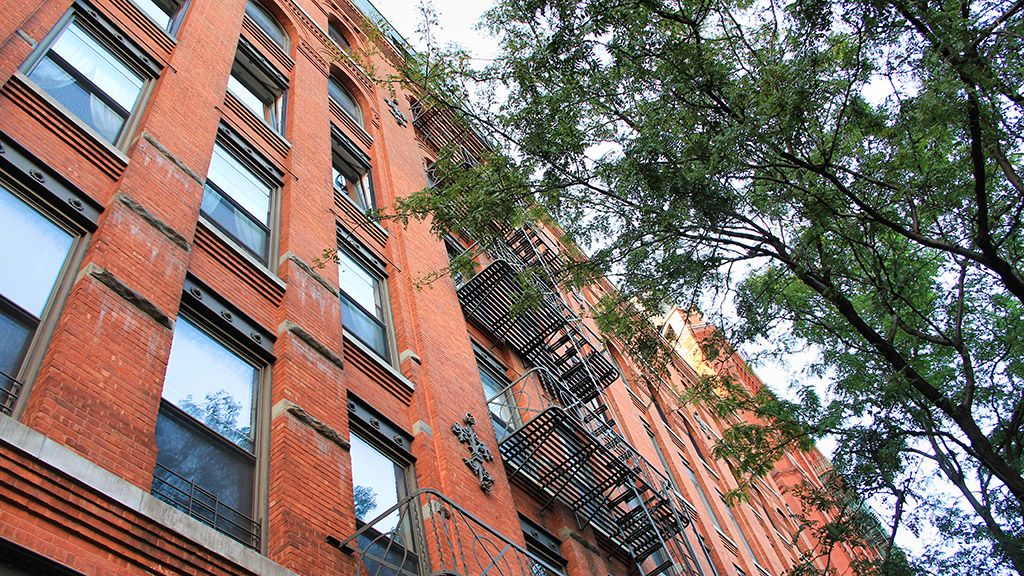 ---
Runkel Brothers
Brothers Louis and Herman Runkel, who arrived as teenagers from New Orleans, began making chocolate on Staten Island in the 1870s. The nationally known brand and their factory anchored what might have been called 'Cocoa Corners' near Manhattan's west side Hudson Yards. Though plans for a new factory a few blocks away were scrapped in the mid-1930s, the company appeared to survive the Depression. Runkel Brothers did not, however, see a wartime boost in the 1940s. The name was acquired by Lamont, Corliss, & Company by 1947 – the firm that first imported, and then managed, domestic production of Nestlé in Fulton, as well as the Swiss brands Peter's, Cailler, and Kohler. Runkel remained a wholesale coating brand into the early 1960s under the umbrella of a restructured Nestlé Company headquartered in White Plains, just north of New York City.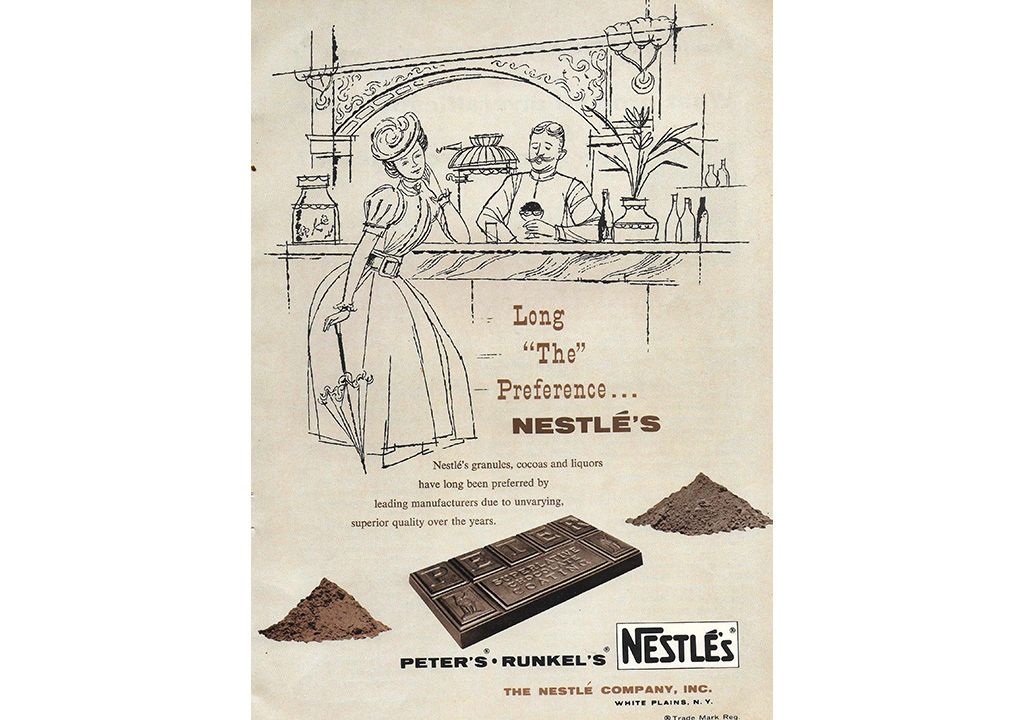 ---
Rockwood
Though bearing the name of William Rockwood, the chocolate company born in the 1880s was largely driven by the vision and know-how of co-founder Wallace T. Jones. After a move to Brooklyn in the early 1900s, the Rockwood company saw rapid growth through the 1920s under Jones' sons.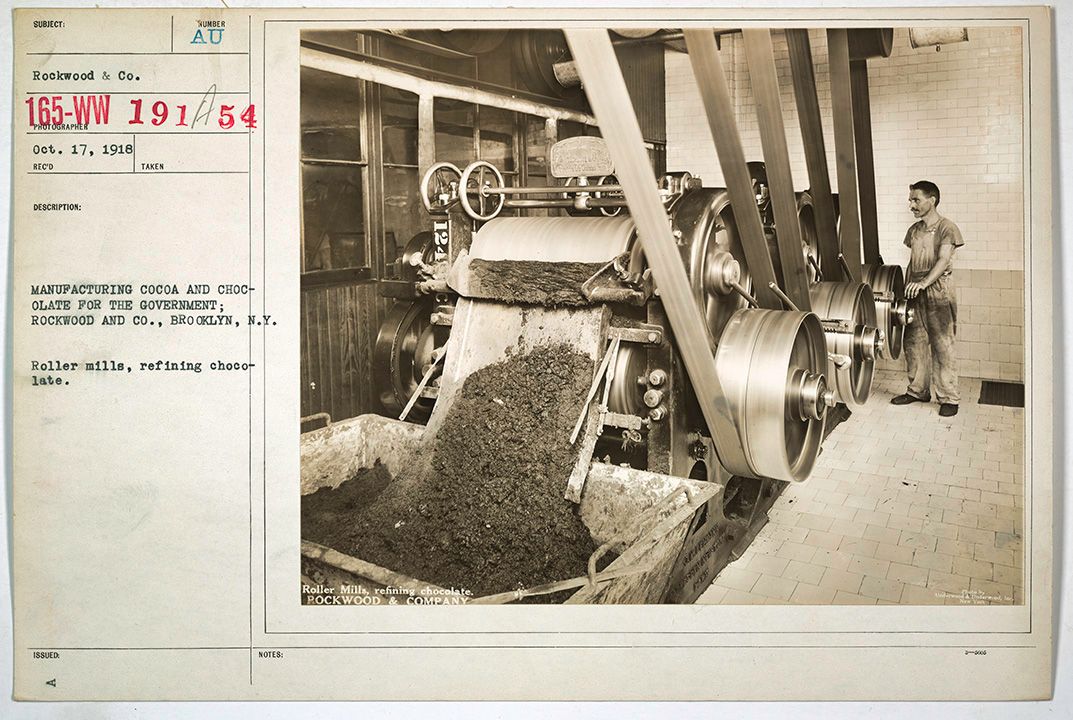 For a time the second or third largest American producer behind Hershey, Rockwood also pushed innovation, filing patents in the 1940s ranging from cracking machines and liquor processing to continuous production systems. Rockwood's chief chemist Walter Tresper Clarke was considered an authority in the industry, and went on to author several papers and articles on process engineering and flavor development in chocolate during the 1950s.
Surviving, perhaps, on wholesale coatings and cocoa, Rockwood also created bars, novelty candies, and baking products, including flavored chocolate wafers, semi-sweet 'Bits', and 'Decorettes.'
The company was sold in 1954 to a "prominent Midwestern industrialist," according to an announcement in The New York Times. The brand and the Navy Yard factory remained in operation for at least another five years under longtime president Russell Burbank. The Sweets Corporation of America then bought the former Rockwood factory, and commissioned the space for the production of Tootsie Roll candies until the late 1960s. The factory has since been redeveloped as The Chocolate Factory Lofts.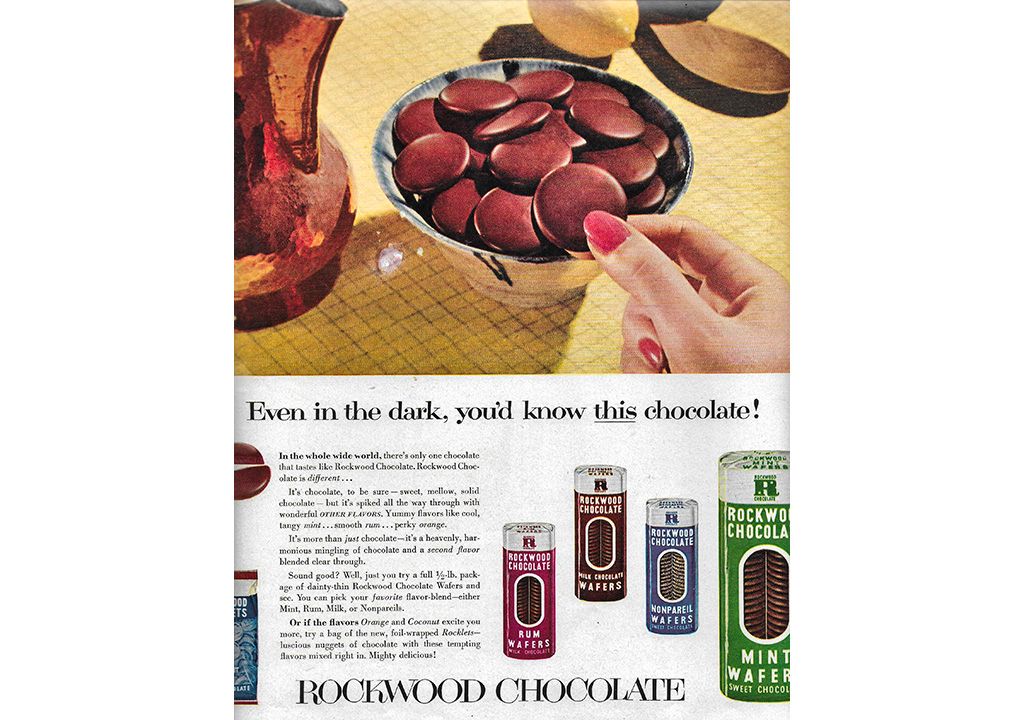 ---
A Rebirth
With the closing of Rockwood's Brooklyn factory New York was largely void of chocolate manufacturing for decades.
For the first time since we find mention of Johannes Roosevelt's mill in 1736, we see a break in the city's chocolate timeline. After over 200 years and a continuous line amounting to scores of chocolate manufacturers, suddenly there were none.
What many of today's makers see as a turning point in chocolate culture occurred with the 1996 founding of Scharffen Berger Chocolate Maker in Berkeley, CA. A response to 'big chocolate,' physician Robert Steinberg and winemaker John Scharffenberger saw opportunity in a small scale, hands-on approach. If not so much a return to what chocolate was a century before, it certainly signaled a new philosophy of what chocolate could be.
In 1984, French maker Bonnat on the occasion of its 100th Anniversary introduced a set of seven single-origin bars. Valrhona followed with their Grand Cru line soon after, while El Rey, manufactured in Venezuela, was also introducing a range of terroir-based flavor profiles.
Though Scharffen Berger would be acquired by Hershey in 2005, a movement was under way, and what would become a first wave of small-scale chocolate making was swelling. The verbiage of 'craft,' 'artisan,' and 'bean-to-bar' served as a means of reclaiming chocolate from the industrial process born a hundred years prior.
Note: In 2020, Hershey began divesting some of its business interests, including the brands Dagoba, Krave, and Scharffen Berger, which has once again became a privately-owned company.
Cheered on by the likes of 'Chocolate Alchemist' John Nanci, new makers embraced a do-it-yourself attitude, often using 19th century technology (melangeur-style stone grinders), with a focus on sourcing and expressing the potential found in 'fine flavor' cacao.
Over the past fifteen years, this specialty chocolate sector – a decidedly North American-born phenomenon – has grown from a half dozen makers to well over a thousand worldwide. Small-batch manufacturing has exploded around the globe.
The number of artisan makers at origin is also growing. This 'tree-to-bar' ethos, often credited to Mott Green's work in Grenada in the late 1990s, seeks to add value outside the typical commodity supply chain.
Though it has yet to approach the scope of the late 19th century, the craft movement has brought chocolate back to New York. One of the first to emerge was Mast Brothers (now just Mast in Mt Kisco, Westchester County, NY), who started producing confections and then bars in Williamsburg, Brooklyn in 2007. Though controversy regarding their origins would mar their reputation, the Mast brand aesthetic helped popularize the movement and influenced many makers that followed. Raaka and Cacao Prieto were established in the Brooklyn neighborhood of Red Hook. Alumni of the latter, now closed, include Damion Badalamenti (who helped launch the Kahkow factory store created by Rizek Cacao in 2019), Chi Bui (opening chocolate maker for Thomas Keller's K+M chocolate line), and Roger Rodriguez (now making his own chocolate and confections at Vesta in Montclair, New Jersey).
Editor's Note: I worked at Cacao Prieto from January-July 2010 with Damion.
Rounding out today's Brooklyn makers is Fine and Raw in Bushwick; up in the Bronx we find Sol Cacao and Slow Cocoa. Though located 100 miles north in the Hudson Valley, I'll add Dalia and Bryan Graham's Fruition Chocolate to the list of greater New York manufacturers, among others who have come and since gone.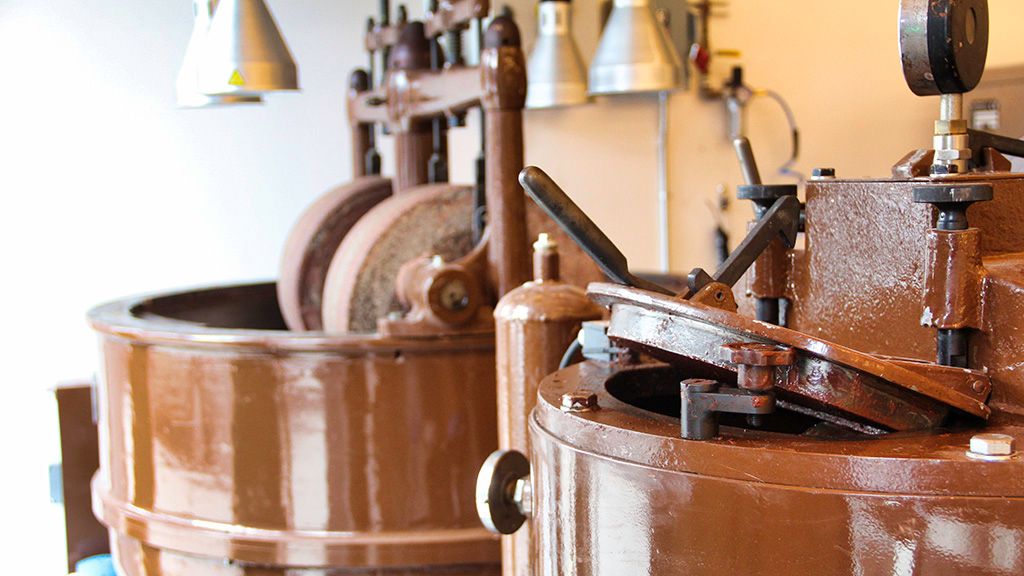 Just as they did in the 19th century, chocolatiers and confectioners add flavor to the city's chocolate culture. A concentration of inventive pastry chefs also influences the scene with refined chocolate creations. The mid-20th century saw the founding of 'old-school' candy making institutions Li-Lac, JoMart, and Aigner (whose Forest Hills shop was in recent years rebooted with new owners).
Jacques Torres claimed the moniker 'Mr. Chocolate,' and was among the first high-profile pastry chefs to open a chocolate shop in 2000. His first location coincided with a revitalization of Brooklyn's Dumbo neighborhood, and now that stretch of Water Street also includes Valrhona's New York office and training center, as well as the offices of Beyond Good (formerly Madécasse).
More recent home-grown chocolatiers making their mark include Marie Belle and Roni-Sue, as well as pastry chefs Sebastian Brecht (OCD/Casse-Cou), Ron Paprocki (Gotham), and Jean-Francois Bonnet (Tumbador/Brooklyn Born). Setting trends today are Marc Aumont of Kreuther Handcrafted Chocolate and Susanna Yoon's SoHo shop Stick With Me, located just a block or two from the old Hawley & Hoops factory.
---
The Final Chapter
A History of Chocolate in NYC: 1750 – 2021
Just like the "unfinished project" that is New York City, the current chapter of chocolate here – and beyond – is still being written. Though the city will never likely return to its position as an epicenter of chocolate manufacturing culture, today's makers are a part of that greater legacy dating back to those early merchants bringing cacao into Manhattan 300 years ago.
In a sense, New York City grew up with chocolate.
Cacao arrived in this small colonial port as a curiosity, and, like other exotic goods shipped in from afar, found early adopters among a growing cosmopolitan class. Most of makers of the 18th century – including slaves – remain anonymous. We are left to speculate on the exact processes employed to make chocolate, but they ranged from small handmade efforts to larger operations run by all-purpose mills.
The dawn of the 19th century served as a reset for the city, a new country, and a growing taste for chocolate. Now specializing in chocolate to a greater degree, we begin to identify makers' names and the locations of their factories. We gain greater insight into their methods as their volumes increase, and as their products find their way into markets beyond the city.
As immigrants arrive from abroad with new tools and ideas, the city becomes an incubator of sorts, the mélange of influences creating a unique chocolate culture. The latter half of the 19th century presents the most productive period for chocolate in New York City, a 'golden age,' that mirrored a global boom in production spurred by new technology and applications.
The city was front-and-center as the 20th century ushered in a final leap toward industrialization. Many of the nationally-known brands – by then in operation for decades – called the city home. Soon, however, New York's primacy in chocolate diminished through the pressures of economic downturn, general urban deindustrialization, and a concentration of market share split among fewer, larger manufacturers. Though the city's makers set the stage for modern production, 'big chocolate' left the Big Apple behind.
My research into this history began when I realized the stories of chocolate were hidden, and left largely untold. In the process of sharing what I've discovered, I've gained a deeper respect and understanding of all aspects of chocolate production. I've also come to love the city I call home even more. Though the cacophony of the city's perpetual forward motion competes for attention, I continue to walk the streets with an eye open, looking for the ghosts of New York's chocolate past.
---
This concludes our brief look at the history of chocolate in New York, and how that story fits into a much bigger global picture. The final conversation will open up to topics relating to chocolate's past and future, in The Chocolate Life room on Clubhouse.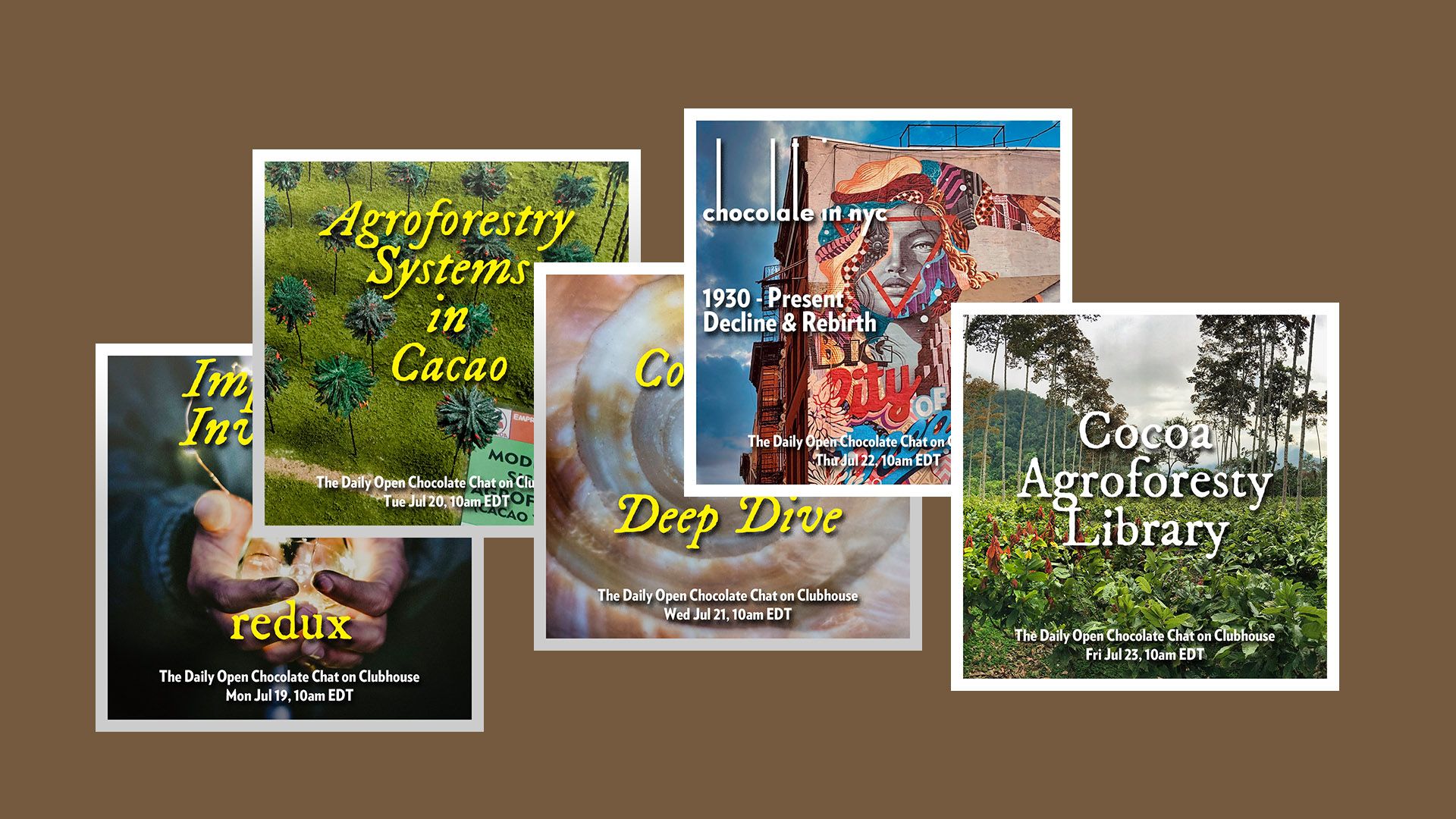 ---